Saree is the collaboration of sheer beauty, tradition and sophistication ; the indispensable and integral outfit of the culturally diverse India. Originally, word saree is derived from Sanskrit word shati meaning a strip of cloth. 4-9 yards of the sensual fabric of saree elegantly draped around your waist highlights your curves and creates a flattering figure like no other outfit can do.
Growing up in a family full of vibrant ladies, seeing our mom, grand-mom and aunts routinely donning sarees for almost all occasions, made us tremendously awed by this spell-bounding ethnic outfit. Sarees bring out the best in you, age is no barrier, old or young you will throw your glamour all around with it's unparalleled exquisiteness and charm. Carrying our culture and emotions within its fold, sarees are rightfully a prized heirloom for every woman.
Saree is weaved with numerous threads of traditions of Indian culture belonging to different regions within India. Almost each state of India has its own unique saree weaving technique making them special with its distinct look and feel. Every regional saree is the outcome of fine craftsmanship, specialised fabric, exclusive patterns and peculiar techniques. Each region in India has its own version of the saree adding up to more than 30 types and all of them exude grace.
Why look for westernised saree inspirations when you can embrace these regional traditional attires in every possible style?
Here is the A-Z list of the traditional saree arts – absolute classics, which are must-haves in any ethnic wardrobe collection.
BUY DRESSES FROM NYKAA FASHION
Ashavali saree : Gujarat
Baluchari saree : West Bengal
Banarasi saree : Uttar Pradesh
Bandhani/Bhandej saree : Rajasthan/Gujarat
Batik saree : West Bengal
Bomkai saree: Orissa
Chanderi saree : Madhya Pradesh
Chikan saree : Uttar pradesh
Dharamavaram saree : Andhra Pradesh
Eri silk saree : Assam
Guntur saree: Andhra Pradesh
Garad saree : West Bengal
Ilkal saree: Karnataka
Jamdani Dhakai saree : West Bengal
Kalamkari saree: Andhra Pradesh
Kanjeevaram saree: Tamil Nadu
Kasavu saree: Kerela
Kota saree : Rajasthan
Lehariya saree : Rajasthan
Mangalgiri saree: Andhra Pradesh
Narayanpet saree: Telangana
Paithani saree: Maharashtra
Patola saree: Gujarat
Sambalpuri saree: Orissa
Tant saree: West Bengal
Uppada saree: Andhra Pradesh
Venkatgiri saree: Andhra pradesh
1. ASHAVALI SAREES: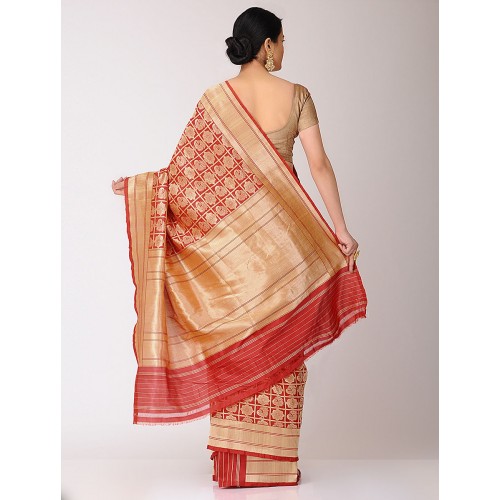 State: Ashavali sarees showcase Gujarat's rich textiles
Design Description of Sarees:
Weaving stories around bird's chirping, animals swaying and flowers blooming. The nature inspired designs in coloured silk against the gold Zari enhance the aesthetic appeal of the sarees.
The distinguishing features are the vibrant colours, lightness, and buoyancy. The motifs and patterns are outlined by a fine dark line like inlay work and that is what makes the thick and heavy Gujarati brocade stand out amongst other brocades.
2. BALUCHARI SAREES: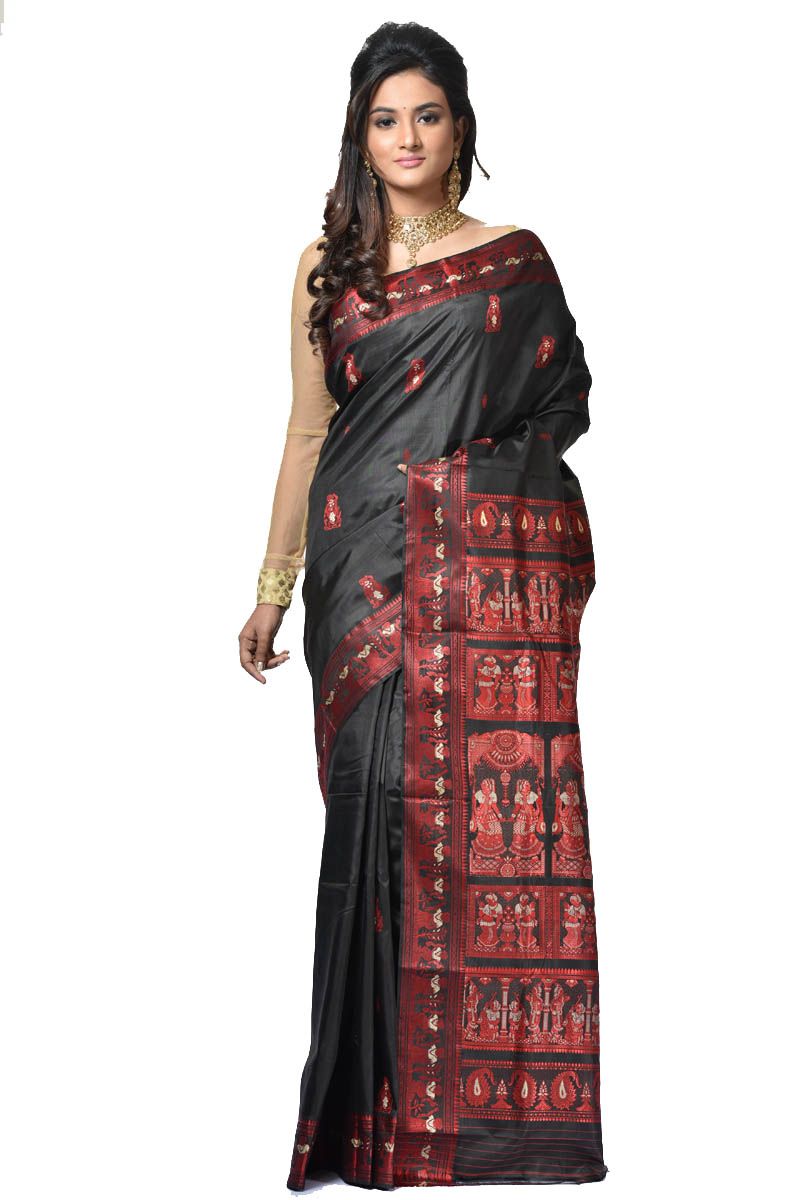 State: Silk weaved, Baluchari sarees are crafted in Bankura District of Bengal.
Design Description of Sarees:
These exquisite silk sarees pallu's are covered by the scenes of mythological epics Ramayana and Mahabharat. The square blocks on the border are decorated by the thread embroidered motifs.
Swarnachari is a variety of Baluchari sarees weaved in zari. These sarees are a staple of women in West Bengal. The extensive designs on baluchari silk saree take huge efforts which is why these are one of the most expensive sarees in the market.
3. BANARASI SAREES: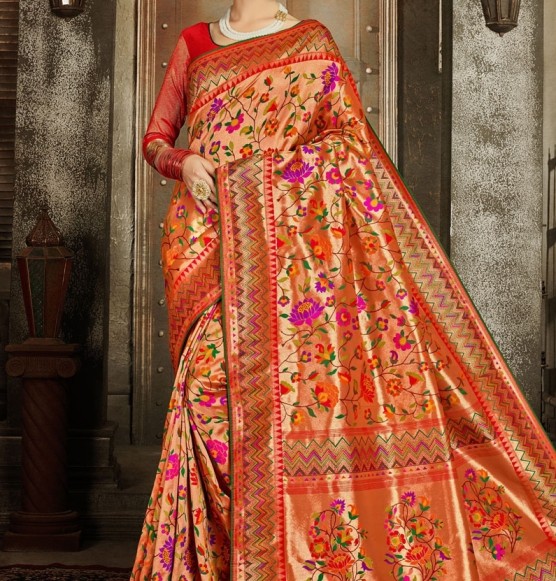 State: Named after the holy city of Benares in Uttar Pradesh, this is one of the supreme silk sarees.
Design Description Sarees:
Known for gold, silver Zari or brocade work, meticulously woven with the finest silks to create intricate and heavily engraved opulent designs and therefore are perfect for Indian bride's trousseau.
The patterns on this saree are usually leaves, gold weavings, figure with small details, metallic visual effects and the bel (floral motifs) jhallar – upright leaves, that form the outer edge of the saree are inspired by the Mughal designs. Rich in color and heavy in texture, there are many varieties like Tanchoi, Jangla, Cutwork, Butidar and Vaskat made in silk, organza and georgette.
4. BANDHANI / BANDHEJ SAREES: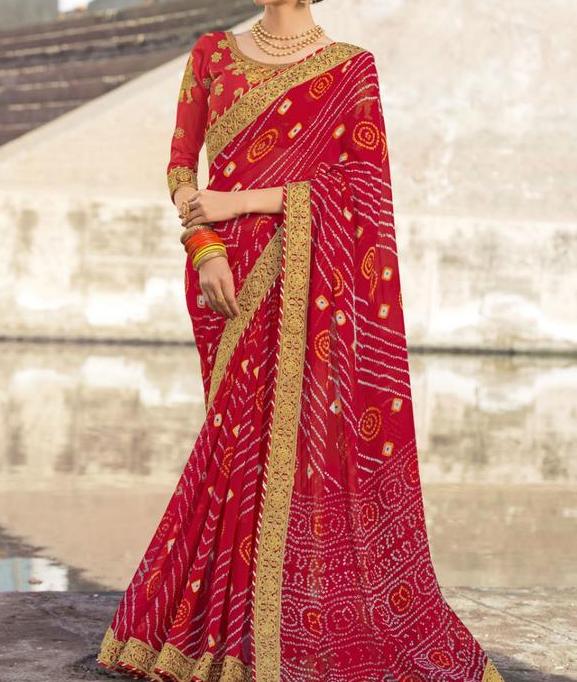 State: Rajasthan and Gujarat are prime destinations for these fit-for-summers, flowy, light and fluid sarees but the weavers of Khatri community of Gujarat are known to be pioneers.
Design Description of Sarees:
The name is derived from the word 'bandhan' meaning ties. Crafted from the traditional tie and dye special technique where the saree is tied in knots followed by filling colour in the saree. The knots prevents the colour from spreading beyond giving it a unique look. Their lively colours are enhanced by beautiful dotted prints. The higher the number of dots in an intricate design, the costlier is the Bhandej saree.
The dots may often be in figurative forms of elephant, peacock, or geometric forms of flowers, squares etc. Bandhani sarees are made in fine cotton, georgette, cotton-silk blends, crepe, chiffon and resilient silk variants.
5. BATIK SAREES: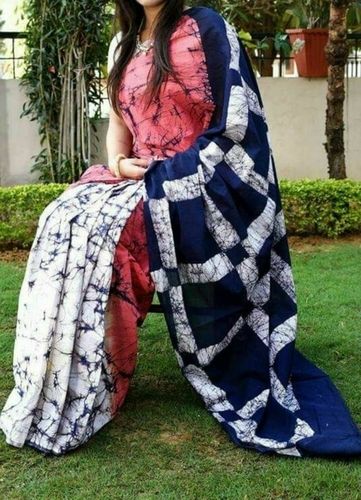 State: Hailing from Shantiniketan regions of West Bengal
Design Description of Sarees:
Batik saares are simple yet extraordinarily created using traditional crafts. Batik is the process of dyeing a cloth by covering a part of it with a coat of wax. The waxed areas keep the original colour of the cloth which result in the dyed and undyed contrast giving it a fresh and catchy pattern.
Batik printed sarees with their picturesque designs on coloured dyed canvas are eye-catching. The batik artisans can showcase their creativity with various types of dye & wax on cotton, silk and other natural fabrics.
6. BOMKAI SAREES: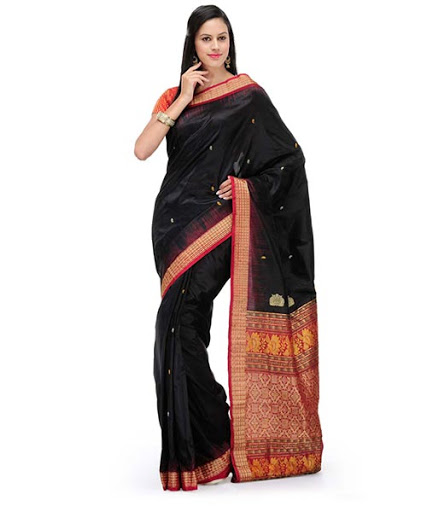 State: Originating from weft techniques used on the traditional pit looms of Orissa
Design Description of Sarees:
The ethnic Bomkai sarees are decorated with intricate patterns and motifs inspired from the tribal art and natural surroundings. What makes the Bomkai sarees one of a kind are the unique and rare interwoven motifs of tortoise, ancient fish, lotus, peacock, and birds in red, white and black dyed backgrounds.
The designs are left onto the creativity of weavers thought, choice and perception. The borders in contrasting colours and pallus designed with intricate thread work make these silk and cotton sarees stunning. The procedure used to make pattern in a Bomkai sari is known as Jala technique.
7. CHANDERI SAREE: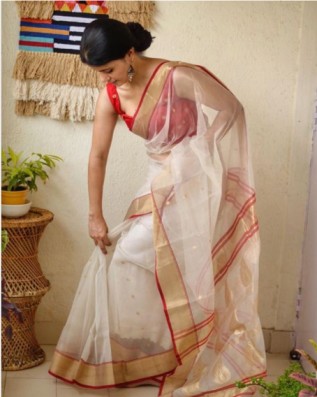 State: Unmatched sophisticated designs and elaborately crafted in the town of Chanderi of Madhya Pradesh
Design Description of Sarees:
Chanderi sarees are made from pure silk, fine cotton and zari. The fine cotton Chanderi fabric makes this one of the lightest saree ever in India popular for its sheer texture, and a glossy transparency.
These gorgeous looking sarees are imprinted with typical patterns and designs inspired from nature like swans, trees, fruits, flowers, peacocks, geometric shapes, heavenly bodies, gold coins, and figures of animals to captivate one's senses. The finely textured fabric of silk and cotton engraved with Zari work makes Chanderi sarees the perfect example of matchless craftsmanship coupled with artistic finesse.
8. CHIKAN SAREES:
State: Chikankari embroidered sarees are undeniably the pride of Lucknow, Uttar Pradesh
Design Description of Sarees:
Evolved from a white muslin cloth outfit Chikankari sarees are now, using variety of fabrics with a colourful palette. This Chikankari embroidery is famous for its diverse effects created using different types of thread and stitches.
The delicate embroidery work artfully done by experienced craftsmen is the pure definition of finesse and magnificence.The light texture and soft hue of colours with the trendy embellishments like sequins make them suitable for any occasion, be it casual or formal.
9. DHARMAVARAM SAREES: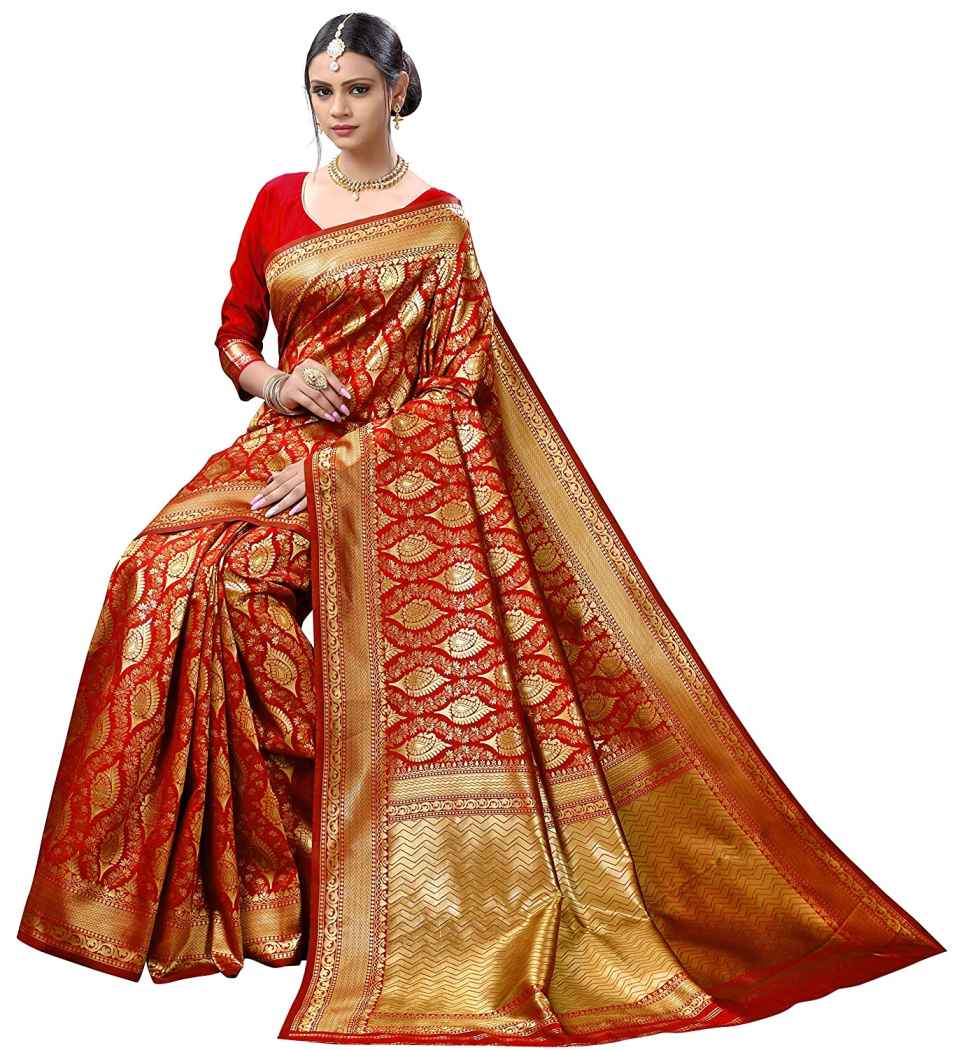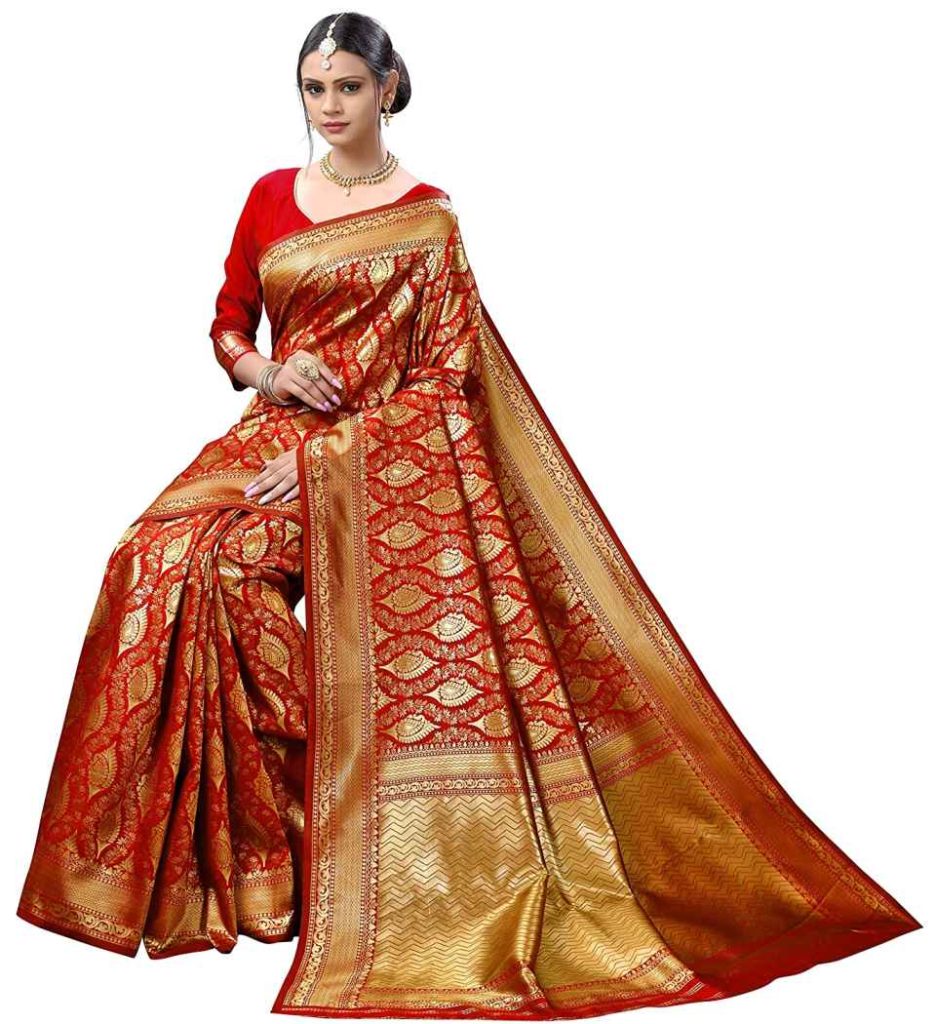 State: Dharamavaram silk sarees are traditionally woven from tussar silk in the interlock weft technique by the weavers in the Dharmavaram town in the district of Ananthpuramu in Andhra Pradesh
Design Description of Sarees:
Having a striking resemblance to Kanjeevaram sarees, the distinguishing feature is the weaving of two colors which give it a bright yet subdued dual shade effect. It is further emphasized by broad borders with solid colors and contrasting pallus exquisitely woven with intricate golden zari brocade patterns and butta designs.
Dharmavaram saris can be worn for a casual occasion with simple woven patterns and for opulent events. Dharmavaram saris comprise of heavy 'pallus' with exclusive designs. Dharmavaram silk sarees are most attractive and desired wedding sarees in competition with Kanjeevaram sarees but the bright colours, the double shades create a total different effect which makes them a must for your saree collection.
10. ERI SILK SAREES: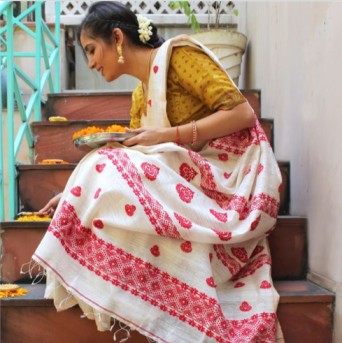 State: Eri silk is one of the wild silk found majorly in Assam, north eastern India.
Design Description of Eri Sarees:
It is also known as Ahims (Non-violent silk) or fabric of peace as it is the only tamed silk obtained without killing the silkworm. Eri silk is India's finest and purest form of silk with a diffused sheen produced by Samia Cynthia Ricini worm.
Mother of all textured and cultural form of silk the saree's fabric texture is coarse, fine and dense making it extremely strong , durable and elastic. Being heavier and darker than other silks it blends well with wools and cotton making it in demand in both summer and winter. Eri silk is sigil of sophistication with a touch of royalty which goes perfect for any occasion or festival.
11. GUNTUR SAREES: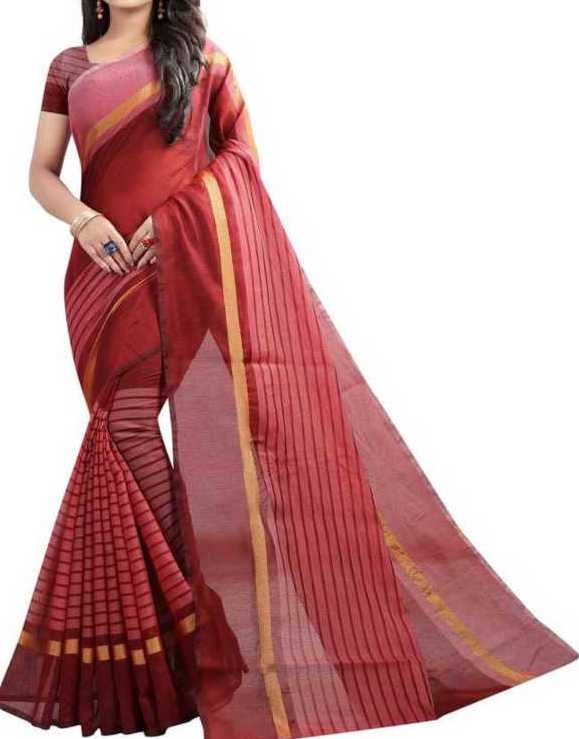 State: Woven in cotton by the craftsmen of Guntur in Andhra Pradesh
Design Description of Guntur Sarees:
Guntur sarees are known for their tightly-mend drapes, stable and compact weave structure making them sturdy yet soft in nature.The Guntur sarees are defined by their fine thread work borders, single colours and patterns all over with the characteristic tribal patterns that comprise a distinct Ikat-style of weaving such as golden checks and stripes that add the charm of the outfit into the comfort and wearability factor of the cotton fabric. The lightly intricate pallus comprises of simple stripes or scattered butis or flowered adornments.
They are very popular as daily wear sarees, with its classic pattern that is simple yet colorful. Particularly worn by dances for their less transparent and easy to handle nature, they satisfy every wearer needs by the enormous colour palette of bold colors.
12. GARAD OR KORIAL SAREES:
State: The traditional Garad or Korial sarees are the symbol of culture in Bengal.
Design Description of Korial Sarees:
Also known as Gorod, the word Garad means 'White' or silk which is not been dyed keeping the purity of the fabric intact making them sacredly important to the women in Bengal.
The silk fibers are woven extremely close together imparting fine texture to the saree. Distinguished by its red or maroon border with small paisley motifs on a white or off-white background these sarees are generally worn on extravagant occasions. To impart the heavy look Garad sarees are intricately woven using golden and silver silk threads. This coveted saree has a papery texture and the natural color of the silk makes it an expensive outfit.
13. ILKAL SAREES: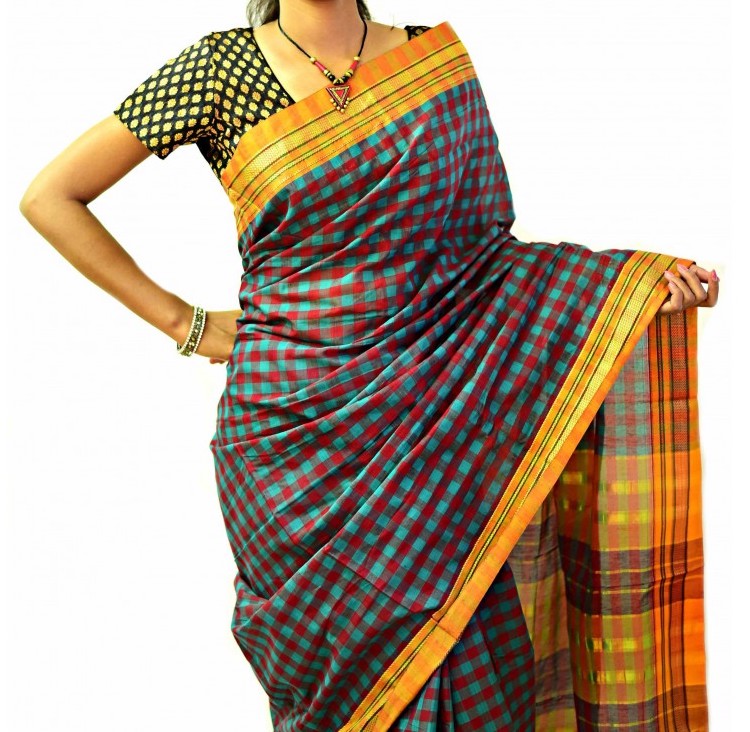 State: The renowned handloom Ikkal sarees are the traditional and ancient attire of small town Ilkal located in Bagalkot district of Karnataka.
Design Description of Ikkal Sarees:
The uniqueness of the sari stems from weaving the warp (lengthwise threads) in cotton and pallu with border area in art silk or pure silk. Contemporary Ilkal sarees goes on a delightful weaves and a tedious process of preparing warp of each and every sari separately and linking the border and body wrap threads by loops locally addressed as "Topa Teni" technique, which is only used exclusively for Ilkal sarees.
The main body of the saree exhibit checks, squares, stripes or rectangular patterns while the pallu of the Ilkal saree has length wise colour bands running across them carrying the designs inspired from temple architecture indicative of the lasting influence. The motifs of liga, gopura(temple tower), ratha(chariot), temple tank, lotus, animals, conch shell are among the popular designs inscribed on the pallu.
Initially used as daily wear saris by the Bellary women glowing in the sun while working in the fields, nowadays Ilkal sarees are worn by high society ladies as a fashion statement.
14. JAMDANI DHAKAI SAREES: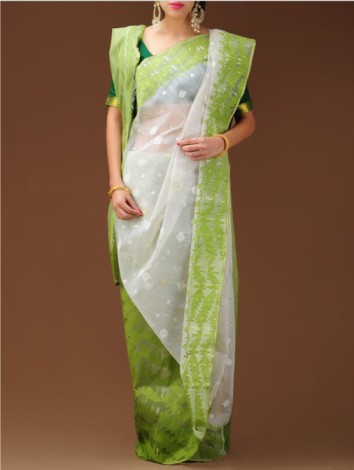 State: Arising from an exotic combination of Mughal patronage and ancient Hindu culture, Jamdani (Dhakai Jamdani) is the most exquisite cotton sarees epitome of strenuous and time consuming ancient form of weaving originated in Bengal.
Design Description of Jamdani Sarees:
Light as feather, the characteristic of these intricate sarees are the motifs that seem to float on the surface of ultra fine, translucent texture fabric adding the mystical charm which is nowhere to be found.
The subtle patterns of the sarees are inspired from life itself and portrays a variety of motifs of plants, animals, nature, galaxy, and so on all the universe entities in geometrical and symmetrical ornamentation. The hand-woven technique with gold coloured thread enhances the fabulously rich patterns and motifs in contrasting assorted shades to the base fabric of cotton or silk. It is still considered as one of the finest muslins weaving in the world.
15. KALAMKARI SAREES: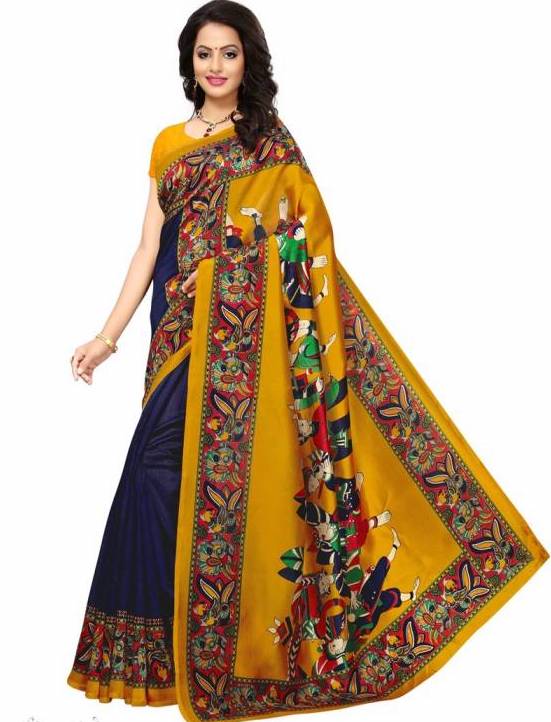 State: Kalamkari is one of the ancient art forms translated on soft cotton voiles or mangalgiri cotton fabric using natural dyes in Andra Pradesh.
Design Description of Kalamkari Sarees:
Kalamkari means an artistic creation (kari) using pen (kalam). Kalamkari saree is the embodiment of everything unique about Indian craftsmanship. The motifs on Kalamkari sarees are sketched using tamarind twigs and painted with natural vegetable dyes and the motifs usually depict scenes inspired by Hindu mythology, ancient caves and sculptures.
To add charisma to a timeless look floral, tendril or figurative motifs are also used at times. Screaming happiness in its colour and hues, Kalamkari saree are generally dark like deep maroon, deep bluish black, indigo, rustic red, deep olive.
The beauty of this art is that it gets better with every wash. Colourful and eclectic Kalamkari saree's every element is organic and done manually. No wonder it is so sought after. Wearing a piece of art that's eco-friendly and comfortable as well, look no further than an artistry essence Kalamkari saree.
16. KANJEEVARAM SAREES: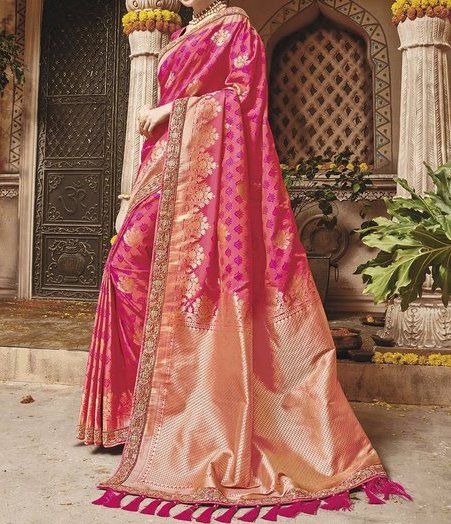 State: Known as the queen of sarees, Kanjeevaram sarees are crafted from a traditionally woven silk, coming from the Tamil Nadu district Thiruvannamalai.
Design Description of Kanjeevaram Sarees:
Featuring royal texture and glossy temperament these sarees are crafted with utmost precision and care.These vivid and luxuriant coloured sarees define the cultural soil that has christened the graciously designed contrast borders with nuances of South Indian ethnicity.
The showcasing of rich heritage is done through the typical theme embellished on the sarees consisting of motifs like moon, chariots, peacocks, parrots, swans, lions, coins, mangoes, leaves, jasmine buds correlating with nature which captivates one's senses at once.
The astounding texture, lustre, sturdiness and finesse is due to the weaving of the refined Mulbary silk threads. Adorn the well crafted and detailed Kanjeevaram saree and bask in the distinct regal glory of Indian ethnic beauty.
17. KASAVU / BALARAMPURI SAREES: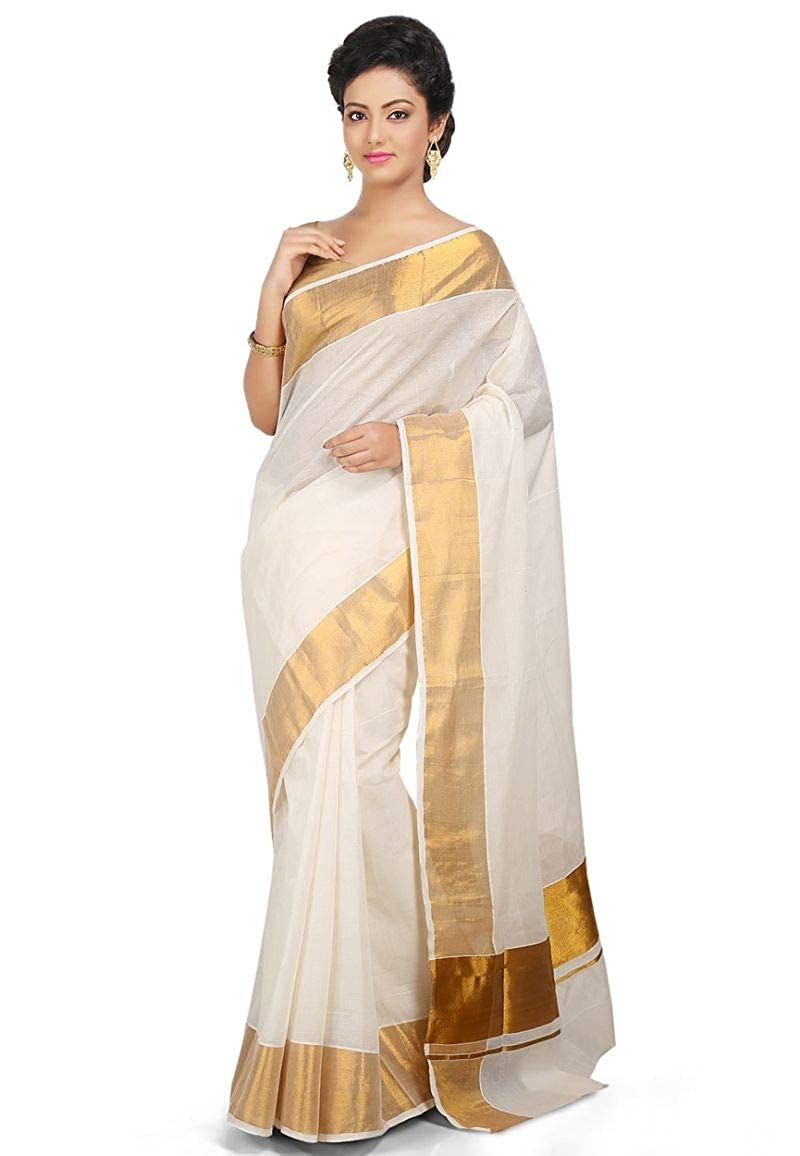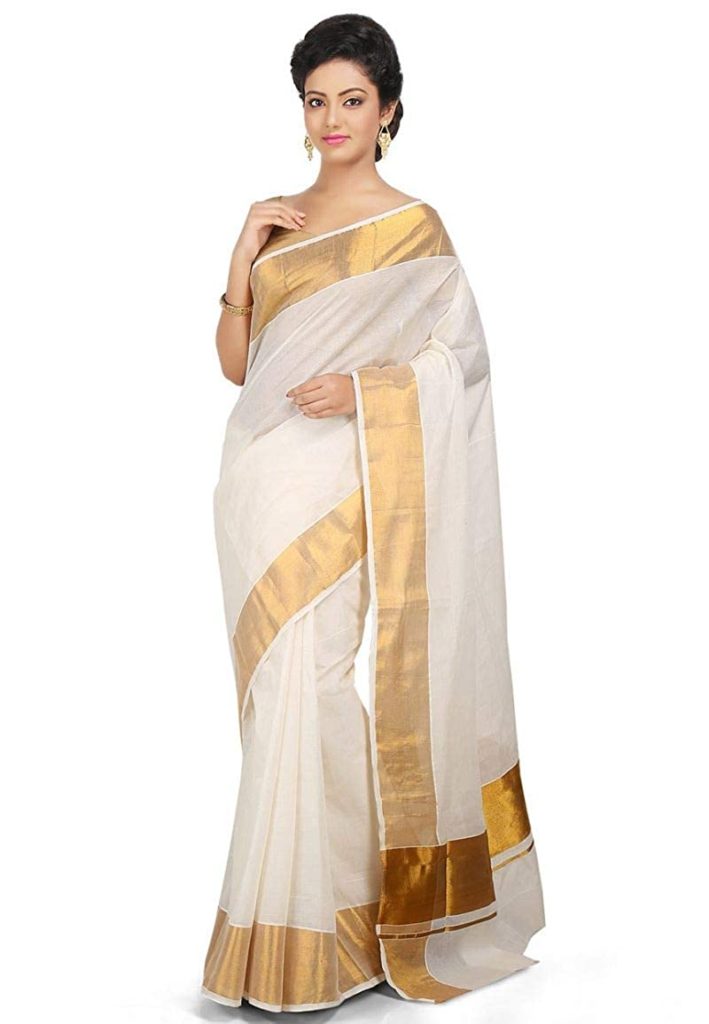 State: The traditional off-white or cream coloured shade saree of Kerala
Design Description of Kasavu Sarees:
Accompanied by a thick and glossy gold border, this saree is worn on very important occasions such as for religious ceremonies, during Onam festivities and of course, by Hindu brides for weddings as well.
The word 'Kasuvu' refers to the golden brocade that lies along the edges of these sarees. However, keeping up with the times, it has diversified to include colours and artificial thread. These ethnically rooted sarees of India are mesmerising the globe through its traditional essence and simple elegance of nature patterns like birds and flowers used with a golden border.
Combining it with any glamours colourful blouse makes it a head turner saree for any occasion. The typical handwoven Kavasu saree is made with fineness of count in weaving, uses 100 % unbleached cotton but it has also evolved with the passage of time and is made using cotton and silk both. One can gauge the popularity of this saree through its usage in the traditional dance of Kerala (Mohini Attam).
Read more about classical dance forms of India
18. KOTA SAREE: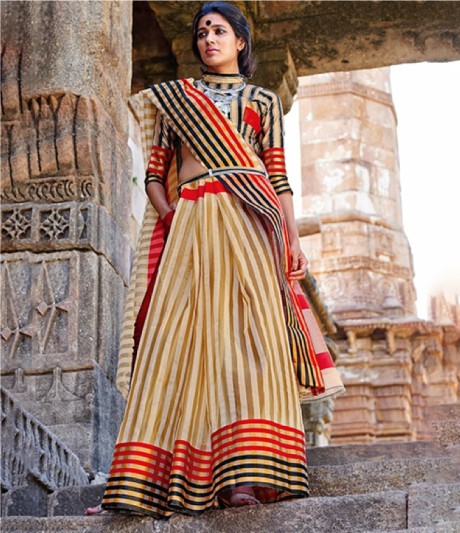 State: Kota saree also known as Doria saree is produced in Kota, a town in the desert state Rajasthan.
Design Description of Kota Sarees:
Woven on a traditional pit loom Kota sarees are sheen transparent even when weaved using cotton and silk yarn. The saree is luxurious and fabric has strength due to the shine texture of silk and sturdiness of cotton. No additional finishing is needed after the yarn is smeared with a paste of onion juice and rice to make it lusty and heavy.
Kota sarees display individuality with a bit of geometric embroidery, square check patterns and border patches, making them totally exclusive. Oomph and splendour are the main trends for the basic style of this saree which is covered with thematic patterns. To make them shimmery yet subtle, often the sarees are embellished with zari. Even with the combination of silk threads, the cotton Doria sarees are extremely cool and breathable daily wear in the summer.
19. LEHARIYA SAREES: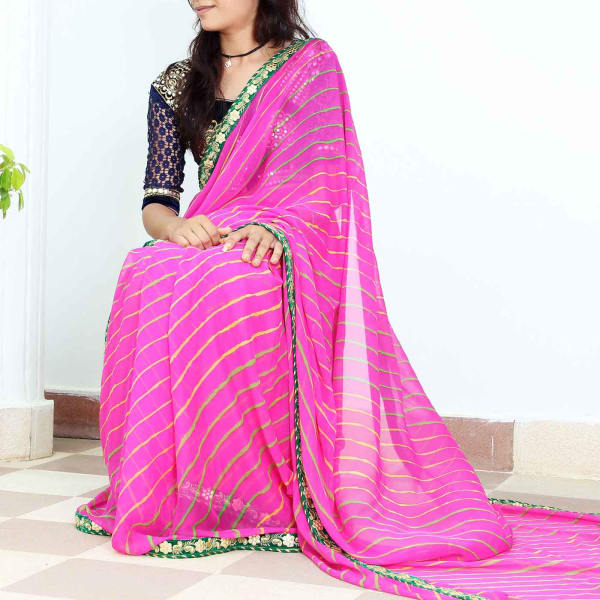 State: Lehariya or Mothura is another popular variation of tie and dye art saree with wavy (lehar) pattern, which is a specialty of Rajasthan.
Design Description of Lehariya Sarees :
A burst of scintillating colours, Lehriya sarees are loved for their multi-hued glory. Simpler in execution than complex Bandhej technique, the only difference is in the way the cloth is tied while it is going through the dyeing process.
In lehariya the opposite ends along the length of the cloth are pulled and rolled together followed by tying and dying in vivid colors churning out diagonal multi-colored lines with a kaleidoscopic design. By dipping the fabric in darker dyes and usage of techniques like concentric rings and fan folding, the saree creates contrasting borders with a hint of dramatic effect.
The light nature and soft dual tone style of this saree, makes it useful for multitude occasions from day to day wear to classy get togethers.
20. MANGALGIRI SAREES: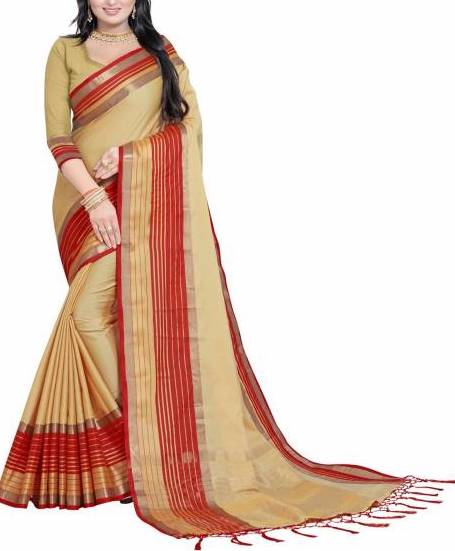 State: Crafted in the town Mangalgiri in Andra Pradesh
Design Description of Mangalgiri Sarees:
Mangalgiri sarees are quintessential for the saree loves who like to keep their look effortlessly flawless. One of the most durable, simple yet classic cotton saree, handwoven Mangalgiri sarees use combed yarn that is 80s cotton which are densely woven providing it an unmatchable elegant appeal, all in one drape.
The sensational shimmering and kaleidoscopic effects of the saree is due to the different coloured threads used in the warp and weft during the weave. This special saree has intricate tribal designs that are woven in cotton accentuated with zari or golden colored striped or checkered patterns on the pallu.
The experimentation with colours is phenomenal giving new meaning to the traditional saree with thrilling combinations like light pink with magenta border, maroon with mustard stripes, an olive green field with navy blue borders fuelling the imagination of the market.
21. NARAYANPET SAREES: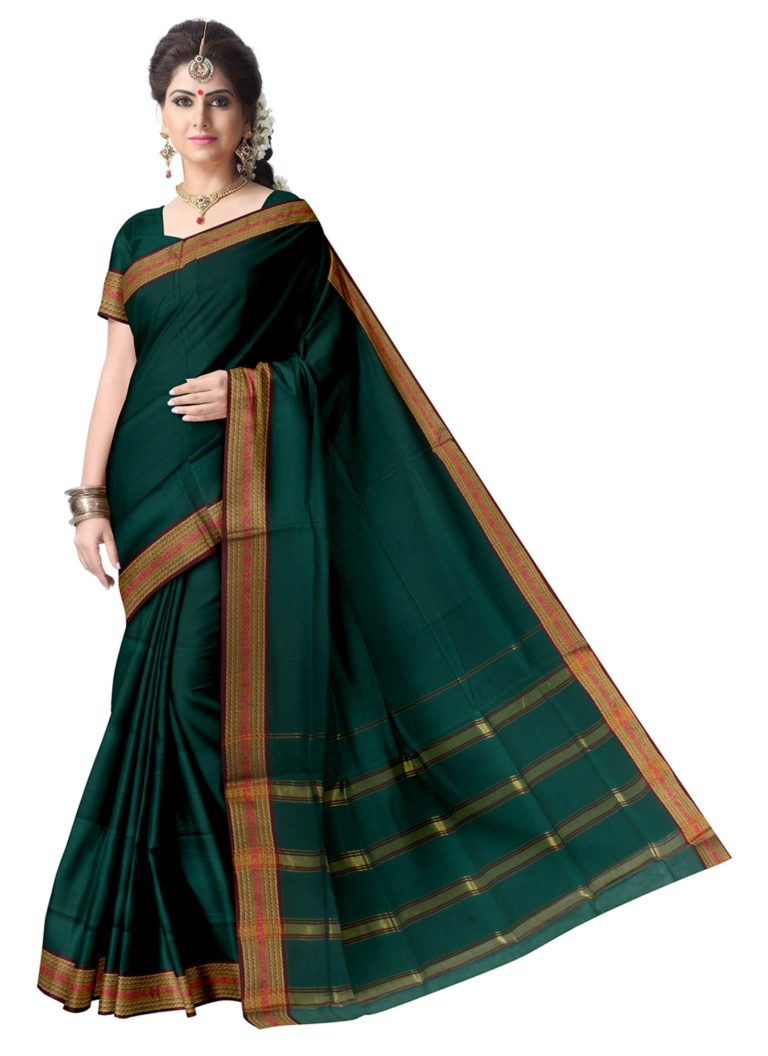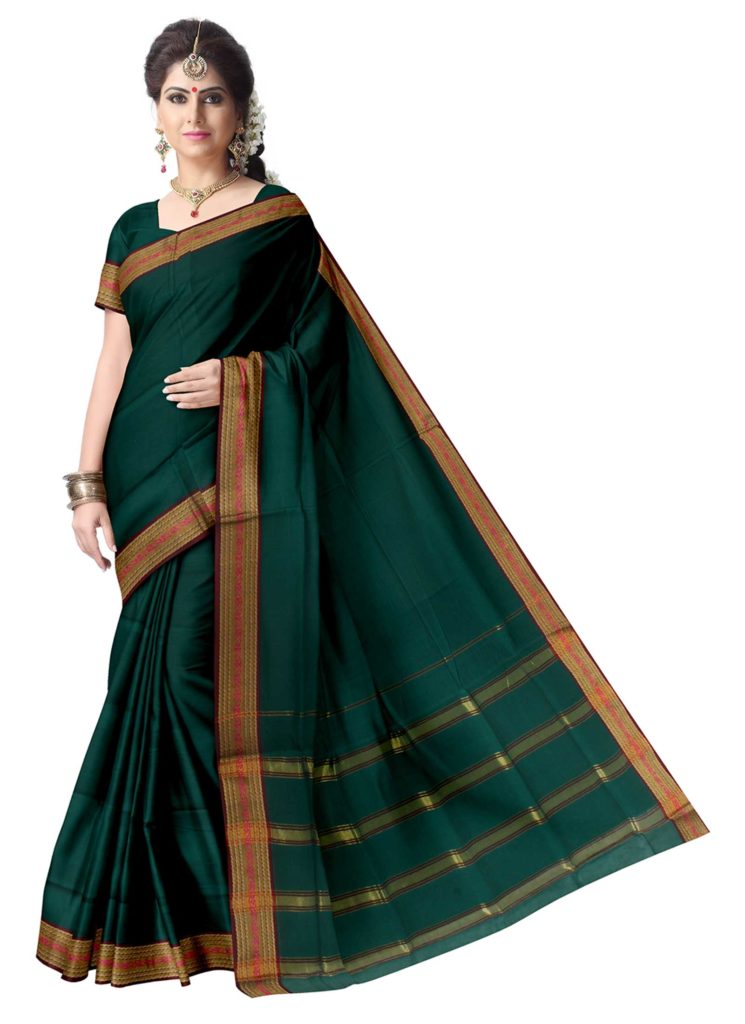 State: Mahabubnagar region in Telangana is renowned for its widely popular, exquisite and dynamic cotton handloom and silk sarees, known as Narayanpet sarees.
Design Description Of Narayanpet Sarees:
The historic legacy behind the handloom industry of Narayanpet is the clear Maharashtrian influence due to Chatrapati Shivaji king's keen interest in these praiseworthy sarees.
The fusion of Telangana and Maratha style is evident in the sarees showing how the blending of various cultures effects in diversification and aesthetically fascinating look. The embroidered checked surface pattern in combination with the border or the pallu featuring intricate ethnic line designs is an extravagant sight to behold.
Narayanpet handloom sarees usher a contrasted look with the minutely detailed zari designs. Representing the 80's style because of the warp and weft of handloom fabric with combed cotton, Narayanpet sarees are dyed in Vat colours.
The must have saree for summers with light nature and classic earthy colours turns out best in Cotton-silk blends and the light pure silk fabrics. Because of their affordability, durability and low maintenance, these sarees are immensely worn by women during special occasions symbolising elegant, magnanimous and a rich look.
22. PAITHANI SAREE: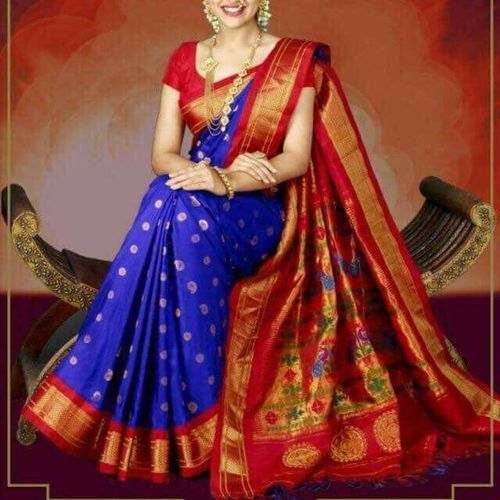 State: The gorgeous silk Paithani saree's name was originally derived from Paithan region of Maharashtra.
Design Description of Paithani Sarees:
These handwoven sarees have a spellbound amalgamation of luxuriance and richness. Crafted from high fine quality silk, Pathani sarees are available in vibrant hues adding to its bright charm.
The intricate motifs like Lotus, Hans(swan), Flowers, Peacock, tree, parrots Bangdimor, Narali Print and the ornamental Zari threads are woven with unparalleled skill to forge a Paithani saree. With slanting square border design and patterns of nature inscribed on the pallu, Paithani saree will work wonders in its glitzy.
The expensive Paithani sarees are crafted with unique excellence and minute detailing keeping in mind the wide range of needs, wants and desires of saree collectors to be specifically worn during wedding, grand events and festivals.
23. PATOLA SAREES: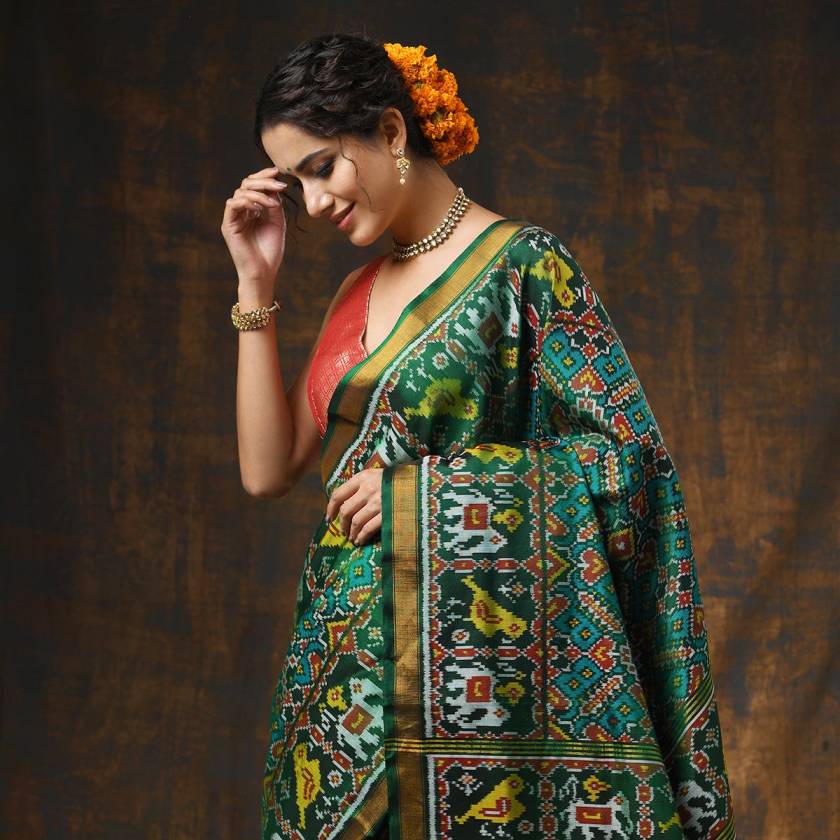 State: Pride of Patan, Gujarat, the Patola sarees are synonymous to regality.
Design Description of Patola Sarees:
These pure silk royal sarees are hand dyed in natural dyes serving to a niche market which makes them quite expensive. The double ikat weave produces a saree with identical sides. Whether its the intensity of the colour, the feel or the aesthetic appeal, all of it is same on both the sides.
The Patola sarees with motifs and designs of parrots, flowers, elephants,, zigzag figures, and the geometric patterns inspired from the large step wells in Gujarat are a wonder to behold. The time of completion of these heart throbbing creative sarees is as long as 5 to 6 months due to the lengthy process of tie dye method including both wrap along with the weft in silk fibres which makes them unbelievably costly.
24. SAMBALPURI SAREE: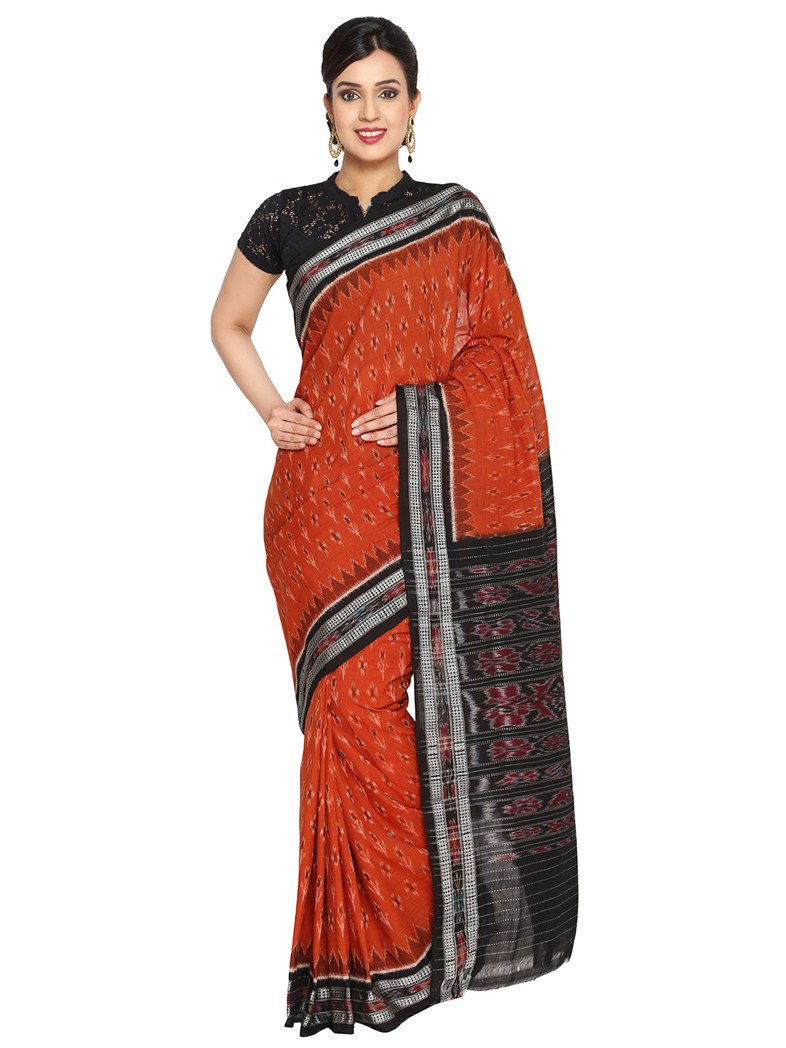 State: The bright and vibrant Sambaluri sarees are traditional handwoven embroidery style sarees coming from a small village called Sambalpur in Orissa.
Design Description of Sambalpuri Sarees:
Pure handloom Sambalpuri sarees are created from a delicate weave of different techniques from tussar silk as well as soft cotton. Sambalpuri sarees infuses traditional motifs like flowers, wheels, temple, fish, shells drawing inspiration from daily life in the coastal villages in its fabric.
What adds to the richness of the whole process and art is the technique of first dying the threads and later weaving it into fabric form.The unique patterns of embroidery and comfortability caters to all the needs and purposes of a saree enthusiast, whether it is doing household chores or working in the office for hours.
25. TANT SAREE: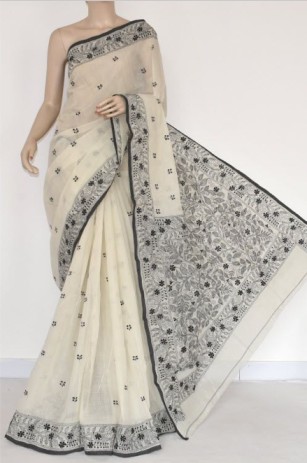 State: Originating from Bengal,
Design Description of Tant Sarees:
Tant sarees are woven from cotton threads, owing to its lightness and transparency its worn by women for daily outing. The specialty of this crisp cotton saree is that it is stiffly starched and contains excellent workmanship.One of the most comfortable saree for everyday use. But an embellished rich border rant saree with a decorated pallu can dazzle any opulent event.The fabric of this saree makes it easy to be carried and is highlighted by the thick border and beautiful prints. The airy tant saree makes it perfect for summer seasons.
Numerous motifs are incorporated on tant saris, right from elepahnt motifs to checkered patterns. The patterns woven on such sarees are floral elements, solar elements and modern art. Up to date with the modern taste, these sarees are enhanced by hand-painted, embroidered and printed forms. The traditional Bengali variety of cotton that is used to make these sarees have a short fiber which gives a distinct crepe-like appearance to the woven cloth. These stiffly starched and deftly crafted sarees are very popular in West Bengal where this saree has become a household name. It is their universal appeal that has made these sarees the favourite of all.
26. UPPADA SAREES: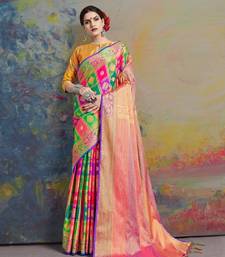 State: Named after the small beach town uppada in east Godavari district in Andra Pradesh
Design Description of Uppada Sarees:
Luxurious translucent Uppada sarees are the first to be crafted from age old Jamdani method. Handwoven from cotton wrap Uppada sarees are highly dignified due to their huge contribution to the Indian textile industry.
The grandiose and light-weight of the sarees is enhanced by the mesmerising floral patterns, geometric designs and elegant motifs. One feels floating on the clouds by the smooth and soft touch of this saree. The radiant colour palette of sarees, the affluent work on pallu and the border makes them stand out of the crowd. The usage of gold, silver and the Zari threads adds a pinch of classiness to the voguish look.
27. VENKATGIRI SAREES: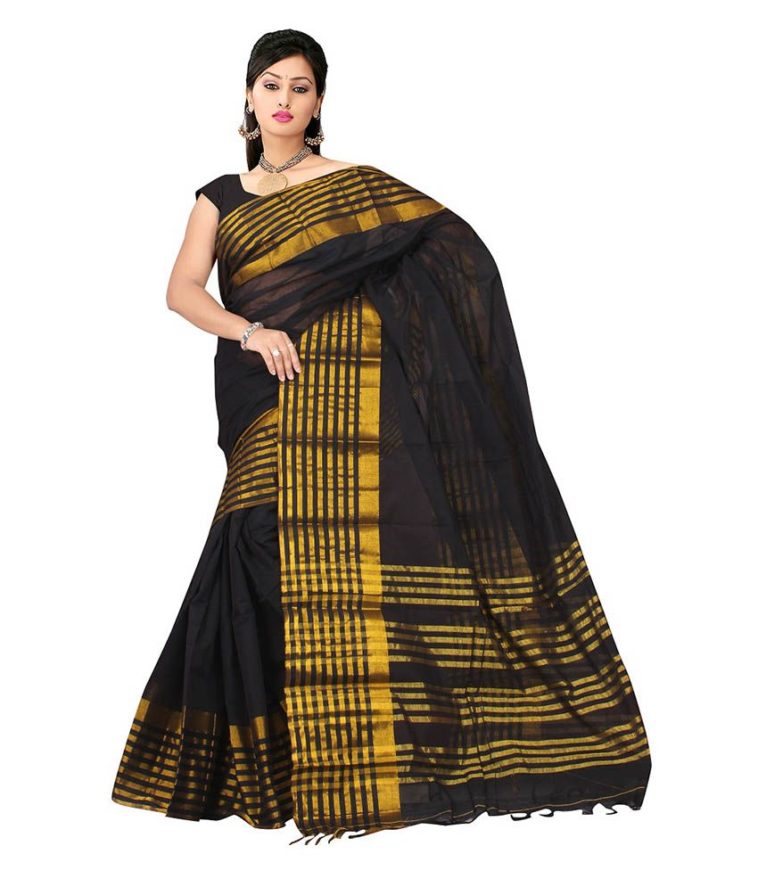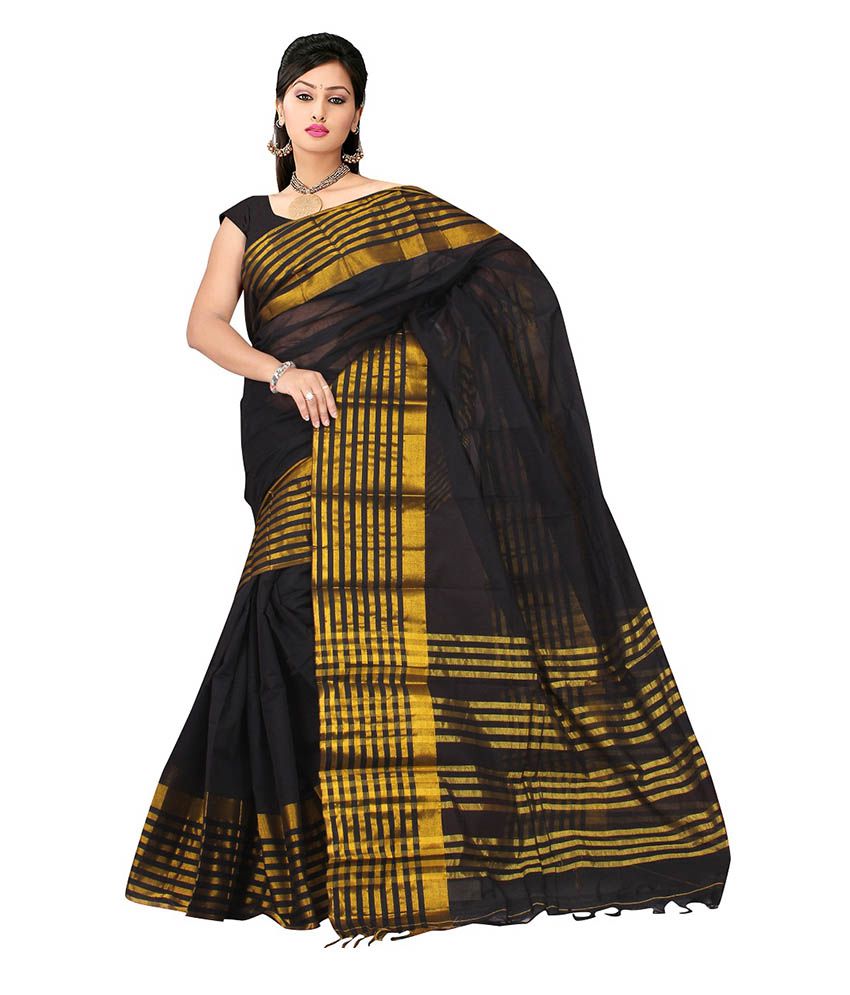 State: Handwoven Zari cotton and silk sarees from the historic town of Venkatgiri, Andra Pradesh.
Design Description:
Celebrated for their jamdani style of weaving in silk or cotton.Their softness, durability, fineness, lightness and regal texture made them earn global acclaim. Traditionally worn by royal family of Nellore in 1700s, the smooth six yards Venkatgiri sarees are befitting for any climate.
These pit looms sarees distinct designs makes them remarkable. The offbeat feature of this saree is the big jamdani motif of peacock, parrot, swan, mango, or a leaf in the pallu. The patterns on the saree can be personalized and ordered to be made.The rare and highly exclusive designs are what inspires the woman around the globe to have a one of a kind piece in their ethnic ensemble. Venkatagiri's weavers excel in exclusivity and would gladly design a saree with your own stylised ideas.
The feather like touch and lightness of these sarees along with their high sturdiness make them one of the most sought after sarees as they can be worn irrespective of the time of the year, occasion and/or geographical setting of a person.
Recommended Story – Saree- The Indian Dress