In the chaos of our modern lives, meditation exists as a life-saving technique, offering solace and balance amidst the noise. Its profound benefits for mental and physical well-being have captivated individuals seeking inner peace and mindfulness. With the advent of meditation apps, the practice has become even more accessible, allowing people to embark on their inner journey with ease.
These apps provide a plethora of guided meditations, soothing music, and mindfulness exercises at our fingertips. From relieving stress and anxiety to enhancing focus and self-awareness, meditation apps have revolutionized the way we approach self-care and have become indispensable tools in our quest for inner harmony.
Top 10 Meditation Apps
Here is a list of 10 meditation apps you can use to keep calm and carry on during difficult times.
Insight Timer
Calm: Sleep, Meditate & Relax
Headspace: Mindful Meditation
Idanim: Meditate, Sleep, Relax
Medito: Meditation & Sleep
Tide: Sleep & Meditation
Zen
Let's Meditate: Relax & Sleep
Simple Habit
Aura: Meditation & Sleep
1. Insight Timer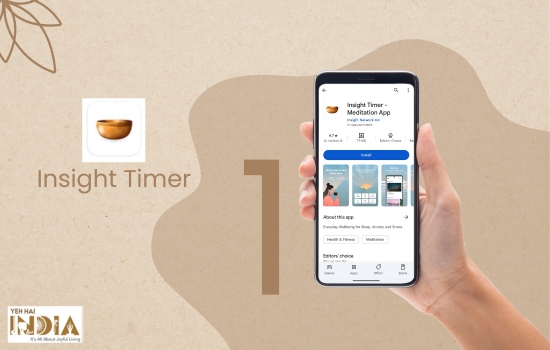 Insight Timer, a popular meditation app, has transformed the way people engage with mindfulness practices. With a vast library of guided meditations, music tracks, and talks from renowned teachers, it offers a diverse range of resources to suit individual needs.
Its user-friendly interface and customizable features make it a go-to app for beginners and experienced practitioners alike, fostering a sense of community and encouraging regular meditation practice.
App features
Free and thorough tutorials on breathing exercises
A wide range of courses starting from 1 day to 31+ days on various topics
Music for relaxation, diverse playlists for individual tastes, events to attend
Journal to make note of your progress
A check-in feature to assess your emotions
Challenges to keep you moving forward
Rating: 4.8
Reviews: 212k
No. of Installs: 5M+
2. Calm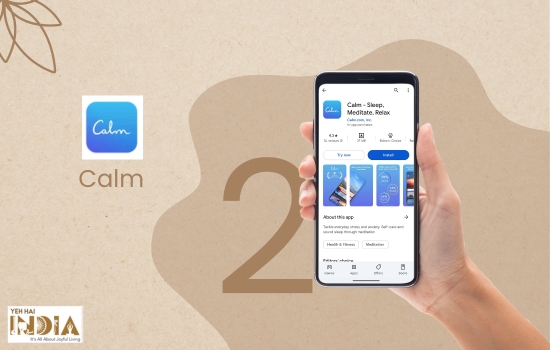 Calm, a leading meditation app, has become a beacon of tranquillity in our hectic lives. Through its soothing guided meditations, serene sleep stories, and calming music, it helps users find peace and relaxation. With its visually stunning interface and innovative features like breathing exercises and mindfulness programs, Calm has become a trusted companion for those seeking a respite from the daily bustle.
App features
Breathing exercises for relaxation
7- and 21-day programs for beginners and advanced users
Sleep stories to induce sleep
Open-ended and unguided mediation programs
Music and soothing nature sound to use during meditation.
Rating: 4.5
Reviews: 541k
No. of Installs: 50M+
3. Headspace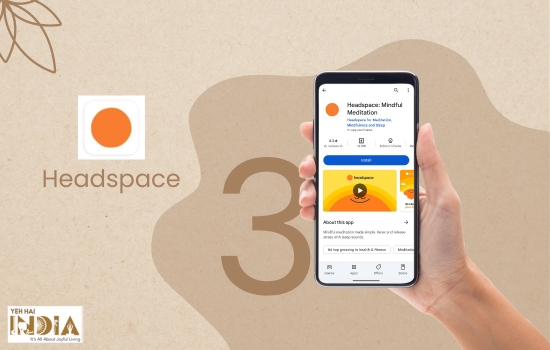 Headspace, a widely acclaimed meditation app, has revolutionized the way we approach mindfulness. With its distinctive approach of demystifying meditation, it offers guided sessions that are accessible and relatable for all. From managing stress to improving sleep and fostering mindfulness in daily life, Headspace has become a go-to app for individuals seeking a calmer, more balanced existence.
App features
DAILY MEDITATIONS: guided meditations and mindfulness exercises
Start your day inspired with The Wake Up — a short, daily video series made to brighten your day
SLEEP SOUNDS, NARRATIONS & MEDITATIONS – Relax and create the conditions for a restful sleep
STRESS RELIEF & COPING MEDITATIONS – Anxiety relief – ease stress with "SOS" sessions for moments of anxiety
Meditations to help you cope with sadness, and anger, and adapt to change
Improve focus with meditations, Boost your concentration and productivity with focus-enhancing music
Relieve stress and release everyday tension with mindful movement
Mood-boosting and motivating at-home workouts like yoga, guided runs, and centred fitness courses: 28 days of mindful fitness and cardio.
Rating: 4.5
Reviews: 299k
No. of Installs: 10M+
4. Idanim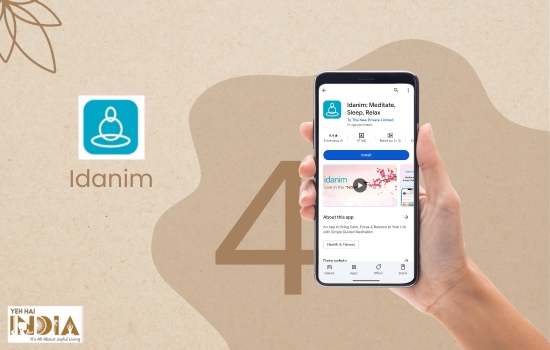 Idanim is an Indian-origin meditation app with an exhaustive repository of 1000+ guided meditations across 40+ categories like Reduce Stress, Improve Sleep, Boost Energy etc.
This meditation app provides a range of thoughtfully crafted courses tailored for beginners, as well as a wealth of meditation techniques and self-practice resources for experienced practitioners.
Its intuitive dashboards allow users to effortlessly monitor their mindfulness journey. With the 'Recommend Me' feature, the app suggests meditations based on one's current mood and emotions.
Moreover, Idanim offers the unique opportunity to engage in live meditations with teachers and fellow practitioners. Emphasizing mindfulness in day-to-day living and embracing the present moment, Idanim is designed to cultivate a more conscious and fulfilling existence.
App features
Kids Meditations
Learn to Meditate Courses for Beginners
Self-practice for seasoned practitioners
Daily LIVE Meditation Sessions
Offline Downloads
Ask an expert
Ratings: 4.6
No. of Installs: 100k+
5. Medito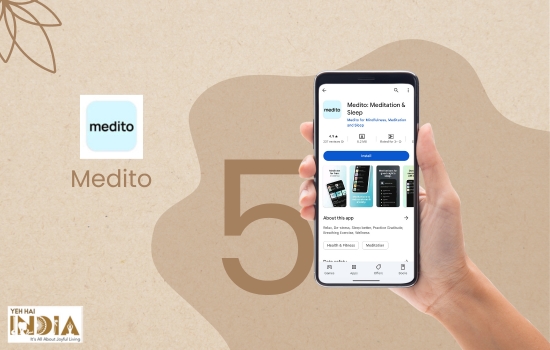 Medito, the 100% free meditation app, is a comprehensive tool designed to enhance your mental well-being through a variety of features, including guided meditations, breathing exercises, mindfulness practices, and relaxing sounds.
With guidance from Medito Foundation and esteemed organizations like UCLA, the app provides a holistic approach to meditation, incorporating ancient and contemporary techniques. By dedicating just a few minutes each day to this transformative app, you can experience the life-changing benefits of meditation, including increased positivity, reduced stress and anxiety, and a path towards a happier and healthier life.
App features
Beginner Course: Basics of mindfulness & meditation, including sessions on Mindfulness, Vipassana, Non-judgement, and more.
Intermediate Course: Deepening the practice with sessions on Spontaneity of thoughts, Consciousness, Anxiety & Stress management, and more.
Daily Meditation: Different sessions each day, customizable with session lengths and background music.
Sleep Meditation, Sounds & Stories: Guided sleep meditations, visualization, body scan, and sleep stories for restful sleep.
Meditation for Stress & Anxiety Management: Sessions on labelling thoughts, dealing with stressful situations, and transforming negative emotions.
Meditation for Work-Life Management: Transformative sessions for managing conflict, improving productivity and confidence, and achieving work-life balance.
Breathing exercises, Meditation timer, Gratitude, Mindful Routines, Relaxing music, and more.
Rating: 4.8
Reviews: 23.8k
No. of Installs: 1M+
Recommended Story – Spirituality in India: What it Means, its Evolution & the Gurus
6. Tide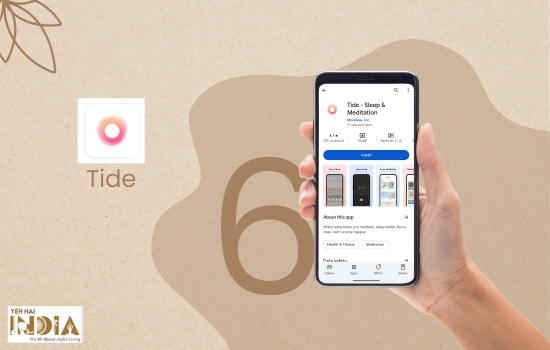 Tide, the all-in-one meditation app, seamlessly integrates sleep, meditation, relaxation, and focus to promote holistic physical and mental well-being. With a wide array of audio content inspired by travel, nature, and meditation, Tide offers natural soundscapes and mindfulness practices.
By helping users relieve stress, enhance focus, and achieve better sleep, Tide provides a tranquil escape from the fast-paced world, inviting moments of peace and serenity.
App features
Suitable for: Sleep problems, focus issues, creative individuals, stressed individuals, and meditators seeking peace.
Relax Meditation: Mindfulness practice anytime, immersive meditation space, includes basic and single meditations.
Sounds of Nature: Well-selected sounds of nature, music fusion mode, scenes include rain, ocean, and thunder.
Daily Inspiring Quotes: Well-selected quotes and daily quotes calendar.
Sleep and Nap: Sleep and nap mode, light wake-up alarms, sleep analysis.
Focus Timer: High-efficient work mode, immersive mode, customizable timer, app whitelist support.
Relax Breathing Guide: Balanced breathing, 4-7-8 breathing techniques for relaxation.
Tide Diary: Visible data report, fine-designed sharing card for peaceful moments.
Minimalist Design: Minimalist interface, emotional visual effects, customized typesetting.
Rating: 4.5
Reviews: 20.8k
No. of Installs: 1M+
7. Zen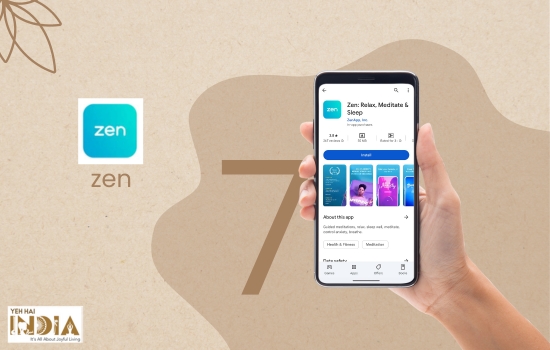 If you wish to lead a more joyful, more beneficial, and healthy lifestyle, Zen is the best app for you. Zen offers an incredible collection and ever-developing content for meditation.
App features
New guided meditations for deep sleep, relaxation, mood improvement, stress reduction, anxiety relief, and focus at work are added every week
Videos and audio for meditation and relaxation
Morning music that generates positive energy and music for deep sleep
Binaural beats therapy
ASMR audios
Mood monitoring
Rating: 4.2
Reviews: 26.9k
No. of installs: 1M+
8. Let's Meditate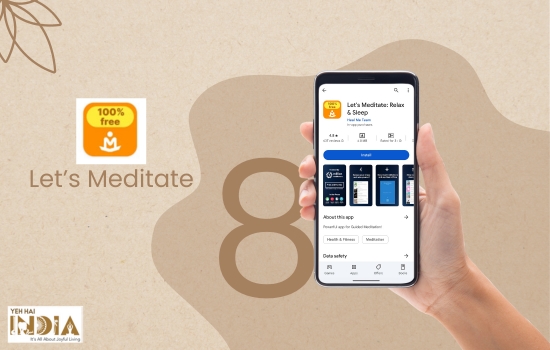 If you're a beginner you want to start slow. Meditating is not easy and hence it's important to mentally prepare yourself for your journey into meditation and mindfulness. Let's Meditate is a very direct app and it offers guided meditation. There is no clutter or distraction. Select a track of your choice, hit play, and relax.
App features
Simple and easy-to-use
Short and long meditation tracks
Offline support
No ads
No sign up required
Rating: 4.7
Reviews: 66.3k
No. of installs: 1M+
Recommended Story – Online Doctor Consultation Services in India
9. Simple Habit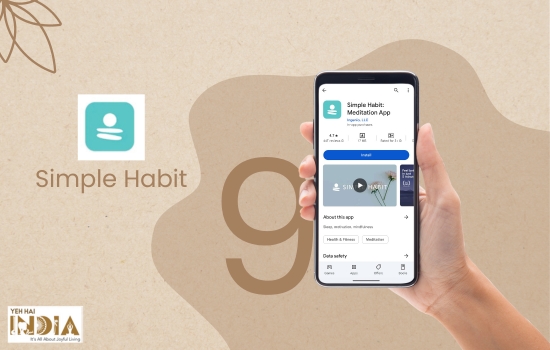 Another great app for beginners. Similar to the name, this app promotes simplicity in life and hence does not complicate the process of meditation. This app caters to motivation, mindfulness, and sleep. The app has been recommended by therapists and health experts for wellness and sleep.
App features
Meditation sessions as short as 5 minutes and longer durations
The on-the-go feature helps to relieve anxiety and achieve calmness
Meditation sessions designed for a fast-paced lifestyle
Programs to better sleep
Talks and coaching sessions for motivation
Meditations can be accessed offline with Premium subscriptions
Rating: 4.6
Reviews: 45k
No. of installs: 1M+
Recommended Story – Famous Top 10 Nutritionists to Follow in India
10. Aura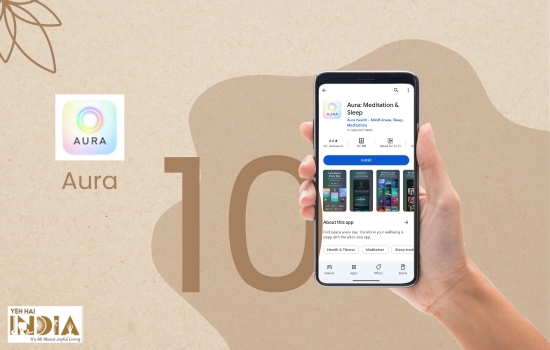 Aura contains a huge number of programs that assist you with getting rid of pressure, uneasiness, and rest problems. The application offers limitless access to life training, contemplations, and accounts of specialists and top mentors from around the world. Additionally, Aura is one of the few customizable meditation apps. It makes use of data to personalize recommendations.
App features
Free trial for 7 days
Thousands of meditations and stories
Life coaching by top mindfulness practitioners
You can customize mediations basis your mood at the time
It can even keep track of your various moods to help you be in more in control of your mood fluctuations
Daily reminders
Rating: 4.5
Reviews: 12.7k
No. of installs: 1M+
With their user-friendly interfaces and diverse range of features, these apps have made meditation more accessible to individuals of all backgrounds and experience levels. Whether you're a beginner looking to learn the basics or an experienced practitioner seeking to deepen your practice, there is a meditation app tailored to your needs.
From guided meditations and breathing exercises to sleep aids and stress management tools, these apps offer a plethora of resources to support your mental well-being. Embracing meditation apps can be a transformative step towards finding inner peace, managing stress, and living a more mindful life.
One application may not contain all that you need, so it is desirable to download a couple of free meditation apps with different types of programs. The primary concern is finding the most appropriate and following it consistently.
Also, Read – Top 10 Yoga Apps for Practising Yoga at Home