One of the most important components of a good hair care routine is a good hair oil and nothing is better than authentic ayurvedic oils to solve your hair woes. Check out our list of the best ayurvedic hair oil for hair growth that will give your hair the shine and nourishment it needs.
There are a myriad of hair problems related to the modern lifestyle including hair fall, frizzy hair, thinning, premature greying and a host of other issues. Home remedies do work up to a certain extent but they are usually not the ultimate solution to your hair problems.
Different hair problems require remedies with a specific combination of ingredients and a few trials to see what works for you. A good hair care routine goes a long way in treating these problems and preventing them from undergoing a relapse.
The ingredients in ayurvedic oils are usually strong enough to make a difference but not potent enough to cause serious side effects. You should choose a product depending on the type of hair problem you are facing. 
Recommended Story – Essential Oils For Happy and Healthy Hair
Here is a list of some of the best Ayurvedic hair oils for hair growth available in the market.
Best Ayurvedic Hair Oils For Hair Growth Available In India
1. Forest Essentials Organic Cold Pressed Coconut Oil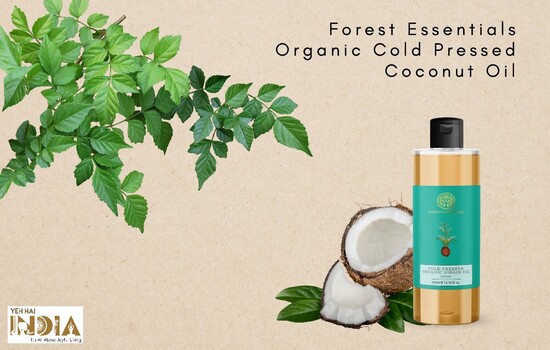 Forest Essentials virgin coconut oil is one of the purest coconut oils available in the market and is worth the premium price. Cold pressing ensures that the oil is extracted after the first press, avoiding any application of nutrient-destructing heat.
Ingredients:
This oil contains coconut oil and vitamin E. Coconut oil provides anti-inflammatory and antibacterial properties to soothe the scalp. Vitamin E protects your hair and is also a natural preservative that increases the shelf life of the product
Benefits:
According to Ayurveda, coconut oil can be extremely beneficial for the mind and body as it helps to balance the heat and air elements in the body, delivering a cooling effect. Having the power of reaching deep into the scalp, coconut oil can deliver a lot of essential fatty acids and vitamins to your hair follicles. It is also known to eliminate extra sebum from your scalp and promote the growth of new hair.
Best For:
Dry and brittle hair
Pros:
Cold-pressed pure oil
Moisturizes the hair
The addition of vitamin E acts as UV protection
Free of harmful chemicals like paraben and sulfate
Made from ethically sourced ingredients
Cons:
Price: Rs. 925
Forest Essentials Coconut Oil – BUY ON AMAZON BELOW
2. Imroz Hair Oil with Bhringraj
Get ready to experience the amazing benefits of Bhringraj hair oil! This special oil helps your hair grow by increasing blood flow to the roots and fighting hair fall when used regularly.
When combined with hemp seed oil, it creates a powerful mixture based on Ayurvedic knowledge that's perfect for making your hair soft, shiny, and thick. It also improves hair quality and helps to prevent skin infections and inflammation. But that's not all!
The combination of these oils goes beyond regular hair care. It creates a unique blend that works wonders on your hair, giving it a rejuvenating boost. Imagine your hair luxuriating in softness, radiance, and volume.
Ingredients:
This hair oil contains bhringraj (Eclipta alba) oil, hempseed (Cannabis sativa seed) oil, shikakai (Acacia concinna fruit) oil, isopropyl myristate, light liquid paraffinum, fenugreek (Trigonella foenum graecum seed) oil, curry leaves (Murraya koenigii) oil, ramacham valampiri oil, hibiscus (sabdariffa) extract flower, rose petals (Rosa centifolia flower) oil, black cumin (Nigella sativa seed) oil, tulsi (Ocimum sanctum leaf) oil, brahmi (Bacopa monnieri) oil, cinnamon (Cinnamomum zeylanicum) oil, amla (Phyllanthus emblica fruit) oil, and soya (glycine soja) oil.
Benefits:
Let's dive into the amazing benefits of some natural ingredients for your hair. Hemp seed oil is an incredible source of Omega 3 and 6, which work wonders in preventing hair breakage and keeping your scalp healthy.
With this fantastic oil, you can bid farewell to those pesky split ends and enjoy luscious, strong hair. Now, let's move on to the mighty bringhraj leaf.
This leafy superhero promotes hair growth like no other! It works its magic by boosting blood flow to the roots, ensuring your precious strands receive all the nourishment they need.
Best For:
Falling, weak hair
Pros:
Improves hair growth
Lessens hair fall
Improves hair quality
Helps reduce inflammation of the scalp
Cons:
None
Price: Rs. 339
Imroz Hair Oil with Bhringraj – BUY ON AMAZON BELOW
3. Kama Ayurveda Bringadi Intensive Hair Treatment Oil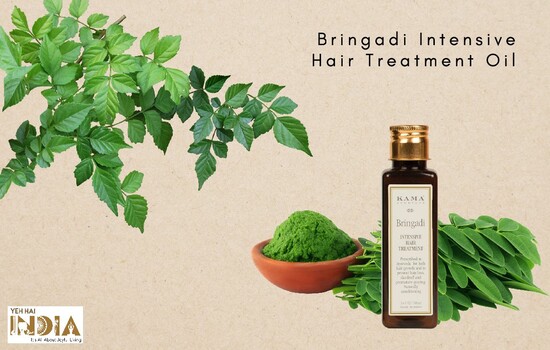 This hair oil by Kama Ayurveda offers an all round solution to a wide range of hair problems including dandruff, hair loss and premature greying which are common complaints in youngsters.
Ingredients:
The Primary ingredient of this hair oil is bhringraj which is also called the king of hair in Ayurveda. The supporting ingredients are amla, sesame seed, and indigo which are also very important and provide extra support to hair and scalp.
Benefits:
According to the brand, a clinical trial was conducted in which the hair oil reduced hair fall by 61% in 4 weeks. The goodness of nature in this oil nourishes hair and repairs damaged locks from the inside, giving it extra volume and fullness. Being full of nutritious ingredients like sesame oil, milk, indigo, eclipta alba and gooseberry, it is an excellent therapeutic hair oil. The antifungal and antibacterial ingredients-Licorice and Balloon Vine respectively restrict pathogens that cause scalp infection.
Best For:
Extremely thin and weak hair, inflamed scalp
Pros:
Proven to increase hair growth
Reduces premature greying of hair
Controls dandruff
Adds softness to hair
Cons:
Price: Rs. 450
Kama Ayurveda Bringadi Intensive Hair Treatment Oil – BUY ON AMAZON BELOW
4. Forest Essentials Organic Cold Pressed Moringa Hair Oil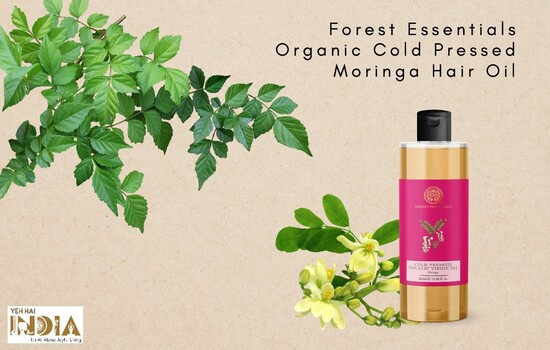 This oil from Forest Essentials is an excellent hair oil made from the best-quality white moringa kernels used to extract the oils through cold pressing, ensuring the preservation of nutrients.
Ingredients:
The main ingredients in this hair oil are Vitamin E and fermented moringa oil. Vitamin E protects the hair from UV rays and damage from pollution. It also acts as a natural preservative. The moringa oil provides strength and nourishment to the hair.
Benefits:
Known for its extensive healing and nurturing properties, Moringa is used widely in Indian food. It is also an excellent antioxidant which prevents damage from free radicals and can help in soothing the scalp and reducing inflammation while helping in the regeneration of new hair. Use the oil twice a week for the best results.
Best For:
Weak hair roots
Pros:
Free from parabens and petrochemicals
Eco-friendly packaging
Soothes the scalp
Promotes hair growth
Price: Rs. 1,595
Forest Essentials Moringa Hair Oil – BUY ON AMAZON BELOW
5. The Trichup Hair Fall Control Hair Oil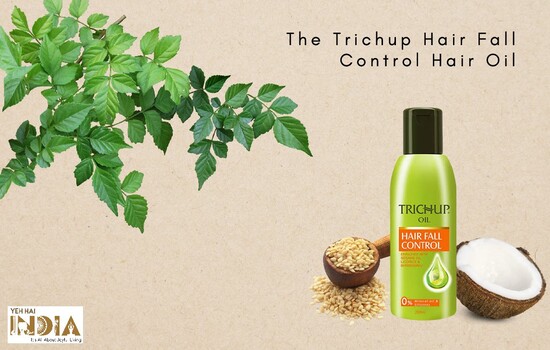 This Ayurvedic hair oil from Trichup is full of goodness and controls a myriad of hair issues like split ends, breakage, and hair fall. It is packed with a powerhouse of Ayurvedic herbs like Bhringraj, Amla, and essential fatty acids to enhance the hair's lustre.
Ingredients:
The main ingredients of this hair oil are coconut oil, aloe vera, sesame, and neem. Apart from this, the hair oil consists of an amazing blend of four potent ingredients: bhringraj, neem, gunja and amalaki.
Benefits:
These ingredients are known to support strong and healthy hair. The oil is safe for use by all people including children. Regular use of this oil prevents hair damage as the hair grows strong from the inside.
Best For:
Dull and damaged hair
Pros:
Moisturizes the scalp
Adds hair volume
Improves the texture of hair
Cons:
May contain some allergens
Price: Rs. 299
The Trichup Hair Fall Control Hair Oil – BUY ON AMAZON BELOW
Buy Ayurvedic hair oil "Emblaj" for volumizing hair
6. Blue Nectar Anti-Dandruff Ayurvedic Hair Oil with Tea Tree Oil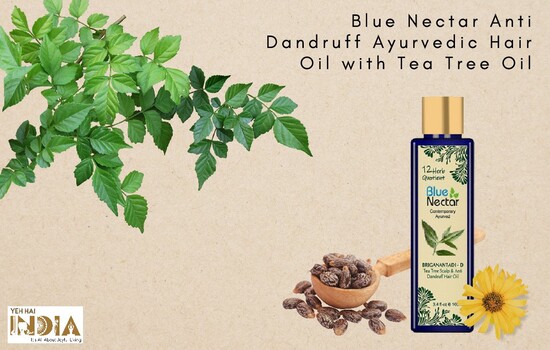 Dandruff is often an overlooked cause of extreme hair fall. This oil is specialized for dandruff problems and frizzy, dry hair. It has a unique mix of 14 ingredients including tea tree, hibiscus, bhringraj and coconut.
Ingredients:
This hair oil contains Bhringraj, coconut oil, tea tree oil, amla, Manjishtha, hibiscus oil, almond oil, sesame oil, rosemary, lavender oil, Anantmool, and Bawchi. All these ingredients provide various types of benefits to hair and scalp health, improving the overall growth and lustre of hair.
Benefits:
The manufacturing process and lending of ingredients are aimed towards soothing and healing dry and damaged scalps. It also cures dandruff caused due to overgrowth of bacteria and oil that accumulate on your scalp. Therefore, it's a wonderful remedy with antifungal ingredients like tea tree, neem and rosemary that help to ward off irritants and microbes and prevent dandruff.
Best For:
Dry hair and itchy scalp
Pros:
Hydrates scalp
Provides strength to hair
Makes hair shiny
Prevents dandruff
Price: Rs. 655
Blue Nectar Anti-Dandruff Ayurvedic Hair Oil – BUY ON AMAZON BELOW
7. Indulekha Bhringraj Ayurvedic Oil
Get ready to turn heads with your new voluminous and glossy hair with Indulekha Bhringraj oil. The best thing about this hair oil is its bottle that comes with an applicator comb, which makes the application a cakewalk.
Ingredients:
The key ingredients of this hair oil are Bringha (Bhringraj), amla, Vatadha, Svetakutaja, and virgin coconut oil. These ingredients have been shown to induce new hair growth and control hair fall in some clinical trials.
Benefits:
Bhringraj is rich in minerals and antioxidants and is an extremely potent hair-friendly herb in Ayurveda. Svetakutaja helps to control dandruff and microbes on the scalp and keeps the scalp healthy. Vatadha contains enough protein to help your hair grow. Amla, which is rich in vitamin C, helps to reduce inflammation and provides nourishment to hair follicles.
Pros:
100% free from sulfates, silicones, parabens, synthetic colour, and perfume.
Promotes new hair growth and reduces hair fall.
Packed with powerful Ayurvedic ingredients.
Very affordable.
Best For:
Falling hair
Cons:
Price: Rs. 432
Indulekha Bhringraj Ayurvedic Oil – BUY ON AMAZON BELOW
Learn More About Ayurvedic Hair Oils
Top 5 Ayurvedic Hair Oil Ingredients
People have been using Ayurvedic hair oils for centuries to promote hair growth, prevent hair loss, and improve hair quality. The five Ayurvedic hair oils that are considered the best are as follows:
Bhringraj Oil: First up is Bhringraj oil. Bhringraj is an Ayurvedic herb that's been used since ancient times to promote hair growth and prevent hair loss.
Amla Oil: Next on the list is Amla oil, which is made from the fruit of the Indian gooseberry tree. It's loaded with vitamin C, which helps strengthen hair follicles and prevent hair breakage. Who knew a little fruit oil could be so beneficial? It also has antioxidants and fatty acids that are great for moisturizing and nourishing the scalp.
Brahmi Oil: Then we've got Brahmi oil, which is made from the Brahmi herb. Apparently, this oil is known for its calming properties. Stress and anxiety are such common causes of hair loss, so anything that helps reduce those is a win! Plus, it helps strengthen hair follicles and promote hair growth.
Coconut Oil: And of course, we can't forget about coconut oil! This oil is so versatile and can be used for all sorts of things, including hair care. It's loaded with lauric acid, which has antimicrobial properties that can help prevent scalp infections. Plus, it's great for moisturizing and nourishing the scalp, which is key to promoting healthy hair growth.
Neem Oil: Last but not least, we have neem oil. It is made from the seeds of the neem tree and is known for its antibacterial and antifungal properties. So if you struggle with dandruff or other scalp infections, this might be the oil for you! Plus, it's got fatty acids and vitamin E, which are great for moisturizing and nourishing the hair and scalp.
How to apply Ayurvedic Hair Oil?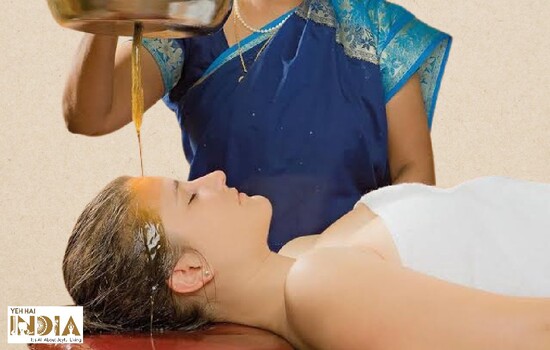 Ayurvedic hair oils are most effective when they are warm. So before applying hair oil, warm it up a little and remember to not boil the oil.
Here are some guidelines to follow while applying Ayurvedic oil formulations on the scalp:
Comb your hair properly and detangle the knots
Section the hair into different parts
Apply the oil to your scalp and massage using your fingertips
Apply some of the oil on the hair strands and the tips
For best results, massage for up to 15 to 20 minutes as it helps to stimulate blood circulation on your scalp and improve the quality of your hair
Summary:
Hair fall is an extremely common problem that causes extreme distress. While dealing with hair fall, it is important to find out the underlying cause of it. Hair fall can happen due to a myriad of reasons, including underlying diseases. However, hair fall also occurs as a result of poor hair care. Choosing and using good quality hair products are extremely important to maintain your hair health. We have discussed the top 7 Ayurvedic hair oils packed with potent Ayurvedic herbs and clinically proven to reduce hair fall. So grab your favourite oil and start noticing the difference!
Also Read – Keep Your Hair Right in Place: 9 Best Chemical-Free Hair Waxes for Men