The lure of green living is no longer limited to health and skin care, its grandeur has sneaked into the glamorous world of make-up as well in a bid to prevent our skin from absorbing harmful chemicals found in the world's most renowned make-up brands.
Organic make-up is the buzzword these days among make-up freaks who are always on the lookout for chemical-free products. Surprisingly, slathering your skin with chemical laden foundations is no longer the in-thing especially when there are natural alternatives available to amp up your complexion with a streak of herbal tint, foundation or concealer free from any kind of parabens or other harmful additives.
Finding the right brand of foundation with Ayurvedic ingredients might sound like a puzzle, but with our curated list of Organic/Ayurvedic/Herbal foundations, you won't have to spend endless hours researching every single product claiming to offer the benefits of a full coverage foundation.
Here is a list of our picks from a variety of natural, chemical-free and organic foundations available in stores, promising to give you the skin of your dreams!
6 Best Ayurvedic/Organic/Natural/Herbal Foundations Available in India:
1. Forest Essentials Gulaab Pankh Silk Skin Tint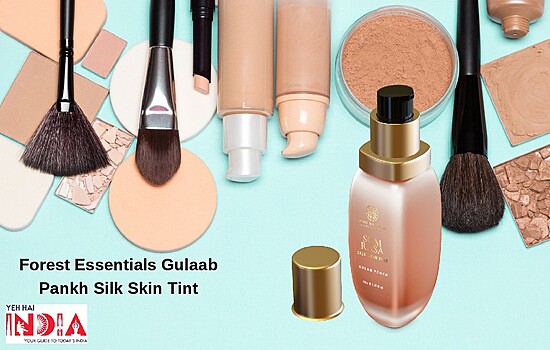 Benefits:
100% Ayurvedic ingredients
Lightweight
Breathable
Leaves skin moisturized
Paraben free
Medium coverage
Cruelty free
This lightweight formula gives a perfect finishing touch to lighten the appearance of unappealing marks and blemishes on the face and blends beautifully with the rest of your skin. This skin tint has a silky texture that vanishes into the skin on first application to improve its tone.
Formulated with rose petals, cow milk, kasturi manjal, green tea, moringa and sweet almond oil, it works to diminish imperfections like pigmentation, fine lines and dull texture on extended use.
Price: ₹2,750/-
Recommended Story – Up your skincare game with these organic products!
2. Soul Tree Ayurvedic BB Cream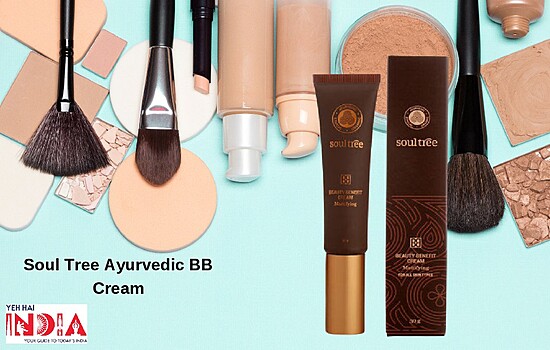 Benefits:
Ayurvedic formula
Non-Greasy
Naturally uplifts skin tone
Cruelty free
Paraben and Phthalates free
No presence of Silicones, Lead, Mineral Oil, SLS/SLES & DEA/TEA
This Ayurvedic BB cream fuses into skin to lift up its tone and texture in a very subtle way. It comes in four shades – Golden Glow, Mild earth, Soft Beige, Rich Honey and Hazel Dew to suit all kinds of skin tones.
Enriched with pink lotus, sandalwood and turmeric, this herbal formula offers decent coverage to blemishes, fine lines and acne scars to even out the complexion of your face.
Price: ₹ 950/-
3. Just Herbs Herb Enriched Skin Tint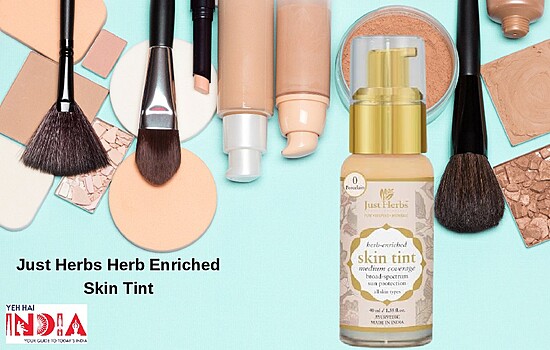 Benefits:
Lightweight
Silky smooth finish
Non-cakey
Light to medium coverage
Protects skin from pollutants
Safe for sensitive skin
Free from parabens or other toxic chemicals
This skin tint-cum-BB cream is designed to hide skin imperfections with a thin veil that blurs dark spots, pigmentation marks and fine lines leaving behind a silky smooth finish. Just Herbs' skin tint is available in 12 shades.
It's key ingredients are Brahmi, Manjishtha, Javitri and Indian Lotus, known to prevent ageing, reduce pore size and hydrate skin from within. Besides, it also offers sun-protection and lightens acne scars.
Price: ₹ 1,295/-
4. ILIA True Skin Serum Foundation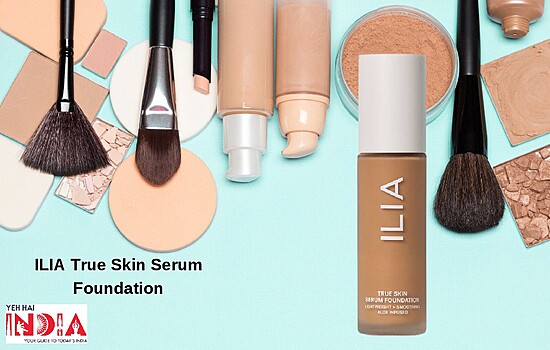 Benefits:
Light to medium coverage
Natural Ingredients
Cruelty free
Weightless Formula
Nourishes skin
Paraben free
This serum infused foundation covers dark spots, lines and pigmentation marks to give your skin a flawless finish. It nourishes your skin leaving behind a satin smooth finish on your face.
Enriched with Aloe leaf, Jojoba, Marula and Rosehip oils, this blend of skin serum and CC formula calms irritated skin and manages redness in acne prone skin.
Price: ₹8,127/-
5. Fifth Skin Organic Liquid Foundation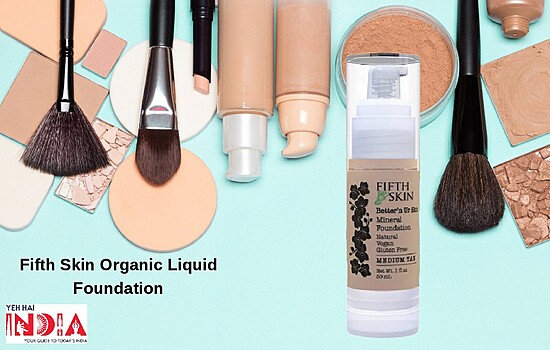 Benefits:
Non toxic
Palm free
Cuelty free
Vegan
Buildable coverage
Breathable
Safe for sensitive skin
Better'n Ur Skin Foundation from Fifth Skin is a completely natural formula offering buildable coverage to all skin types. It easily hides rosacea marks, pigmentation, dark spots, freckles and sun damage.
Its key ingredients Oryza sativa (Rice extract) , rosemary extract, lavender flower extract, Oregano leaf extract and Shea butter infuse a youthful glow to your face, besides working to improve its appearance.
Price: 4,770/-
6. Shimarz Natural Organic Mineral Foundation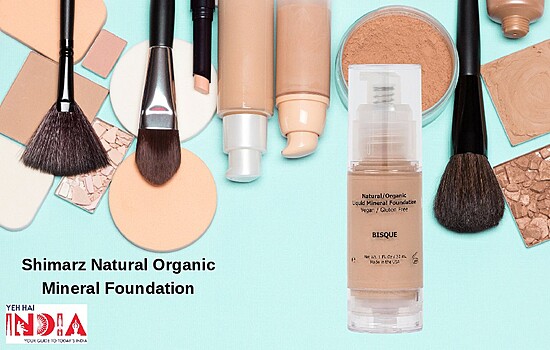 Benefits:
90% Organic Ingredients
Oil free
Non-irritating
Good for sensitive skin
Gluten free
Non-toxic
Palm free
Hypoallergenic
Water proof
This is an all natural blend with organic ingredients that soothe and hydrate irritated skin. Shimarz natural organic foundation covers spots, freckles, acne scars and blemishes on the face with a dewy finish.
Aloe Leaf, chamomile flower, thyme and goldenseal extracts target skin imperfections to naturally lighten the appearance of scars, fine lines and redness on the face. It offers sun protection to keep signs of ageing at bay and maintain the youthfulness of skin.
Price: ₹ 4,665/-
With a bunch of great natural options to camouflage skin imperfections at your disposal, it's time to ditch the chemicals and bring the goodness of nature into your life. 
Also Read – 10 Affordable Skincare Brands for a chemical-free skin care routine!