Get luminous-looking skin without any sign of imperfections spoiling its appearance with organic makeup brands.
Makeup has become a part of most people's everyday lives today. A trend that began as a tool to hide flaws and insecurities, makeup has now grown and evolved into an accessory that uniquely expresses each individual's beauty.
As a person who is conscious of protecting and sustaining the environment they live in, it is essential to be aware of what goes into our body and later into the earth as waste. It has become very important to use and promote products that are free of toxic chemicals that pollute everything in and around us in the long run.
The ignorance surrounding chemical ingredients and the toxic waste they generate during manufacturing has thankfully decreased, which is the main reason all major brands are moving towards clean and organic products.
To help you find the right organic makeup that suits you, we have curated a list of the 10 best organic makeup brands in India here that offer natural, vegan, and cruelty-free products.
Recommended Article: Top Organic Beauty (Cosmetic) Brands in India Offering Best Organic Skin Care Products
10 Natural & Organic Makeup Brands In India
1. Forest Essentials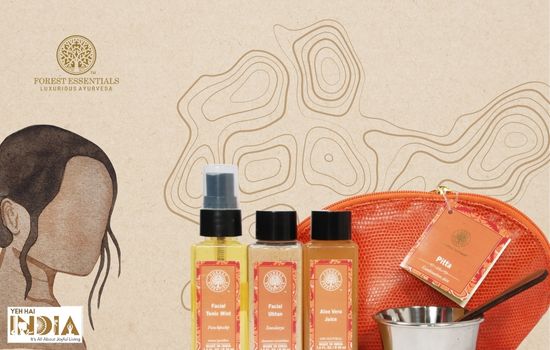 Forest Essentials is one of the earliest brands that established itself in the beauty industry with its organic products in beauty and wellness. They craft their products with the inclusion of ingredients and principles from the ancient science of Ayurveda.
Forest Essential products are cruelty-free (PETA approval) and satisfy the standards of GMP and ISO. Their products are formulated based on the ancient principles of Ayurveda that are approved by AYUSH as well.
Products:
Their makeup line includes naturally made kajals for eyes, lash and brow serums, and tints for lips, cheeks, and skin.
Forest Essentials products are very high in quality and they are a constant favourite in the market.
Where to buy?
Visit their website to buy Forest Essentials products. Amazon and other e-commerce sites also offer Forest Essentials products at competitive prices.
2. Soul Tree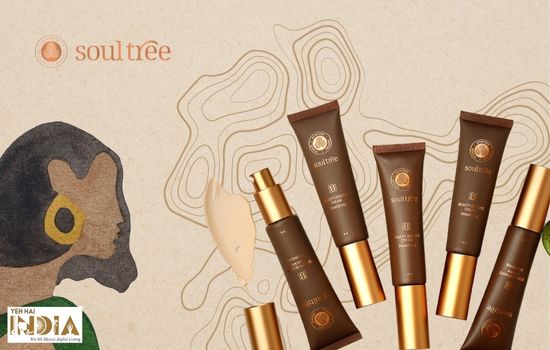 Soul Tree is one of India's earliest brands to start the trend of incorporating Ayurveda into skincare and beauty by blending the perfect ancient recipes and rituals with modern technology.
Their products follow the BDIH guidelines and are also ISO certified. Soul Tree products are genuinely natural, as all their products include sustainably sourced ingredients directly from farmers.
They are not only cruelty-free and vegetarian but also completely chemical-free, as they don't even use any synthetic fragrances in their products.
Products:
Soul Tree's makeup line offers kajal and mascara for the eyes, lip glosses and lipsticks, and a very popular BB cream.
The BB cream is available in varying shades suitable for Indian skin tones and costs Rs 1295 (30 g).
Where to buy?
Buy Soul Tree beauty products at their website and on Amazon.
3. Bella Vita Organic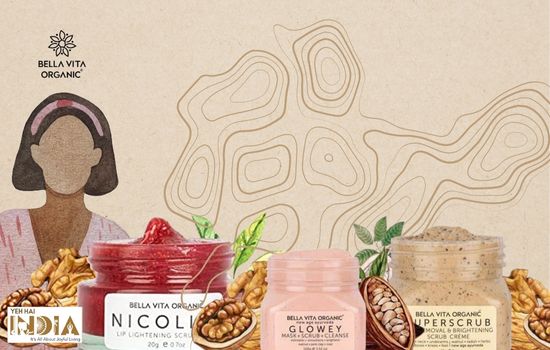 We all know how good Bella Vita's organic skincare products are. But did you know they also have a cosmetic line?
Products:
Currently, they only offer a 10-shade matte lipstick line for a very affordable price.
This makes us hopeful that they may launch many more cosmetic products that are cruelty-free, organic, and 100% chemical-free. More great products from a brand with a well-established reputation in the organic beauty industry will undoubtedly be welcome.
Bella Vita Organic's products are curated and formulated with ideas rooted in Ayurveda. They hold approval from AYUSH, Ministry of India. The brand is currently one of the most trusted and popular Ayurvedic wellness brands in India.
Where to buy?
You can buy their Comfort Matte Lipsticks for Rs 400 from their website.
4. Ruby's Organics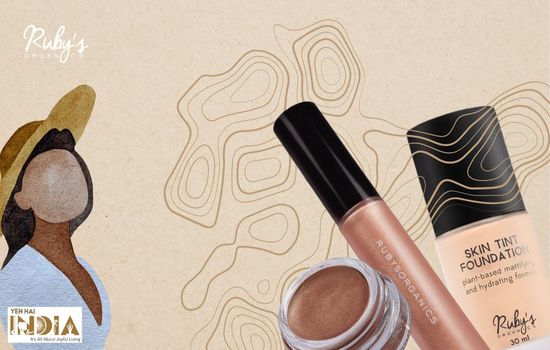 Ruby's Organics has the best makeup products in the market that are simple and clean in terms of both use and sustainability. Their products are manufactured with one goal in mind: not to cause harm to our skin or our home.
We love their brand motto, "Beauty for Everybody."
A quote from their website reads, "We cannot make false promises and claims because truly, the journey to discovering beauty is inward and transcends far beyond the surface. Everybody deserves to feel beautiful and makeup is simply a tool," clearly shows us their ingenuity.
Products:
They offer everything from foundation to lip balm in different shades that suit people of all Indian skin tones.
Ruby's Crème Blush, Mattifying Foundation, lipstick line, and lip care are very popular in the market.
All Ruby products are 100% vegetarian and cruelty-free. They are also ECOCERT, COSMOS and NATRUE certified. They have a very open ingredient list to inform consumers about clean products that do not harm our skin or the environment.
Where to buy?
Check out their website for product details and current offers.
5. Biotique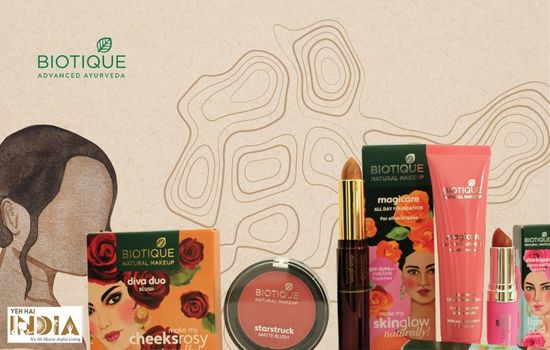 Biotique is a brand that has never broken the consumer's trust. From using recyclable packaging to selling products that are 100% naturally sourced, Biotique stands the test of time. There is nothing new to be said about Biotique.
We have already praised their skin and body care products in every way we can. We know their body care products are to die for, especially at the most affordable prices at which they are offered. Similarly, Biotique's makeup line is also worth investing in.
Products:
They have an extensive line of natural makeup products for eyes, face and lips.
They have primers, foundations, concealers, highlighters and blushes.
You can't leave out the brow fillers, kajals and mascaras as well.
Their quality is as high as ever, especially with the knowledge that the brand is known for its Ayurveda-based natural ingredients.
All ingredients used in Biotique products are sourced from the foothills of the Himalayas. They are also manufactured by trained and experienced Ayurvedic doctors, cosmetologists and dermatologists, to comply with EEC and FDA regulations.
Where to buy?
You can buy Biotique products from most e-commerce sites. If you are interested in reading their origin story and checking out all the other products they offer, visit their website.
6. Juicy Chemistry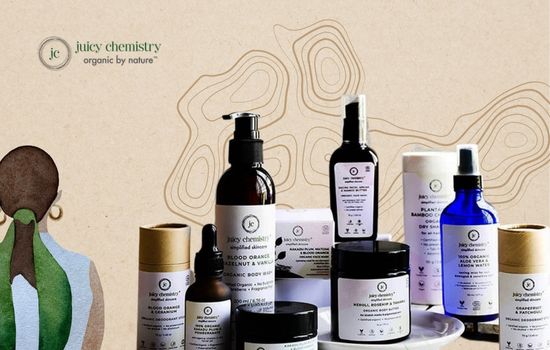 Juicy Chemistry products are tested and Ecocert certified to be 100% organic, cruelty-free and GMO-free. They source their produce individually and their products are handmade, unlike most other brands which make each of them unique.
Products:
Juicy Chemistry makeup line includes everything from foundations, concealers, lip and cheek tints to kohl and lipsticks.
All of their ingredients and products satisfy the highest standards exacted by regulatory bodies such as ECOCERT, COSMOS, ISO, GMP, etc.
Even though their products are handmade, they are tested to make them dermatologically safe without harm to animals and the environment.
Visit their website to order. You can also find Juicy Chemistry makeup on Amazon and other e-commerce sites.
7. Just Herbs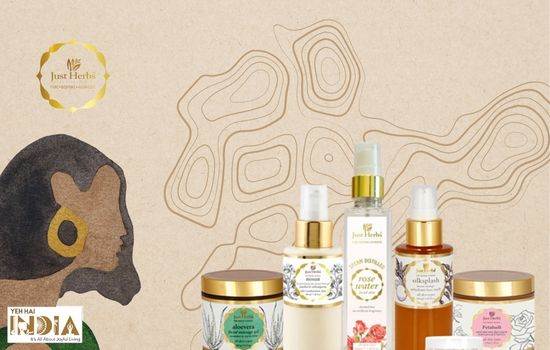 A purely Ayurvedic brand that was founded in 2014 by partners in life and business Arush and Meghan Chopra in Chandigarh. They created a skincare range that was made from just herbs, not just in name.
They included Ayurvedic principles along with the natural ingredients used in their products which pushed them up a few places on the ladder.
Products:
Just Herbs has makeup products for the face, lips, eyes and nails that include everything from a Mattifying Foundation and Concealer to chemical-free nail paints.
They also have lip and cheek tints, kajals, matte lipsticks and many more products on offer.
All makeup products are pretty affordable and still satisfy the highest standards of quality consumers expect.
Ingredients are ECOCERT-approved and the brand follows a very open disclosure policy of their ingredients. This forms the brand's foundation along with their dedication to producing clean and safe wellness and beauty products based on Ayurveda.
Where to buy?
Buy Just Herbs products directly from their website.
8. Azafran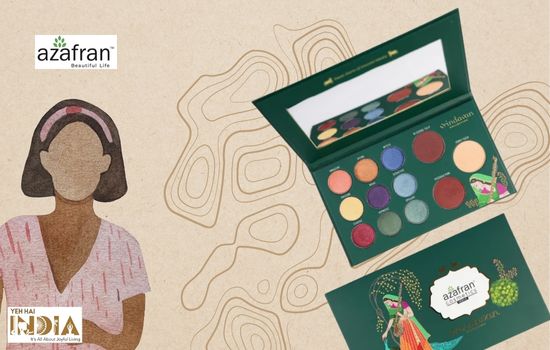 Azafran, since its inception 12 years ago, has become one of India's leading brands offering body care products. Based out of Gujarat, their growth in the industry has been nothing short of inspirational.
Their body care products are authentic, green and fresh from Azafran's farm where they grow all necessary ingredients organically.
Azafran makes sure all its ingredients and products meet market standards. They have approvals and certifications from FSSAI, ISO ECOCERT, Bureau Veritas, APEDA, USDA Organic and India Organic.
Products:
Apart from this, they now offer 3 liquid lipsticks in very pretty colours named Nymph, Goddess and Queen Matte.
They also have another unique combo palette in their makeup line. It has a blush, highlighter and 9 eyeshadow shades in one single palette.
There are 3 different combos in this makeup palette, again named very uniquely, as Swarg, Vrindavan and Ganga.
Where to buy?
Find Azafran Makeup Palettes here.
9. Daughter Earth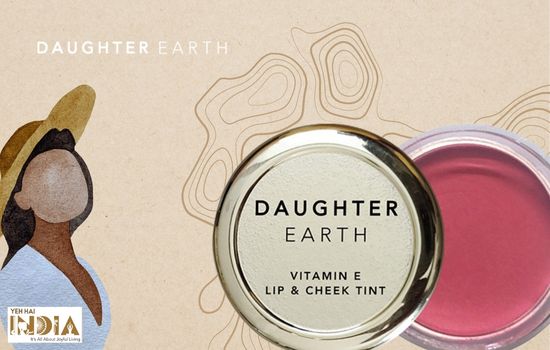 Daughter Earth is a brand we discovered when we researched to bring attention to noteworthy organic, vegan brands in the beauty industry. According to its website, Daughter Earth goes one step beyond all other brands in sourcing natural ingredients.
They follow wild harvesting, the direct sourcing of herbs and plants from their wild, natural habitats.
The company makes use of farmers and local marginalised communities from remote parts of the country where they find their herbs, thus creating a sustainable ecosystem for not just the environment but also for human society.
Daughter Earth products pass multiple tests and verification processes by clinical experts and are cruelty-free (Approval from PETA). They make their products without the presence of any chemicals or animal products. The products also undergo rigorous QA/QC testing before they come to the market.
Products:
Daughter Earth's makeup line has concealer, blush, liquid lipsticks, lip glosses, setting powder, lip and cheek tints, and a face mist.
Where to buy?
Take a look at their website here.
10. Bon Organics
Nishantaini, CEO of Bon Organics, started the business from the ground up, intending to create genuinely organic products at prices affordable to everyone. Her family background in the manufacturing side of the beauty industry has given her an insight most other brand owners do not possess from the get-go.
The products meet the high standards of USDA Organic and cGMP regulations. Their packing materials are recyclable to be kind to Mother Earth.
Products:
Bon Organics currently sells 15 different makeup products, including lip balms, kajals, toners, lip and cheek stains, and loose powder.
Where to buy?
Check out their products on their website.
As an everyday essential, we need to be careful of how makeup impacts our health and environment. Avoiding toxic ingredients in makeup is not only good for your skin, but it also reduces pollution to the environment.
Embrace the power of nature to get a naturally radiant finish that beats all synthetic make-up looks.
Frequently Asked Questions
1. What is the best organic makeup brand in India?
Many beauty brands in India are 100% organic. Of them, most brands offer an extensive list of products for skin care, hair care, etc. In the case of makeup products, the majority of these organic brands have only selective makeup products. Biotique has the biggest catalogue of organic and cruelty-free makeup products. They offer foundations for different skin tones, blushes, eyeliners, mascaras, eyeshadows, lipsticks and more.
2. Why are organic makeup products better?
Organic products, not just makeup, are always better as they do not include harmful chemicals in their ingredients. Most importantly, organic products are formulated from ingredients that are grown and sourced naturally without any pesticides or insecticides.
3. Which are the most popular organic makeup brands in India?
10 Popular Organic Makeup Brands in India
Forest Essentials
Soul Tree
Bella Vita Organic
Ruby's Organics
Biotique
Juicy Chemistry
Just Herbs
Azafran
Daughter Earth
Bon Organics
4. How do you know if a product is organic?
Products that are 95% organic can display the organic logo on their labels. If they contain organic ingredients less than 95%, they can mention that the product is 'made with organic ingredients' but cannot display the certification logo.
5. Is Organic makeup good for your skin?
Absolutely yes! Organic makeup products are made with ingredients that do not contain any toxins or harmful chemicals. They are sourced naturally without the use of chemicals like insecticides or pesticides. They have active ingredients, rich in essential oils, vitamins, minerals and antioxidants that keep your skin healthy and glowing.