Ayurvedic lipsticks are makeup and skincare combined into a single package to deliver excellent benefits for maintaining your soft pink lips. Learn more about these incredible products in this article.
We are familiar with the immense benefits of Ayurveda and there are a lot of skincare products based on the ancient Indian medicine available in the market today.
However, not many people are aware of the benefits of Ayurvedic makeup. Regular makeup products contain several harmful chemicals and fail to offer any additional benefits apart from temporary beautification.
Ayurvedic products, on the other hand, offer skincare along with makeup making it an incredible 2-in-1 package!
Thus, Ayurvedic beauty products can be a great addition to your vanity bag and enhance your beauty while protecting you from the side effects of harsh chemical ingredients which are used in regular products.
Ayurvedic lipsticks can help you look your best while nourishing and protecting your lips at the same time. Lip tints are another way to impart a stunning colour to your lips and are in vogue now.
Many people are opting for lip tints instead of lipstick for achieving a more simple and dewy look. You can also use lip tints on your cheeks to impart a natural blush which brings liveliness to a rather dull face.
Here are the best Ayurvedic lipsticks and tints that deserve your attention:
1. Soultree Ayurvedic Lipstick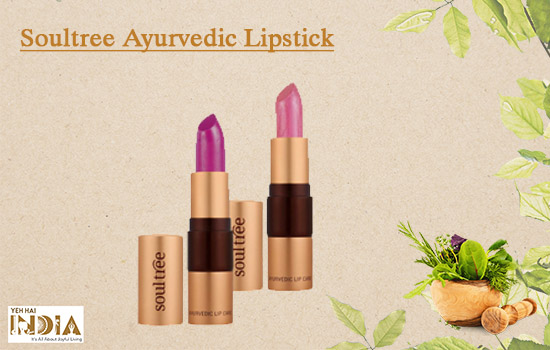 Available in unique and bright colours like copper mine, cocoa-rich, and candy floss, the Soultree Ayurvedic lipsticks are perfect for a brilliant look.
The lipsticks are suitable for all skin types and free of all harmful chemicals including SLS, mineral oils, DEA/TEA, silicone, paraben, and phthalates. Moreover, these lipsticks are 100% vegetarian and free of animal testing.
The lipsticks are formulated with organic ghee and honey and organic sweet lemon oil which makes them extremely nourishing and great for your lips. 
Recommended Story – Bella Vita Organic Nico Lips' Lip Lightening Scrub and Balm
2. Just Herbs Ayurvedic Creamy Matte Lipstick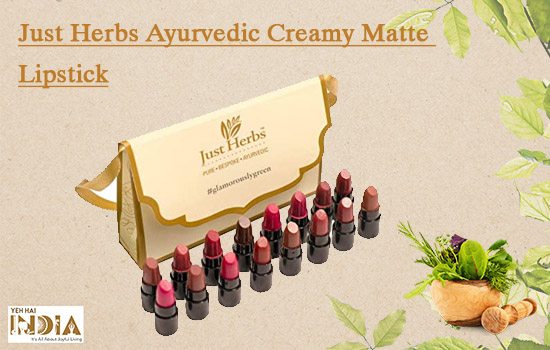 Just Herbs has an amazing collection of organic lipsticks with a beautiful variety of shades and really attractive combos at affordable prices.
The lipsticks are free from silicones, petrochemicals, paraben, and synthetic film formers which are known to be present in many regular products.
These organic lipsticks are full of sesame oil, organic Brahmi, and manjistha which gives your lips that touch of softness and glamour while maintaining the health and natural beauty of your lips.
They have a very popular micro mini trial kit consisting of 16 micro lipsticks which you can try for yourself at a very affordable price of Rs. 575.
They also offer combos of liquid lipsticks including various states of pink, red and brown.
3. Biotique Natural Makeup Magicolor Lipstick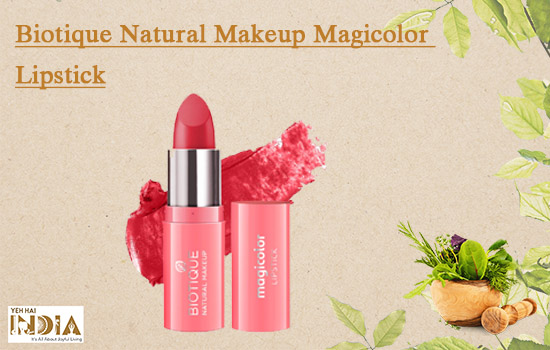 Biotique is a brand based on ancient Ayurvedic principles combined with modern biotechnology to create the most innovative and effective products.
The Biotique natural lipstick comes in a variety of brownish and reddish colours which gives a highly pigmented and uniform look and does not contain any harmful chemical ingredients like paraben, sulfate, or petrochemicals.
Naturally derived colours are used for pigmentation. The addition of nurturing and moistening ingredients helps to keep your lips healthy while also providing the most attractive and trendy colours that make you stand out.
4. Forest Essentials Tinted Lip Serum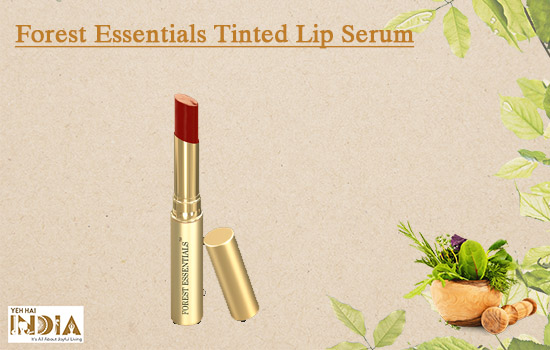 The Forest Essentials tinted lip serum stick is full of nourishing benefits and comes in four beautiful shades including Gulab Jal and Anaar Ras.
The lipstick contains organic and ayurvedic ingredients including organic beeswax, vitamin E, fermented moringa oil, shea butter, almond oil, and pomegranate extract.
It is a perfect blend of beauty and wellness and imparts a natural glow to the lips. Choose a darker shade for nighttime and lighter ones for a simpler daytime look.
5. Sadhev Herbal Lip Gel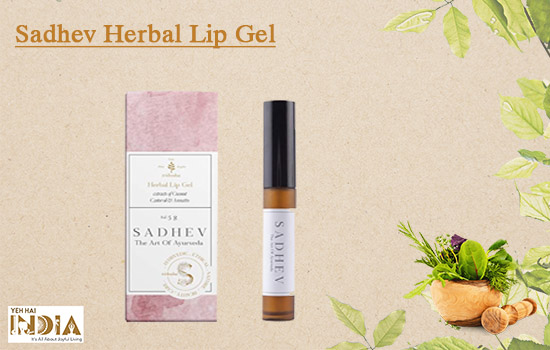 The Mayans used to source a raw sunset red colour from the Annatto seeds derived from the Achiote tree of South America which imparted a brilliant natural-looking red colour to the lips.
Sadhev lip gel consists of these annatto seeds blended with moisturizing coconut oil to give you the most natural-looking, hydrated, and glossy red lips for a naturally gorgeous look.
The coconut oil used in the lip gel is derived from tropical Kerala coconuts which provide a delicate texture while castor oil is full of vitamin E to protect the lips from external damage.
Alkanet root which gives a ruby red colour is also used to enhance the colouring effect of the gel.
Recommended Story – Best Organic Lip Balms for daily use
6. The Ayurveda Co. Beetroot Lip Tint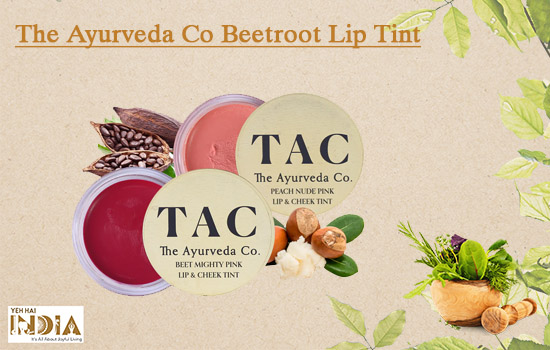 Vegan, free of chemicals, and made of completely natural ingredients, the Ayurveda Co Beetroot lip tint is the perfect product for safely enhancing your style quotient.
This lip tint delivers a deep pink colour to your lips while moisturizing them with added real butter. It is perfect for parched lips.
The brand also provides lip tints in a wide range of colours like blueberry glaze, mocha brown, and hot pink pie.
7- Vedarambha Ayurvedic Lipstick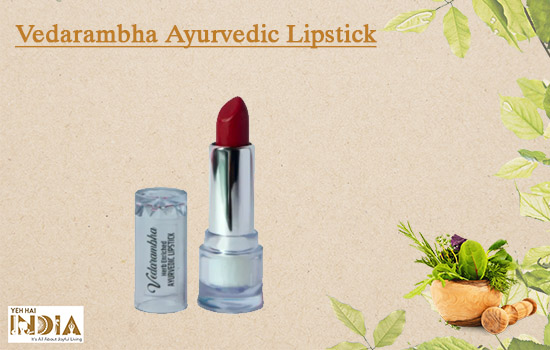 Vedarambha lipstick is available in two brilliant colours: maroon and red. The lipsticks are free of sulfate and paraben and full of beneficial Ayurvedic herbs which take care of your lips keeping them supple and hydrated.
The lipstick contains herbs like manjishtha, yashtimadhu raktachandan, nourishing ingredients like shea butter along with oils of almond, castor, and coconut, and natural vitamin E.
Natural colours free of lead and petrochemicals are used to colour these lipsticks. Raktachandan and manjistha are known to help hyperpigmentation and lighten skin and yashtimadhu are good for nourishment of the lips.
8. Aegte Organic Beetroot Lip Tint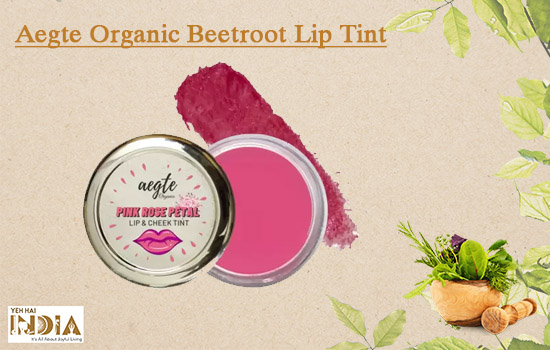 This lip tint from Aegte Organic is filled with moisturizing ingredients. Beetroot is used as a natural bleaching agent to give your lips a wonderful natural pink colour.
Tomato pulp provides enough nutrients and protection from sun damage. This beetroot lip tint helps to colour your lips while providing moisturizing benefits which can help to improve the pigmentation and texture of your lips and prevent dehydration.
The grape seed oil and carrot oil provide antioxidants that prevent inflammation and darkening of lips.
9. Natural Wash 3-in-1 Makeup Tint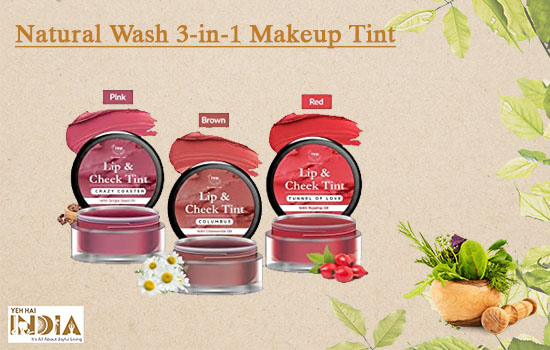 The Natural Wash 3-in-1 makeup tint contains natural and organic ingredients along with essential oils which can work as makeup for your lips and cheek as well as act as skincare, providing nourishment and preventing damage.
The smooth and creamy texture of the lip tint will leave a matte look on your lips. It is available in three colours: chocolate brown, fierce red and rosy pink.
Rosehip oil, vitamin E, and castor oil help to prevent hyperpigmentation and maintain the baby pink colour of your lips.
10. BlushBee Organic Beauty Lip Nourishing Lipstick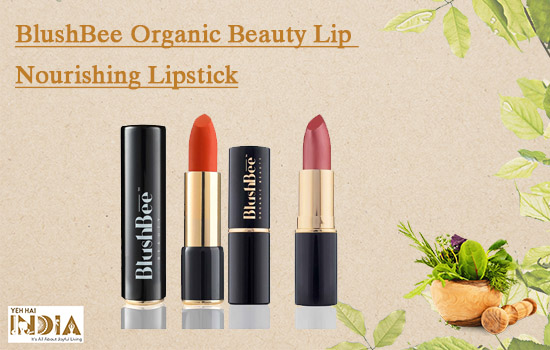 Consisting of moisturizing ingredients like shea butter, cacao oil, and almond oil, the BlushBee Organic Lipstick is perfect for lip care.
The nourishment prevents chapped and dry lips and the colour lasts all day long. The ingredients are certified by ECOCERT making it a 100% organic brand.
No harmful ingredients like petrochemicals and lead are present in the lipsticks. Exotic shades like velvet touch and flamengo red are a must-try!
Summary:
Ayurvedic lipsticks provide not only a glamorous colour to your lips but also help in full feeling the skin care needs making it an excellent combination.
Even though only a few Ayurvedic brands like Soultree and Just Herbs offer Ayurvedic lipsticks many other Ayurvedic brands are offering lip tints that are as great as lipsticks in colouring the lips and also provide nourishment and protection preventing dry lips and retaining the natural pink colour of your lips.
So have fun playing with colours without compromising on health!
Also Read – Top Organic Beauty (Cosmetic ) Brands in India Offering Best Organic Skin Care Products