If you're struggling to keep up with your daily make-up ritual to hide darkened lips, an intensive lip scrub is what you need to naturally lighten the darkness and bring back the rosiness that you once owned as a prized beauty trait way back in your teens. 
Buy Bella Vita Organic's "Nico Lips" HERE
Nico Lips' Lip scrub from Bella Vita Organic Lip care range is formulated with ingredients meant to lighten darkened lips. It gently exfoliates your lips to reduce darkness that is likely to set in at the corners of the mouth due to smoking, makeup or substance abuse.
It's a tinted scrub with intensive moisturizing abilities that promise to hydrate and soothe dry and flaky lips. Quite unlike regular lip balms that fail to keep lip dryness at bay, this scrub might be helpful in restoring moisture for longer hours. Addition of walnut grit, helps slough away dead tissues to make your lips respond better to nourishing balms.
Furthermore, this lip scrub functions like a moisturizing balm with its carefully chosen list of natural butters that promise to offer intensive hydration to severely dry lips.
This jar of organic lip scrub promises to revive the health and beauty of your lips in just four weeks.
Key Ingredients: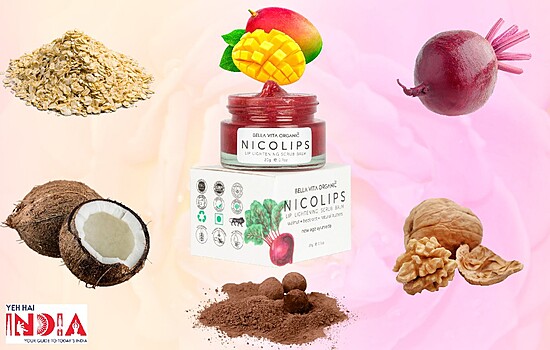 Beetroot extract
Walnut granules
Ground Oats
Shea Butter
Cocoa Butter
Kokum Butter
Mango Butter
Almond oil
Coconut oil
Olive oil
Carrot Seed Oil
Wheatgerm oil
Vitamin E
Peppermint
Organic wax
Price: ₹399/-
Product Claims:
Walnut granules and Oats promise to lighten darkening on lips in just four weeks
Shea, Cocoa, Kokum and Mango butters work to hydrate, nourish and brighten dark and chapped lips
Almond, coconut, wheat germ and vitamin E oils infuse nutrients to repair and regenerate damaged tissues on severely dry lips
Beetroot extract promises to revive your lips with a burst of lip soothing nutrients, besides leaving a rosy hue on the lips.
Recommended Story – Product Review-Bella Vita Organic's Glowtion Face And Body Butter Lotion
Our Review On Bella Vita Organic's NICO LIPS' Lip Lightening Scrub And Balm
Touch And Feel: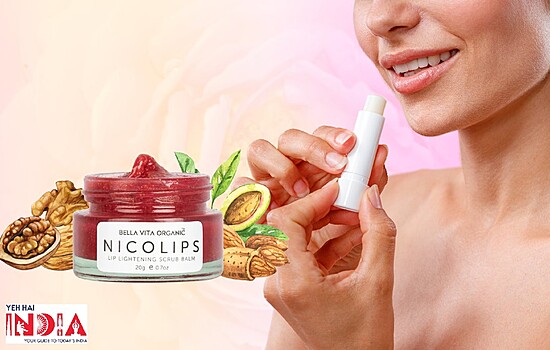 When you unscrew the lid, a dollop of red hued glutinous mixture surprises you with its bright colour and a pleasing strawberry aroma.
This luscious blend of walnut grit, oats, vegan butters, oils, beetroot extract and vitamin E looks rich enough to deeply hydrate overly dry lips. The colour and texture of the scrub tempts you to try it the very first moment you open the jar.
A pea sized amount of this scrub is enough to hydrate and exfoliate your lips. Peppermint in this scrub instantly calms irritated lips and leaves a cooling sensation.
When you're done with the scrubbing part, allow the balm to stay on your lips at least for five minutes to let the oils and butters seep in to replenish, hydrate and seal-in the moisture. Wipe the scrub with a wet tissue and follow up with a nourishing lip balm. What's left is a natural rosy tint on your lips.
Our study of the ingredients and their impact: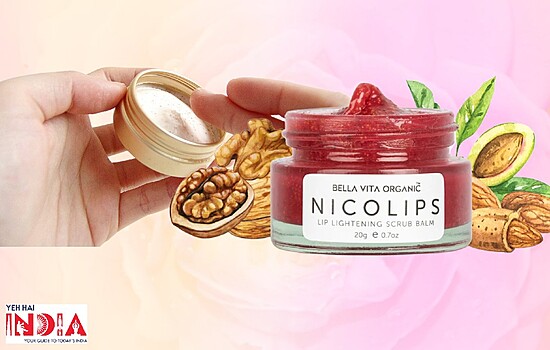 Walnut grounds contained in the scrub grant a slightly abrasive texture to this lip scrub, perfect to handle sensitive skin on lips. When rubbed over the lips, the tiny particles work to smoothen roughness.
Oats powder in the scrub contribute to a creamy and grainy texture that works to soften lips and fight inflammation on sensitive lips.
Shea, cocoa, kokum and mango butters offer intense hydration to replenish moisture lost during scrubbing. These butters also reduce inflammation and seal in moisture with their rich buttery texture.
The addition of almond, carrot seed, wheatgerm, olive and coconut oils makes this scrub easier to glide over the entire surface of the lips. These oils reach the inner layers of skin to repair and nourish damaged tissues. Vitamin E boosts moisture and plumpness on lips to leave them supple and renewed.
Beetroot extract rejuvenates and uplifts the texture of lips with a pinkish stain. To amplify it's retention ability, organic wax is used as an ingredient which means this lip scrub is an all natural fix to remedy dry and cracked lips. Organic wax is considered safer for use in lip balms compared to petroleum based waxes.
As claimed by the product, it's difficult to reap lip lightening benefits of this scrub in four weeks, since you can only use it once or twice a week to prevent any kind of irritation that might arise due to overscrubbing.
Though the results begin to show on the third week, the actual benefits can only be ascertained after long term use of this product.
Ideally, it's designed for people who suffer from darkened lips due to unhealthy habits such as smoking, incessant intake of alcohol, using poor quality make-up or synthetic skincare products. And no doubt, it's a brilliant product with proven ability to heal dry, cracked lips and lighten darkness to some extent.
Like most other Bella Vita products, Nico Lips' is an Ayurvedic Lip scrub formulated with natural and organic ingredients. It's free from artificial additives or preservatives namely parabens, pthalates and mineral oil you find in most natural skin care products.
Skin Type and Gender: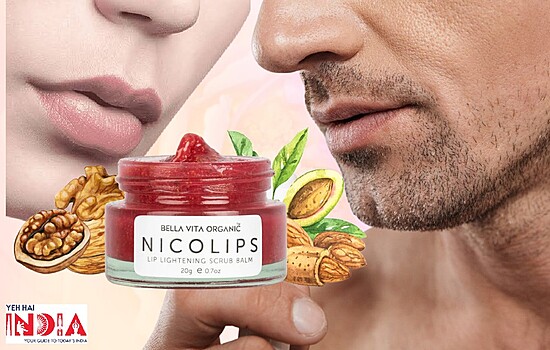 Nico Lips works for both men and women with darkened and parched lips regardless of their skin type.
Those with normal lips can use this scrub to reduce lip pigmentation.
Recommended Story – Bella Vita Organic – Reviewing their Best Products
Packaging: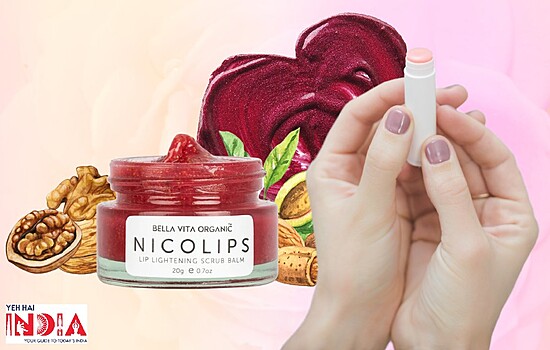 This lip scrub comes in a very neat packaging. Wrapped in a tiny sustainable jute bag, it serves you the goodness of nature in a jar. The packaging reveals the very nature of the ingredients that go in the making of Bella Vita products, Organic, eco- friendly and 100% natural.
Price:
This 20 gms container of lip scrub priced at ₹ 399/ succeeds in revamping dehydrated lips and seems to lessen darkening on lips with weekly or biweekly application after a month. The price seems to be slightly on the higher end compared to the quantity of the scrub.
Nevertheless, Nico Lips is an Ayurvedic Lip Scrub with Organic and natural ingredients that promise to lessen darkening on lips and leave them moisturized and supple which makes it worth the price you pay.
Where To Buy?
You can avail this lightening and brightening lip scrub at Bellavita Organic or from Amazon and other online shopping portals.
Pros:
Cools and soothes
Hydrates dry and chapped lips
Regenerates damaged tissues
Strawberry fragrance reminds you of its organic nature
Offers respite from discoloured lips to some extent
Enhances moisture absorption
Lessens the frequency of using lip balms
Builds a protective layer on lips
Leaves a pinkish tint on wiping off
Cons:
Might irritate on overusing
Takes longer than 4 weeks to show Lip lightening results
How To Use: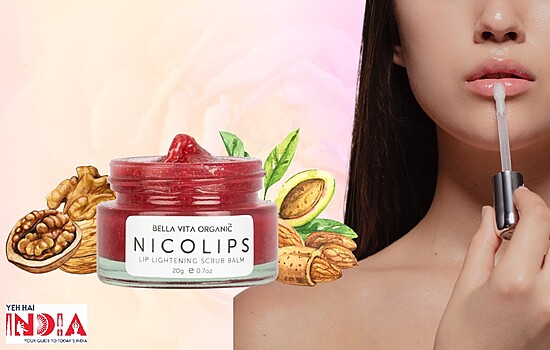 Apply a pea sized amount of this scrub over wet lips and scrub for 20 to 30 seconds once or twice every week. Let it stay on the lips to let your freshly exfoliated lips draw in the nutrients and moisture to improve hydration levels.
Wipe off the scrub after five minutes with a wet tissue and lock in the nutrients by applying a lip balm.
CAUTION: Should not be used as a lip tint on a daily basis
FINAL VERDICT!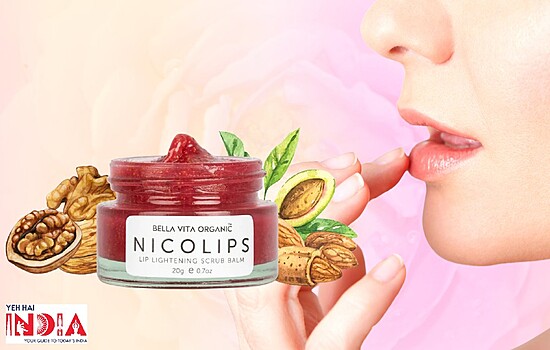 Nico Lips' Lip scrub nourishes and replenishes dry, damaged and darkened lips on prolonged use.
The scrub leaves a pleasing rosy tint on the lips when it's washed off, which comes from beetroot extract blended into the mix.
Accurate application of this scrub is set to augment cell regeneration to restore the lost rosiness and soft texture of your lips.
Formulated with Ayurvedic ingredients, this lip scrub gives a much needed care and attention your dry, dark lips haven't received in a long time.
It's a smart investment in enhancing the beauty of your face as this scrub promises to return your dark lips, their lost pink glory, naturally.
It's an organic product and the price is just right when compared to the benefits harnessed through organic ingredients added into the scrub.
Buy it yourself to know its amazing effects and be guided into following a nature friendly lifestyle that promises to sustain your health and beauty in unimaginable ways!
Also Read – Best Organic Beauty Brands in India