Drab, dreary and lacklustre skin is a clear indicator that your skin demands more than just cleansing, toning and moisturizing to improve its agility. Bella Vita Organic Exfoliate Face and Body Scrub is a clever product crafted to slough away dead tissues from the face and body. The accumulation of these dead skin cells on the skin hampers its appearance and leads to clogged pores. 
Exfoliate Face and Body Scrub, a Walnut and Coffee-based scrub, imparts a grainy texture to any oil, lotion or cream of your choice to manage dead skin tissues developing on the skin surface. 
Working this scrub into your skin lifts away dead skin cells, dirt and grime to reveal squeaky clean bright-looking skin. It also manages discolouration, wrinkles and dark spots brought on by sun exposure. 
Key Ingredients: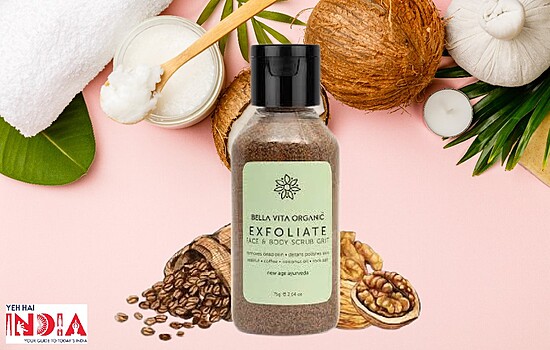 Walnut grit
Coffee grounds
Cold Pressed Virgin Coconut Oil
Rock Salt
Mixed Herbs
Price: ₹ 249/-
Product Claims:
Walnut Grit lifts away dead skin and grime
Coffee powder infuses anti-oxidants into the skin and makes it smooth and nourished
Rock salt removes impurities and detoxifies and de-stresses skin and body
Coconut oil hydrates skin and protects it from external irritants or microbes
Our review of BELLA VITA ORGANIC EXFOLIATE FACE AND BODY SCRUB
Touch and Feel: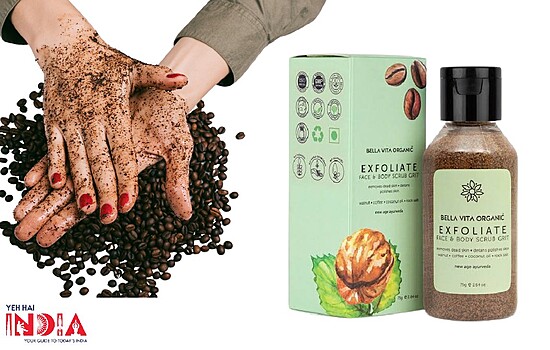 When you open the bottle, you find a chocolate-hued blend that smells of coffee and coconut. As soon as you begin to sample it, you find yourself immersed in the wonderful coffee aroma with coconut accents. 
The chocolate-coloured granules on your palm are nothing but a blend of natural exfoliants – walnut grit, coffee grounds and rock salt along with coconut oil which works to supply moisture and oils to the skin. 
Herbs are also added to this blend to improve its efficacy in preventing inflammation. The texture of this scrub is perfect for dealing with stubborn areas that need rigorous exfoliation to soften hardened skin such as knees, feet, elbows and hands. 
These granules can be mixed with any skin care product to transform it into an exfoliator. The quickest way to tap into its goodness is by using it with a shower gel.  Massaging this grainy foam onto your face, neck, upper arms and hands softens the uppermost layer of dead skin. 
With consistent application of this scrub, the dead tissues are eliminated to unveil fresh-looking radiant skin free from any kind of imperfections and impurities. 
Recommended Story – Product Review: Bella Vita Organic Nico Lips' Lip Lightening Scrub and Balm
Our study of the ingredients and their impact: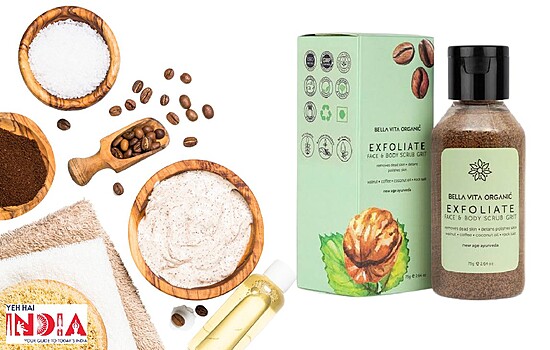 Walnut Grit is added in the right proportion to gently lift away dead skin minus any kind of irritation.
Coffee grains polish and tone the skin and work to reduce cellulite. Contrary to walnut grit, coffee gets dissolved when rubbed into the skin to purify and tighten skin pores.
Rock salt in the scrub exfoliates and fights inflammation alongside its miracle effects in inducing proper drainage of lymphatic fluids that seem to cause fluid retention on the face and other cellulite-prone areas such as upper arms, back of neck,  abdomen and thighs. 
Coconut oil imbues a slightly creamy texture to the abrasive exfoliants in the scrub. Blessed with anti-inflammation and anti-microbial qualities, it moisturizes and protects the skin from being invaded by allergens, microbes and viruses to keep its health intact. 
Why is Bella Vita Organic Exfoliate Face and Body Scrub great?
As far as its efficacy is concerned, it's the best face and body exfoliant you can grab due to its hassle-free application. You can use it as part of your shower ritual twice every week. 
The best thing about the Bella Vita Organic Exfoliate Face and Body Scrub scrub is that it is gentle on the skin and leaves no residue which makes it way more convenient and effective in removing spots, blemishes, freckles and wrinkles, compared to other varieties of body exfoliators that come loaded with shea and cocoa butter. 
You can use it on the scalp as well to remove impurities and residue build-up. 
Following up the exfoliation ritual with deeply moisturizing body butter is essential to shield your newly exposed skin from external irritants likely to invade the skin's surface. 
Exfoliate Face and Body Scrub solve all your skin issues including strawberry legs, pigmentation, sun damage and marks. Infused with Organic Ayurvedic ingredients, this product from Bella Vita makes you feel closest to nature and lets you benefit from its wonderful and non-toxic skin-beautifying ingredients. 
Skin Type and Gender: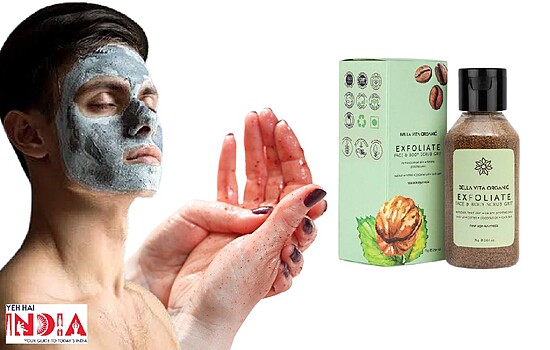 It's suitable for people of all skin types, ages and gender. The scrub is gentle enough for use on sensitive skin. To deem it safer for use on dry and sensitive skin, it's suggested to mix the scrub with a nourishing balm. Those with itchy irritated skin should refrain from using this scrub. 
Packaging: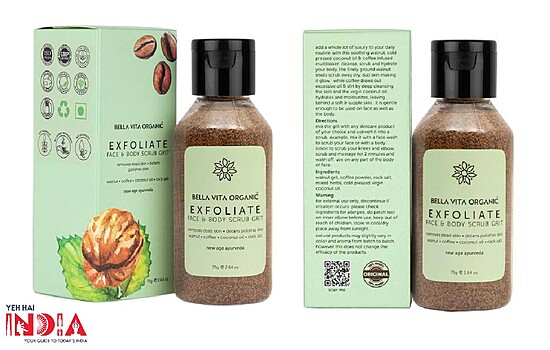 Exfoliate Face and Body Scrub is packed in an easy-to-use clear bottle container. This lets you pour the contents as per your needs. 
The transparent bottle makes it easier to detect the exact quantity of the scrub. It reflects the eco-friendly, sustainable and organic nature of the Bella Vita Organic Skincare range. 
Price:
The price for this 75 gms of face and body scrub is fixed at ₹249/- which is quite reasonable for the benefits that come with this multi-use scrub with the added goodness of organic Ayurvedic Ingredients. 
Where to buy? 
Bella Vita Organic's Exfoliate Face and Body Scrub can be bought from Bella Vita Organic and other online shopping sites like Amazon and Flipkart. 
Pros:
Mildly exfoliates and polishes skin
Reduces cellulite
De-stresses body and mind
Purifies skin
Unclogs and tightens pores
Removes blackheads
Prevents acne
Smoothens rough feet
Clears blemishes and marks
Works with any skin care product
Fuss-free application
Does not leave a residue
Non-toxic
Paraben Free
Cons:
Dry and Powdery texture
Non-greasy
Might inflame acne-prone skin
Stains skin
How to use it?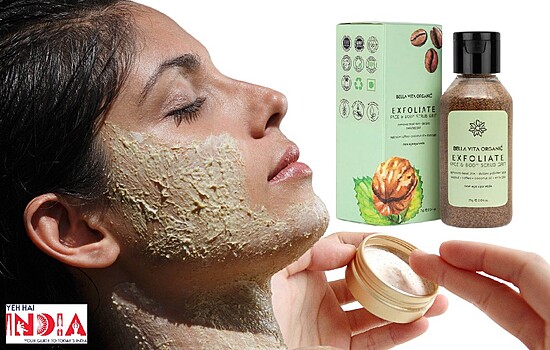 Stir the granules into any skin care product like face cream, oil, body lotion, body butter or shower gel and give it a good mix.
Apply the concocted scrub on your face or body and massage briefly for five to ten seconds.
If not mixed with a shower gel, wash the residue with a foam-based cleanser to rinse off the coffee stains from your skin. 
You can also mix this scrub with aloe vera gel and use it just before taking a shower.
Final Verdict!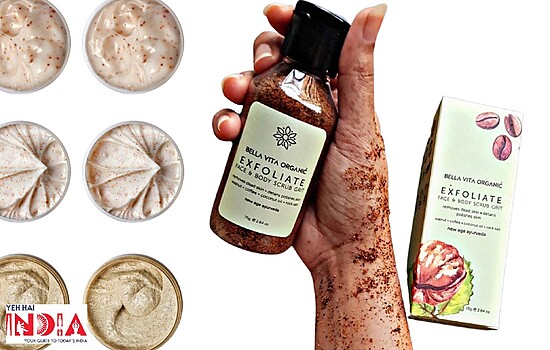 Bella Vita Organic Exfoliate Face and Body Scrub is an incredible product to salvage all your skin woes. It consists of a special combination of all organic Ayurvedic ingredients that start to show results from the second week. 
It is a chemical-free non-toxic scrub that mildly exfoliates dead skin tissues to unleash bright new skin with lesser pigmentation marks, freckles and wrinkles. 
This scrub uplifts skin tone, relaxes the body, calms the mind, regulates lymphatic drainage to prevent fluid retention and gives a boost to collagen formation in cellulite-prone regions. 
The consistency of grains adapts really well with the exfoliation needs of your feet and soles too. You just have to increase the amount of the granules added to your choice of skin cream or lotion to get the desired results. 
With this scrub, you're not just exfoliating your skin but also reaping the benefits of a full body massage and it's time you let this exfoliant work its magic in achieving youthful skin! 
Also Read – Product Review-Bella Vita Organic's Glowtion Face And Body Butter Lotion