From organic delicacies in glamorous eco-friendly packaging to handcrafted decorative items, think out-of-the-box with these Diwali gift boxes.
It's that time of the year again and you are scratching your head pondering on what to gift to your friends and family on the special occasion of Diwali. You are already tired of exchanging the same old boxes of soan papdi and kaju katli every year.
Relying on these old gifting ideas has seemed to become a habit that is hard to change but also very boring. Furthermore, it takes a lot of effort to be creative and come up with some unique gift ideas.
People always appreciate thoughtful gifts more than generic ones. Do not worry as we have done the research for you and compiled a list of some unique and beautifully packed gifting ideas for this Diwali.
15 Best Diwali Giftbox Collections Your Loved Ones Will Treasure:
1. Diwali Lakshmi Collection By Phool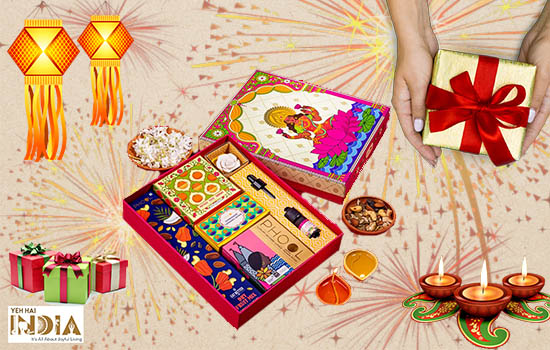 The first on our list is this beautiful gift box from Phool containing all the essentials for the Diwali Lakshmi puja in a beautiful box.
The box contains Rose incense cones made of natural temple flowers; a set of two vibrant ceramic handmade diyas for decoration; four pieces of Phool's signature plantable sweets covered with fertile layers of neem, rose, coffee, and neem sawdust with seeds that may grow into beautiful trees if planted appropriately and cared for;
There's also a Rose shaped handmade ceramic flower diffuser with an essential oil vial and two packets of mixed healthy dry fruits and nuts from the Eat better company, perfect to put you in a festive mood.
2. Confetti' Eco-friendly Diwali Gift Box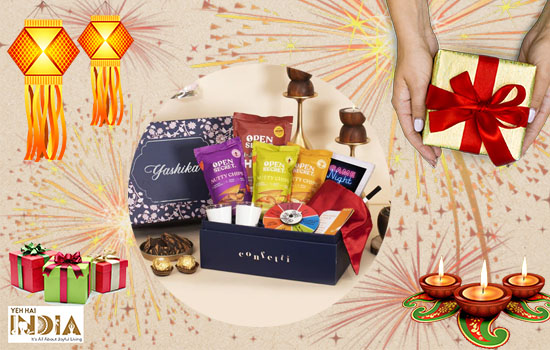 Nowadays, many people prefer to celebrate Diwali without firecrackers to avoid polluting the air and are taking extra measures for ensuring a sustainable existence on this beautiful planet.
Such people deserve a thoughtful gift like this eco-friendly Diwali gift box containing various eco-friendly items including a jute potli with green potpourri; a copper planter; two copper glasses; a mixed dry fruits jar containing cashews, almonds, and pistachios; two beautiful coasters with laser etching and a greeting card of your choice.
Recommended Story – Checkout these Dietary Guidelines During Festivals
3. The All-in-One Diwali Gift Hamper By Juicy Chemistry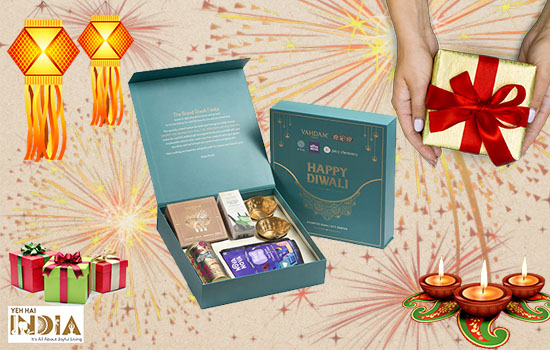 If you are not sure about the theme of the Diwali gift box then you may add a little bit of everything to create a unique and awesome gift hamper.
This hamper comprises multiple items from top brands and includes an Organic Aloe Vera Toning Mist by Juicy Chemistry, Gluten-free Indian Cookies by Bombay Sweet Shop, Masala Chai by Vahdam, handmade brass diyas, and red velvet cookies and cream.
This all-in-one gift hamper takes care of your sweet tooth, Diwali decor, and personal wellness needs.
4. Diwali Gift Box By Healthy Buddha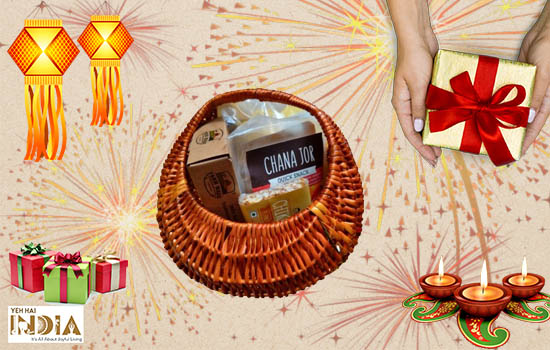 This Diwali gift hamper is full of goodness and contains varied organic food items packed in a handsome box. The box includes all-time favourites of Indian children, peanut chikki, and coconut candy without any added refined sugar or harmful chemicals.
The box also contains packets of organic almonds, cashews, and raisins. A packet of kumkum and haldi in a beautifully embroidered parcel adds a touch of auspiciousness while a pack of floating wicks completes the gift box flawlessly.
5. I Say Organic' Diwali Gift Hamper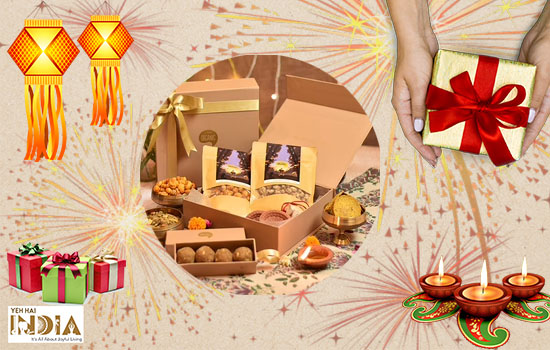 This simple and minimalistic Diwali gift hamper from I Say Organic incorporates all the harmless and healthy gifts that aim to deliver love and care to your close ones.
The gift hamper contains three items including besan laddoos made from desi cow ghee, wild forest honey, and a pack of earthen lamps.
The besan laddoos are made with natural jaggery without added sugar making it a healthy gifting option.
6. The Gourmet Box' Diwali Gift Hamper
This gift hamper by Gourmet Box is very customizable and you can add a special gift card to the box. The hamper is perfect for those who are very keen on healthy living and organic diets.
It includes organic chocolate coated nuts, cocktail mix, salted roasted mix nuts, flavoured dark chocolate thins, dark chocolate flavoured popcorn, assorted flavoured stroopwafel, and a scented candle tin for an extra dash of Diwali vibes.
7. Nirmalya' Diwali Gift Box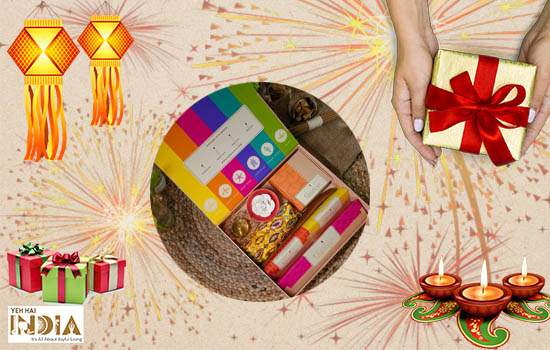 This Diwali gift box is filled with Diwali Puja and celebration essentials including dhoop sticks, incense sticks, incense cones, havan cups, non-electric diffuse, a cute potli with a bottle of essential oil for the diffuser, brass diya, a wooden incense holder.
A beautiful good wishes card completes this hamper and reminds everyone of the joyous spirit of Diwali festival.
Recommended Story – 29 Delightful Regional Dishes From All Over India
8. Advait Living' Diwali Mithaas Platter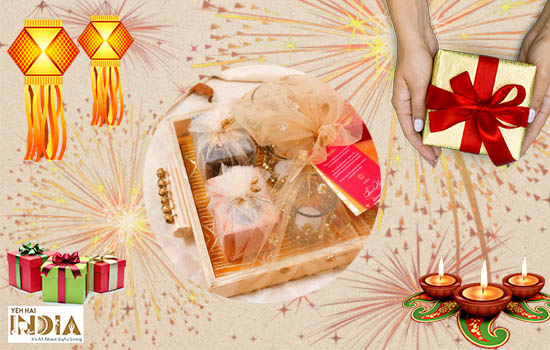 Advait Living is dedicated to sustainable farming through its carbon-positive food forest.
The brand has teamed up with Kiesha to present this aesthetic gift tray. This bright and colourful gift hamper contains Raw Single Flora Honey, Spiced Honey Gulkand, Chemical-free Jaggery Powder, Sweet Amla Candy from Advait Living.
You'll also find mithai boxes, zari handmade tray, and tealight glass with candles from Kiesha along with a beautiful "Happy Diwali" gift tag completing the most glamorous gift hamper.
9. Confetti Sugandh' Diwali Gift Box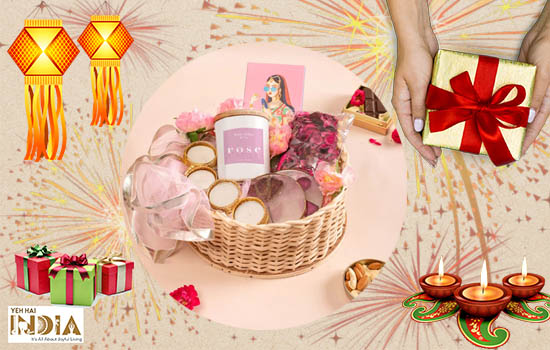 A Diwali gift idea that delights all the senses instead of just the taste buds, this hamper is like complete aromatherapy full of products having pleasant aromas to soothe the mind and body and reduce anxiety and stress.
The gift box contains a rose potpourri, an amber wood candle, a handcrafted wooden candle holder, a chocolate bar, country bean hazelnut coffee, and a beautiful greeting card.
You can customize the gift hamper through add-ons including tealights, flowers, silver coins, almond potli, cloth envelopes, etc. For extra price
10. Itokri' Little Ganesh Puja Kit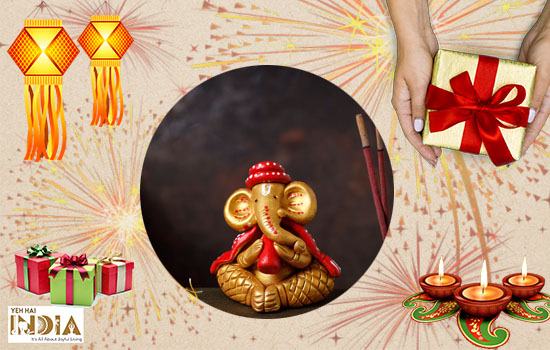 Itokri boasts having 70% female artisans and 80% female employees which aims to bridge the gender gap. The little Ganesh puja kit by Itokri is the perfect gift for the religious occasion of Diwali.
The puja kit contains a beautiful Ganpati idol made of burnt clay, 12 pieces of dhoona sticks, two pieces of terracotta pot wax-filled candles and an incense stick stand completing the set for Ganesh puja.
11. Kimirica' Nothing-But-Love Diwali Gift Set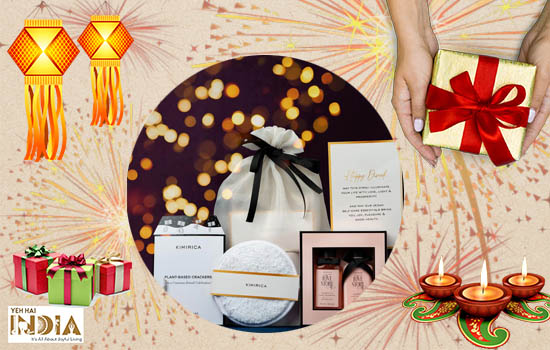 Make this Diwali all about self-care with this Kimirica gift set containing relaxing bath products to give you a spa-like experience. This hamper contains a Love Story bath duo and plantable seed crackers, a special loofah, and a personalized gift card in a gorgeous reusable potli.
The bath set contains floral notes of gardenia and night-blooming Jasmine and is 100% vegan. The plantable cracker ensures an eco-friendly Diwali celebration.
12. IGP Divine' Diwali Gift Hamper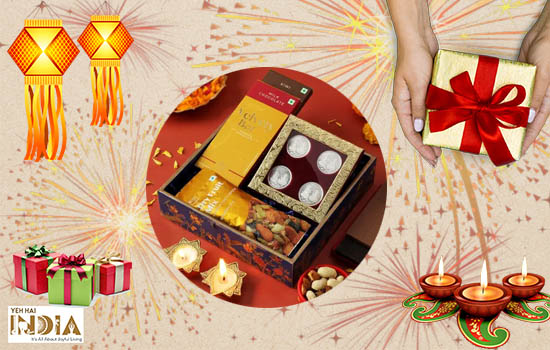 The Diwali gift hamper is full of luck, love and blessings to light up the Diwali for your wonderful pals and family. The gift box comprises resin Lakshmi and Ganesh idols to decorate the pooja room, two cute jute potlis, handmade diyas, a box of royal elaichi, and mishri packed in a simple yet sophisticated gift box.
You can opt for exciting add-ons like chocolate-coated nuts, decorative pooja thali, or a swastika bracelet to make the hamper extra special.
13. Rashi' Traditional Diwali Gift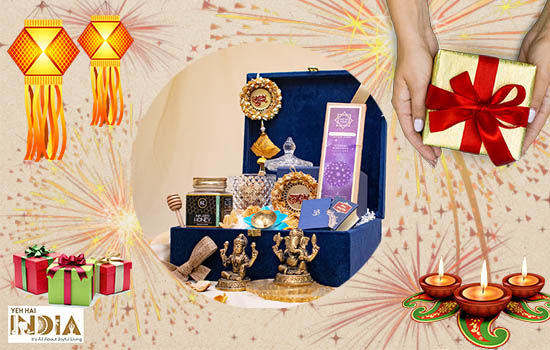 This traditional Diwali gift set comes in a truly lovely box and is full of an abundance of auspiciousness and elegance.
The box contains idols of Ganesha and Lakshmi, two brass diyas, a mini Bhagavad Gita, a shubh labh wall hanging, assorted dry fruits in an intricate glass jar, and honey by Irie.
With four options for color customization including navy blue, red, black, and lavender, this gift box is the perfect present for the precious people in your life.
14. Endearing Inaya' Gifting Box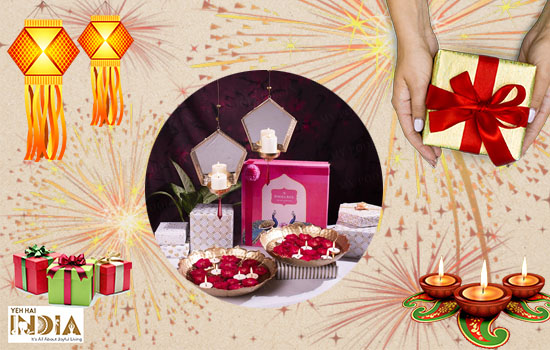 Let your loved ones light up their homes with elegance and refinement with this gift including a set of 10 tealight candles and four glorious golden decorative tealight holders.
A beautiful golden flower hanging is also added to the gorgeous pink gift box which will help to boost the charm and glamour of the Diwali home decoration.
15. Ferns And Petals' Luxury Serving Tray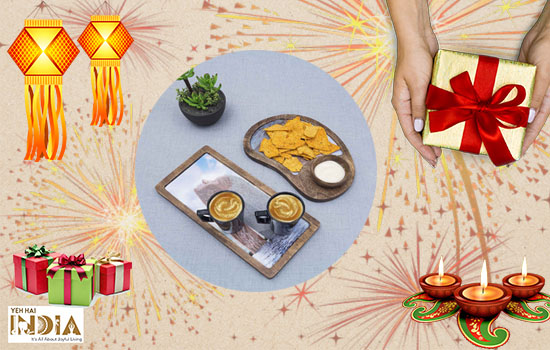 Ferns And Petals Diwali Wishes Royal Serving Tray is the most sophisticated Diwali gift for your friends, family, and clients with its luxurious content and gorgeous presentation.
It contains a stunning German silver tray, a set of 2 gorgeous bowls along with premium roasted cashews and almonds packed into an elegant box.
Summary:
Diwali gifts are a way of exchanging love and care with your loved ones. They are also great for maintaining and strengthening professional and business connections.
Think out-of-the-box with unique gift boxes and customized gift hampers from various brands. Gift health with organic and healthy sweets, beauty with self-care products, and blessings with puja items.
Share the festive spirit with your loved ones with these giftbox hampers this diwali.
Also Read – Top 10 Summer Folk Festivals Of India