Be it the glamour of Bollywood or the richly diverse culture of Maharashtra, each jewellery piece from the state personifies these traits with unmatched elegance.
Maharashtra has a unique and dynamic festive culture that celebrates its valiant warriors, extensive history, and lush landscapes.
The essence of the rich Maharashtrian culture is it's beauty and ethnicity. Historical jewellery pieces that were once worn during the reign of Peshwas and Maharajas, are still a very huge part of the Maharashtrian women's lives.
The opulent Paithani sarees reflect the state's passion for colour and craftsmanship but what truly defines the beauty of a Maharashtrian woman is the jewellery that adorns her from head to toe on her wedding.
The Maharashtrian "Saaj" jewellery is one of the most oldest yet popular fusion of heritage and allure.
Marathi brides are frequently spotted wearing intricate jewellery made of gold, and just like the rest of India, Maharashtra has a long-standing love affair with this metal.
Made to adorn different parts of the body, Maharashtrian jewellery is one of the best traditional jewellery for brides-to-be.
So, if you're a bride hoping to rock a traditional look on your wedding day, here's a simple jewellery guide to assist you.
21 Best Jewellery Pieces From Maharashtra:
1. Nath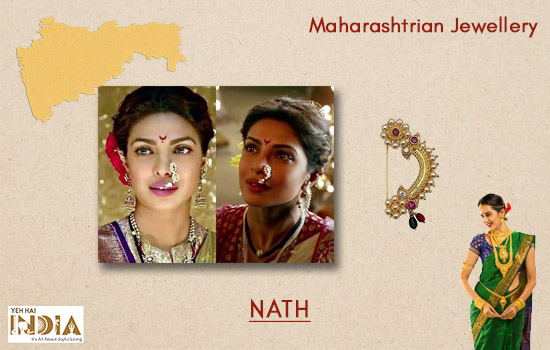 When attending weddings, festive occasions, religious rites, and family gatherings, Maharashtrian women often wear a nose ornament called a "Nath" (also known as a "nose ring" in English).
Traditional nose rings from other Indian regions, such as Punjab, UP, etc., are distinct from those from Maharashtra.
Maharashtrian Nath is available in many different patterns and styles. They include Banu Nath, Peshwai Nath, Pachu Nath, and others.
Famous patterns include Basra pearl and emerald and pearls with a pink or white stone in the centre.
The latter is made of 22-karat gold with a rough diamond encircled with priceless Basra pearls. Emeralds and Rubies are used to add a splash of colour.
2. Chandan Haar
A gorgeous gold necklace called a chandan haar not just adds elegance to a traditional Maharashtrian costume but also fits perfectly with any bridal costume.
When there are celebrations (like Ganpati Visarjan) or weddings, Marathi women dress up with this necklace that represents their respect and affection to the local culture.
3. Mundavalya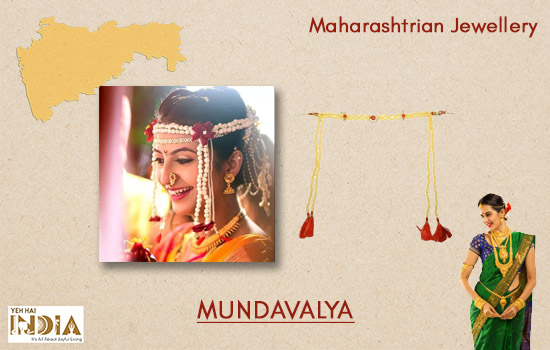 A type of head jewellery, mundavalya is a string of pearls wrapped across the forehead. Both the bride and the groom are dressed up with this particular jewellery piece .
The mundavalya is knotted once the couple is prepared to proceed to the mandap because it represents their readiness to begin a new life together.
Recommended Story – Best Indian Traditional Jewellery for Brides : Types of Indian Traditional Jewellery for Brides and Jewellery Lovers
4. Dholki
A gemstone sits in the middle of a necklace made up of rounded pearls. The colours of the pearls range from white to yellow to red.
On wedding ceremonies and other festive events, a Dholki necklace, which is shorter in length, can be worn with other necklaces.
5. Thushi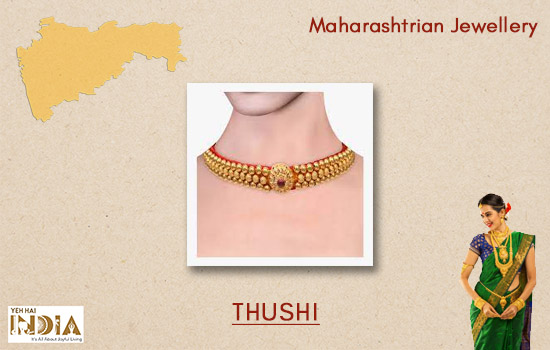 Thushi is a necklace made of 22K gold typically worn by a Maharashtrian bride on her wedding.
Traditional Thushis are made with gold beads and have an adjustable dori, a thread used to tie the necklace around the neck).
The jowar gold seeds embedded in each bead, which are decorated with exquisite shapes and patterns, signify that the bride's new home will always be blessed with food.
6. Jodvi
The toe rings are called Jodvi. It is a gift from the mother-in-law of the bride and represents the bride's admission into a new family. For a Marathi bride, it is essential Marathi jewellery.
7. Kolhapuri Saaj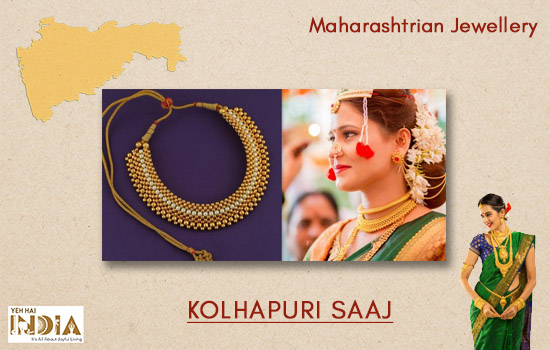 This necklace has 21 etched leaves on it. Out of the 21 leaf pendants, 8 represent ashtamangal (a symbol of happiness and prosperity), 10 symbolise the ten avatars of Lord Vishnu, 2 feature ruby and emerald stones, and one pendant is taviz.
One of the most well-known traditional Maharashtrian jewellery designs is Kolhapuri saaj.
The Kolhapuri saaj is made with much time, skill, and a delicate hand. It's unfortunate that only a few artisans are still able to precisely create a classic Kolhapuri Saaj.
Kolhapuri Saaj's current iteration has 10 or 12 leaves.
Did you know that a city-based jeweller named Karmarkar Pedhi gave the Kolhapuri Saaj necklace to the British monarch's first wife, Queen Elizabeth, almost 45 years ago?
You may not be aware, but Kolhapuri Saaj, is marketed to nations like America for its extraordinary appeal that blend perfectly with Indo-Western outfits.
8. Vaaki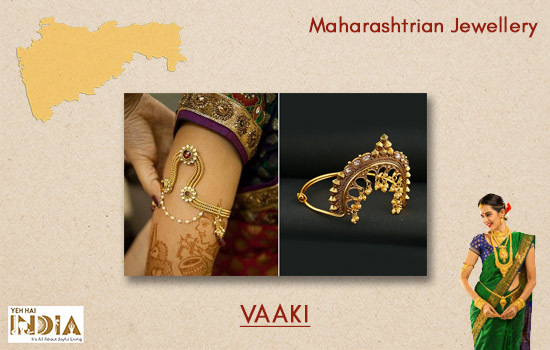 A bajuband or armband in Maharashtra is known as Vaaki. It is made from 23-carat gold wire, embellished with stones, and decorated with floral designs.
Vaaki, which is usually made in red, is also a form of Maharashtrian jewellery that every Maharashtrian bride must have.
9. Putli Haar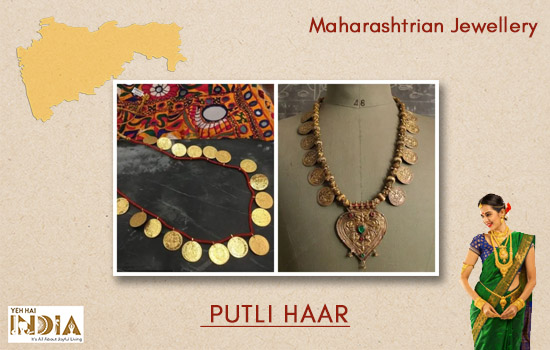 A Putli Haar, worn by Maharashtrian brides, is made up of a few circular gold coins that are connected by a silk ribbon that has been braided.
It is sometimes referred to as a temple necklace or a coin necklace. The goddess Lakshmi is depicted in themes on the coins (a symbol of wealth).
10. Mangalsutra
Every married lady in Maharashtra wears a Marathi Mangalsutra, or sacred thread, made with the customary strands of black and gold beads.
These lightweight, tiny black and gold beads are referred to as "Maniwati Beads." There aren't many patterns on the traditional Maniwati beads.
Recommended Story – Kundan Jewellery for Today's Bride: All You Need to Know
11. Ambada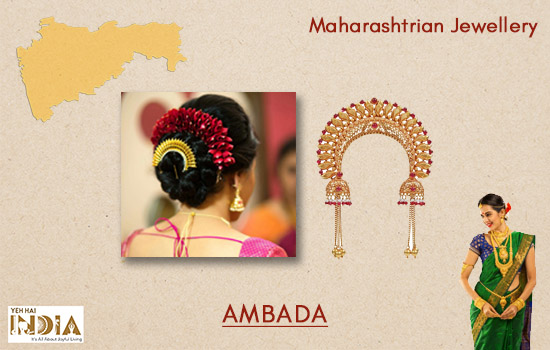 A pearl and gemstone-encrusted golden pin called Ambada is worn. It is fastened with pins to a Marathi bride's bun of hair.
The sunflower with jowar beads is the most widely used motif in this traditional jewellery item.
12. Kaan (Earcuff)
Women in Maharashtrian wear this traditional ear cuff. Pearls and/or jewels are used to embellish the traditional Maharashtrian Kaan earrings.
One of the most exquisite types of Marathi jewellery, made of gold, is worn not only by Marathi ladies but also by women from North and South India.
13. Kudya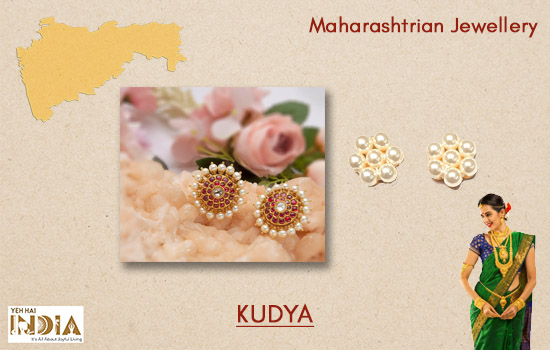 This Marathi bride is wearing pearl-studded earrings. Kudya, which is made of gold, is available in numerous colour combinations.
14. Baangdi
Maharashtrian brides wear green chooda rather than the red chooda that Punjabi brides do. Green represents abundance and fertility.
Both hands are adorned with an odd number of these green bangles.
15. Mohan Mala
Round gold beads make up the Mohan mala. It offers a hint of refinement in Marathi woman's whole appearance.
16. Challa
A woman wearing a keychain called Challa around her waist (just like shown in the picture). The challa is constructed of gold-plated copper or rusted silver.
Marathi ladies dress in a traditional Maharashtrian challa for celebrations and weddings, which is embossed with stones and floral patterns.
17. Belapan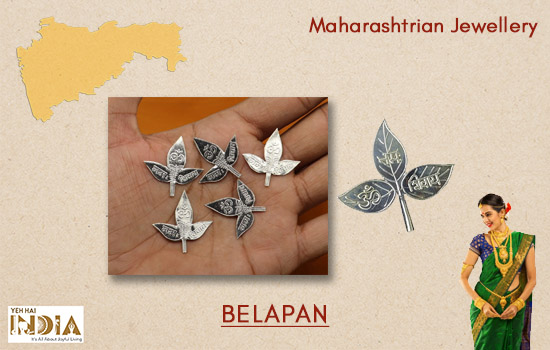 Bel leaves make up belapan.
These leaves are presented to Lord Shiva as a gift and are said to have religious significance.
18. Surya Haar
This choker necklace is made of gold. Designed to resemble the Sun's rays, a Surya haar has triangular designs that face outward (just like the rays of the Sun).
Surya haar is a significant piece of Maharashtrian jewellery that is worn by a Marathi bride at her wedding.
19. Tanmani
A layered pearl choker necklace called a tanmani is made out of pearl strands and a pendant with gemstones.
20. Bugadi
On the helix portion of the ear, bugadi is worn. Most Maharashtrian women wear this lovely ear jewellery.
A traditional Maharashtrian bugadi is made of pearls, although modern styles allow for a wide variety of designs, including those adorned with diamonds, oxidised designs, and semi-precious stones.
21. Tode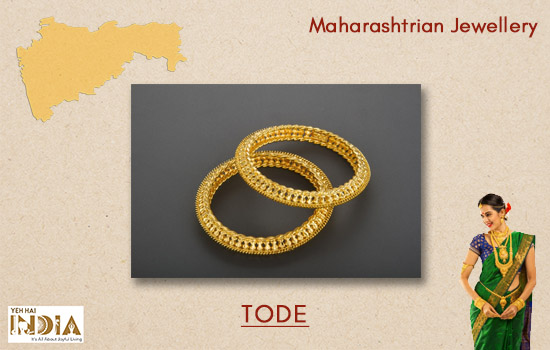 Tode, also known as gold bangles or kadas, are made of 23-carat gold. Each bracelet comprises 250–300 grams of gold.
These lovely bangles are handcrafted with great care and precision, and they require about a month to complete.
You now have the ideal guidance for dressing elegantly in the manner of a typical Maharashtrian woman. The next time you want to rock the Maharashtrian look, use this list as a reference.
If you're looking for something extraordinary for your wedding day, make your pick from our list.
Also Read – Indian Traditional Jewellery from Head to Toe