Warmth, coziness, and vibrance – Jaipuri Razai offers everything needed to cherish and enjoy the winter season.
Soft, warm, and delicate Jaipuri razai are perfect for Indian winters. The beautiful bright colours and intricate prints add the much-needed vibrance to go through the full and dark winter days.
Jaipuri art is famous for its cultural excellence which is maintained by hardworking artisans who make sure that any product they make reflects their artistic excellence.
As a result, Jaipuri razai is not only famous within India but is also highly sought after by many from Central and South America and many countries in Europe.
The craftsmen of Jaipur use special techniques to make different types of razais which are fluffy, yet light and make you feel cozy and warm. The main secret behind the softness of Jaipuri razai lies in the procedures cotton carding and cotton voile that utilizes cotton fibres that are soft and fluffy..
There are many types and designs of Jaipuri razai to choose from. You can find Jaipuri razai in velvet, cotton, and silk. The velvet razai is very warm and cozy but also the most costly one. It can be useful in the harsh winters of North India.
Why should you buy Jaipuri razai?
Jaipuri razai has some amazing features which make it worth buying:
Hand-block prints, motifs and designs
Flexibility to choose from a wide range of designs
Easy to maintain and store
Suitable for machine wash
All these unique features make Jaipuri Razai a great investment for summer as well as winters, especially in the hilly regions. They can be washed and dried as well and can be stored easily in your cupboard or your luggage.
If you're thinking of buying a brand new razai that's warm and easy to maintain, then these online stores selling high quality Jaipuri quilts: 
Recommended Story – 10 Ways To Look Stylish In Winters
1. Lushfab Jaipur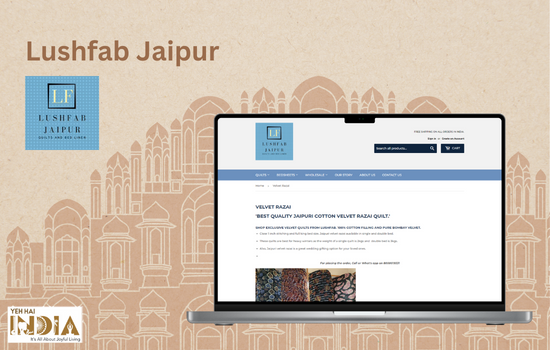 Lushfab Jaipur provides beautifully crafted 100% cotton Jaipuri Razais of the highest quality, warmth, and craftsmanship. By providing you Jaipuri Quilts, the brand aims to encourage the traditional textile arts which is the cultural heritage of our country.
Screen printing and block printing are used to create each quilt, which is a work of art in itself.
The mesmerizing collection includes beautiful Sanganeri designs, Mughal prints, gold prints, and hand-block prints which give your room an enchanting atmosphere and enhance the appearance and feel of your bed.
2. Ethnic Rajasthan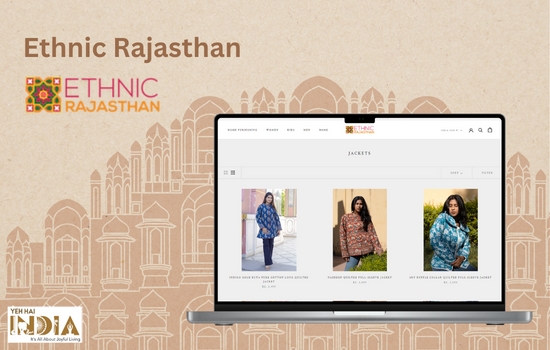 The brand works hard to manufacture the finest and most luxurious designs made with top-notch materials. The team of artisans is picked from different corners of Rajasthan known to produce handcrafted quilts that symbolize both quality and comfort.
Established in 2015, the firm is headquartered in the 'Pink City' of Jaipur, the state's capital, also known as 'Land of Great Kings'. Known around the world, Jaipuri Quilts are manufactured in three sizes – single, medium, and double bed.
The outer layers are created from the finest cotton mulmul and cotton cambrik, packed with pure cotton, hand block printed, screen printed, and patchworked. These quilts are ideal for winters since they are lightweight, warm, and comforting.
3. Jaipur Fabric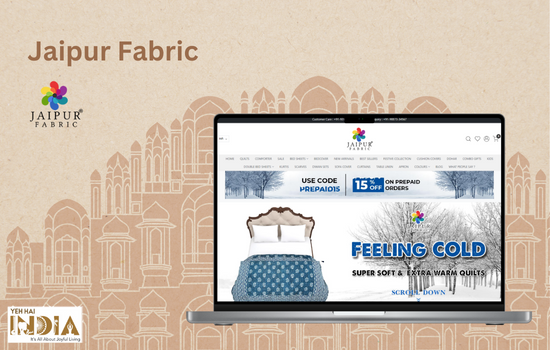 At JaipurFabric, Quilts are available in different types of fabric materials: cotton, microfiber, wool, velvet, and silk. You can find beautiful and vibrant block prints on warm and comforting quilts, both in single and double bed sizes.
There are a variety of designs to choose from that will suit the look and appearance of your room. The hundreds of craftsmen and artisans who reside in and around the Indian city of Jaipur produce Jaipuri fabric.
The incredible originality of Jaipur's extraordinarily gifted painters and craftspeople makes them an honor to our country. Among the most well-liked fabrics provided for sale in the nation is Jaipur Fabric.
They are also widely purchased as exports and are sold globally. The meticulous and well-considered design process used by Jaipur Fabric is what makes it so special.
4. Namya Living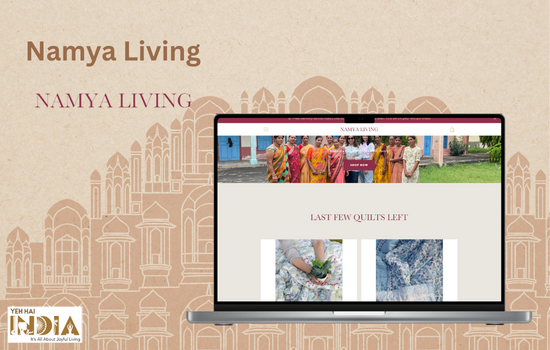 This brand, puts a lot of effort in creating something unique, special, and lovingly made with the help of a team of talented female artisans. Each of the goods are hand-printed using wooden hand blocks on 100% cotton fabric.
The brand exclusively ships beautiful, long-lasting household linen right to your doorstep.
You can choose from a selection of lightweight, soft, and warm mulmul cotton quilts available on Namya Living. Mulmul cotton is used for both the top and bottom layers of the quilts.
They are entirely packed with cotton and are suitable for mild to medium winters and summers. A single quilt typically weighs 1500 kilos, whereas a double sized quilt weighs around 3500 grams.
5. Lable Rahul Singh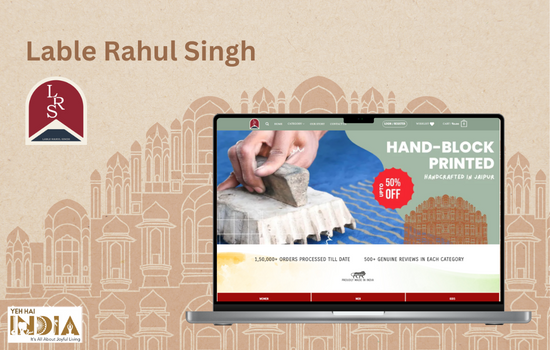 The brand presents to you hand-block printing technique that is being preserved by craftsmen who reside in and around Rajasthan. The naming of the brand has an interesting thought behind it.
The term "Lable" was purposefully added to the label's name instead of "Label", as the beauty of handcrafted items rests in their flaws and everything flawless appears to be machine created and less realistic.
Lable Rahul Singh emphasizes the beauty of flaws, the very trait that sets apart one handmade razai from the other. The brand offers handmade, high-quality quilts made with care and available in a wide variety of colours and prints.
6. Ethnic Story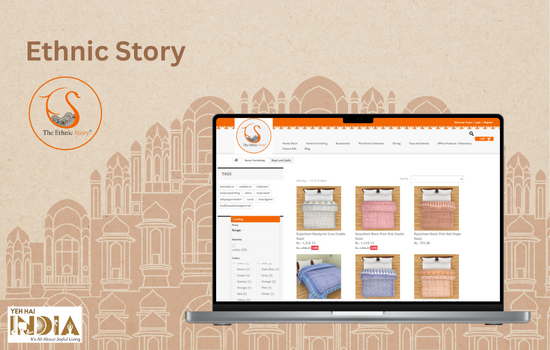 Ethnic Story is the perfect destination for those who want to appease their Indian heart. The brand provides items that satisfy all your ethnic demands, whether you want to give your house an ethnic makeover or put together the ideal ethnic ensemble for a special event.
These products range from exquisitely handcrafted wares to traditionally made items. The Jaipuri quilts of Ethnic Story offer huge flexibility in terms of choice of designs and colours. These quilts are warm, stylish and comfortable and are priced quite accurately.
7. House OF Ekam
A fuzzy and cozy blanket is one of the most cherished joys of winter season. Whether you prefer a contemporary or a traditional Jaipuri design, House of Ekam has it all.
The brand takes special care while hand-crafting its quilt sets. All the quilts are made of high thread count cotton fabric and cotton is filled flawlessly between layers of light muslin block printed fabric pieces.
Keeping aesthetics and convenience in mind, matching pillow covers and a storage bag is also provided with the quilt. Your heart will be filled with joy once you spread a House of Ekam quilt on your bed.
8. Rihaa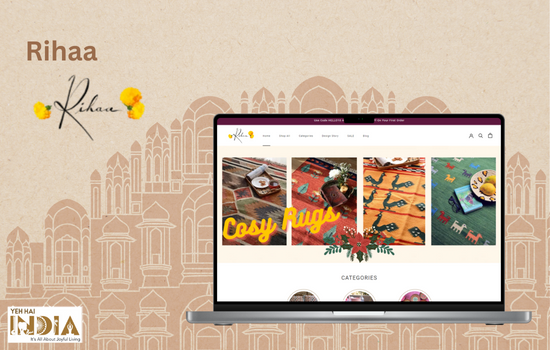 Rihaa is a socially conscious home décor brand offering you the best goods made by skilled craftspeople in India. The brand is committed to fair pricing which drives them to seek out independent craftsmen, trade facilitation centres, and NGOs to source their products.
The colorful and traditionally inspired designs cast on Jaipuri razais and blankets are hand-block printed in Sanganer pattern on 100% cotton fabric. The designs are inspired by tradition but reflect a touch of modernity which makes it perfectly suitable for all types of modern interiors.
9. Jaipur Mela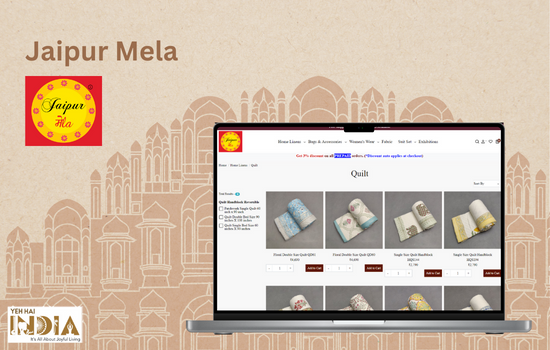 Enjoy the quilts from Jaipur Mela, on warm nights and delightful winter mornings. The multi-layered quilts containing multiple layers of textiles knit together with affection and concern.
You can find a variety of hand block printed quilts so you may add some tradition to your interior space while maintaining a modern aesthetic. Different types of designs and prints embrace the fabric, including floral prints, hand block prints, patchwork, and other motifs.
10. Pinklay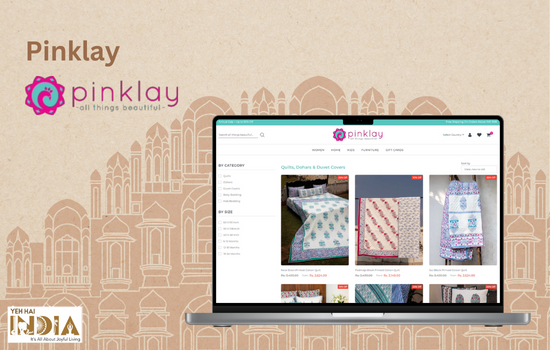 Indian handicrafts are the main emphasis of Pinklay which is an indigenous lifestyle brand. It collaborates with local craftspeople to make exquisite items that appeal to the public by fusing traditional and contemporary patterns in amazing ways.
Their quilts display their unique artwork which is designed to tell tales inspired by natural elements, a variety of crafts, and numerous traditions. The colour theme is light, modern, tasteful, and original. Each piece of handiwork is meant to spark conversations and evoke memories.
Summary:
Jaipuri razais, with their vibrance, softness, and warmth are perfect for winters. These adorable quilts are easy to maintain, reversible, and available in a variety of designs.
The brands listed above offer authentic Jaipuri Quilts featuring different styles and designs, making sure everyone finds something suitable for their interiors.
You can have the authentic cozy Jaipuri quilts of your choice delivered to your doorstep with just a few clicks.
Get your pick from a collection of intricately laid out Jaipuri Quilts and cherish the coziness they bring to your daily lives.
Also Read – 10 Best Chemical Free Deodorants To Stay Fragrant In Winters