Pamper your skin with the invigorating scent of organic deodorants formulated specifically for skin issues that crop up in winter months.
Winters are right around, knocking on our doors to remind us of the essentials we'll need to survive the effects of cold weather.
The dropping temperatures and moisture levels in the air at this point of time are reasons enough to purchase skin care essentials keeping in perspective the varying needs of the season that comes packed with an entirely new set of skin and health concerns.
If there's anything that can make this extreme weather a straight sail, it sure is a deodorant. After all, smelling great is the secret to staying energetic and lively on any given day, more so in winter months.
A mild yet pleasing natural fragrance that lingers on for a while puts you in the right mood to take on the bigger tasks with greater ease.
On days when there's no sunshine and you only have coffee to feel snug and warm, wearing a fragrance that stimulates your thinking abilities and relaxes you at the same time is the best thing you can do to stay stress free amid the winter chaos.
Trouble arises when you unknowingly put on a deodorant under several layers of clothing often leading to itchy and dry feeling, which if not addressed in time turns into rashes.
To avoid any such complications in winters, it's important to know which deodorant is right for your particular skin type. One that doesn't irritate your skin, is chemical free and has a fragrance that creates a calming atmosphere is the right type of deodorant for winter months.
To ensure optimum skin health and hydration in winters, go for a vegan, alcohol free deodorant meant for sensitive skin.
The cold weather might make you pick fragrances with spicier, woody notes that are reserved specifically for colder months, it won't harm if you experiment with the fresh scent of fruits and exotic herbal infusions from time to time to wake you up like it is summer season.
A Word Of Caution:
Pregnant, nursing women and children below 12 years of age should stay away from products containing essential oils due to their highly volatile nature that tends to become toxic when inhaled. Natural ingredients do not mean they won't lead to any adverse reactions. It is advised to do a patch test before using such products to ensure they're safe for you, your loved ones and do not lead to any health complications.
For inspiration on the type of deodorants meant for winters, here's a peek into our handpicked collection of deodorants that are safe, natural and non-irritating.
10 Best Deodorants To Stay Odour Free In Winters:
1. Sweet Orange and Cardamom Natural Deodorant by Forest Essentials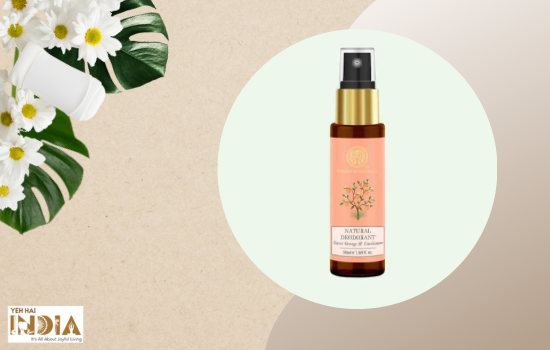 Packing in an enchanting scent of sweet Orange and Cardamom spice, this amazingly refreshing deodorant spray is pretty much everything you need to beat away the dullness of winters.
It utilizes the healing and skin rejuvenating abilities of Ayurvedic ingredients such as kasturi manjal, anantmool, neem and aloe vera to keep odor at bay sans any stains or itching on your underarms.
The fragrance is delicate and soothing, yet stays on for a couple of hours to keep you feeling fresh during the day.
Price: Rs. 1095.00
Recommended Story – 7 Best Organic Deodorants And Roll-Ons In India
2. Lemon and Tea Tree Deodorant Stick by Tree Wear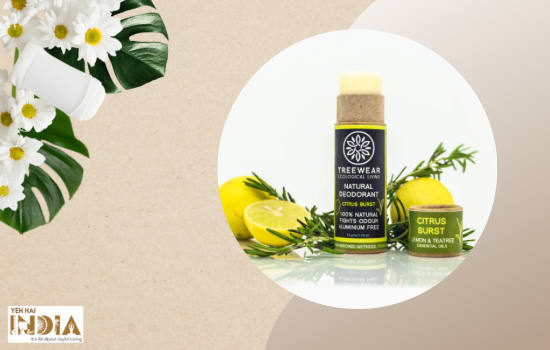 This deodorant is perfect to up your confidence with its zestful lemony fragrance that triggers your imagination in multiple ways. With hints of T-tree fragrance, its layered beautifully in the way each fragrance strikes your senses without disturbing the pH levels of skin.
Like other Tree Wear products, this deodorant is also crafted keeping in mind the ecological balance to help sustain the environment as well as our health.
A completely non- toxic formula, it's good enough for everyday use regardless of your gender or age and is safe for children as well.
Price: Rs. 400.00
3. Grapefruit and Ylang Ylang Deo Shot by Vilvah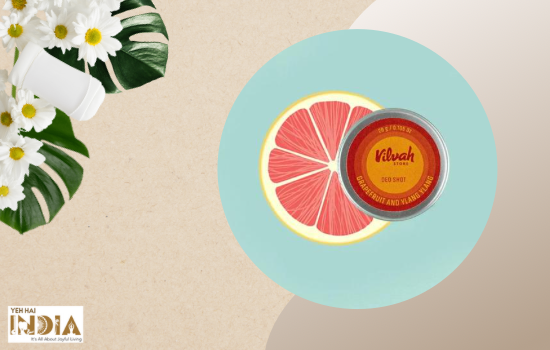 Coming to this cutesy little deo that comes packaged in a tiny metal container, all we can say is that it's the aroma of fresh grapefruit fused in this deodorant along with notes of Ylang Ylang that makes it something you'd feel like purchasing straightaway.
Just a small amount of this balm deo is enough to keep you going during the first few hours of the day. If the need be, just dab it on again when you want to feel like a fresh grapefruit blossom again.
The fresh and sweet citrusy scent stays for not more than an hour or two, but it brilliantly masks sweat odor for as long as five hours.
Price: Rs. 290.00
4. Citrus Tea Deodorant Balm by Nature Masons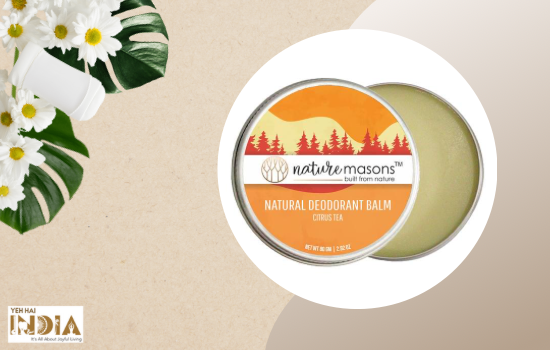 An invigorating concoction of lemongrass oil, Mandarin and fresh orange fruit added into this incredible deo balm instantly awakens your senses to charge you up for the day.
This deodorant intelligently works to kill odour causing bacteria and leaves your skin fresh and dry minus any sensitivities.
The tiny little packaging ensures you get to use the product to its full capacity in environmentally conscious way minus any wastage or spills.
Price: Rs. 320.00
5. Cedarwood and Lemon Deodorant balm by Raw Beauty
The humble winter aroma of cedarwood gets a zesty spike with a lemony hint that melds beautifully with the strong scent of cedarwood.
When applied on to the skin, it creates a warming ambience which culminates impressively with the fresh and cheerful scent of lemon, all without leaving any residues.
It's perfect for daywear and does not react with skin, rather, protects it from bacteria and microbes. Baking soda in this deo helps mask body odor and maintains healthy pH levels that is likely to get disturbed by excessive sweating.
Price: Rs. 499.00
6. Unscented Natural Deodorant by Indus Valley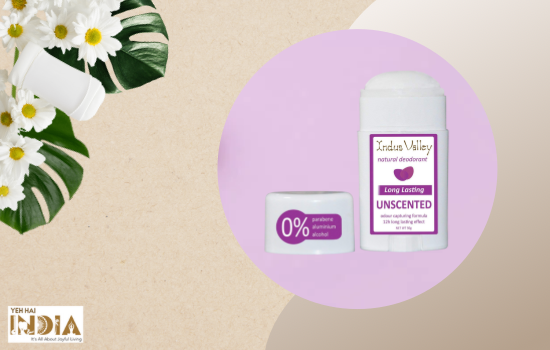 This unscented deo is the next best thing compared to an expensive naturally scented fragrance. It is crafted specifically to mask body odour without leaving any fragrance on skin.
It can be effortlessly worn under a perfume to check excessive sweating and odor.
Made using only natural odor control actives, it melds beautifully with the skin's equilibrium to keep it free from bacteria and wetness.
Price: Rs. 299.00
Recommended Story – Product Review: The CannaEase Cramp Reliever Roll-On Stick
7. Vetiver and Malabar Kokum Deo Butter by Parama Naturals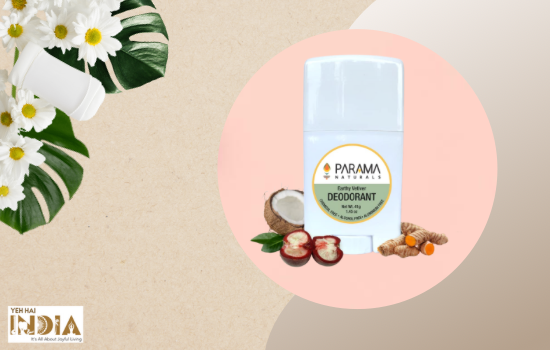 This is an extremely trustworthy product with impeccable abilities to check sweat odor. The relaxing and invigorating fragrance of this deodorant is built from Vetiver, mint and Malabar Kokum.
It's best suited for sunny winter days when you're needing a whiff of cool and fresh aroma.
Turmeric, coconut and sesame oils help keep inflammation at bay, fuse moisture into the skin and prevent discolouration on underarms.
Price: Rs. 450.00
8. Blood Orange and Geranium Deodorant Stick by Juicy Chemistry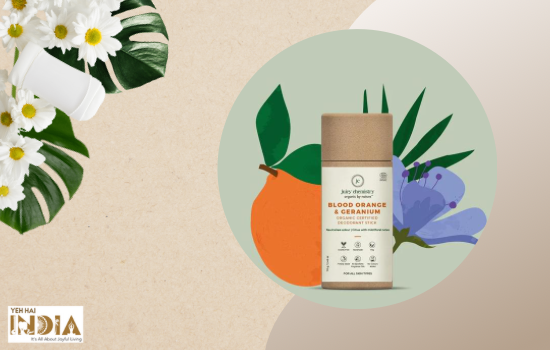 On days when you're thinking of embracing a floral freshness yet wish to keep the citrusy aroma intact, this deodorant perfectly fits in.
This deodorant makes the best use of floral and citrus scent with a clever combination of blood Orange and Geranium blossom fragrance.
The floral undertones of geranium help add a touch of newness to the old school citrus aroma. Enriched with organic clay, it expertly absorbs sweat to retain freshness and helps keep skin hydrated and protected from irritation.
Price: Rs. 700.00
9. Strawberry Wax Deodorant by Ghar Soaps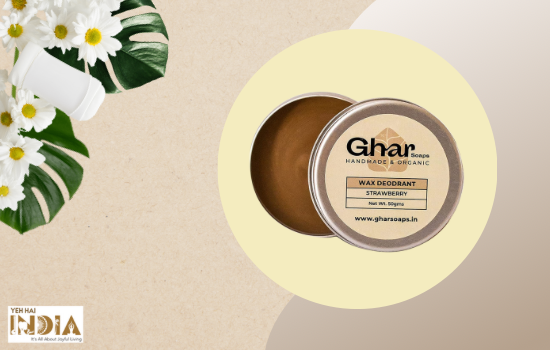 A deodorant that ends all your worries of coming in contact with toxic chemicals and irritants, this mini deo balm is the best purchase to revel in the luxury of all natural organic ingredients.
The scintillating strawberry aroma transports you straight into the summer season with its mood elevating capabilities.
It expertly controls odor and absorbs excess sweat from the underarm region without causing any redness or darkening. Shea butter and coconut oil help combat inflammation and protect your skin from loss of moisture.
Another plus is it's clever, compact packaging that allows you to safely carry it during air travel without any worries of leakage that happens with spray-on deodorants.
Rs. 999.00
10. Vetiver and Bergamot Balm deodorant by Raw Beauty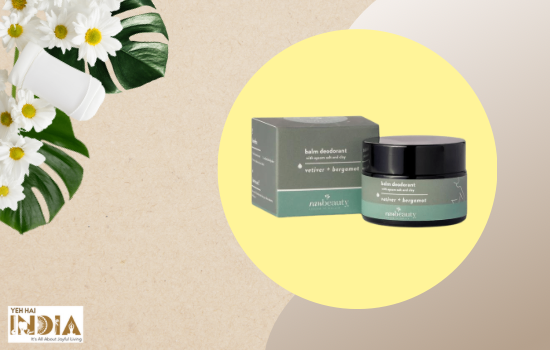 This incredibly fragrant deo comes with many payoffs, one of them being it's balm-like consistency that gives you the freedom to use the amount you desire to stay fresh and fragrant all through the day.
The revitalizing scent of bergamot and vetiver helps you stay in the best mood, yet is milder than most other deodorants in the same fragrance range that run a tendency of creating an aversion towards scents due to their strong scent.
It uses ingredients like epsom salt and bentonite clay to kill odor-causing bacteria to maintain clean and sweat-free underarms.
Rs. 499.00
Ditch chemical deodorants in favour of natural deos that promise to soothe your skin all while leaving a pleasing natural aroma to stay fresh and fragrant.
Also Read – Best Moisturizers for Winters in India: Winter Skincare 2022