Fuller and thicker eyelashes and brows are going to be the mainstay of facial beauty in the next couple of years.
A time-tested beauty secret, fuller eyelashes and eyebrows are gaining leverage in the beauty department as a way to attain a youthful and glowing face. Dense brows and lashes add a certain level of mystery to facial features, giving way to a firm, plump looking face.
The entry of Eyelash and Eyebrow Growth serums in the market witnessed an overwhelming response from the customers. These infusions of natural extracts are designed to protect and nourish the lash line and brows to upturn their volume.
If you've grown used to applying mascaras or brow pencils for volumizing effect, you might have become accustomed to the gooey feeling of wax rich mascaras on your skin and lash line. Over time these substances might thin your brows and cause inflammation at the base of eyelashes.
A lash growth serum proves to be a great adjunct to your face care routine, helping to improve the texture of your brows and eyelashes, naturally.
Buy Ayurvedic under eye cream "Rufolia"
Do Natural Growth Serums Work?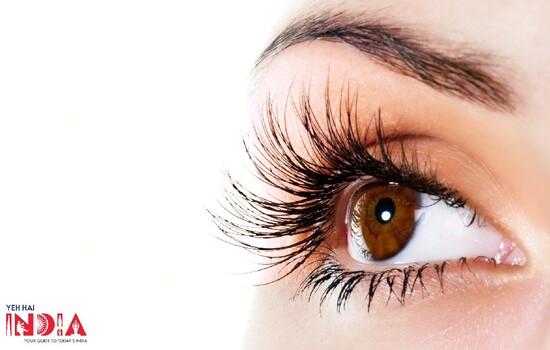 Natural Eyelash growth serums might not show overnight results but with consistent application, they do exhibit impressive effects on the density of brows and lashes.
Plus, they save you from the harmful effects associated with use of hormone based growth serums, the only tested product in the market that promises to lengthen eyelashes.
Recommended Story – 7 Best Natural and Organic Soap Bars in India
Harmful Effects of Hormone Based Lash Growth Serums: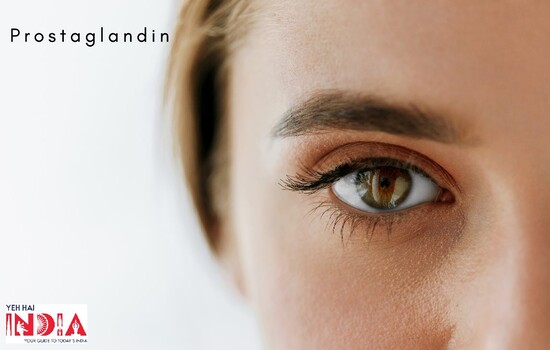 A majority of lash growth serums available in stores come infused with 'Prostaglandin', a hormone that has trailblazing effects on brow and lash growth.
Initially used as a treatment for Glaucoma and ocular stress, this hormone was later prescribed to fill up sparse eyelashes.
Prostaglandin based serums are generally prescribed by eye doctors for a particular length of time to avoid the damage they mete out on ocular health.
Side effects associated with long term use of Prostaglandin based serums are:
Change in iris colour
Conjunctival Hyperemia
Droopy eyes
Eyelid Pigmentation
Headaches
Nausea
Vision loss
Inflammation on the eyes
Serums infused with peptides might claim to be safe for beauty purposes, but if you're going to use them on your eyes, one of the most sensitive parts of human body, they might lead to redness and inflammation.
It's important to understand the effects of each of the ingredients in your beauty care products and make informed decisions when it comes to purchasing such products to minimize exposure to toxic components that fool you into believing their unrealistic claims. .
When you are thinking of ditching chemical based cosmetics, serums infused with organic and natural ingredients turn out to be your best saviours.
Here are some of the finest Organic Eyebrow and Eyelash Growth Serums you can grab in the Indian market:
10 Best Organic And Natural Eyebrow and Eyelash Growth Serums In India:
1. Forrest Essentials Nayantara Clear Eyebrow and Eyelash Growth Serum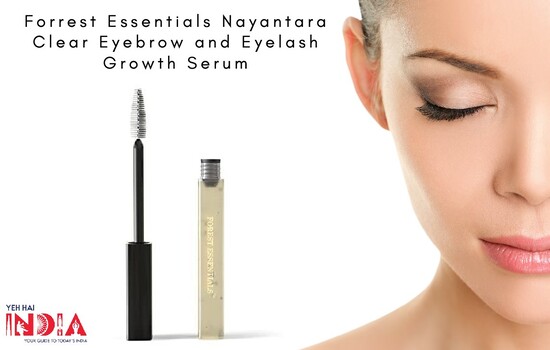 This lash and brow serum has praiseworthy effects on the growth of eyebrows and eyelashes.
A completely natural blend of organic extracts namely, Amla, Liquorice root, Castor oil, Fenugreek seeds and Sweet almond oil, this serum is infused with organic beeswax for added volume.
It not only helps with lash and brow growth, but coats each hair to help transport the nutrients to the tender hair. It comes with an applicator brush to deliver the contents to each and every brow and lash hair without any spills.
Benefits:
Strengthens and conditions brows and lashes
Adds volume with extended use
Works as a lash primer
Does not sting the eyes
Cruelty free
Paraben free
Mineral Oil free
Price: 1,225 INR for 8.5 ml bottle
2. Bella Vita Grow Brow Eyebrow and Eyelash Growth Serum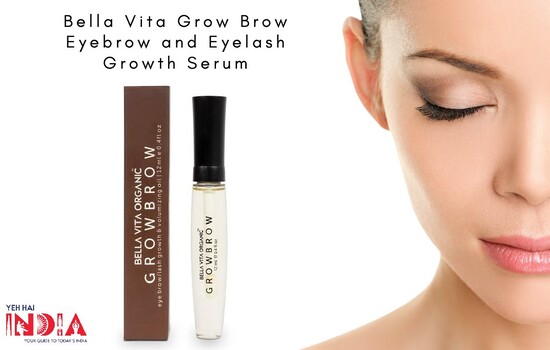 This growth serum from BellaVita organic is an Ayurvedic solution to scanty lashes and brows.
A brilliant concoction of cold pressed organic oils such as castor oil, almond, brahmi, Radish, argan, sesame, avocado, coconut and vitamin E, this serum nourishes each strand to fill up eyebrows and eyelashes naturally.
It's a clear formula that protects lashes and brows from the damaging effects of make-up and pollution.
Benefits:
Restores volume and density
Forms a protective layer
Prevents exposure to toxins and pollutants
Hydrates the base
Non-toxic
Paraben Free
Mineral Oil free.
Price: 325 INR for 12ml bottle
3. Aegte Eyebrow and Lash Growth Serum with Hemp Seed Oi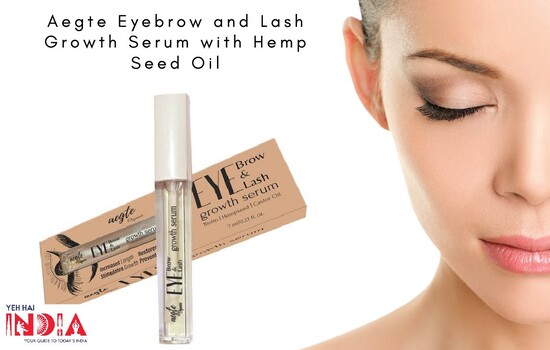 This brow growth serum is a showstopper with its impeccable ingredient structure that work to lengthen lashes and regrow eyebrows.
Made from a bouquet of exotic oils such as Pomegranate seed oil, avocado oil, grapeseed oil, jojoba oil, hazelnut oil along with castor oil.
In addition to oils, it also contains Biotin and Vitamin E to grant extra nourishment and fullness to hair. Both these nutrients along with hemp seed oil work to promote keratin release for strong brow and lash hair.
Benefits:
Fills up receding brows and lashes
Conditions hair from root to tip
Repairs damaged hair tissues
Strengthens the follicles
Nourishes the base
Protects from irritants
Non-toxic
Paraben free
Price: 799 INR for 7ml bottle
4. LoveEarth Organic Eyelash and Eyebrow Growth Serum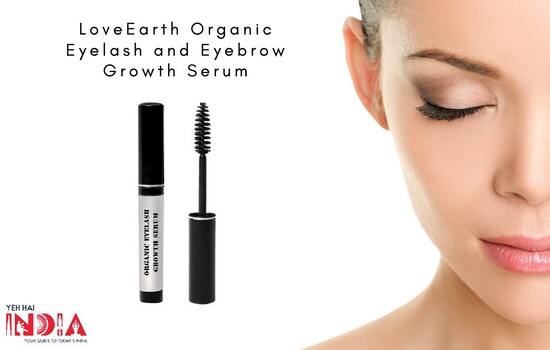 This natural potion has rewarding effects on lash and brow growth.
Using this serum not only lengthens lashes and fills up brows, but does more than that to prevent pollution, irritants and allergens from playing with the health and beauty of your eyes.
Consisting of a combination of exotic skin and hair actives like Apricot, Hibiscus, Bhringraj, Olive, Brahmi, Gooseberry, Sunflower, grapeseed, Jojoba and castor oils, it works to intensify hair growth to give you naturally plump and voluminous brows and lashes.
This product claims to show results after 45 days of regular application.
Benefits:
Stimulates hair growth
Restores natural density
Nurtures and protects hair follicles
Prevents clogging
Lengthens hair growth cycle
Softens hair
Repairs frizz
Non-toxic
Mineral Oil free
Paraben free
Price: 399 INR for 5ml bottle
Recommended Story – Mystiq Living: Showing The Nature's Way To Health And Beauty
5. St. Botanica Eyelash Growth Serum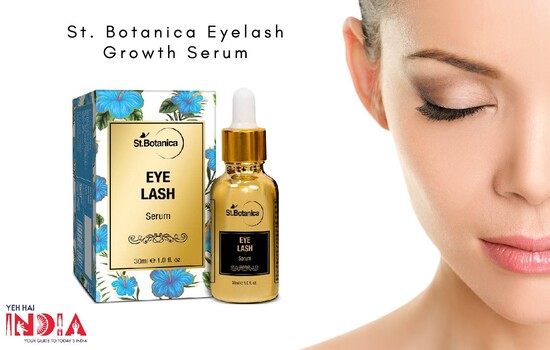 This profusely nourishing formula is great for enhancing the texture and density of hair on brows and lashes. It's incredible growth stimulating properties help restore fullness to thinning brows and lashes.
The key components present in this serum are pure and organic cold pressed castor oil, sweet almond oil, olive oil (extra virgin), and coconut oil (extra virgin).
Besides its growth stimulating qualities, this oil is formulated with just the right ingredients that have terrific skin regenerative effects and is great for prevention of inflammation around the lashes and eyebrows due to external pollutants and allergens.
Benefits:
Regrows hair
Nourishes hair from root to tip
Hydrates skin
Gentle on eyes
Prevents inflammation
Minimizes frizz
Checks loss of hair
Softens hair
Paraben free
Mineral oil free
Toxin free
Price: 899 INR for 39 ml bottle
6. Organic Netra Eyebrow and Eyelash Growth Serum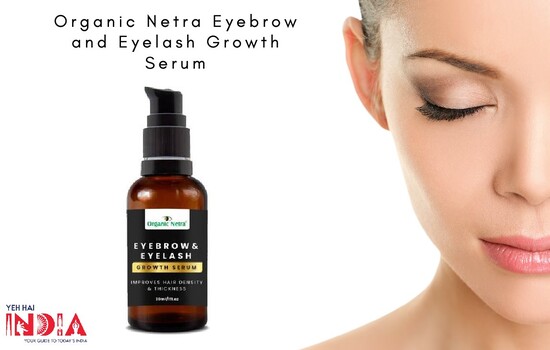 This serum is a potent blend that targets receding brows and lashes to revamp their health and volume.
Infused with onion oil, castor oil coconut oil, almond oil, rose oil, brahmi and bhringraj oil as active ingredients, this oil is particularly good for managing lash and brow loss. The onion oil in this serum helps regenerate hair tissues and stimulates the follicles to grow new hair.
It's an excellent concoction to rebuild sparse brows and lashes with its dense nutrient structure. The best way to utilize the benefits of this oil for lash growth without causing any redness is to apply it on the ends of eyelashes.
CAUTION: Presence of onion oil might irritate the eyes and cause redness. It is advised to apply serums with onion oil sparingly along the outer ends of lashes to avoid the oil from entering the delicate eyes.
Benefits:
Regrows hair
Regenerates damaged hair
Restores volume
Checks hairloss
Adds lustre
Non-toxic
Free from parabens
Free from mineral oil
Cruelty free
Price: 499 INR for 10 ml bottle
7. Indulgeo Essence Brow Grow And Rejuvenating Eye Serum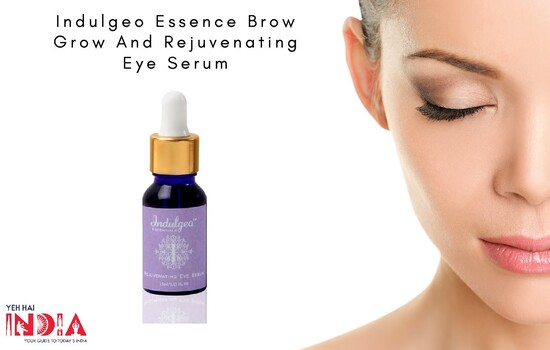 Brow Grow is an eyebrow growth balm with a truly terrific blend of natural, organic oils known to amplify hair growth in damaged brows.
It's key ingredients are beeswax, onion oil, Rosemary oil and thyme oil with proven abilities to thicken the density of sparse brows.
It's a combo pack with two separate products that individually work on improving lash growth and brow growth.
The Rejuvenating eye serum is a potent mix of castor oil, grapeseed oil, flaxseed oil, avocado oil and Vitamin E, that help with lash growth and also offer nutrients to replenish the delicate under eye skin without causing any redness in the eyes.
Benefits:
Lengthen lashes
Adds density to brows
Restores volume and lustre
Softens frizzy hair
Regenerates hair
Stimulates the skin underneath
Non-toxic
Paraben free
Mineral oil free
Cruelty free
Price: 1,310 INR for 20gm balm and 15ml serum
8. Anahata Organic NOOR Eyebrow And Eyelash Growth Serum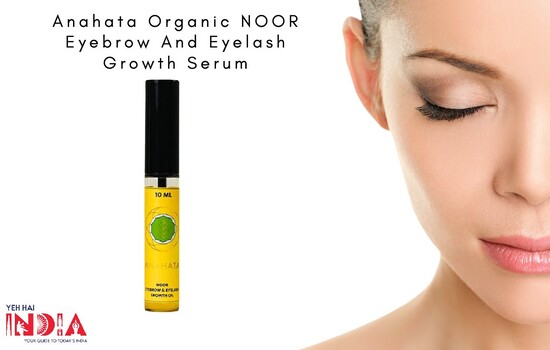 This organic infusion is a wonderful mix of oils that have traditionally been used for their hair growth advancing features.
Buy Ayurvedic under eye cream "Rufolia"
Oils of argan, castor, coconut and almond along with sandalwood extract and liquorice extract work to renew eyebrow and lash hair to restore natural volume.
A sustainable product, this lash serum improves both texture and colour of your lashes and also provides moisture and other nutrients to help stimulate lash growth and prevent inflammation.
Benefits:
Adds volume
Nourishes hair follicles
Stimulates growth
Repairs damaged hair
Prevents breakage
Moistens hair
Non-toxic
Paraben free
Mineral oil free
Price: 540 INR for 10ml bottle
9. ENN Blink Eyebrow and Eyelash Growth Balm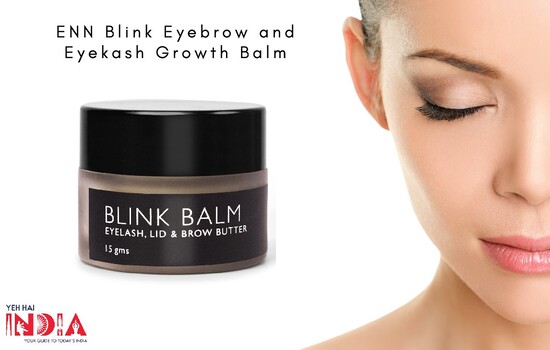 This powerful blend comprises growth amplifying agents like castor oil, calendula oil, Rosemary oil and olive oil along with other cold pressed oils.
Enriched with organic beeswax, it helps add volume, lustre and moisture to thin brows and lashes with continued use.
Grapefruit seed extract in this balm stimulates blood circulation on eyelids, brow base and lash line to help regrow hair.
Benefits:
Adds fullness
Replenishes damaged hair
Strengthens hair
Tames frizz
Conditions hair
Non-toxic toxic
Paraben free
Mineral oil free
Cruelty free
Price: 600 INR for 15 gm jar
10. AromaMusk Brow and Lash Growth Serum
This serum is the gentlest formulation that assists and lash and brow growth, helping to improve the overall beauty if your eyes.
A blend of just four different types of oils – castor oil, virgin olive oil, sweet almond oil, and coconut oil, this serum supplies nutrients to rescue sparse and damaged hair on brows and lashes.
It hydrates and calms skin at the base to improve circulation and encourage growth of new hair.
Benefits:
Gentle on eyes
Restores thickness
Adds density
Conditions hair
Nourishes follicles
Calms irritation
Non-toxic
Mineral oil free
Paraben free
Cruelty free
Price: 799 INR for 30 ml bottle
Splurging in all natural organic serums would not only add depth and character to your pretty peepers, but would also encourage you to ditch those clogging mascaras, falsies and threading sessions in favour of fuller brows and longer lashes.
Let your fuller brows and lashes work their magic in taking years off your face!
Also Read – 10 Best Body Scrubs: Why We Need Them And The Best Natural Ones To Buy In India