Jade rollers are ruling the beauty circuits once again with their impressive face firming and skin regeneration qualities.
The ever growing popularity of Jade rollers for skin rejuvenation is creating ripples in the beauty circles with their long standing effects on health and beauty.
For centuries, these prized beauty tools have remained a favorite among Chinese women for their astounding ability to sculpt and renew facial muscles.
What is a Jade Roller?
Jade roller is a Chinese beauty tool used since ancient times as a part of Crystal Therapy to facilitate better blood circulation on the face. It's a hand-held device encrusted with two Jade stones – the large one at the top and the small one at the bottom.
These Jade crystals rotate individually when moved over the face to massage the muscles and tissues located underneath the skin. When used with a facial serum or massaging gel, the benefits tend to manifold with every use as the skin readily absorbs the nutrients in skin serums.
With improvisations in their design and functionalities, these rollers come equipped with a vibrating mechanism to lessen the manual effort you have to put in with traditional rollers. Still, the applicability of a traditional face roller does not diminish with amplifications in their design.
Like many other crystals, jade has its own abilities to purify and replenish the skin with its special healing powers.
Hence, Jade rollers are best suited for those who want to infuse positive healing energy into their life.
Let us look at some of the finest Jade rollers in India to avail the skin firming and facial de-stressing qualities they promise to deliver.
10 BEST JADE ROLLERS TO BUY IN INDIA:
1. Dromen & Co. Apothecary Vibrating Jade Beauty Bar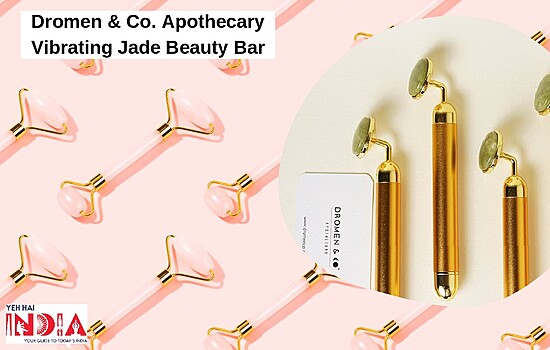 This vibrating beauty bar with Jade crystal head appears to be the most improvised version of Jade roller and is set to receive major attention from beauty freaks due to it's clever features. Its round shaped head encrusted with Jade stone is perfect to relax facial muscles
It stimulates skin cells to improve the rate of collagen release. The vibrations delivered to the skin through this tool help in furthering skin's cell regeneration potential to keep signs of ageing from developing in the first place.
Price: ₹ 1,299/-
Recommended Story – 6 Best Organic/ Ayurvedic Foundations In India
2. Natural Vibes Jade Roller and Gua Sha Set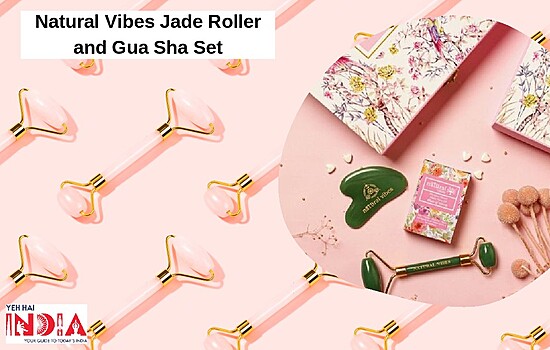 This Gua Sha and Jade roller set is a simple yet effective accompaniment to your skin care regimen. It lifts up the appearance of your skin, marred by poor blood circulation.
The roller works to relieve stiff muscles on cheeks and forehead. Its twin rolling action uplifts tired muscles located under the eyes, nose and lips along with other parts of your face.
The mineral rich Gua Sha tool is designed to deliver just the right amount of pressure on tricky areas of your face such as the jawline, cheeks and chin to give your face a sculpted look.
Price: ₹ 2274/-
3. Zureni 3-in-1 Jade Roller With Micro Vibrating Massager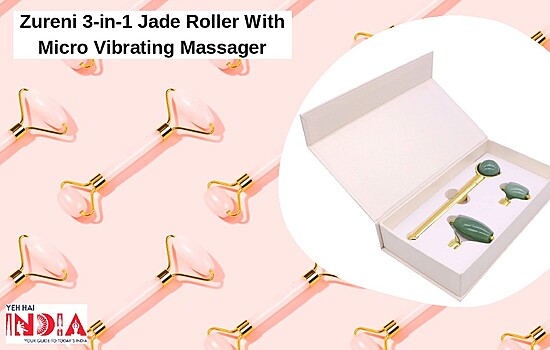 This face roller from Zureni offers a mixed bunch of face massaging benefits with three detachable jade crystal heads meant for different parts of your face. The large sized roller head is ideal to alleviate stiffness and sagginess from larger areas such as the cheeks and neck.
The smaller one works best on the nose, temples, upper lips and chin. The round head is meant for tricky areas like under eye region, corners of eyes, brow-bone and jawline.
The vibrating action of this roller gives quicker results compared to manual face rollers. It stimulates the muscles to promote collagen release and regulates lymphatic drainage to reduce puffiness.
Price: ₹ 1,640/-
4. House Of Beauty Jade Roller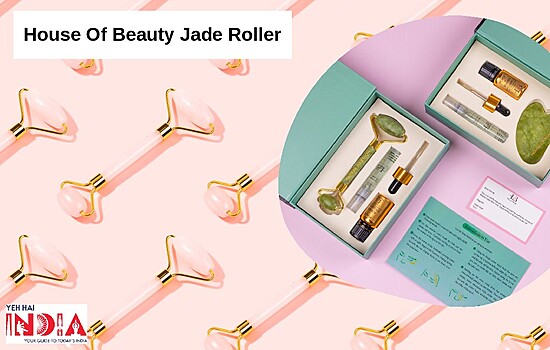 This Jade roller is a perfect tool to increase blood flow to nourish dull looking skin on face with a burst of nutrients absorbed through serums and jade stone. The combined action of oils and jade work to uplift skin tone and rid your face of wrinkles and dryness.
The larger stone relieves puffiness from cheeks and under eyes with its consistent rotations, assisting in drainage of accumulated lymphatic fluids. The smaller stone exercises the tiny muscles to uplift and invigorate skin cells to fill up creases and wrinkles.
Price: ₹ 1,870/-
5. Earth Therapy Handcrafted Jade Face Roller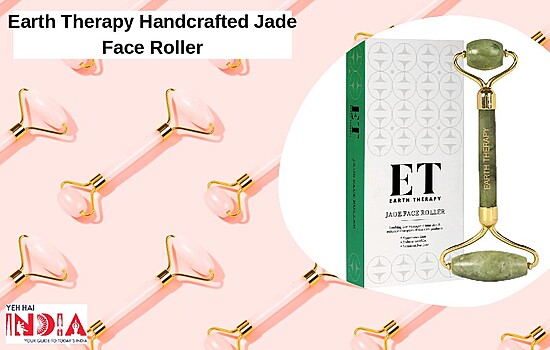 This traditional Jade roller is meticulously designed to infuse life to each and every cell of the facial skin. Moving it over your face a couple of times a day would give you a slimmer and younger looking face without any trace of wrinkles.
This manual roller helps tighten loose and sagging skin, shrink enlarged pores and reveal radiant skin with improved cell turnover rate. The smaller end of the roller helps exercise muscles on tricky zones that are prone to developing wrinkles such as around the eyes, around the lips and on the chin.
Price : ₹ 791/-
Recommended Story – Face Yoga: 5 Exercises For A Youthful Looking Face
6. SUAV Jade Hexagonal Prism Face Roller cum Acupuncture Pen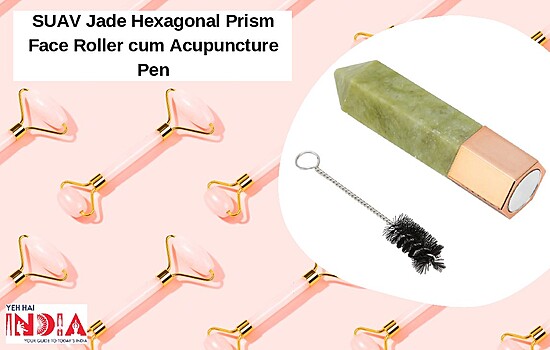 This prism shaped Jade roller with oil dispenser is the newest Jade massager to hit the market. Its compact size and marvelously unique features are worth the praise and make it convenient to be put into your handbag or travel luggage.
The oil dispensing part has a roller head that works as a serum applicator cum massager to uniformly distribute the oils into your skin. The prism shape perfectly adheres to your facial curves to massage the tiny muscles located under the eyes, cheeks and jawline to give you a slimmer looking face.
Price: ₹ 3,069/-
7. RAS Luxury Oils Jade Roller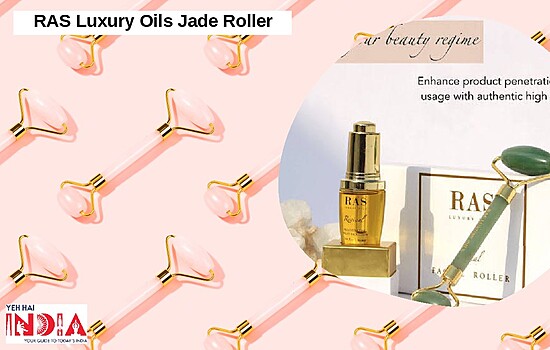 This is again a dual crystal Jade roller that works on manual operation to relieve stiff facial muscles. It' great for people having an aversion for electric beauty devices. The Jade crystal head at the top delivers excellent resistance to large facial muscles when it's moved over the face.
The smaller crystal at the bottom is of the right size to work on sensitive zones around the eyes and lips to invigorate the cells and restore collagen in areas prone to sagging.
Price ₹ 2,091/-
8. The Minimal Co. Jade Roller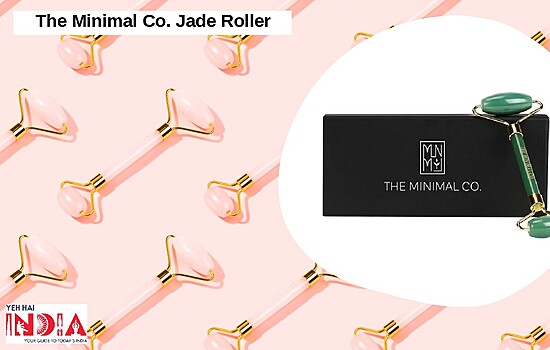 This Jade roller is an ideal tool to maintain skin youthfulness with its impressive features. Crafted from pure Jade crystals, it offers excellent support to facial muscles without any chances of retracting from its position.
It helps your face relax and rejuvenate through improved blood circulation and lymph function. The result is a healthy and toned skin with visibly reduced wrinkles. The sleek design of this tool offers a firm hold during rolling to increase its efficiency in reviving the appearance of skin.
Price : ₹ 899/-
9. SKINN and YOU Jade Roller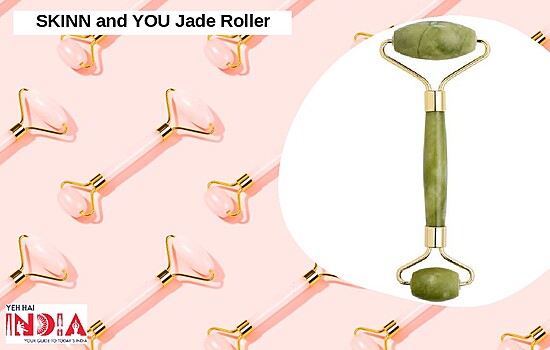 This Jade roller is handcrafted to meet the massaging needs of your face with its intelligently placed Jade stones. The size of these stones is suitable for different areas where normal massagers fail to work.
The rolling speed of each crystal helps deliver maximum benefits to tired facial muscles. It leaves your skin renewed and glowing with a rosy appearance that signifies good health.
Price : ₹ 1,280/-
10. Le Marbelle Jade Bottle Roller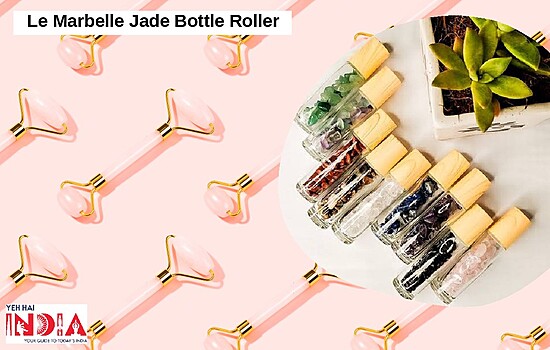 This bottle face roller with jade crystals is the first-of-its-kind in the Jade rollers segment. It consists of a Jade ball encrusted at the mouth of the bottle with a few jade crystals enclosed within the bottle.
It's designed to work along with facial oils or serums to deliver maximum number of nutrients to the skin. Jade crystals in the bottle release their own nutritive abilities into the oil or serum to amplify its skin rejuvenation effects. The cooling jade roll-on crystal calms irritated skin with its cooling effects.
Price: ₹ 314/-
With such a great variety of Jade facial rollers vying for your attention, there's no reason you should deny yourself this chance to bid adieu to wrinkles and lifeless skin, once and for all!
Also Read – Skin-Saver: Switch To The Best Herbal Face Washes In India