Spanning a legacy of 5,000 years, the traditional jewellery is a salient expression of India's exquisite and cultural history. An unparalleled tradition of ornamentation in India is evident in the references in classic texts, literature on gemmology, fables, epics and marvelled Portuguese & greek visitors chronicles about jewellery designs of different periods in Indian olden days. The pieces of beaded jewellery from Indus Valley ruins; sculptures at Bharhut, Sanchi, Amaravati; paintings at Ajanta with wide range of jewellery adorned by king queens and commoners; and the temples present a cornucopia of the jeweller's art.
With the advent of Mughal rule, the synthesis of Hindu patterns and Muslim forms, resulted in a great outburst of an elegant lush extravagant accessories never seen before.The history of handcrafted jewellery in 'Bharat' is as vivid, detailed and old as the Indian civilisation itself. From the Ancient age to the Modern days in this world the Indian jewellers craftsmanship quality is unmatchable. As the decades went by the art of creating exotic ornaments, with delicacy and acumen, has evolved and continue to grow.
The tradition is still alive and time has made it only more vigorous than earlier.
Significance of Traditional Jewellery
The traditional significance of jewellery in our country, is evident from the fact that on auspicious occasions, jewellery forms a part of gifts and is customarily worn as a mark of auspiciousness to invite good omen. Having a superior collection doesn't only symbolizes power, prosperity, status and immense wealth of the owner but also are an epitome of financial security at the time of economic turmoil as it holds a great monetary value.
Not just used as an adornment but as stones endowed with mystical qualities, the 'Navaratna or nine gems (each sacred to a planet) are still worn in specific order as a protection against evil forces to this day. From the maniratna (serpent stone) still being used as a talisman to special Rudraksha ,Tulsi seeds & sandalwood beads worn during Hindu worship, the deep connection between Jewels and Indians, is prominent as its value lies not only in rituals and traditional beliefs, but also some outlook behind each and every jewellery piece.
The trend of men adoring themselves has now faded away, many of them still use earrings, bracelets, pendants, etc. On the other hand women never fail to dazzle in their prismatic attires paired with chunky jewellery crafted from precious metals.
The Glittering Indian Jewellery
Jewellery's forte is to complement what is already alluring, it creates iconic moments, regardless of one's age. A fine and comprehensive jewellery trousseau is versatile and classic, with diverse jewellery pieces for every part of the body that brings out the character and adds originality when styled with varied woman's wardrobe across occasions.
Whether you're selecting a piece of jewellery for a formal, casual or a grand occasion, knowing what is available out there, and what best suits your style is essential.
Recommended Story – Jewellery Designing: Career options & Institutes to study
The perks of wearing jewellery is that its highlights and enhances almost every elegant feature on one's body. Anklets, hair ornaments, rings, necklaces, you name it, there's an Indian jewellery for every area of the body.
Here is the guide of 'HEAD-TO-TOE' pieces of traditional Indian ornaments that you should add to your boudoir.
Head

Maang Teeka & Maang Patti
Jhooomar

Hair
Ears

Jhumkas
Balis
Studs, hoop, drop, dangles

Nose
Neck
Hands

Bangles
Kangan/Kadas
Hathphool

Waist
Feet
Indepth details of these traditional Indian Jewellery Pieces
1. HEAD JEWELLERY
a) Maangtika and MaathaPatti (Jewelled hair parting and hair line)
DESIGN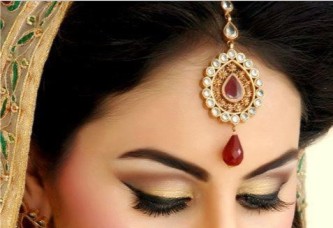 The maangtika is a traditional Hindu-style head piece consisting of a metallic chain/string, with an attractive pendant attached at one end, which comes in various patterns, embellished with precious/semi-precious stones and a hook on the other end.
Matha Pattis are decorated chain/strings that are adorned along the hair-line. A matha-patti is always accompanied by an attached central maang tikka.
HOW TO WEAR MAANGTIKA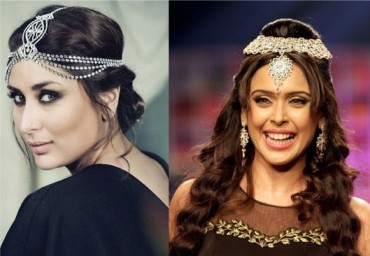 Generally worn at the middle parting of the hair, maangtika comes down to the centre of woman's forehead and the end hook is used for holding the tika at the hair while the Matha Patti's decorated chains enhance the forehand when worn along the hair line.
BELIEF
It is believed that the centre portion of the forehead is the place of sixth chakra (third eye) also known as the power of soul responsible for preservation.
This chakra is visualised to have 2 petals carrying half-female and a half-male androgynous deity named Ardhanarishvara AKA "Lord Shiva and Paravti". With no division it symbolises the final union.
b) Jhoomar Traditional Jewellery
DESIGN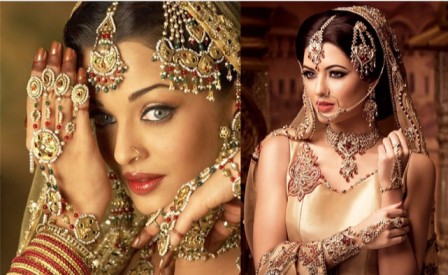 Originating from Mughal culture, Jhoomar is a delicate ornamental head piece, similar to Maangtika. Traditional Jhoomar had a semicircular design of a crescent moon set with diamonds or mix of rubies emeralds, surmounted with a golden hook; but now a days multiple designs have come to fulfil all the desires of a woman. Bunches of pearls are also attached all along the lower edge of the crescent which dangles loosely to add charm to this exquisite piece of jewellery.
HOW TO WEAR JHOOMAR
The gold hook is clipped into the hair on the left side of the forehead and the Jhoomar hangs provocatively accentuating the left temple.
BELIEF
The cycle of the moon faces is synonymous with the emotions of a human being; which is controlled by the left side of the brain. That is why the Jhoomar, with this divine symbol of the crescent, was worn essentially on the left side of the head to keep emotions from overwhelming.
2. HAIR Traditional Jewellery
Jadanagam
DESIGN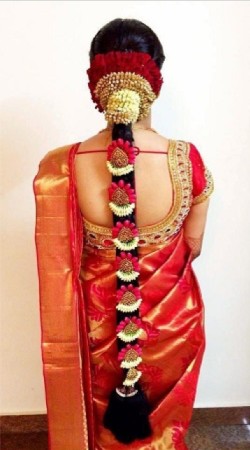 The Jadanagam hair ornament of South India, is the hair-serpent, worn to accessorise braided hair. The designs have patterns of sun, moon, flowers and buds which are ruby and diamond-studded. The whole long braid is embellished with the cobra like coils of precious jewels which divide into three silk tassels held together by encrusted bells.
HOW TO WEAR JADANAGAM
Starting from the back of the head to the tail of the braid, Jadanagam hair ornament is clipped along the braid till the end with hair clips.
BELIEF
The rakkadi at the back of the head in the shape of the sun, symbolic of brilliance and power, is followed by the crescent moon, evocative of calm and peace. The third piece is the fragrant thazhambu flower (screwpine) and the end Kunjam pieces are attached to the tail of braid.
Bharat Natyam dancers wear the Jadanagam or, where it is not available, a substitute woven out of flowers.

3. EAR Jewellery
Earrings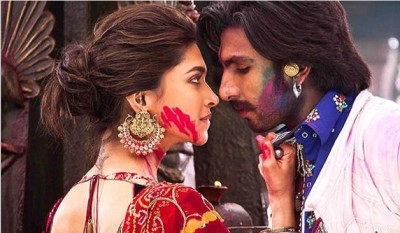 Generally made of gold and silver, the phenomenal Indian ethnic earrings are available in innumerable designs, giving a graceful look to the wearer. This fascinating jewellery pieces has no dearth of designs, shapes, weight, sizes and colours. Abundant styles of earring like Ear studs are not only worn by woman today but also men. From traditional Jhumkas to novel designs and shapes earrings can dazzle the look of any Indian or Western outfit.
DESIGN OF INDIAN ETHNIC EARRINGS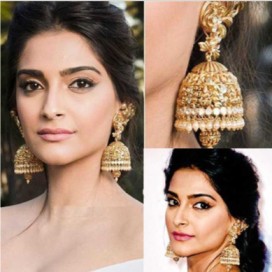 Traditional Indian earrings, consisting of an upper portion, connected to a bell-shaped structure below, Jhumkas are intricately crafted earrings embellished with shiny jewels, dangling pearls and extravagant gems.
Balis, are the typical ring shaped earrings, to flaunt the ethnic touch to any traditional Indian outfit.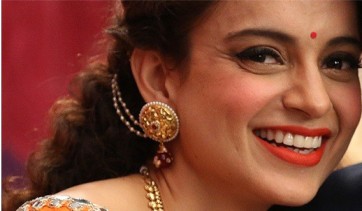 Kanvelis are small, delicate pearl earrings worn on the helix of your ears, go perfectly with the saying ' flaunt as many jewels as you can'.
Sahara chain are the complimentary accessory with a hefty Indian earring. Offering support to the vast weight of pure gold earrings.
HOW TO WEAR INDIAN EARRING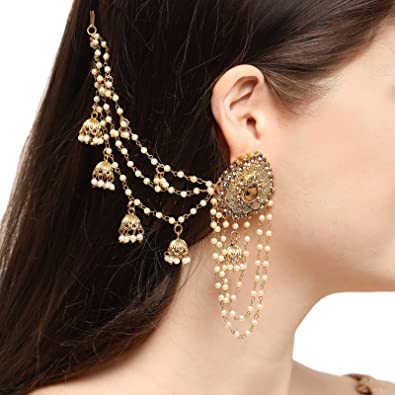 Earrings are adorned on the ear through a piercing in the earlobe or another external part of the ear, but one can wear various types of earrings even without the piercing through magnet ear studs.
Commendable Indian craftsmanship has given birth to multitude range of earring; they can be Stud earrings, Hoop earrings, Drop earrings, Dangle earrings, Ear Spikes, Balis, Jhumkas and many more.
A Sahara chain can be worn in two styles- one going from the front of the earring and hooked directly into the hair; second moving from the front over the ear and coming back around the back of the ear which is then affixed onto the back of the earring.
BELIEF
According to legendary folklores, evil spirits were believed to infiltrate the body through any of its openings. A complete state of well being can be attained by wearing ornaments in the ear.
Recommended Story – A-Z List of Traditional Sarees from states of India
The earlobe is known to house a collection of important nerves that are connected with the kidney, brain, & cervix, and as per some studies with right acupressure applied to the ear, earrings serve as a healer for health ailments of bladder and kidney.
It is even believed that having an ear pierced and wearing ear-rings aids one to stay more active and alert towards sounds and movements of their surroundings.
3. NECK Jewellery
Necklace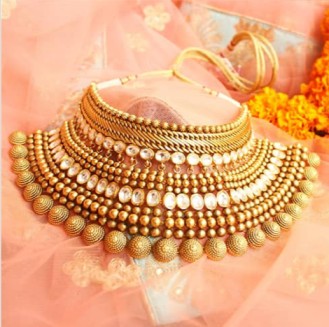 Necklaces are a mark of royalty and have been an integral part of Indian jewellery since the ancient time of maharajas in India. Indian necklaces are of different kinds, such as the gold Galobandh (a small choker neckpiece) or the longer pearl rani haar necklace. Since ancient times, necklaces, pendants, strings of beads and elaborate ornamental collars are bejewelled by both men and women for purposes of adornment and social status.
Rani haar, Galobandh and Gulbandh
DESIGN OF RANI HAAR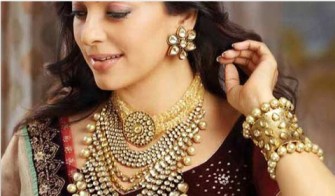 The basic design of a rani haar comprises of a colossal lavish pendant attached to a long decorated chain (single or multi stranded). A long necklace fit for queens that your are! Often worn with another necklace usually a collar necklace or Galobandh/Gulbandh to complete the charm of neck.
South India has been famous for its pearls, and seven string pearl Malas with elaborate pendants were seen in plenty in the medieval courts of Vijayanagar and Thanjavur.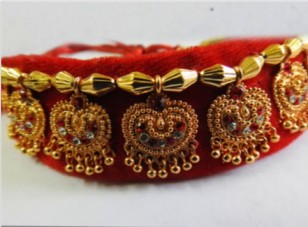 Galabandh' is the prominent neck jewellery of Uttrakhand. Originally this elite neck piece was designed on a red belt, on which the gold carved patterns are beautifully arranged with the help of a thread. But with modern times it has evolved and is now available in various colours, patterns and designs.
Gulbandh is also known as a princess necklace with width ranging from a thin string of gold to a broad design till the collar bone.
HOW TO WEAR GULBANDH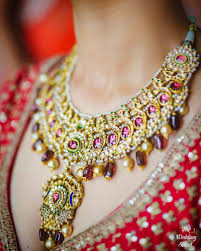 For the Rani haar, one should see that the length is long enough so that the pendant part sits on the bust or lower.
Galobandh is a close fitted necklace (like choker) and should be worn firmly around the neck.
Gulbandh sits ideally below the collarbone, the perfect flattering length.
BELIEF
Adorned close to heart, necklaces are considered to have eternal powers, which is useful as it guides emotions and strengthen love by regulating blood pressure and heart rate. It was believed in ancient India that flawless pearls prevented misfortune and were therefore favourites with kings. Neck ornaments not only adds an exquisite look to a one's beauty, but also bring good luck and acts as a potent restraint against effects of evil eyes.
4. NOSE JEWELLERY
Nath/Nose Ring & Nose Pin
DESIGN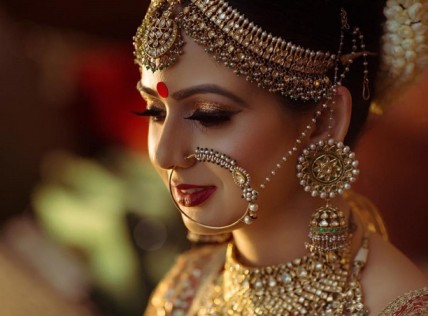 The traditional Indian nose rings designs vary, based on cultures followed in different parts of the country. Shikarpuri Nath is famous in north India (Punjab). With a big golden ring and a slender chain going to the hair, nath is emblazoned with priceless stones and gems, even sparklers along the connecting chain.
A simpler version Nathni is admired by the women of Rajasthan and Gujarat.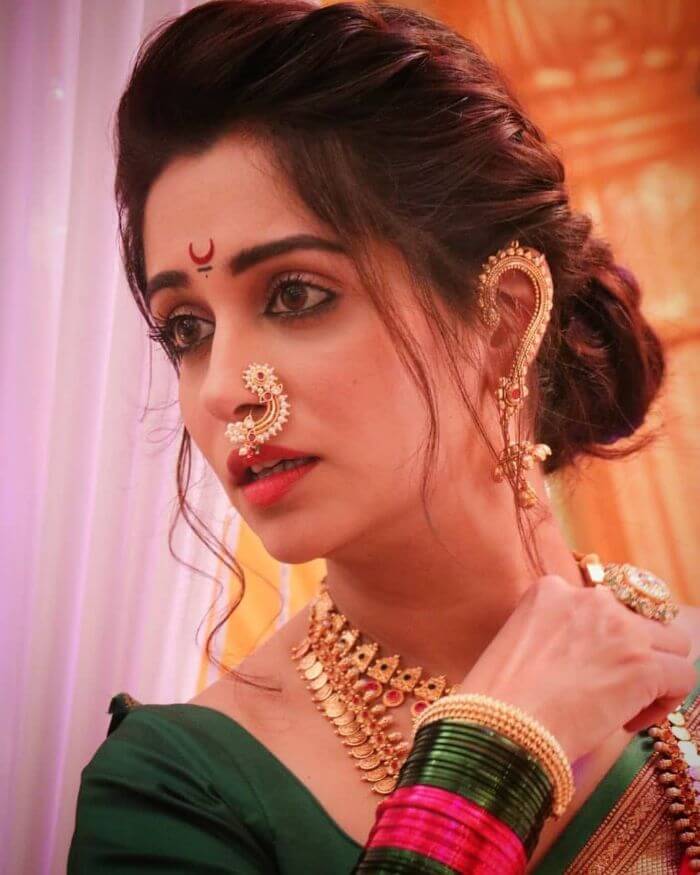 The Mahatashtrians adorn the guchhedar nath, which comes in interesting shapes and is adorned with jewels, rubies, and pearls. Among the women of Kerala and Karnataka, the auspicious nath transforms to a shape of a lotus or a swan known as the mukkhutti.
HOW TO WEAR IT NOSE RINGS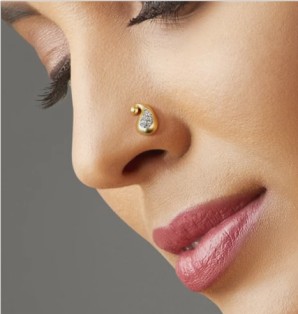 Nose ornaments, are affixed through a piercing on the side of the nostril. The single stone and the clove-shaped screw on/earring style nose pins are worn on one side of the nose (usually left).
A nath comes with or without a long chain that is draped along the cheek and then hooked into the hair. The most trendy style of Nath is in combination with a chain as it give extra support to the naths for the noses that are not pierced.
The nose-jewel known as the Bulak is worn through the cartilage in the centre of the nose. Clip-on nose pins and rings can be used by non-pierced noses.
BELIEF
In many communities nose piercing is a celebratory compulsory customary holy ritual.
Some legends says that women with pierced and embellished noses experience less pain during childbirth and promote health of woman.
In the traditional Ayurveda, the spot on the woman nose where it is worn is seen as a valuable link to the well being of the reproductive organs.
5. HAND- Bole Chudiyan, Bole Kangana
a) Bangles/Churis
DESIGN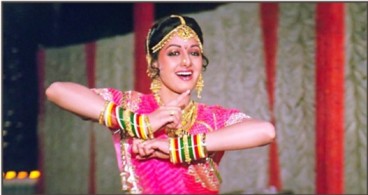 The sweet tinkling sound that echoes in every Indian occasion is produced by Bangles. The alluring round jewellery pieces crafted from almost all materials from costly metals(gold, silver) to classic wooden and glass are known as bangles.
b) Kada/Kangan
DESIGN OF KADA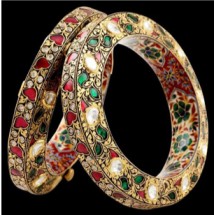 The traditional Indian bangles, generally created of gold or silver, are known as the kangan/Kada. Punjabi brides also wear chooras, traditionally made of ivory, popularly sold in a vibrant combination of red and white.
Apart from the attractively stunning designs of bangles and Kadas these hand ornaments also have immense romantic and amorous connotations.
A wide variety including Brass Bracelets, Diamond Bracelets, Designer gold Kangans and many more, which adds more grace to their appearance.
Bangles could be hollow, solid, or filled with lac. The ends of the Kada have amazing different nature inspired designs such as of two parrots, twin elephants, flowers etc. From Stone-set Kadas, to brass bracelets, diamond studded bangles, Indian hand accessories has a lot to offer which will add more grace to any style.
c) Hathphool
DESIGN OF HATHPHOOL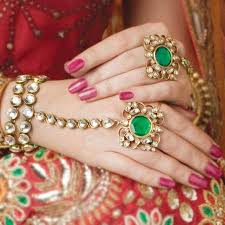 Originating from Rajasthan, Hathphool (or flowers for the hand), also called the Panchangala (or jewel for the five fingers), is a jewel encrusted bracelet with stone-set chains leading to a flower on the back of the palm and similar chains connecting it to the five rings on the five fingers, each ring with a different floral motif.
Haathphool rings attached to strings form a dainty and elegant spiderweb-like design which completes this delicate hand jewellery.The hands of the wearer decorated with mehendi or henna designs, is like an added treat to eyes with this essential garnishing of hathphool.
d) Vanki/Bajubandh
DESIGN OF BAJUBANDH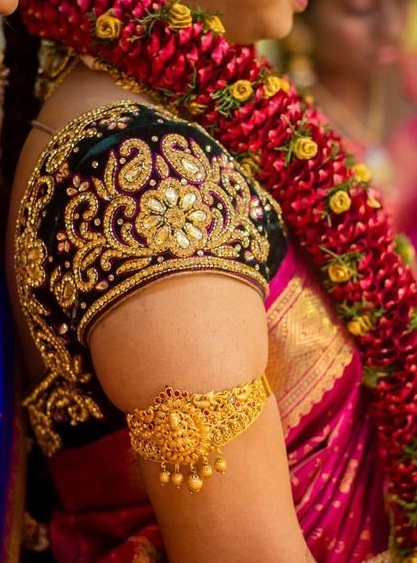 The traditional armlets worn on arm, are inlaid with rose-cut diamonds, cabochon rubies, emeralds and plenty of precious stones of one's choice. Multifarious varieties of armlets called the bajuband or bazuband are adorned in different parts of India by both men and women, which showcase the famous designs of natural creepers(flora), snakes entwining(fauna), typical lotus motif pendant and religious ancient figures.
The Vanki (type of armlet) of South India is unique because of its inverted-V-shaped design. The origin of Vankis is evident From old paintings and sculptures, to Naga or snake worship, which is further proved by the patterns of Lord Krishna figures crafted on the earliest Vankis. (Ananta the snake, on whom lies Vishnu, whose avatar or incarnation was Krishna)
HOW TO WEAR ALL THE HAND ORNAMENTS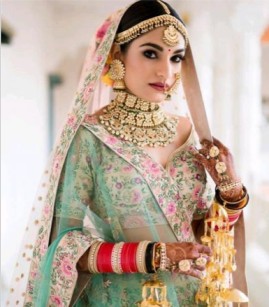 Adorned on the wrists the size of the bangles should be such that it doesn't fall out of your hand while moving and also isn't too tight.
Kangans are wider in design than bangles and can be worn alone or more classically on the 2 outer edges of a bangle set, to frame it.The kangans/Kadas are more ornate and heavy, that's why come with a clasp or screw for fastening it securely.
Hathphool bracelet should be worn first followed by the rings on each/single finger.
The embellished chain worn around the upper arm is an armlet (Bajubandh). It is often secured in place by a gold string. The shape of the Vanki/Bajubandh is such that if fits over the arm without any strain or pressure.
BELIEF
Scientifically, it is believed to maintain a woman's blood circulation level and channelize the positive energy passing through her outer skin, all through the body.
6. WAIST
Kamarbandh/Oddiyam
DESIGN OF KAMARBANDH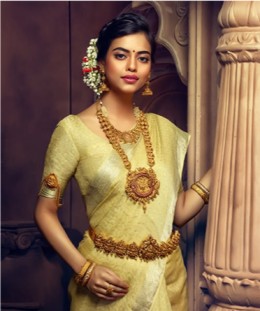 Known as waist belt or belly belt, it's a festive ornament.Worn by many communities as a custom on special rituals and ceremonies. The traditional kamarbandha are quite heavy, comprising of intricately crafted patterns and designs. Drawing attention to the waistline, this exotic jewellery piece is associated with sensuality and voluptuousness.
Golden Oddiyanam or waist ornament of South India are admired by women all over the world, their grace is enhanced by the encrusted rose-cut diamonds, emeralds, cabochon rubies and jewels. Adding to the glam quotient, the peacocks, flowers, buds, leaves and nature inspired designs intermingle in riotous profusion, are in perfect symmetry to accentuate the waist.
HOW TO WEAR KAMARBANDH
This attractive band is adorned around the waist, over any traditional Indian outfit like saree to hold it up in place. The tight belt around the waist further accentuates the hips of the wearer. Kamarbandhs give a twist to plain anarkali dresses, they are paired with ghaghra dresses, lehengas & gowns too!
BELIEF
As per the folk stories it is believed that Kambarbandh is passed on from one generation to another because of it's traditional value and is dearly cherished in the respective community.
Scientifically it is considered to help maintain the hourglass figure without the pain of wearing a corset. The ethnic waist belt also prevents one from gaining fat in the waist area.
7. FEET JEWELLERY
a) PAIZEB/PAYAL
DESIGN PAIZEB
Hailing from Hyderabad, Pizeb or Payals are adornments for the feet.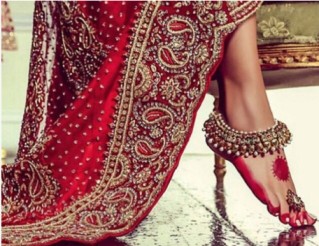 Decorated with drop-shaped stones or tinkling bells on the lower edge of the Paizeb, these feet ornaments achieve a rich effect by skilful incrustations. An exhaustive variety of anklets are worn in the culturally diverse parts of India named payal, paizeb, sankla, chanjar, zanjiri, golusu and kaappu.
HOW TO WEAR PAIZEB
Indian anklets known as pays and paizebs are adorned on the ankle, and should be firmly hooked so that they don't fall off while walking. One should make the anklet lie flat on the foot fitting closely over the ankle.
BELIEF
Other than re-vibrating the energy to the wearer's body, this gorgeous piece of feet jewellery regulates blood circulation and aid in curing swollen heels. A saviour for women in ancient time by curing gynaecological disorders, so its time modern day women also try these olden yet golden remedies.
b) Toe Rings
DESIGN TOE RINGS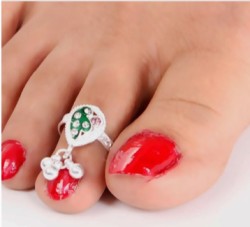 Customarily made of silver, toe ring is just like a finger ring worn on toes. Toe rings are not just for the ladies. In fact, the ancient bare feet Tamil men used to don toe rings or 'Metti' (a ring made of silver with no patterns) while roaming around in wilderness.
Available in countless myriad forms and shape, from ruby floral design to single bands embedded with diamonds along with enamel work.
HOW TO WEAR TOE RINGS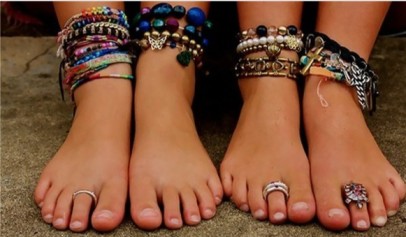 Commonly worn on the second toe of either foot (longest toe-easy to adorn), a toe ring can be a classic simple chain to an extravagant ornate design.
BELIEF
The renowned scientific – Ayuverdic theory behind wearing toe rings is its help in regulation of menstrual cycle. The nerves in toes are connected to the uterus and passes through the heart, which aids in the well being of these organs. As toe rings are generally made of silver, it absorbs energy from the earth and transfers it to the body refreshing the entire physical system of the woman.
Read Also – Saree- The Indian Dress