The land of the royals houses some of the most exquisite jewellery collections, perfect to adorn a bride on her special day.
Rajasthan is referred to as the country of monarchy and kingdoms because of the illustrious past of the Rajputs, majestic forts and palaces, unbeatable architecture, and many other treasures.
But did you know that in earlier times Rajsthanis invested in gold and other priceless jewelleries as a way to protect their future owing to the harsh desert climate and ongoing warfare?
Rajput warrior tribe in Rajasthan made liberal use of the jewelry-studded weapons that denoted the sacredness of their caste and raised their social standing.
For ages, Rajasthan is renowned for its rich culture, creative outdoors, and mouthwatering culinary offerings. This is the place where many royals and kings brought their traditions, which are still evident in their creative sense of clothing and jewellery.
Rajasthani jewellery combines current trends with genuine traditional styles. No woman can resist wearing and flaunting this style.
The first thing that springs to mind when we discuss bridal jewellery is rich and fashionable Rajasthani Rajput jewellery.
This type of jewellery holds just the right amount of bling a bride needs to look her best, thus making it as the Best Rajasthani jewellery for Indian Brides.
Not just for brides, this jewellery can be a perfect way to enhance your looks in traditional as well as other types of royal outfits. When worn separately, each jewellery piece adds to your overall charm and accentuates your looks.
For formal occasions, it's the best type of jewellery to invest in as it goes well with all kinds of traditional garments, a reason that makes it the best jewellery for special occasions.
Meenakari, Thewa, Kundan necklaces, Bangles, and other accessories that Rajasthani women like to adorn themselves with, right from head to toe.
There are many different styles of jewellery available for modern-day brides, from classic to glitzy.
Here is all the information you need to know about the many traditional jewellery designs from Rajasthan and the Best Rajasthani Jewellery pieces to buy in India.
Types Of Rajasthani Jewellery:
1. Silver Jewellery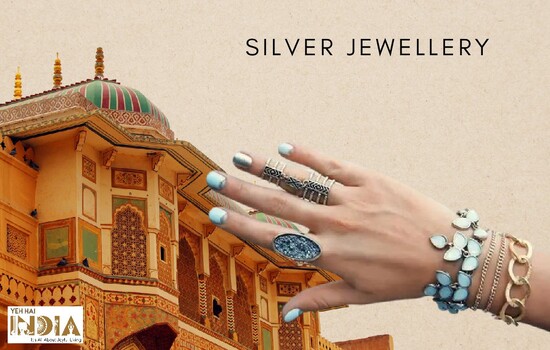 The most typical jewellery worn by Rajasthani women is Silver jewellery. Among Rajasthani women, tribal jewellery made from silver is highly prevalent, popular, and in high demand.
The Banjara tribe of Rajasthan wears these handcrafted pieces made of silver with big hollow bells. a thick, layered belt, a neckband made of hansuli and mandliya strings, and an upper armlet.
Other well-known tribal jewellery is a single waist chain and toe rings with "Gajra" patterns. The tribal people of Rajasthan are quite familiar with tokariya, or old antique tribal silver hoops.
Locals and tourists alike adore this style of indigenous jewellery. Silver is heavily used to create tribal jewellery because it falls cheaper than other metals and looks best with tribal designs and motifs.
Recommended Story – Types of Indian Traditional Jewellery for Brides and Jewellery Lovers
2. Kundan Jewellery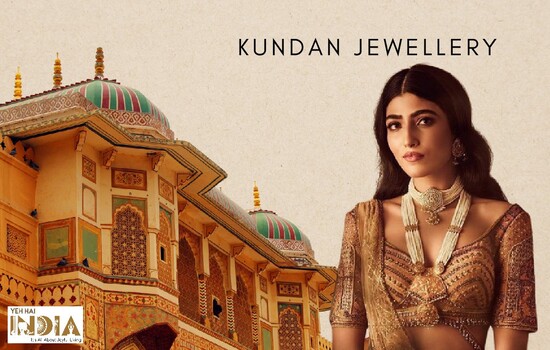 Kundan jewellery is favoured by women for its intricate designs. The creation of Kundan jewellery requires a great deal of time and meticulous work.
These stones were formerly thought to be highly refined gold. Gold foils are inserted into the holes around the stones after the stones are fixed to a gold sheet.
Gold foils are squeezed until the holes are filled, layer after layer. Today, everyone can get silver Kundan jewellery in the markets that are easily accessible. Because artificial stones are used, Kundan jewellery is less expensive.
3. Lac Jewellery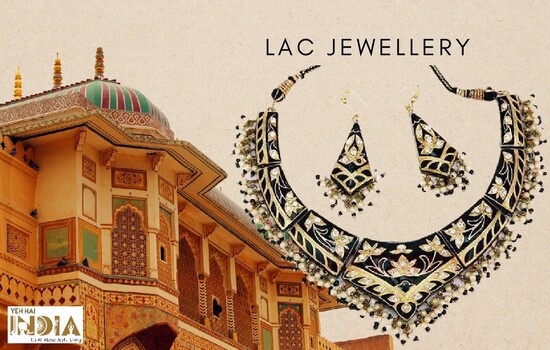 Lac, commonly referred to as "common man's gold," is a staple of Rajasthani women's jewellery. Lac jewellery is a beautiful blend of heritage and modernity, and it can be found in a wide variety of bright, vivid designs and patterns.
This jewellery is heavily influenced from several types of intricate art works representing the cultural heritage of rajputs.
It is a style of lacquered work that uses coloured glass bits and inticately placed mirrorwork. Additionally, plain lac is employed in a number of religious rituals and celebrations.
4. Meenakari Jewellery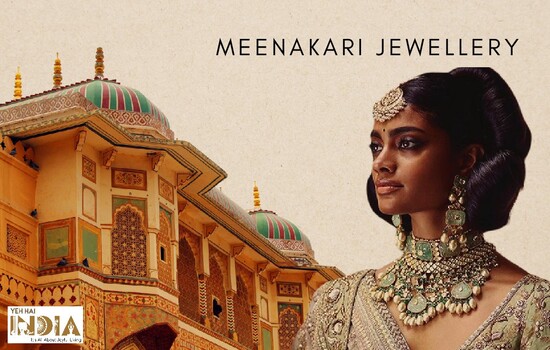 Meenakari jewellery, which has its roots in Jaipur, Rajasthan, is particularly well-known for its unique patterns and vivid hues. Jewellery in meenakari art is created by etching the shapes of flowers, avian creatures, and fish.
In order to keep the colours in place, furrows are created. Later, the areas are filled with colour. Jewellery is burned exclusively in each colour and the colour is softened by the heat of the fire and evenly spreads throughout each area.
The process is then repeated with a different colour; often, gold and silver are used as the foundation for Meenakari. Due to the nature-based motifs of blooms and animals (elephants, peacocks, parrots, etc.), meenakari ornaments are in popular demand.
5. Pratapgarh/Thewa Jewellery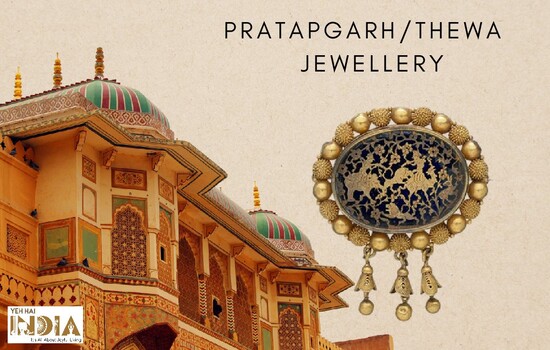 The Pratapgarh jewellery style, which employs both gold and silver and includes a coloured glass piece on the base, is another type of enamel work that is also referred to as Thewa art.
In order to achieve that stunning, detailed pattern, Pratapgarh jewellery is typically handcrafted over the course of more than one month.
Rajasthan has a long history of using its traditional art form to create Thewa jewellery. Incorporating Rajasthan's rich culture, Thewa jewellery is made using vibrant hues and patterns.
6. Polki Jewellery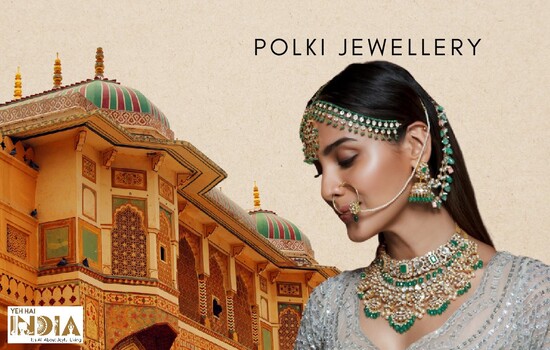 An uncut, unpolished version of diamond is used in polki jewellery. Because it receives little chemical processing and is only semi-polished, the jewellery has a rustic aspect.
These uncut natural diamonds are set in 24 carat gold using lac or real gold foils. In the family, polka jewellery is later passed down from one new bride to another as a legacy because of its naturally distinctive shape and brightness.
The ones to choose are always lovely neckpieces, hoops, chokers, and chand balis made of polka.
Recommended Story – 11 Most Stunning And Popular South Indian Wedding Jewelleries
Jewellery Styles Popular in Rajasthan:
1. Rakhdi/Sheeshfool/Borla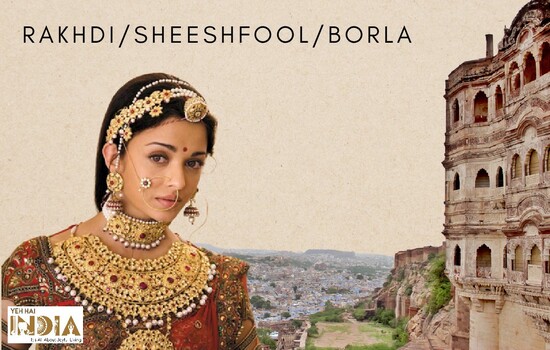 One of the most well-liked Rajasthani ornaments is the Borla! In essence, it is a maang tikka with a globe-shaped pendant hanging in the middle.
Even though the name of this Rajasthani jewellery might sound strange, it is a staple in every Rajasthani woman's wardrobe.
It has vibrant and alluring patterns. The metals used to make bolla, which can also come in a variety of stone-studded varieties like Kundan, Meena, and pearls, include gold, silver, brass, and other metals.
The conventional Borla has a spherical form and is strung with a gold chain. There are numerous designs for the gold chains and the spherical section of the Borla. Trendy designs feature Kundan motifs covered in Meenakari embroidery.
Sheeshfool is used to support Borla and refers to the two side chains. In Rajasthan, brides wear a Matha Patti, which is made of sheeshfool and borla. Sheeshfool, though, is separate from the Borla and can be worn on the head without a borla.
2. Nath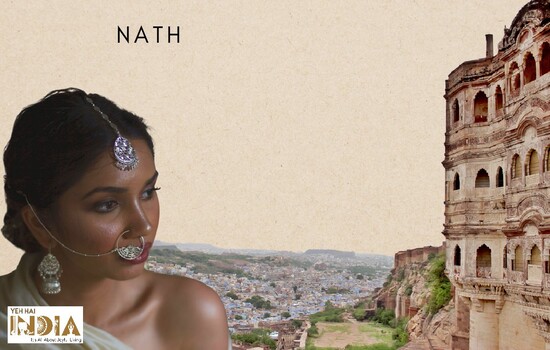 One of the most common types of jewellery worn by Rajasthani ladies is called nath or nathni. It is typically attached to the left ear with a gold or pearl chain and worn on the left nose.
Nath contributes significantly to the Rajasthani bridal jewellery market. Women wear it for weddings and other festive occasions.
Every Rajasthani bride is given a huge golden Nath that is adorned with a little Kundan to make her look gorgeous and regal.
3. Bajubandh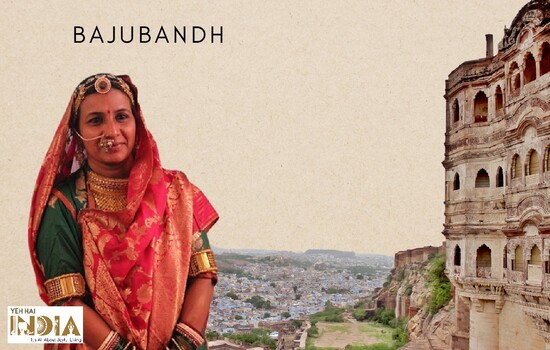 The top armlet is called Bajubandh as it represents marital joy. Marwari and Rajput brides are typically seen wearing this jewellery piece.
The Bajubandh is a royal ornament because of the elaborate masonry that is etched on gold. It is essentially worn with saaris and ghagra choli.
4. Hathphool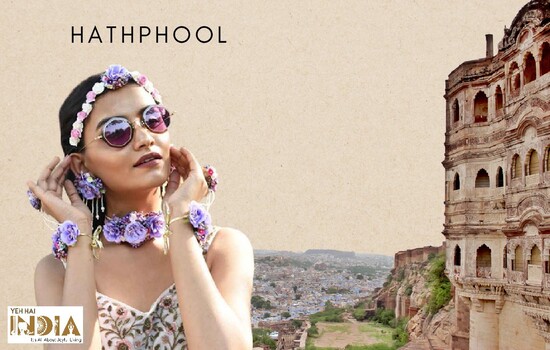 The hand bracelet known as haathphool is also known as a hand chain, hath panja, and haath kamal. It adorns the palm and the rear of the wrist.
Haathphools are constructed of gold, Kundan, minakari, and occasionally jadau work, and come in a variety of designs and patterns.
Either a single ring or five finger rings are available. In the latter, the five finger rings are joined to the many strings of gold chains joining together and merging into a flower which has another chain up to the bracelet.
5. Kundan Bhutti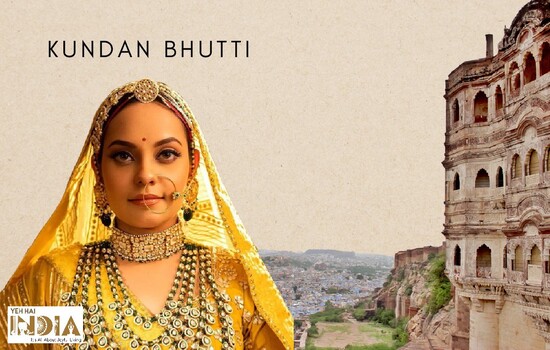 These are Jhumkas typically made with kundan stones studded to create intricate patterns and forms.
The jhoomar is adorned with precious stones and pearls on the rim to make it stand out from the remaining part of the jhoomkas. The designs are distinctive and cutting-edge, giving the bride a stunning appearance.
6. Bangdi
Bangadi bangles, a pair of two bangles used by Rajasthani ladies, having a little, round, gold protrusion covering them and a thick crimson lining.
Only married Rajput Rajasthani ladies wear these bracelets. The colour combination of red and gold with the beautiful stone-studded design is to die for.
Bangadi is unquestionably a wonderful choice if you're looking for elegant and traditional bangles.
7. Kardhani/Tagdi
In Rajasthan, a belly chain or waist chain is referred to as a Tagdi or Kardhani. It is primarily worn by Rajasthani brides and is made of gold with Polki or Kundan embroidery.
8. Bichuwa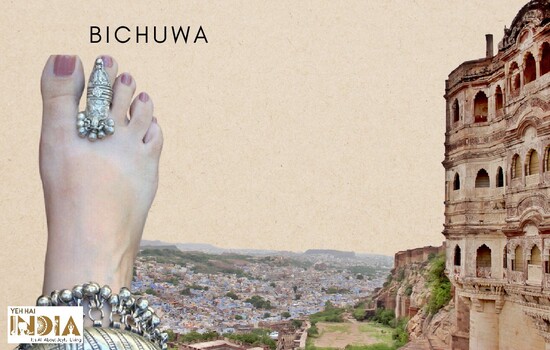 Toe rings called "bichuwas" are an essential part of Rajasthani look and is available in gold or silver. Bichuwas are widely used in Rajasthan and are exquisitely worn by Rajasthani women both as a daily wear and for formal occasions with many different designs meant to go with the theme.
The historical motifs, the breathtaking craftsmanship and a stunning blend of colours depicted in Rajasthani Jewellery make it one of the most elaborate accesories of all times.
Also Read – Kundan Jewellery for Today's Bride: All You Need to Know