India's history and traditions are deeply integrated into its society and people varied across geographies and communities. This fusion amid differentiation is often depicted in its cultural arts, crafts, and phenomenal traditions.
Several such combinations of societies, communities, and cultures are depicted in their unique and traditional dance forms. The classical dance forms of India that find their origins centuries ago and are illustrated in Bharata Muni's Natya Shastra are exemplary elements of integrated societies.
The Chhau Dance is one such dance form that predominantly integrates three contemporary states of Eastern India. Known for its festive vibrance, costumes, and magnificent state of art, the dance continues to integrate the state of Odisha, West Bengal, and Jharkhand.
Here is everything you need to know about this dance form, its significance, and its relevance.
Chhau Dance Meaning and Significance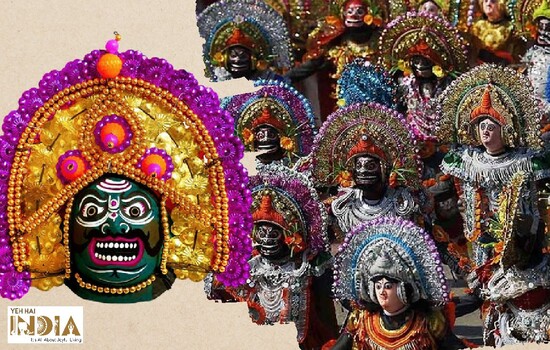 Chhau is traditionally considered a folk dance of the Rarh region of Bengal. It is a semi-classical Indian dance that has martial and folk customs attached to it.
The dance is mainly performed during festivals in the states of Jharkhand, West Bengal, and Odisha, especially in the Chaitra Parva of the spring season. The dance is predominantly found in three states i.e Purulia Chhau of West Bengal, Seraikella Chhau of Jharkhand, and the Mayurbhanj Chau of Odisha.
The word Chhau is known to be derived from the Sanskrit word Chaya which translates to shadow or an image. Some link the origins of the word to Chadma which means disguise in Sanskrit and Chhauni (stealth, armour) in Odia.
The dance is known for its portrayal of legends, heroes, and sequences of war and the concept of dharma, an intrinsic element within the nature of war. These include the sequences in Indian mythologies like Ramayana and Mahabharata among others.
Recommended Story – Ghoomar: A World Famous Folk Dance From Rajasthan
Chhau History, Salient Features, and Relevance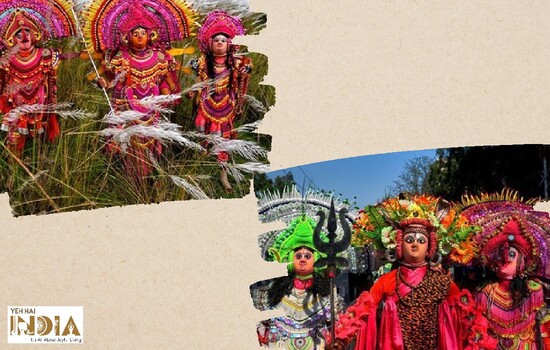 Masks in Chhau are an integral part of Seraikella and Purulia. The rituals of the dance are often known for the celebrations during Chaitra Parva and are traditionally performed by male artists from families of indigenous communities.
These artists are trained in martial arts and combatant arts under Gurus or Ustads. These include Khel (mock combat techniques), uflis (movements modeled around the daily chores of traditional indigenous women), chalis, and topkas (stylized gaits of birds and animals).
These marital customs and elements form an integral part of Chhau. The knowledge of this dance, mask making, costumes, and make-up is known to have been transmitted orally and is usually performed in an open space called akhada or asar.
Paika, Nachni, and Natua, some of the earliest known folk and martial art dances are known to have played an important identity to give Chhau its present-day form.
Chhau borrows the female gaits and movements from the Nachni dance which include elements of lasya bhava that are illustrated in Natya Shastra and virile male movement dances that are attributed to the Shiva tandava.
The performance of a traditional Chhau dance in festivals of these three states usually lasts through the night.
The dancers usually perform a repertoire that explores a variety of subjects including legends and heroes, war sequences, folklore, and episodes from Ramayana and Mahabharata that include abstract themes.
Three Styles of Chhau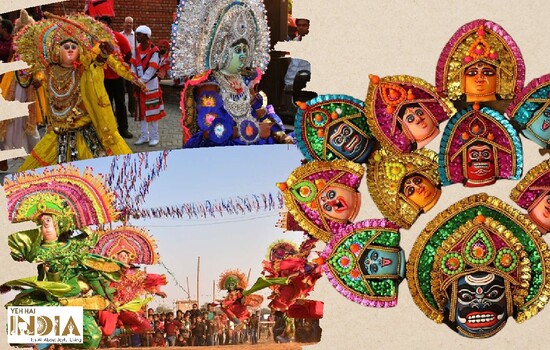 The Seraikella Chhau developed in Seraikela of present-day was known to have developed under the Gajapati Rule of the great Kalingas. The present-day administrative headquarters of Seraikela Kharsawan district in Jharkhand and Purulia district of West Bengal along with the Mayurbhanj of Odisha are known to be origins and prominent genres of the dance.
Historically, the major difference among the three subgenres is regarding the use of masks in the performances. While the Seraikela and Purulia subgenres of Chhau include the mandatory use of masks, Mayubhanj tradition does not.
The Seraikella repertoire was known to have developed by the erstwhile nobility of the both region's choreographers and traditional performers. Its symbolic masks establish the role that the actor plays and are usually crafted by potters who make clay images of the Hindu gods and goddesses.
These potters are indigenous communities who belong to the Purulia district of West Bengal. In Mayurbhanj Chhau, the performance usually does not include masks yet it is similar to Seraikella Chhau.
The Chhau masks of Purulia hold the registration of Geographical indications and the community is well known as the Sutradhar community.
Chhau Costumes, Dancers, and Music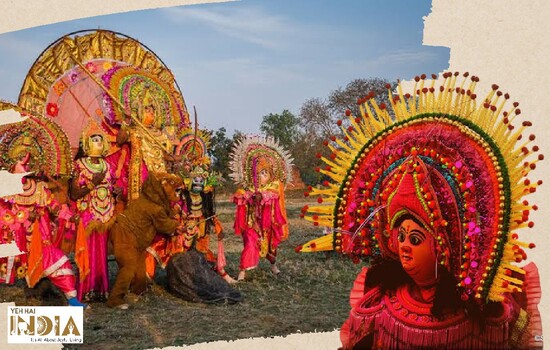 The vibrant music of Chhau is characterized by the rhythm of indigenous drums like dhol, kharka, and dhumsa along with the melodies of mohuri and shenai.
The dancers in modern Chhau mainly come from Munda, Mahato, Patnaik, Kalindi, and Mohantya communities and musicians from communities such as Mukhis, Kalindi's, and Dhadas.
These communities are also involved in the making costumes and instruments involved in Chhau and Moharanas and Mohapatras of modern-day Odisha are identified to be traditional painters of costumes and masks involved in Chhau.
Recognition and Popular Culture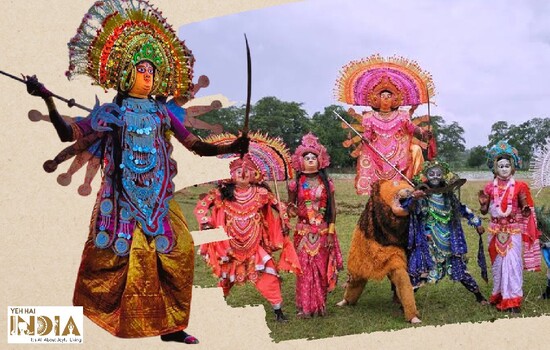 The dance is well established as one of the prominent traditions in Odisha, Jharkhand, and West Bengal. The spring season is usually filled with the vibrancy of Chhau in various stadiums, grounds, and temples.
One can often associate Chhau with performers who dress up like goddess Durga to include Shakti or power themes, lord Rama to include the Bhakthi, war and dharma themes, and Lord Shiva to include elements of Shaivism and 'Tandava of Nataraja'.
The government of Odisha has established the Chhau Dance Centre in 1960 and the Chhau Nritya Patishtan in Baripada in 1962. These institutes indulge in the training, development, and celebration of this popular culture.
The Sangeet Natak Akedemi has also established a National Centre for Chhau at Baripada of Odisha. In 2010, Chhau was inscribed in the UNESCO's Representative List of the Intangible Cultural Heritage of Humanity.
Recommended Story – Bihu Dance: A Famous Folk Dance From Assam