Odissi is one of the few Indian classical dance forms that beautifully highlight the artistic splendor of Hindu religion.
Home to more than 700 Hindu temples across a 458-kilometre coastal stretch, Odisha is known as the 'Land of Hindu Temples'. Located in the North-Eastern part of India, the land is enshrined by its profound history and is called 'Utkala', which is mentioned in the Indian National anthem, Jana Gana Mana.
Odisha has been home to the great Kalinga Empire under which vibrant and exuberant Hindu culture pervaded across generations. Various art, dance, craft forms find its relevance in this region till date.
'Odissi' is one such major ancient Indian classical dance that predominately originated in Odisha. Conventionally performed by women, the dance form expresses religious stories, spiritual ideas and is considered as a homage to Lord Jagannath, a form of Lord Krishna and depicts traditions of Vaishnavism.
Known to be one of the greatest arts that illustrates 'bhakti bhava', or divinity, Odissi is a divine form of lyricism, sensuality and an alignment of ancient and modern vouge of culture, tradition, art and heritage.
Here is everything you need to know about this classical dance from Odisha, its history, meaning and significance.
Meaning and Significance of Odissi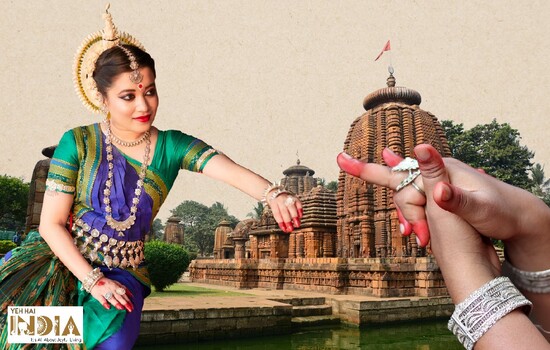 One of the major 8 classical dance form in India, Odissi has its origins in the state of Odisha. It is traditionally a dance-drama genre of performance art, where the artists play out a tale or story which can be a devotional poem or a spiritual message from ancient Hindu texts.
The dance is performed through symbolic costumes, footwork and body movement, abhinaya (expressions) and mudras (gestures and sign languages) that are set out in ancient Odia and Sanskrit literature.
Geographically, the towns of Bhubaneshwar, Puri, Cuttack and Konark where you find many temples of ancient origins, some belonging to as old as 2nd century BC are nucleus of the story of Odissi.
Nevertheless, many performance and ritual traditions that have body movements, music and repertoire of the dance exist outside this costal core.
On a slightly chilly January evening in either of these cities, you may see the magnificent temples like Mukteshwar, Jagannath, Lingaraj or Sun Temple, lit by bright coutdoor stage colours along with the sound of conch shells with the traditional orchestra of Odissi.
That is the relevance, commemoration and festivity that the dance holds in modern Odisha. 
Recommended Story – Manipuri Dance- All you need to know about this eastern India Dance form
History and Origins Odissi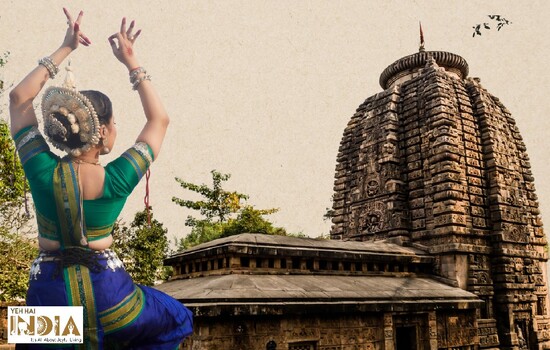 The origins of the dance are precisely unknown but many historians assert that Odissi is the oldest of Indian classical dances that were drawn from Natya Shastra of Bharata Muni.
The text of Natya Shastra which is held as the major philosophical and theoretical source of Indian classical performing arts, mentions Odra-Magadhi style of dance which many scholars consider as a precursor of the twentieth century form of Odissi.
Underscoring and fortifying these claims is the archaeological evidence that has been excavated from numerous temples in Odisha that date back many centuries.
The oldest of these sites include the Jain cave temples of Udayagiri and Khandagiri in Bhubaneshwar where the dance is etched on the walls.
An inscription in the Hathigumpa or the Elephant cave also mentions the performance of 'tandava and abhinaya' that were predominant elements of performing arts during the rule of King Kharavela.
Many diverse and co-existing beliefs are reflected across the region in its temple's archaeological structures.
These temples included bada deula (Sanctum Sanctorum), jagamohana mandiram (audience hall) and nata mandira (dance hall) all that are cravings, designs and structures which depict the existence of Odissi.
In 12th century, monasteries and temples underwent a wave of attacks and institutions such as Pushpagiri were demolished by Tughlaq's invasion.
Official records of Sultan Firuz Shah Tughlaq state destruction of Jagannath Temple in Puri that eventually led to eroded downfall of performance arts.
During Sultanate and Mughal era, temple dancers were persecuted and moved into Sultanate courts where many were submitted into concubinage.
The dance has likely expanded slowly after the 17th century according to Alexandra Carter and this led to integration of martial arts (akhanda) and athletics into Odissi. It also involved engaging boys and youth called Gotipuas who were nurtured by the 14th century Raja of Khordha.
During the British Raj the dance was ridiculed by the colonial government and temple traditions were depleted. The 'Anti-Dance Movement' of 1892 to ban all dance forms is one such example from the recent history.
Odissi along with other classical dances in India witnessed a period of renaissance and reconstruction through the help of many artists, scholars and historians particularly Kavichandra Kalicharan Pattnayak. He is also credited with the naming of the dance form.
Salient Features and Repertoire – Odissi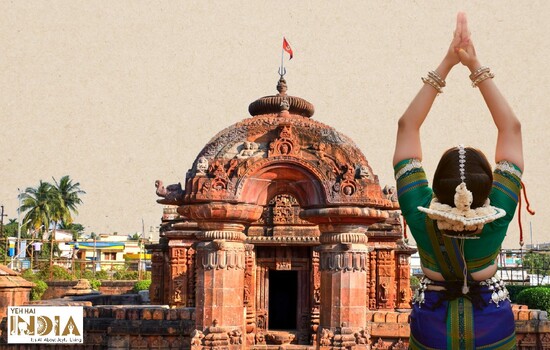 Traditional Odissi in its current form exists in two styles. The first one performed and perfected by women or maharis and second performed by boys or men dressed as girls or women called gotipuas.
Maharis were known to be the chief repositories of this dance who originally peformed the art in temples.
The feminine vibrance of the maharis include the unique features of torso movement, foot positions with flat, toe and heel contact and a variety of intricate combinations involving foot work and legs.
The dance consists of gracious leg movements that serve as foundations for doing pirouettes and certain other postures inspired by sculptures engraved on several Hindu temples in Odisha. These Bhangis as they are referred to are units of movements ending in particular stance.
Hand gestures are known to be major part of the play and are important in nritta where they are used as decorative embellishments while nritya is often referred to as communication.
Traditional performance by gotipuas included diversified arts of athletics and martial arts and several acrobatic moves.
Bhangas or the symmetric moves and bends include several sources of perfecting expressions or abhinaya.
The lower footwork, mid torso, and upper hand and head are known to be the three sources that create engagement with the audience with geometric symmetry and rhythmic musical resonance.
An Odissi performance repertoire conventionally includes nritta (pure dance) nritya (expressive dance) natya (drama) moksha (climax of the dance or spiritual release of the soul).
The dance is performed on different festivities, occasions in temples and celebrated with vibrancy and a folksy entertainment. Modern productions of the dance include diverse experimental ideas, fusion, music, culture, these and genres.
Odissi is the only Indian classical art form known to be depicted in Micheal Jackson's 1991 hit single Black or White.
Costumes and Music Odissi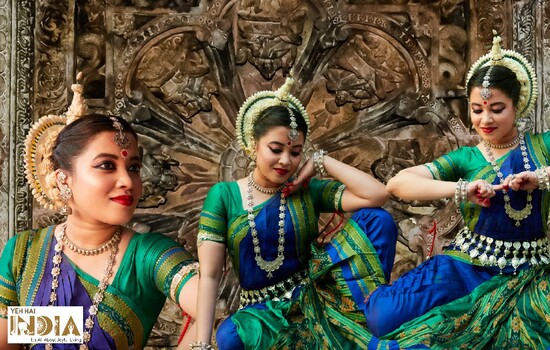 Odissi dancers are colourfully dressed with makeup and jewellery and include traditional regional designs like Sambalpuri Saree and Bomkai Saree. These are brightly coloured and usually include local silk (pattasari) that is worn with pleats.
The wrist is covered with Kankana (bangles) and the ankles are decorated with leather piece on top which include bells (ghungroo). The dancer's palms and soles may be painted with red coloured natural dye called the Alta.
Male performers often wear dhoti are also decorated with Alta, Tikka and Kajal.
Odissi dance is accompanied by Odissi music, which is Odisha's traditional classical music. Kalyana, Nata, Shree Gowda, Baradi, Panchama, Dhanashri, Karnata, Bhairavee, and Shokabaradi are the main Odissi ragas.
According to Ragini Devi, Odissi dance is a sort of "visualised music" in which the musicians combine the Ragas and Raginis, respectively the primary and secondary musical modes, and the dancer interprets them.
In classical Odissi music, each note serves a purpose and has a mood, which accompanies to portray thoughts in a song using Parija. This is true whether the performance is formal or informal, like in Nartana and Natangi, which are popular at festive occasions and life celebrations.
A traditional Odissi troupe comes with classical musicians and musical instruments and the orchestra consists or various regional instruments such as Mardala (barrel drum), flute, harmonium, violin, sitar and cymbals.
An expression of the conservative elements of Hindu traditions, Odissi thrives on its own observation of the facts that set it apart from other classical dance forms.
Also Read – Lavani: The Most Popular Folk Dance Form of Maharashtra