Indian cultural traditions like music, poetry, sculpture, painting, theater, and dance are composite arts with unique characteristics that reflect Indian civilization, religion and its worldview.
In a cultural India that has vibrant festivities and celebrations, Dances form an inherent part of its rich traditions.
Manipuri is one of such India's most prominent classical dance forms widely popular in its rich North East culture and traditions. Known for its elements of Hindu shastras such Vaishnavism, Radha-Krishna bhakti and Nataraja Natyam, Manipuri is known to be one of the greatest symbols of Bhakti Rasa.
Here is everything you need to know about manipuri dance, its features, history and its place in India's culture. 
Meaning and Significance: Manipuri Dance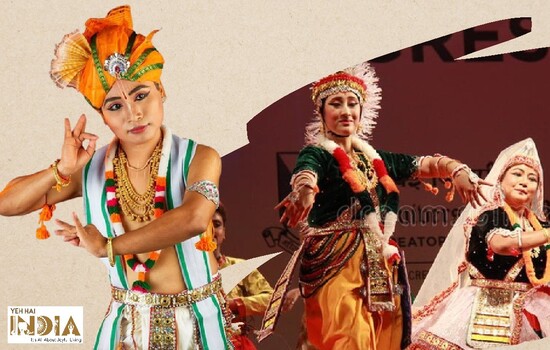 The Manipuri dance pioneer from the state of Manipur, this dance is also known as Manipuri Raas Leela, one of the eight Indian classical dance forms. It is permeating with religious themes of Radha- Krishna and Nataraja Natya.
The leading dancers in this dance are called as maibas and maibis (priests and priestesses). And is found in three distinct styles – Danda Rasak, Mandal Rasak and Tal Rasak.
Ras Leela predominately is known to have evolved to please regional deities and performed during Lai Haraoba festival. This dance is known to be the genesis of all Manipuri dances that can now be seen in three forms. Lai Haraoba connotes "merry making of the Gods" in Meiteilon.
Meitei is a Tibeto-Burman language, mostly spoken in Myanmar, Bangladesh and northeast India. It is one of the official languages Manipur. Manipur has its own script known as Meitei Mayek.
Huyen Langlon, A Salient Feature: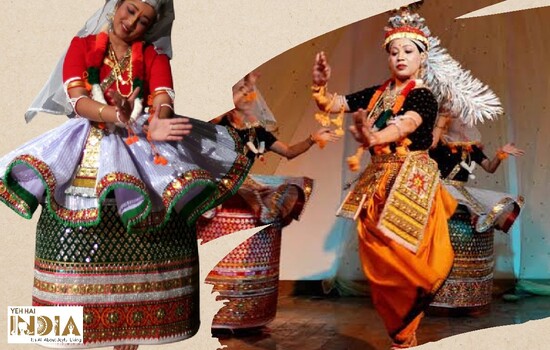 Manipuri finds its prominence among Indian classical dances as it is the inly dance form that projects violence and sequences of war as its motif. The 'Huyen Langlon' genre which focuses on combat is one of the major elements of Manipuri.
The term 'Huyen' means war and 'langlon' means art. The genre has two components which include 'Thang-Ta' which means sword or a spear and reflects the idea of defending Manipur community.
The second component includes 'Sarit Sarak' which means unarmed fight. This form is well known to have developed under Manipuri kings who trained civilians combat the British. 
Recommended Story – Kathak- The Classical Indian Dance Form
History of Manipuri Dance
Ancient era:
Though the earliest record of the dance dates to about 900C.E, the age-old dance tradition is palpable in Indian epics like 'Ramayana' and 'Mahabharata', where the native dancers of Manipur consider themselves as 'Gandharvas', even in Southeast Asian temples of the medieval period dancers sculptured the Gandharvas.
Usha, the prominent goddess in the 'Rig Veda' is recognized for her life committed to training women and girls in Manipuri dance.
Development in the medieval era
In 15th century CE, the Manipur kings started to welcome the practice of Vaishnavism and later, King Charai Rongba in 1704 declared it as the state religion.
The King Gareeb Niwaz in 1717 adopted Chaitanya style of Vaishnavism, which was imbibed into this dance form. Manipuri improved its dance tradition by adding dance dramas based on Lord Rama in 1734 under his noble rule.
The invention of Rasleela dance and spreading of Vaishnavism in the state of Manipur is attributed to the 18th century CE monarch, Ningthou Ching-Thang Khomba. Meitei people were known to have adopted Gaudiya Vaishnavism under his rule and he is considered as a great icon of Manipuri history.
Colonial era:
Manipur was annexed into Indian territory 1891 by British government. During the 19th century, the dance observed downturn along with several other dance forms in India. After the 1892's anti-dance movement, the dance and dancers were known to be subjugated and ridiculed.
The culture is known to have later revived after many protests and gained momentum after the independence in 1945.
Association with Rabindranath Tagore:
Rabindranath Tagore, a well-known Indian poet, was enthralled by 'Goshtha lila' dance composition in Bangladesh and offered Guru Budhimantra Singh (a virtuoso Manipuri dancer) and Guru Naba Kumar to join 'Shantiniketan' in 1926 to teach 'Ras Leela'.
Shantiniketan is also called as Visva-Bharati University and it is the hermitage founded by Tagore in 1920 which included several Manipuri dance forms in it.
Repertoire:
Manipuri is conventionally performed by both men and women and is accompanied by chanting and choral singing. The dance moves are specified by smooth and graceful movements and expressions of the artists.
Female roles mostly have free-flowing movement in the arms and hands, whereas male roles have more forceful and heavy movements.
Manipuri dances are traditionally performed once in Vasant Ras from March-April around Holi festival, thrice in autumn from August-November and on all full moon nights.
Songs film Radha and Krishna love with Gopis and each dance composition is devoted to each Gopis namely Lalita, Vishakha, Champaklata, Sudevi and Chitra. Acrobatic is also included in Manipuri and fundamental dance movements in this dance are known as Chali or Chari.
Costumes: Manipuri Dance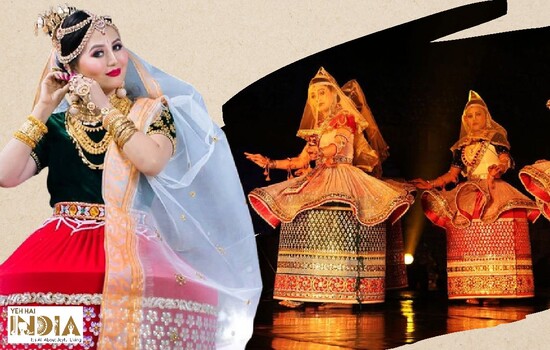 Manipuri artists are exceptionally conscious to costumes they wear. Over time the artists have modernized the attire they wear and as a result, jacket and jeans became extremely popular in the dance. Manipuri women wear Innaphins, which resembles modern wrap around a skirt.
A male dancer attire conventionally includes bright colored dhoti or dhotra, that is for lower part of body from waist and it gives flexibility to perform footwork.
Like lord Krishna, artists also wear a crown embellished with peacock feather. For male drummers, a white dhoti, turban and shawl on left shoulders are conventional attires.
A female dancer usually wears a Potloi outfit, that represents Gopis. They decorate Dancers decorate round shaped garland or jewelers in their hand, neck and legs, although they don't wear any anklets or ghungroo.
The Kumin costume is the most unique and well-known attire that includes a long skirt that looks like barrel shape with stiffened bottom and is decorated with fine glod and silver works.
Top border of kumil/ kumin is tied with transparent skirt around the waist and is called as trikasta which looks like an opened flower. A velvet color blouse and white color clothing for head is also worn by Manipuri women artists.
Some other types of clothing and attire related to Manipuri dance include:
Leitreng: gold ring around head
Feichom: a saffron dhoti
Potlei: Ras costume of lord radhika and gopikas.
Koknam: silver jari overhead
Pasuan: silver gauze over kumin
Khangoi: rectangular belt over pasuan
Ghunghroo: anklet
Chura: peacock feathers overhead
Koktombi: cap covering head
Meikhumbi: transparent veil over head
Instruments and Music: Manipuri Dance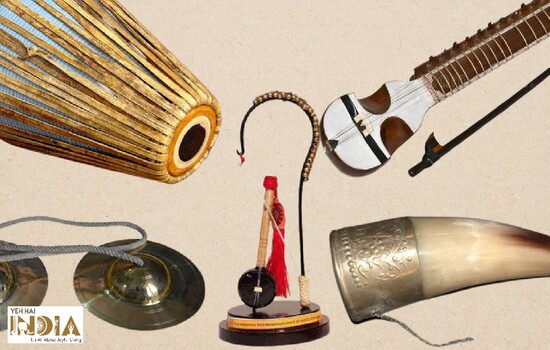 In a traditional karthal cholom dance, male drummers play karthals or cymbal moving in a circle with arithmetic and rhythmic formation. 'Mandilla cholom' is performed by women playing cymbals, tied with tassel strings.
Sanskrit and Maithili language is mostly used in the dance lyrics, whereas text songs are usually taken from chandidas, Javadeva and govindadas poetry. Other instruments in the dance also include –
Pena: a drum instrument made out of bamboo and coconut/gourd
Khol: a two-sided drum, one side is smaller than the other and it is coated with dead cow/goat skin. 
Pung:  a cylindrical/barrel drum called as mridanga.
Jhal is a large cymbal and Ramkartal a small cymbal
Dahpi is big gong, a metal disc with a turned rim; Dah Cha is a small gong.
Theile: a type of flute made of dry bamboo pipe
Selki: mithun's horn
Goshem: bamboo pipe instrument
Esraj: a string instrument with a bow called as gaz.
Recommended Story – # Top 11 Famous Indian Musical Instruments Names with Description & Pictures
Legendary exponents:
Guru Bipin Singh, famous director, choreographer and Manipuri dance teacher, he is known as father of Manipuri dance and has received Shiromoni Purashkar for his commitment and devotion to Manipuri.
He is known to have developed 'Rass leela' dance forms and has composed three genres namely Basanta Ras, Kunia Ras and Maha Ras, which were performed in Sri Sri Govindaji temple, Imphal.
Guru Bipin is known to have designed Kumil costume and is known to have advocated performance of Manipuri in temples. He initiated the Sankirtana tradition and has taken Manipuri to the plains of the North-East.
Other exponents include Darshana Jhaveri, Maharaja Chandra Kirti Singh, Khrumba Bhangi Pareng and Vrindaban Bhangi Pareng.