Dance is the best form of expression of the culture and feelings of a particular place communicated with a special combination of moves, postures and emotions.
India has a lot of regional dances that are unique in style and form. From the music to the techniques practised in these dance performances, each dance form has its own charm and specialities.
Ghoomar is one such traditional folk dance form that originated in the state of Rajasthan and went on to become the most loved dance form probably due its lively and energetic nature.
The dance form suddenly became a sensation all over the nation when it appeared in the movie Padmavat.
This article focuses on Ghoomar's evolution through the years, some interesting facts from history involving it and the music and techniques enlisted in this folk performance.
Origin and History of Ghoomar: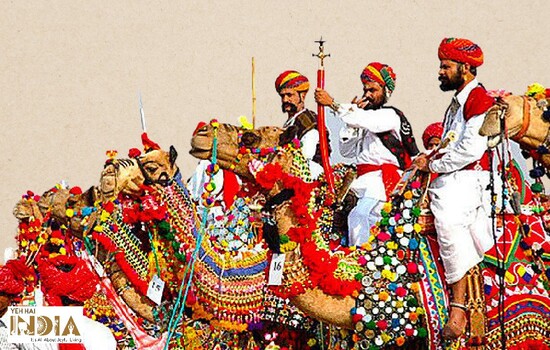 The word "Ghoomar" comes from the word "ghoomna" which means pirouetting or twirling. It's history can be traced back to the tribe of Bhil who originally performed Ghoomar to worship Goddess Saraswati.
It was later adopted by all other communities of Rajasthan as well when the Rajputs took over the ruling.
An ancient tradition around Ghoomar is the new bride's dance after her wedding that takes place at her in-law's home. The symbolism believed to be behind this custom is that the bride is equated in status with Goddess Lakshmi and her first dance is believed to bring prosperity in her in-laws' home.
Ghoomar is a dance performed exclusively by females since its origin and it continues to be so even today. With its evolution into the Rajput clans, the dance became a tradition among the females and turned caste-specific.
An important fact about Ghoomar performance involving Rajput royalties was that men were not allowed to watch the ladies dance under any circumstances.
Recommended Story – Love folk dances? List of Rajasthani folk dances for you
Occasions for Ghoomar and its Special Elements:
Ghoomar started out as a performance during religious rituals but later evolved to celebrate all important events especially festivals and happy occasions for the females.
Even now, it is performed during festivities like Teej, Holi, the onset of monsoon season (Badho) and to celebrate the arrival of a newlywed bride at her new home. Jodhpur, Udaipur, Kota and Bundi are some of the places that are popularly known for Ghoomar.
Usually this dance is performed by a group of Rajput or Rajasthani women clad in long, wide and elaborately designed skirts with veils covering their heads. The dancers also adorn themselves with heavy jewellery that leaves only their hands, feet and forearms uncovered.
The jewellery usually includes intricately designed necklaces that are symbolic of the Rajasthani or Rajput culture, along with bangles worn on the entire forearms on both hands and anklets adorning the feet.
Music and Dance Technique: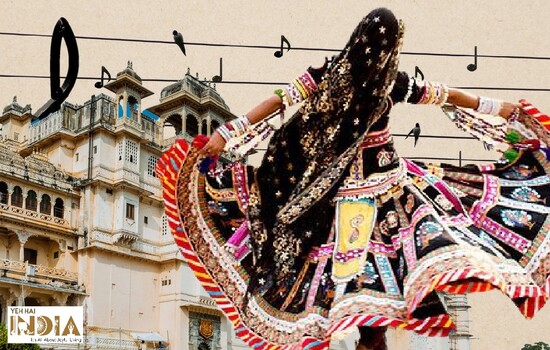 Ghoomar is performed with slight differences in its style, selection of costumes and in steps depending on the region it is practiced in Rajasthan.
Areas near Gujarat have dancers performing to fast paced tempo and the steps are somewhat similar to Garba. Meanwhile, Dhaulpur, Karauli, Braj kshetra region usually see slower performances. Udaipur, Kota, Bundi etc. are some other regions that follow a different version of the same dance style.
The main attraction of Ghoomar lies in the twirling sequence of lehenga clad women when they dance to folk songs with a dhol beating along. The women gather round in a circle and dance in graceful, flowing movements while their vibrant, long skirts swirl along with them.
It elegance of costumes and rhythmic dance steps create a stunning sight for those who get to be a part of this profuse celebration of folk art.
Despite the difficulty and precision with which the dancers perform, this is one dance that goes on for hours at a stretch. Seeing it can make anyone feel lively and energetic. The dancers moving together in slow yet elaborate movements infuse a royal vibe to the event.I
As for the music, it is very rare for a true Ghoomar performance to be accompanied by pre-recorded music. Musicians always perform traditional folk songs live for these dances where the singer has a hereditary mastery over the art and sings along with the "dhol."
Dhol sets the tempo for the songs and the Ghoomar dance with its percussions creating a contrast with the musical vibrations that arise out of the heavy "ghungroos" or anklets worn by the dancing women.
Some of the traditional Ghoomar songs played are listed here:
"Jawai Ji Pawna" – Rajasthani folk song
"Aave Hichki" – Traditional Rajasthani Ghoomar song
"Taara Ri Chundadi"
"Mharo Gorband Nakhralo"
Chirmi Mhari Chirmali"
"Ghoomar"
"Mhari Ghoomar"
"Ghoomar Re Ghoomar Re"
"Aur Rang De "
"Naina Ra Lobhi"
Interesting Facts: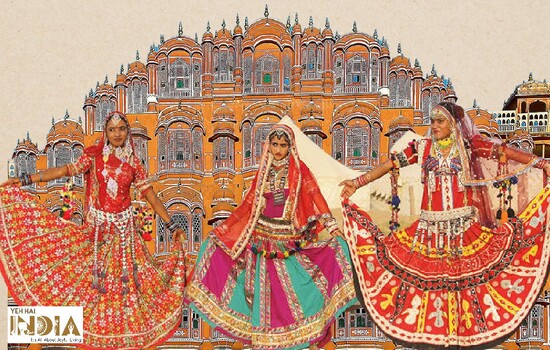 In 2013, Ghoomar was ranked 4th amongst the World's Top 10 Local Dances in a survey done by an online travel advisory website.
Maharani Rajmata Goverdhan Kumari of Santrampur established the Gangaur Ghoomar Dance Academy in 1986 to preserve the Ghoomar dance form. She was awarded Padma Shri in 2007 for her significant contribution towards arts. 
Recommended Story – Top 10 Kathak Dancers In India
Ghoomar in Today's World:
Even though, the dance was once restrained from the eyes of men, today's Rajasthanis are much more gracious with their art.
Girls from various parts of the state are being encouraged to learn Ghoomar as a part of keeping one of their ancestral folk dance forms alive as well as for respecting and cultivating an interest in Rajasthani traditions.
Women who have been trained in Ghoomar are performing and entertaining crowds through what they call "dance parties" at festivals and functions which are basically nothing but our own local dance troupes.
Ghoomar, that once begun as a tribal dance has evolved into one of India's most popular folk dance with its vibrance in colours, fluidity in movements that speak of the culture that has kept it alive for centuries.
Conclusion: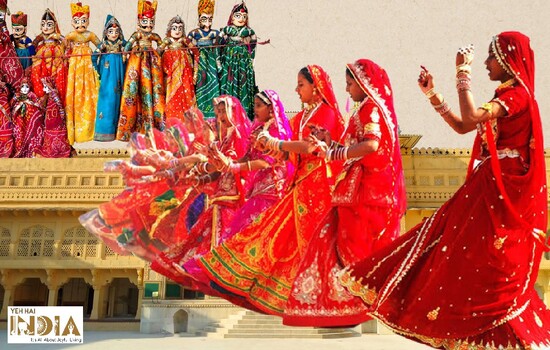 Ghoomar is an ancient folk dance that originated in the state of Rajasthan among the Bhil tribe people. With the Rajputs taking over the ruling, this tribal dance form evolved into an elegant and energetic folk dance that has remained alive through all these years.
Ghoomar essentially involves a group of women exclusively, dressed in ghagras or long skirts and adorned with heavy, intricately designed jewellery dancing in twirling movements with rhythmic hand expressions.
The circling of lehenga clad women in clockwise and counter clockwise direction create a perfect royal ambience fit for any grand celebration. Ghoomar exudes vibrant energy and soothes us visually at the same time.
If you ever chance upon visiting Rajasthan, do take time to watch Ghoomar to absorb the local culture and customs of this royal state.
Also Read – Best Indian Famous Classical Dancers of all times 2022