Indian arts and crafts have a rich heritage, with each state providing unique artistic styles.
One such art form comes from the state of Rajasthan and it is called, Phad Painting. Phad painting is a religious scroll painting and folk painting which is literally done on a long piece of cloth or canvas known as phad.
Phad paintings portray narratives of local Rajasthani folklore mostly of Pabuji and Devnarayan are depicted on the phad paintings. These painted phad are carried by Bhopas, the priest-singers. Phad paintings here are considered as mobile temples of the folk deities, who are worshipped by the Rebari community of the region. Phad paintings also depict various epics of Hindu mythology such as Mahabharata and Ramayana. Along with this, phad paintings depict gods and goddesses who are well-known in Hinduism, such as Lord Ganesha.
The history of Phad paintings date back to 700 years and are of pure Indian subcontinental origin. The chitera, or the professional Phad painters developed the art form in the district of Pur, near Bhilwara, Rajasthan. The traditional painters migrated to Shahpura in the 16th century and then to the city of Bhilwara in the 19th century.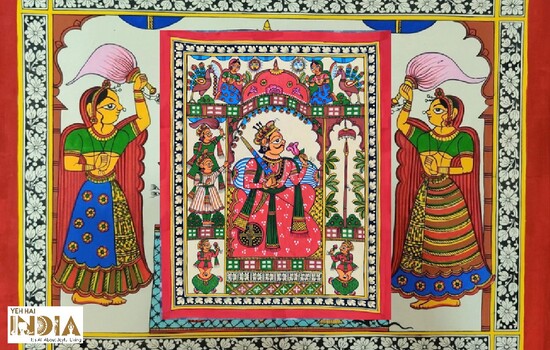 Today, we'll be conversing with a well-known phad artist, Ms Kritika Joshi. She hails from Bhilwara, Rajasthan. Her family has been practising Phad Painting for more than 700 years. Let's hear more from her!  
Recommended Story – How to Make Madhubani Paintings: Learn Online
Q. Kritika ji, why don't you tell us a bit more about your family and its history?
Yes of course, my family has been practising the art of Phad painting for over 700 years now. I'm the thirtieth generation after my father, to be learning, practising and carrying the family tradition and heritage.
Q. So who taught you this beautiful painting technique and did you ever face any difficulties in pursuing this field?
I learnt Phad painting from my late grandfather, Padma Shrinath Joshi. Yes, initially, women of the household weren't supposed to learn the art-form. The reasoning was that, once the woman got married, she would be living with her in-laws and in a different household. Therefore, the family techniques would go into a different household, so wasn't desired. Because of this, only the daughter-in-law were allowed to learn. But my grandfather decided to break-away from this and taught me. Along with that, he taught many students outside Bhilwara.
Q. Wow, that is really commendable. So can you explain to us the process of making a phad painting?
Yes absolutely! Phad painting is usually done on a clean cloth, which we prepare. Natural colour is used for the painting. This natural colour is made using natural stone. Phad painting is a narrative folk art wherein we paint and narrate stories of local deities such as Pabuji and Devnarayan.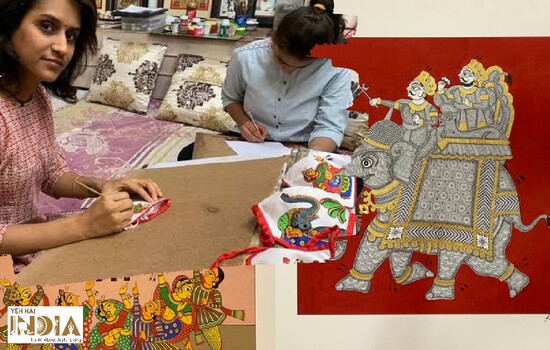 Q. That sounds amazing! So have you been able to display your work? How was that experience?
Yes, exhibiting my work has always been a great experience. Initially, I used to train with my grandfather and accompany my father on different artist exhibitions. I also used to assist them in various workshops they held. I had my first workshop with Paramparik Karigar and it was a lovely experience. For that exhibition, I also took time out of my job to prepare the paintings. The exhibition and workshop got me immense praise and many clients.
Q. Oh wow! I wish I had been there to see it! But in all your exhibitions and workshops, have you ever felt prejudice because you are a woman?
Yes, being a woman in an artistic field, I have definitely realised a few things. Firstly, we are critiqued and judged on our attire. The kind of clothes we wear, whether it is Indian or Western and if it is "suitable" or not. Women should be allowed to wear whatever they want whenever they want. Secondly, many people still think and assume that daughters of artisans are illiterate and that they are dependent on their parents. This is honestly so far from the truth! Many of the daughters are literate, they are living and working in big cities all across the country. They are earning well and are financially independent. I was also working by myself before taking up Phad painting. Such stereotypes should not exist anymore!
Q. Wow, it definitely looks like you've encountered a lot in your career but hopefully things will improve with more women coming into these artistic fields. Lastly, I would like to ask you, what are your hopes for the future of Phad Painting?
My hopes of Phad painting are definitely to see this art-form grow and expand. I don't want this art-form to die out. Therefore, I am trying different techniques to keep it alive. I am trying to bring Phad painting alive in many different ways.
To buy phad paintings by Kritika Joshi, you can click here. 
To listen to the interview, you can see the video below.
YOUTUBE VIDEO HERE. https://www.youtube.com/watch?v=xBZ5deBCm2A&t=93s
Also Read – A-Z of Miniature Painting