Tracing back the origin to Indus Valley Civilization over 5000 years ago, Indian has now developed into extremely distinct styles and techniques that have made them notable and peculiar. The vast geographical landscape, and varied culture and traditions of the country, are the cause of origination of one-of-a-kind Indian Jewellery heritage is so uniquely diverse.The traditional jewellery pieces with intricate multi layer designs on it are not only symbolic of the of the handiwork of incredible craftsman but are also representative of several cultural customs of the country.
A bride is adorned to look her absolute best on her wedding day. From her family's heirlooms to her opulent Sabyasachi bridal lehenga, every piece of attire or trinket on her, is there to enhance her beauty.
The immense significance of jewellery in a bride's life can be measured from the fact that a bridal trousseau is incomplete without the 'solah sringar' ornaments such as mangalsutra, nath (nose ring), chooda(bangles red white set) and toe rings.
Traditional Jewellery Styles Every Bride-To-Be Should Know
A conventional Kundan set or Gota jewellery with a chandelier Jhumkas would would rock Mehendi and Sangeet ceremony. And a fresh natural floral neckpiece, earrings, maang tika, and bangles would be perfect for the pristine Haldi ceremony. Elizabeth Taylor rightly said,'Big girls need big diamonds'. Don't be afraid to go a little overboard with your wedding jewellery, after all, it is a once-in-a-lifetime memorable occasion!
When it comes for Indian brides to build themselves a fine quintessential jewelry trousseau , carefully selecting different types of jewellery, striking a fine balance between the elements of colours, style and aesthetics, and the appropriate use of diamonds and gemstones is an overwhelming work of art.
We are here to take some of that planning burden off your shoulders and introduce you to some precious heritage jewellery styles that will assuredly make you the cynosure of everyone's eyes on your D-day. You can experiment with these bridal essential jewellery which are timelessly classics.
Recommended Story – Indian Traditional Jewellery from Head to Toe
So here is a list of different types of Indian traditional jewellery that you may want in your personal collection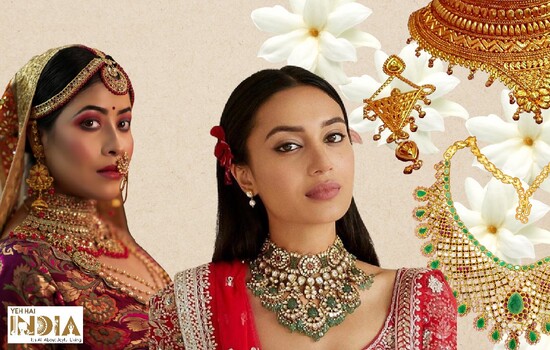 Kundan Jewellery
Meenakari
Jadau
Lacquer (LAC)
Pachchikam
Navratna
Polki
Temple
Filigree
1. KUNDAN JEWELLERY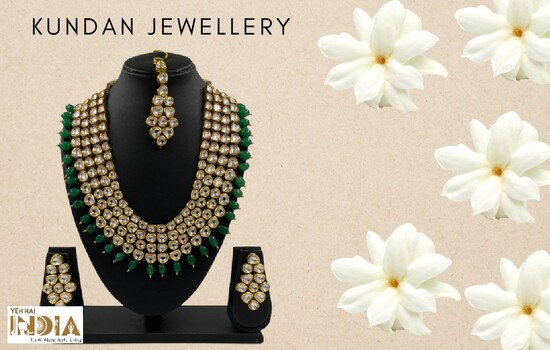 ORIGIN
One of the oldest and costliest in India, Kundan jewellery, is renowned for its resplendent appearance and masterful crafting. Hailing from the royal courts of Rajasthan and Gujarat, this magnificent jewellery flourished during the Mughal era.
TECHNIQUE
The process is unique and involves making holes in the precious metal, engraving the coloured glass, sparky gems and rare stones by embedding them in these holes perfectly.
The word Kundan literally means highly refined gold; and purest form of 24 carat gold is used to make this kind of jewellery.
Though with time to make it accessible to everyone, it is rarely made of solid metal and is rather stuffed with Lac. Also known as 'Jewellery of the Royals', it provides the wearer with a regal look.
DESIGN AND SPECIALITY
While ancient as well as contemporary artisans are experiment with diverse precious and semi precious stones regularly, the most commonly seen gemstones in Kundan jewellery designs are pearls, diamonds, emeralds, sapphire, topaz, ruby, agate, garnet, crystal, amethyst and jade. The sheer elegance of Kundan adornments lies in the manner in which these stones are set to the piece.
From simplest to grandest patterns, you will find different sizes of gemstones used, based on the design they are also available in out-of-the-box motifs like animals petals and flowers, and celestial bodies which bring a sense of rich flair to the piece.
One can match these Kundan jewellery stones with the colour of the outfit they are wearing and these are just right for any bride who wants a fabulous and traditional jewellery set!
2. MEENAKARI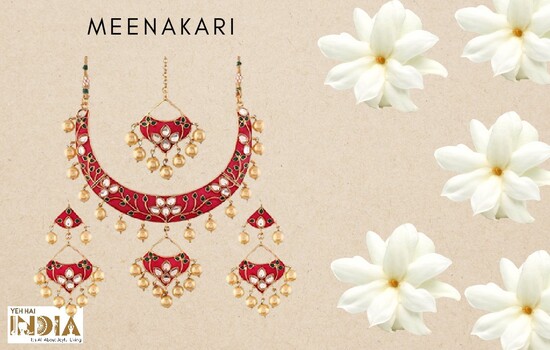 ORIGIN
Originating from Persia and favoured by North Indian brides, Meenakari jewellery art was patronised and enabled by Raja Man Singh of Jaipur (Rajasthan) and it is flourishing since the 16th century.
TECHNIQUE
Mina (Minoo) in Persian means the blue colour of heaven.
The bright and colourfully vivid style of jewellery is characterised by the skilful setting of the precious stones followed by coating of grooves and engravings with coloured enamel (heat resistant colours – yellow, red, white, green, blue). It is made in colour contrasts that highlight the design pretty well.
DESIGN AND SPECIALITY
Beauty is magnified with the natural designs of fish, flower, peacock, paisley and patterns of popular figurines of gods and goddesses on the pieces.
Wide variety of metals are employed and stones embedded while crating a meenakari jewellery piece which includes brass, copper, silver and gold with precious gems, rare stones and lustrous jewels.
Often, kundan jewellery are found with meenakari on its reverse /backside, making it wearable from both the sides! How cool is that for reusing a single bridal jewellery for two different occasions?
3. JADAU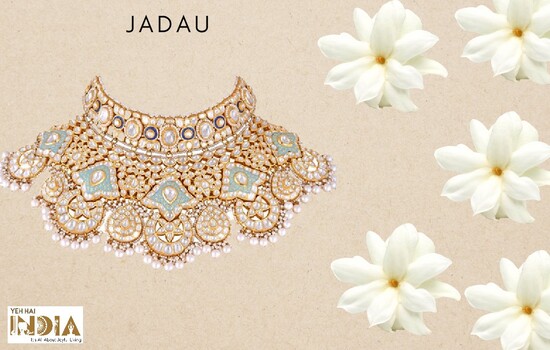 ORIGIN
Introduced by the Mughals in India, this popular 'engraved' style of jewellery originated and flourished in Rajasthan and Gujarat.
Entailing an exceptionally amazing skilled touch and patience, this art requires proficient craftsmanship. Jadau is a masterpiece of an intricate mixture of design, gemstones, gold and enamelling work.
TECHNIQUE
Derived from the word 'Jad' meaning 'embedded' or 'implanted' and that is the technique crafted to perfection by artisans.
The jadau work comprises of designing, engraving, melting, filling and enameling. Melting of precious metals followed by embedding and setting different stones into a particular design; ending the procedure by holding t he gems till the metal (like gold) has dried and set, without the usage of any gum or adhesive, results into a magnificent refined articulate Jadau jewellery piece.
DESIGN AND SPECIALITY
It is the amalgamation of all the special features from Meenakari's enamelling, Kundan's stone setting, to Polki's uncut diamond.The prominent attraction of Jadau jewellery is the utilisation of diverse types of gems such as sapphire, ruby, pearls, etc that are embedded in the molten form of gold with an expensive uncut diamond (Polki) as the major centre stone. One may even choose a Jadau jewellery which has Meenakari work on the reverse side. Brides prefer Jadau jewellery because it gives an authentic and clear queenly regal look which is the ultimate goal for any wedding occasions.
4. LACQUER (LAC)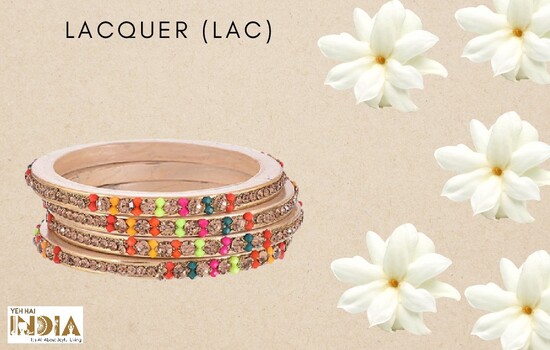 ORIGIN
Hailing from Rajasthan, Lac jewellery can be found in diverse types of ornaments from necklaces, armlets to maang tikkas. Lac jewellery's versatility is evident in the various designs, making it a favourite among the brides-to-be. In many Indian wedding, lac bangles are customary, as it is believed to be auspicious for married women. Lac ornaments are also considered to be a good omen, lucky and bringer of good fortune to the wearer.
TECHNIQUE
The procedure of making this form of jewellery requires heating of resin which is to be stuffed, followed by mixing them through kneading and creating a dough-like substance. Lac is the natural resin used as a stuffing in the ornament, and similarly Lac jewellery is also made. This easily comprehensive technique demands an experienced sense of accuracy from the craftsmen.
DESIGN AND SPECIALITY
The stuffing of lac in the ornament gives it sturdiness and a solid unbreakable feature.Lac jewellery showcases bright features of dazzling bright hues and shine due to the glass work done on them. Beads, mirrors, stones, gems and decorative wire are also incorporated in the design to augment the allure of the jewellery.
Among the various items in bridal lac jewellery, the bangles need a special mention. Bangles with superior quality lac casing are sturdy, lively coloured with vivid glass work on them. One should never miss the opportunity to wear the extravagant yet earthy lac jewellery
5. PACHCHIKAM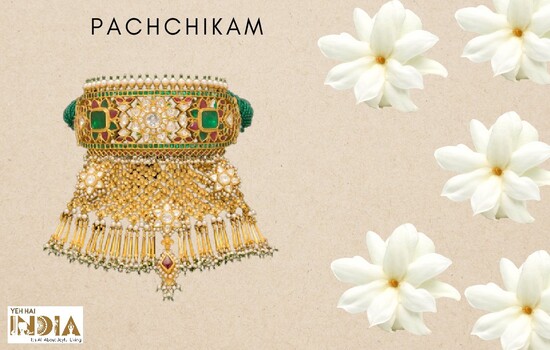 ORIGIN
Derived from the word Pachchigar, meaning a goldsmith, Pchchikam jewellery originated in Kutch in Gujarat. Pachchikam bears striking resemble to Kundan jewellery as both involve elaborate stonework using precious and semi-precious stones. But on concentrated examination, one can notice Pachchikam is more cruder, rugged and fragile in nature than Kundan. In 16th century, this style of jewellery was highly favoured by the European Royalty.
TECHNIQUE
Incorporating intricate and bewildering stonework using diamonds, ruby, pearl, rare jewels other semi-precious stones over a base of silver metal, the artisans craft an awe inspiring piece of art but due to their conservative mindsets, they don't share this art and detailed technique with anyone.
Generally made of pure gold this expensive jewellery can be made affordable by choosing a silver base for Pachchikam followed by gem setting on gold foil.
DESIGN AND SPECIALITY
Adorn the charm of ancient days by choosing Pachchikam bridal ornaments for your wedding day. Voguish features with flashy and opulent appearance of Pachchikam bridal jewellery is specially crafted to match your opulent bridal outfit.
Silver is the base material for its resemblance to platinum and most designs from contemporary to classic can be stylised on it. The colour of the encrusted stones compliment the hues of your attire's majestic aura. The rustic aesthetic appeals of Pachchikam jewellery makes them an extraordinary choice for your wedding events.
6. NAVRATNA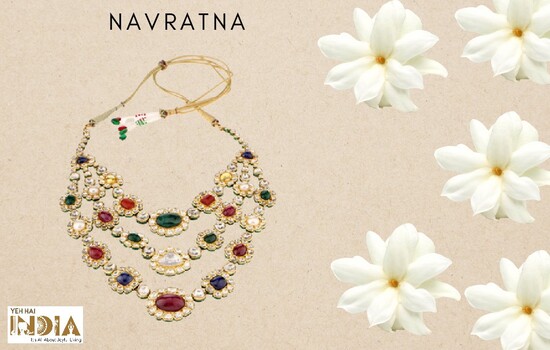 ORIGIN
The name 'Navratna' is derived from a Sanskrit word meaning 'Nine gems'; 'nav' means 'nine' and 'ratna' means 'gem'.
Navratna style of jewellery involves the entrustment of nine types of ratnas or stones/gems on a single ornament. These nine stones are Diamond, Topaz, Emerald, Ruby, Garnet, Coral, Sapphire, hessonite, Chrysoberyl cat's eye and Pearl. Mystical powers are believed to be possessed by all these stones which are associated with the nine planets.
Recommended Story – Salwar Kameez- Trends, Styles and Designs
TECHNIQUE AND BELIEF
Traditionally in India, Navratna jewellery holds utter significance due to its astrological nature as well as its natural charisma. According to astrology, each planet watches over and is associated with one of the nine gems and offer protection and power.
Corresponding to Hindu beliefs these stones act as a talisman against negative effects and ensure well being of the wearer.
The nine gems and the planets they symbolise are:
Ruby – Sun
Pearl- Moon
Coral – Mars
Emerald – Mercury
Topaz – Jupiter
Diamond- Venus
Blue Sapphire – Saturn
Hessonite – Rahu (north or ascending lunar node) Chrysoberyl
Cat's Eye – Ketu (south or descending lunar node).
DESIGN AND SPECIALITY
Navratna jewellery comprises of ornaments like necklaces, rings and jhumkas. Considered to bring good luck to those who wear it, these nine stone embedded jewellery reflects sheer elegance and grandeur. From an aesthetic design attitude, jewellery sporting the navratnas will resolve your bridal fashion quandary. With the entire rainbow palette of vivid colours in one ornament, navaratna jewellery can be styled with almost any shade outfit for your D-day.
The nine valuable gems will scream luxury by adding that extra glam to your bridal persona
7. POLKI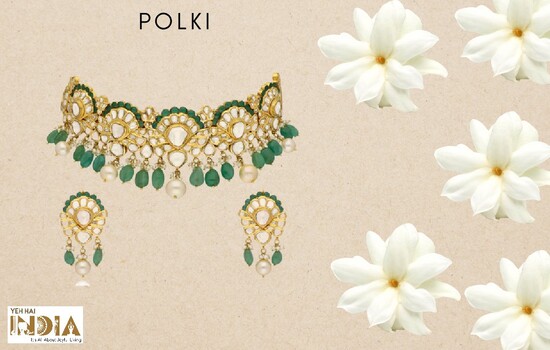 ORIGIN
The elegance and vibrancy of glittering diamonds is like none other.
In India, the art of making diamond jewellery is almost as old as the luxurious history of the country. Polki is the uncut form of diamond, generally as the centre piece of the jewellery. Valuable due to its natural form, Polki style of jewellery was introduced in the Mughal royal court. Evolving from rectangular Mughal cuts to angular Muti shaped facets, Polki jewellery is now available in multitude designs and patterns.
TECHNIQUE
Crafted by foiling the uncut diamonds and placing them minutely on gold/silver plates to furnish the glorious shimmer of the stones; the artisan embeds other gemstones such as pearl, rubies, sapphire and emeralds for embellishments.
The final invention is a prismatic melange of gemstones on a shimmering bed of gold/silver. No wonder it is a favourite with brides.
DESIGN AND SPECIALITY
Created from unfinished natural diamonds, Polki is essentially an uncut diamond that is mined from the earth in a natural way without any enhancement or lab creation.The uncut, flat-cut or rose-cut diamonds are not as thick as regular-cut and facetted diamonds but are much more affordable providing the wearer with equal magnitude of class and sophistication. The polki typically used in jadau/jadtar/kundan jewellery is known as valandi. Polki cut diamonds enhance the grace of Jadau and Kundan jewellery by sitting as the centre piece with utmost exquisiteness.
8.TEMPLE
ORIGIN
The regal Temple Jewellery originated in 9th century, during Chola Dynasty; and continued to rule the South Indian jewellery scenario even during the reigns of great monarchs which included the Pandya dynasty, and the Krishnadeva Raya rule. As the name suggests, traditionally temple jewellery was given as offerings in the temple by royal people to be used as adornments on Gods and Goddesses, hence it forms a valuable part of South India's cultural heritage. Most of these jewellery are created on gold as base metal and made in Nagercoil, a city in Tamil Nadu.
TECHNIQUE
Available in many different forms depending on the need and desire of the wearer; From simpler designs of affordable cost to heavy extravagant patterns of exuberant price, temple jewellery is crafted from pure 24 carat gold as well as alloys of it to make it accessible for everyone. Temple jewellery pieces are found from small nose rings to big chunky ornaments including raani-necklaces and galobandh-chokers, pendants, armlets, kamarbandh, bangles, toe rings and rings etc. The intrinsically engraved designs and encrusted precious stones/gems on the temple jewellery makes them one of a kind which can escalate the aesthetic of even plain wedding outfits.
DESIGN AND SPECIALITY
Precious and semi precious stones like, Rubies, Emerald, Diamonds, Kundan, Pearls, Polkas, Meenakari and Kemp are used in both cut and uncut form, then embedded in the gold temple jewellery, in order to endow a classic charm to the ornament. If you not so keen on spending a humongous amount on your bridal set you can opt for silver, copper, and bronze base temple jewellery, which is lighter for your pockets.
Even with the North Indian stones like polki or vilandi encrusted, Temple jewellery is the epitome of the dexterous South Indian craftsmanship. Symbolising the heavily ornamented pillars and rich sculpted walls of many South Indian Temple especially, Thanjavur; Temple jewellery is embellished with commended motifs of Gods, Goddesses, flowers, peacocks, waves, lines, birds, and statutes of Royal Figures. Amongst these figures, the most common motif is Goddess Laxmi sitting on a Lotus.
Frequently used by classical dancers to add divinity and uniqueness, this auspicious & divine jewellery is a significant part of the gift handed to a South Indian bride on her wedding day as the blessings from Gods.
9. FILIGREE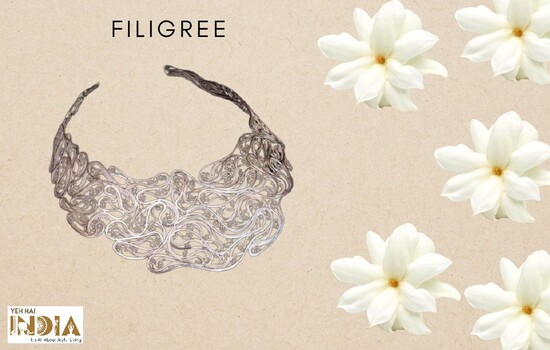 ORIGIN
The intricate designs of Filigree jewellery showcase the unmatched excellence of the craftsman of Odisha and parts of Andhra Pradesh. The word 'filigree' is derived from the Latin-'filum' (thread) and 'granum' (grain). In India, granulation in filigree work is called rawa kaam, while wire-work is called tarkashi kaam.
The filigree work is so enchanting that it is used in many decorative commodities like show-pieces, flower vases, spoons, trays, boxes, brooches, pendants and hair-pins.
TECHNIQUE
Filigree jewellery is known for its delicate designs which are intricately worked on gold or silver jewellery with fine bead work and dainty twisted 'threads' or wires soldered to the metal to mould artistic motifs. In addition to reflecting Orissa's ancient religious and tribal-culture beliefs, these pieces are regularly given a modern-contemporary twist to better suit the trends of the current market. They're as quirky as they are delightful.
DESIGN AND SPECIALITY
The exquisite gold and silver minutely detailed work is elegant, zealous, and sensual. Shell, wood, metal, bead, stone are some of the materials used to give a particular kind of primal art lustre.
While adding a touch of royalty, the panache and finesse of filigree work elevates the mood of the whole bridal ensemble. Want to boost the exotic charm in a bride's appearance?Filigree ornamentations are a fantastic choice for a trendy yet classic wedding.
Also Read – Jewellery Designing: Career options & Institutes to study