Accessorizing western clothes with a few traditional jewellery pieces is a good way to upgrade your looks.
We absolutely adore traditional jewellery as Indian women and flawlessly complement it with our cultural attire. But have you ever considered wearing your traditional jewellery with western clothing?
Today, wearing jewellery has more to do with making a statement and raising your style quotient rather than merely adding glitter to your clothing.
The Indo-Western clothes and jewellery combo is a really daring design statement that demonstrates your sense of style and creativity. When combined properly, our beautiful Indian jewellery and western clothing can create a breathtaking look.
If you've always been proud of India's rich culture and want to wear jewellery with modern clothing in a way that makes you rule the fashion scene, then here's a guide on how to style Traditional Indian Jewellery with western clothing!
10 Ways To Style Your Traditional Jewellery With Western Outfits:
1. Silver Necklace with a Shirt/Evening Dress/Jacket: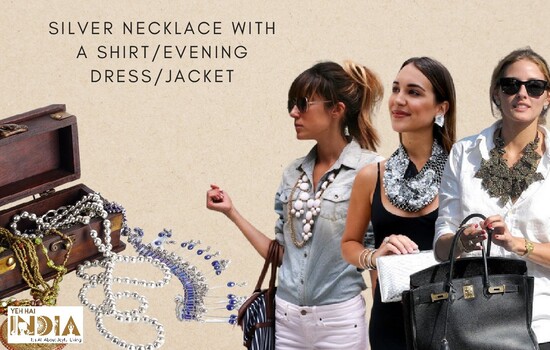 The newest style is silver jewellery! Combining silver neckpieces with your western attire can create several attractive ensembles.
If you enjoy dressing comfortably while still looking stylish, try pairing a stack of silver or oxidised necklaces with a sweet strappy or skater dress, a floral top, a maxi dress, or a colourfully embroidered cape or shrug.
To achieve the bohemian aesthetic, pair layered silver necklaces with a plain crop top and flowy skirt. The greatest alternative for you if you're going for a more elegant and refined appearance is to wear your thick silver necklace with a white shirt and pants.
You can also wear a large silver neckpiece with your blazers or coats worn over tube tops. 
Recommended Story – Indian Traditional Jewellery from Head to Toe
2. Jhumkas with a Shirt/Blouse/Dress: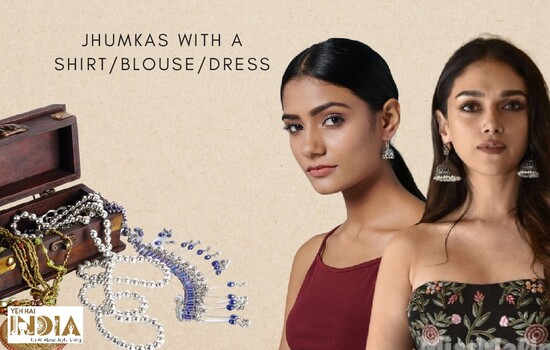 Jhumkas appear to be the preferred style of earring for all Indian women. Even a plain suit can appear amazing when you wear a pair of dazzling statement earrings!
Jhumkas can be worn with an off-shoulder dress, a tube top or crop top with a pencil skirt or high-waisted pants for more formal occasions.
To achieve the bohemian aesthetic, try teaming your jhumkis with a blouse and ripped jeans, a printed jumpsuit, or a casual shrug if you value comfort as much as fashion.
3. Bling Gold Jewellery with a Black Dress: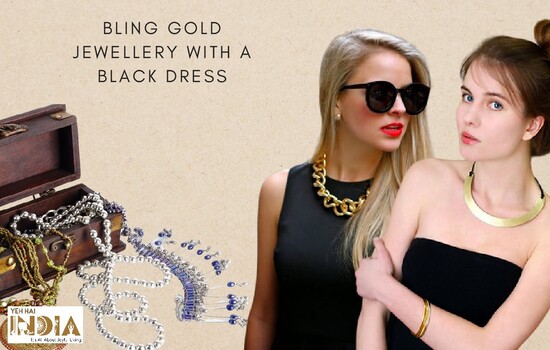 Pairing up a beautiful boho shrug with your plain black dress and giving it a huge level up by adding some minimal yet flashy gold jewellery pieces can elevate your style instantaneously.
This outfit pairing can be an amazing option for occasions demanding Indo-western look. If you keep the theme of the jewellery and the dress minimalistic with just a few design elements, you're ready to attend formal events as well.
To add more glamour to the look, you can also wear fancy Maangtikkas and quite literally look like a diva.
4. Bangles for the win: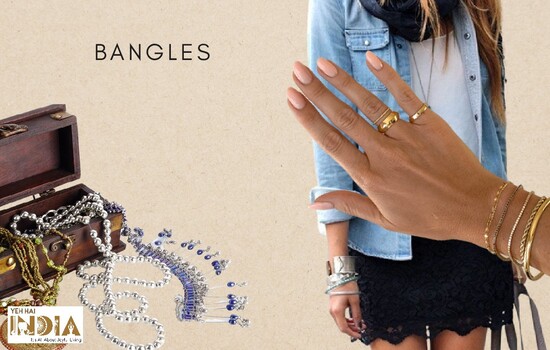 Bright, classic bangles can be paired with monochromatic gowns to create a beautiful ensemble. If you want to add some sass to your outfit, pair them with boyfriend jeans and a stylish crop top.
For a chic, yet a sophisticated look, pair up a blazer with a short white dress and add dazzle into this outfit by wearing stunning gold bangles.
Whatever the case, keep your jewellery modest and avoid going overboard with the bangles to avoid looking garish rather than sophisticated.
5. Polki or Diamond Bangles: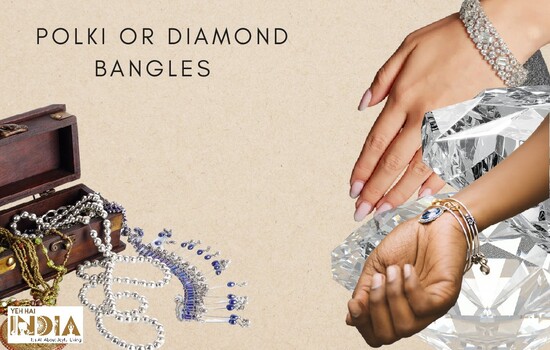 The method used to create these exquisite Indian jewellery pieces is admirable, so why not show them off by pairing a sleeveless blouse with a fitted long skirt if you have a lovely collection of Polki or Diamond bangles?
When you pair your bangles with a casual, coloured top and adorable denim shorts, the brilliance of the diamonds or practically white-transparent or sheer-looking Polkis in your bangles will brighten the entire ensemble.
6. Chandbalis
Every woman has always ranked Chandbalis at the top of her list of favourites. They are the perfect jewellery style for western clothing as well as long Kurtis and sarees.
These enormously huge baalis is all you need if you want to create a magnificent fusion look where you want a variety of ethnic influences with modern twist.
Combine your huge baalis with western clothing to command respect for all the appropriate aspects. The common consensus is that you may wear these big, bold circles with a high-waisted pencil skirt, a jumpsuit, or a Kurti with a western-style collar.
Recommended Story – Types of Indian Traditional Jewellery for Brides and Jewellery Lovers
7. Meenakari Jewelry with a shirt and skirt: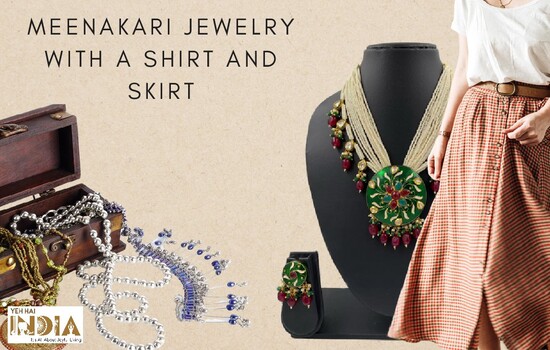 A skirt and top with meenakari earrings is perfect for long summer days that demand you to be a little out-of-the-ordinary and ready for any formal event happening around you.
One of the best pieces of jewellery ever is Meenakari! When worn properly with western clothing, these earrings appear equally lovely and magnificent!
They go well with a simple blouse, a skirt, or even a matching set.
8. Kundan Necklace: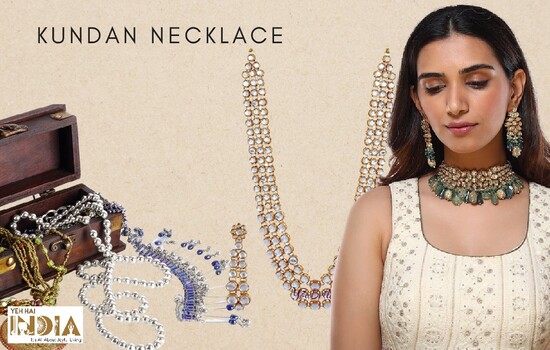 Kundan jewellery is no longer just an antique set used at weddings and other formal events. If you're going to a black-tie event, choose a strapless dress and show off your stunning Kundan necklace.
This one is a tried-and-tested combo, as evidenced by the numerous Bollywood leading actresses who are dressed in this style.
Kundan necklaces typically have large, opulent designs and light colours. To elegantly contrast and accentuate your Kundan jewellery, pick a straightforward gown in a dark colour.
For a more Indo-western look, Kundan necklace can be worn with a collared shirt and a long skirt as well.
9. Matha patti: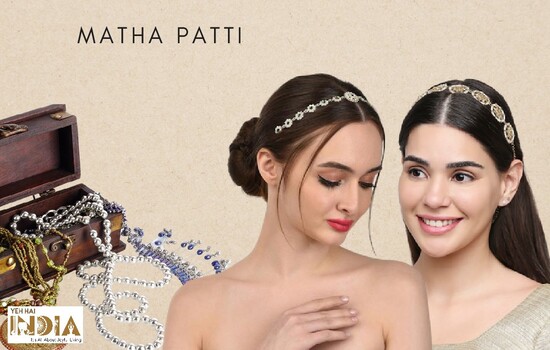 You can choose the most traditional piece of jewellery, the mathapatti, to create a completely one-of-a-kind fusion appearance.
When you pair the traditional Indian headpieces with a casual t-shirt and jeans, a short skirt and top, or even a knee-length dress, they will look incredibly gorgeous.
Choose a matha patti or a headband that best fits your face from a variety of sizes and shapes available.
10. Anklet with jeans:
Anklets are yet another kind of jewellery that every Indian woman owns. Anklets are a long-standing custom that have decorated our feet for hundreds of years, ranging from straightforward silver payals to opulent gold ghungroos.
By wearing your anklets with cropped jeans or pants, you can update your overall appearance. This is the look for you if you enjoy wearing fusion clothing or desire to stay current with fashion.
Instead of wearing a pair, you can choose one anklet and create your own unique look.
Summary: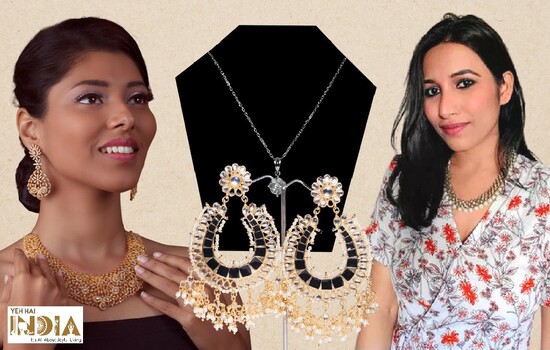 Indian jewellery comes in a wide range of patterns, styles, and classifications. Wearing them with western attire expands your options to wear it not just on special occasions but also as part of your daily wear.
With the help of the styling tips we have brought for you here, you can look stunning even in the most basic outfits like a pair of denims and a t-shirt.
Give yourself an ethnic makeover with these styling ideas to add a level of mystery to your boring looks.
Also Read – Rajasthani Jewellery: An Exemplification Of Tradition And Glamour