An Anklet is one jewellery item that never fails to be a part of any Indian woman's traditional attire, irrespective of the place or social status.
For Indian women, anklets are a crucial part of their attire. They are of great social and spiritual significance.
They consist of a long band of silver chain adorned with motifs, patterns, beads and bells and are worn on the feet.
They are carved intricately to allow free movement. Sometimes precious stones are also added to them to make them look more colourful.
They are worn both for the purpose of ornamentation on special occasions and as a daily wear item.
The preferred substrate for anklets is generally silver. This is because gold is considered sacred as it is a metal of the Gods and hence, not worn on the feet.
In some parts of India, it is even believed that gold anklets bring misfortune to the wearer.
For a bride, Anklets are considered a very auspicious as per Indian customs. Elaborate anklets studded with precious stones are a common gift to a newlywed woman on her first arrival to her husband's home.
Therefore, in some parts of India, anklets can signify a woman's marital status as well.
However, it is not necessary that anklets are worn only by married women. Unmarried girls are often seen adorning them and are even gifted these on special occasions.
Why are anklets worn?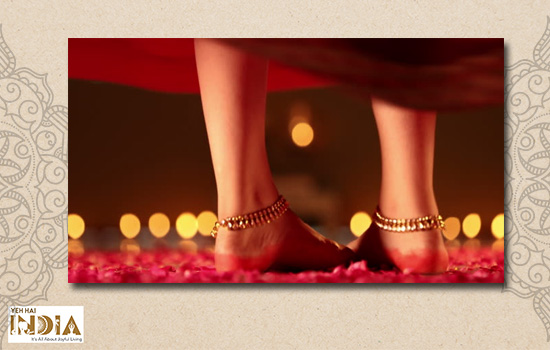 1. Indicates a woman's presence
In India, in the past, the purdah system was in effect. This system prohibited women from being seen by strange men outside their immediate family.
In such a situation, the bells on the anklets were immensely helpful as they warned men about the presence of a woman so that they could respectfully avoid her.
Even now that the purdah system has long been eradicated, the anklet is a way of signalling the entry of a woman so that the people within the room can greet her respectfully.
2. Saves energy
A Hindu belief claims that wearing an anklet prevents any loss of energy. According to Hindu culture, human beings are constantly releasing energy from their extremities such as their hands and feet.
Wearing a precious metal around the wrist or ankle helps staunch this flow of energy. Silver, in particular, reradiates energy and makes it flow back into your body.
3. Relieves pain
Wearing an anklet can also alleviate pain. It is particularly helpful for pain that radiates out of the lower back through the sciatic nerves.
Silver jewellery helps restore stability and range of motion in inflamed joints.
4. Boosts immunity
Silver is a powerful antimicrobial agent. It has been known to help prevent flus and infections.
Wearing a silver anklet can also improve your immunity as it ensures the activation of your lymph gland.
5. Maintains body balance
It is also said that wearing an anklet stabilizes the electric currents in your body. The negative energy in the body is mitigated while the positive energy is encouraged.
This helps improve body temperature, balance and the general welfare of the body.
6. Intensifies dance performances
Some anklets have many small bells attached to them and are known as Ghungroos. They are mostly worn by dancers in order to enhance their performances.
The movements of the foot generate enchanting harmonies as the bells within the Ghungroos ring beautifully.
They elevate the music and the performance of the dancer to another level. Ghungroos are of great significance to many Indian dance forms.
Recommended Story – Style These 10 Jewellery Pieces With Western Outfits For A Winning Indo-Western Look
Types of Anklets:
1. Classic Anklets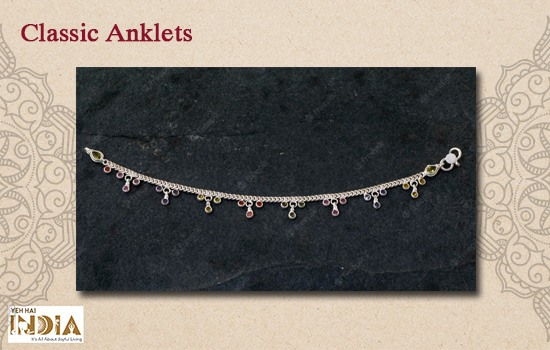 The classic anklets are made of silver and generally feature meenakari work. They are simple chains that match every outfit and can be worn to any occasion.
They are remarkably easy to blend into your everyday wear.
2. Beaded Anklets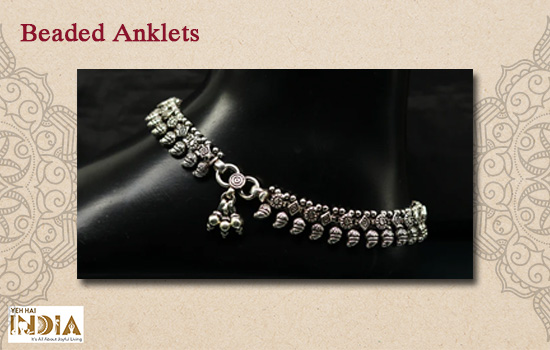 Beaded anklets are a perfect casual summer accessory. Large chunky beads or small dainty beads will add the perfect bohemian air to your outfits.
You can even add matching bracelets to add cohesion to your whole look. Beaded anklets may be a newer trend but they are rapidly gaining popularity.
3. Charm Anklets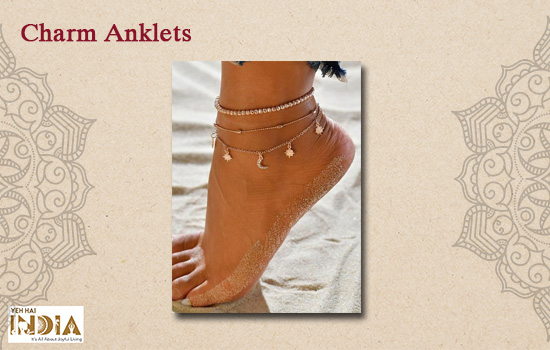 Charm anklets allow you to customize your look to a great extent.
You can add tiny figurines or other charms to your anklets and show off your entire personality on the arch of your ankle.
They are great conversation starters and a highly collectible item.
4. Toe Ring Anklets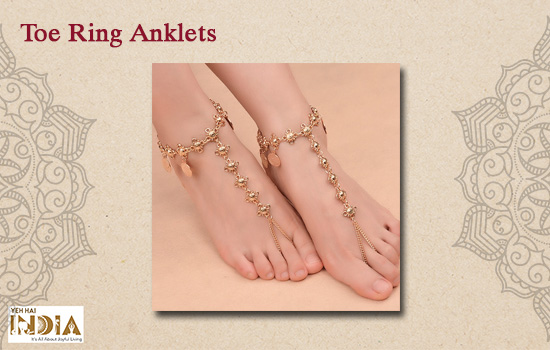 Toe Ring Anklets are a unique piece of jewellery that comprises two of the most iconic Indian ornaments.
It consists of an anklet that wraps around the ankle and is then attached to a toe ring with a thin chain.
They are generally detachable and can be worn together as well as as standalone pieces.
Summary:
Anklets are a great Indian tradition although they are now worn by people all across the globe. They symbolise prosperity, good health and the elegance of a woman.
In Indian culture, anklets are considered a marker of pride and tradition especially when worn by new brides.
We are now seeing the addition of modern innovation to the age old tradition if wearing anklets.
New styles and types of anklets are emerging every single day and each one of them is more stunning and gorgeous than the last piece.
Pick your favourite style of anklet that goes with the theme of your outfit and avail their many benefits.
Also Read – Best Indian Traditional Jewellery for Brides