Earrings are versatile pieces of jewellery that go well with different outfits making them a worthy investment.
Jewellery ramps up the glam quotient of your look. In India, jewellery is a fundamental element of femininity and no outfit is considered to be complete without jewellery.
Earrings are one such crucial jewellery item. You don't need a special occasion to wear them. There is always a pair of earrings to go with every kind of outfit: be it western wear or ethnic wear.
While casual and formal outfits require simple earrings, one can don pieces of extravaganza with traditional outfits like a kurti and saree.
When it comes to selecting the earring, it gets a little tricky because a myriad of choices is available online and offline. Having an earring collection with all the basic types will have you covered for any occasion.
It is best to own plenty of western and Indian earrings earring types to make sure you have something to go with all kinds of outfits. Most of these pieces are classic and are here to stay.
10 Best Indo-Western Earring Designs To Look Stylish:
1. Hoop Earrings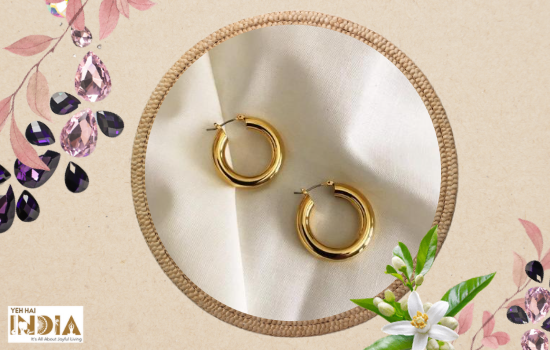 These are classic earrings that every woman should invest in. Hoop earrings have been worn by people around the globe since ancient times and today are popular in various cultures.
Even though classic hoop earrings come in round shapes, nowadays you can find hoop earrings in the shape of triangles, squares, and multiple complex shapes like clouds and hearts.
You may invest in a classic pair of golden or silver hoop earrings that goes well with a wide range of western outfits. These are the best options for those days when you want to go for a simple yet chic look.
The sizes of these hoop earrings also matter as the extra large ones are good for casual attire while smaller ones are great for a more formal look. With Indian attire, you may throw on a pair of ethnic hoop jhumka earrings that have a beautiful jhumka attached to the hoops. 
Recommended Story – 9 Unique Handmade Jewellery Ideas For Inspiration
Suggested: Large Gold or Silver Hoops
2. Stud Earrings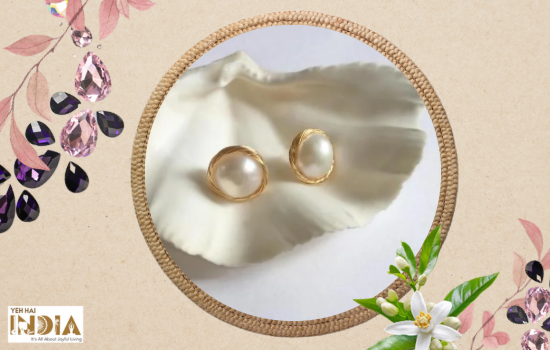 The stud earrings also go by the name earring tops as these are usually somewhat small earrings that are attached firmly to the ear lobe without dropping down. Studs can come in distinct shapes and styles.
You can get studs that are as simple as a single pearl or more complex ones featuring designs made of precious stones like diamonds. You may invest in a pair of small pearl stud earrings that looks very sophisticated and goes well with formal outfits.
Nowadays you can find small stud earrings with cute designs representing flowers or fruits that go well with western attires and are good for teenagers.
Indian jewellery presents a lot of different varieties of studs including golden, silver, and oxidized earrings with beautiful works of colourful stones and pearls.
It is worth investing in the traditional version of studs that comes in a variety of vibrant colours and glorious designs making it a good match for special festivals and occasions.
It is a good idea to pair big statement necklaces with smaller stud earrings to strike the perfect balance.
Suggested: Pearl Studs
3. Jhumkas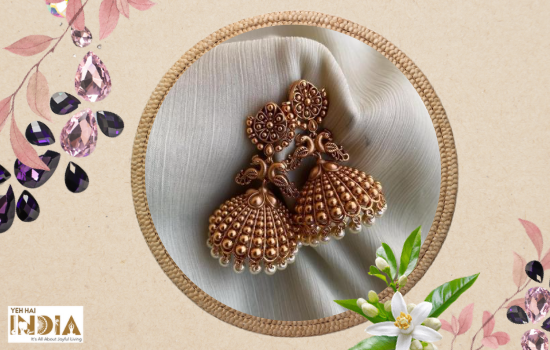 Jhumkas are like cookies— you can't have just one. A pair of jhumka is a staple in the jewellery box of every Indian woman. Jhumkas represent the beauty and Elegance of Indian jewellery. They are quite versatile and go with all kinds of Indian attire like kurtas, saree, and lehenga.
A pair of jhumkas can add a magical charm to even the plainest kurtis and is therefore a favourite among young girls.
The best thing about jhumkas is that you are going to be spoilt for choice with so many different types of them available in the market. You can choose among oxidized silver jhumkas, hoop jhumkas,
Kundan jhumkas, diamond jhumkas, Kashmiri jhumkas, terracotta jhumkas, and classic golden jhumkas. There is no dearth of variety among the jhumkas and new designs and trends keep coming every year.
Suggested: Oxidized Silver Jhumkas
4. Chandbalis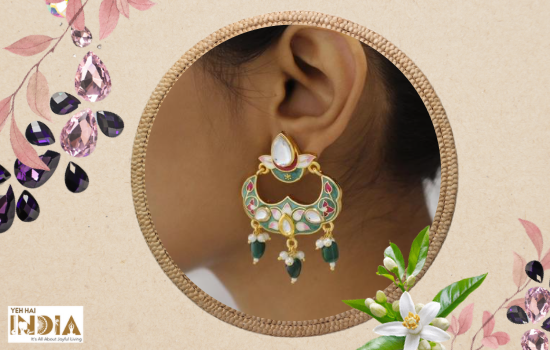 Originating from the Rajput and Mughal royalty, chandbalis represent the shape of a crescent moon in a beautiful form. Just like jhumkas chandbali are available in various designs.
These extravagant earrings are the perfect statement jewellery to go with different traditional Indian attire. Traditionally chandbali consists of two crescent moons molded with each other and decorated with diamonds, rubies, and pearls.
Nowadays we can spot the ulta chand which consists of an inverted moon and the tiered chandbalis with multiple moons.
Oxidized silver chandbalis are available in mirror work while others include contemporary colours and patterns. Chandbalis pair really well with Anarkali suits. Many chandbalis also feature extended long chandeliers.
Suggested: Meenakari Chandbali
5. Drop and Dangler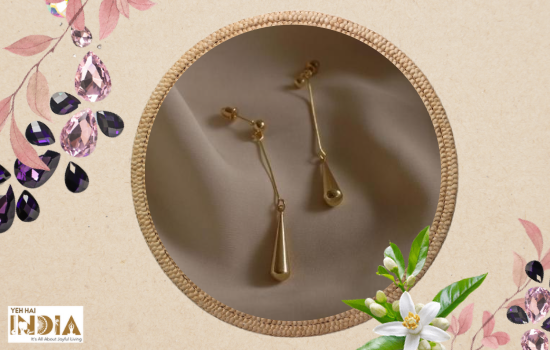 Drop earrings are a subtype of stud earrings but they are longer than regular studs and drop slightly below the ear lobe. However, they stay near the ear lobe without dangling further down.
Drop earrings are somewhat more glamorous than simple studs and are perfect for parties and weddings. Dangle earrings are an elaborate version of drop earrings with a fixed part that sits directly on the earlobe and a dangling part that falls below the ear lobe and can be long and detailed.
Danglers are quite fashionable and can be worn with both western and Indian attires. You can pair pearl or diamond danglers with a fancy saree for a cocktail party.
Suggested: Teardrop Earrings 
Recommended Story – Style These 10 Jewellery Pieces With Western Outfits For A Winning Indo-Western Look
6. Huggies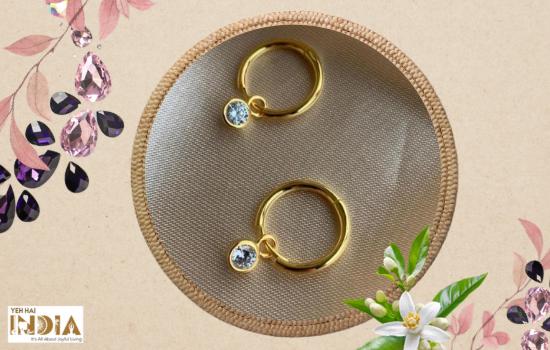 Are you one of those girls who was always scared of getting piercings but still wants to don a pair of beautiful earrings? It is possible with cute huggies.
These earrings hug your lobes flawlessly to help you achieve your dream of flaunting beautiful earrings. Huggies are available in several stylish designs and commonly come in round shape. These earrings are also great for kids who did not get a piercing yet.
Suggested: Gold Huggies With Stones
7. Ear Tassels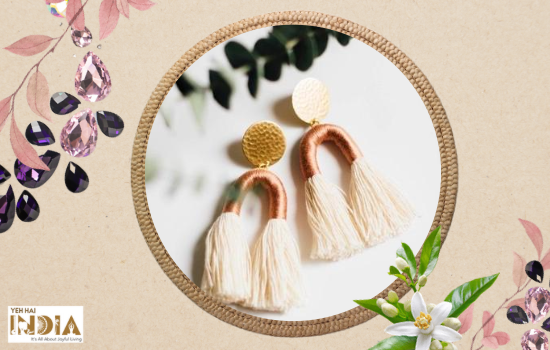 Tassels add a dash of funkiness and playfulness to your appearance. Tassel earrings may contain only a single tassel or can be more elaborate with multiple tassels. These earrings go perfectly well with Bohemian outfits.
Bright tassels can be paired with bright ethnic outfits like kurti and saree for a colorful day time look. Some tassel earrings may contain pearls and beads for added sophistication.
Suggested: Blue Tassel Earrings
8. Bahubali Earrings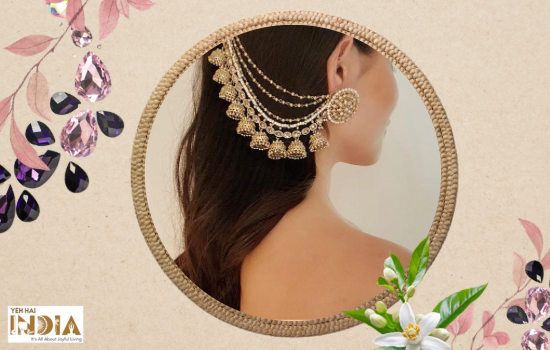 Who can forget Aishwarya Rai in the movie Devdas? She looked ethereal in the movie with all traditional jewelleries and exquisite sarees. One of her looks featured beautiful Bahubali earrings that are back in trend today.
These earrings contain multiple strings attached to the base of the main part which sits on the earlobe. These strings are meant to be pinned to the hair for a gorgeous look.
Nobody can ignore these beautiful pieces of jewellery and you can always count on these Bahubali earrings to become your statement accessories.
Suggested: Gold Bahubali Earrings
9. Chandelier Earrings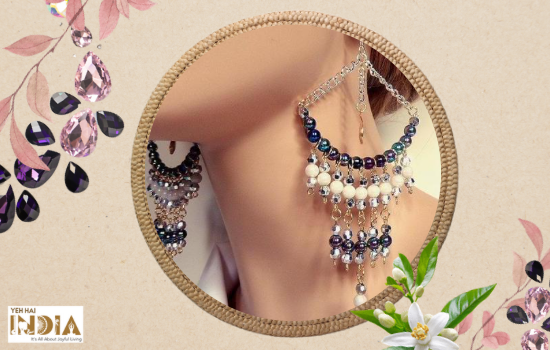 Another version of the dangle earrings is called the chandelier earrings which mirrors the shape of a chandelier and exudes luxury and elegance. Chandelier earrings consist of a single layer or multiple layers getting bigger towards the bottom.
Some chandelier earrings are perfect for a statement look and you may want to avoid wearing any necklace along with these showstopper earrings. These earrings are perfect for a glamorous wedding look.
Suggested: Tiered Chandelier Earrings
10. Hoop Balis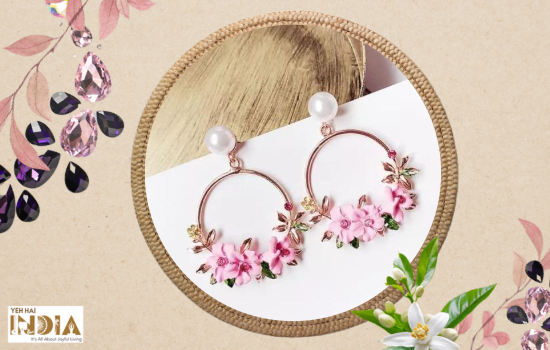 Hoop balis are the traditional version of hoop earrings and can look good with all kinds of traditional outfits. Wear a pair of hoop baliz with your pretty solid kurta and you are good to go for a stylish yet minimalist look.
Hoop balis can be embellished with pearls, stones or beads to add sophistication to your look. Some of them will have motifs like flowers and leaves molded into them.
Suggested: Flower Hoop Balis
Summary:
Earrings are an essential part of the jewellery box of an Indian woman and can help to add glam and charm to regular outfits. Earrings can be paired with all kinds of outfits—formal, casual or traditional.
One can pair silver oxidized jhumkas with regular kurtis for a casual yet glamorous look. For formal outfits, pearl studs or small silver hoop earrings can be a great addition to add sophistication.
Longer versions of studs like drop and dangle earrings are good for fancy occasions like cocktail parties or dinner dates and may be paired with western or Indian outfits.
For festivals and weddings, wear the more extravagant earrings like chandbalis and jhumkas with your saree or lehengas for the ultimate ethnic look. Chandbalis are very ethereal and act as statement earrings.
On days when you cannot decide what to wear with your casual western outfit, a pair of classic gold hoop earrings can come to your rescue. Having a collection of all types of earrings will make sure that you always have something to go with all of your outfits.
Have these earrings in your jewellery box as statement pieces and wear them with different costumes to create an entirely new look!
Also Read – Best Indian Traditional Jewellery for Brides