Enlarged pores may be caused by accumulation of dirt and sebum in skin pores and ultimately degrades the beauty of skin.
Nobody is a fan of unappealing large pores that add an unpleasant texture to the skin and make you look much older than your real age. This issue also attracts other troubles like blackheads and acne, especially if the skin is oily.
Having large pores also makes your skin more prone to infections and inflammations because the skin gets exposed to microbes present in the surroundings.
There are many products available in the market and a lot of influencers suggest elaborate multi-step skincare routines comprising multiple products to solve this problem.
However, this type of skincare routine is very time-consuming and impractical. Many products commercially available are not free from damaging ingredients.
So, before buying products randomly you may as well try out some of the ingredients available in your kitchen which are considered beneficial in tightening pores without any side effects.
Home remedies work well only when you have enough patience and are consistent in your effort. So remember to set some time aside on a daily basis to get the best results.
What Causes Enlarged Pores?
There are several causes of enlarged pores including excess sebum and bacteria that can accumulate over time with inefficient and irregular scrubbing and cleansing of skin
In certain cases, enlarged pores might be due to genetic factors which means if any of your parents has or had this condition, the chances of your developing this condition are quite high
Another reason for large pores is aging as it reduces collagen production in the skin and makes the pores appear bigger in size
Exposure to UV rays and sunlight can also lower skin hydration levels leading to large pores
Hormonal imbalance is also responsible for this condition that shows up as open pores on skin
Home Remedies To Reduce Pore Size:
1. Apple Cider Vinegar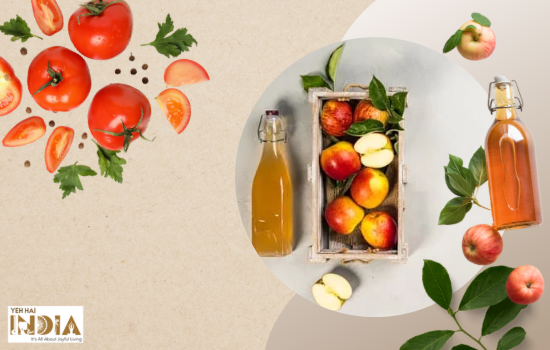 Skin toners are very popular nowadays and many people put them on because of their excellent skin nourishing abilities. It is an essential part of modern skincare routine which is inspired by beauty rituals practiced in countries like South Korea.
However, you don't need a store-bought toner to help you with your skin issues as you have got a better one sitting in your kitchen counter.
Apple cider vinegar is full of antimicrobial and anti-inflammatory properties which makes it an excellent choice for those who suffer from acne breakouts. It helps to balance the pH of the skin while making it tighter and thus reduces the size of the pores.
How To Use It?
In a small bowl, mix two teaspoons of water and one teaspoon of apple cider vinegar. Apply this mixture with a cotton ball all over your face and keep it for about 10 minutes.
Then rinse it with clean water and use a moisturizer according to your skin type.  You should follow this routine every other day.
Recommended Story – Top Organic Beauty (Cosmetic ) Brands in India Offering Best Organic Skin Care Products
2. Ice cubes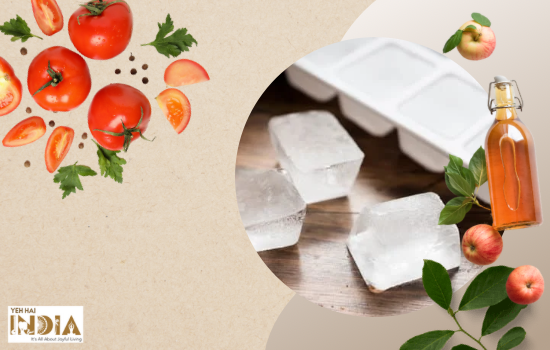 Ice cube is like therapy for the skin with their soothing effect that not only calms your skin but also increases blood circulation and improves the regeneration of skin cells.
Regular application of ice can tighten the skin which also helps to reduce pore sizes.
How To Use It?
Use ice cubes after waking up in the morning or before putting on makeup every day.
3. Sugar And Lemon Scrub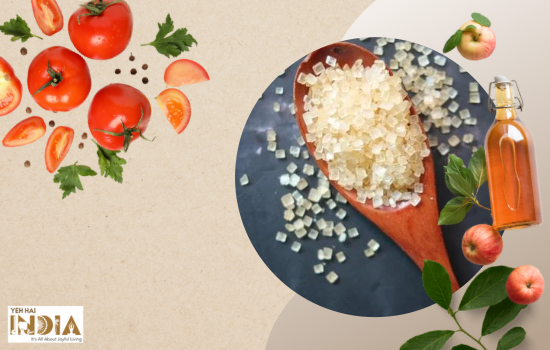 Isn't it crazy how something so common and simple can deliver such amazing benefits to your skin?
As already stated, excess of accumulated oil and dirt in the pores causes them to enlarge and also attracts bacteria which causes acne.
Therefore, it is important to exfoliate your face and get rid of this dirt and oil. Sugar is an excellent exfoliator and can be used on your face and lips.
How To Use It?
It is pretty easy to make a sugar scrub. All you need to do is to take a wedge of lemon and put some sugar crystals on it.
Then rub this lemon wedge on your face and keep on the lemon juice and the sugar for about 15 minutes before washing off.
4. Multani Mitti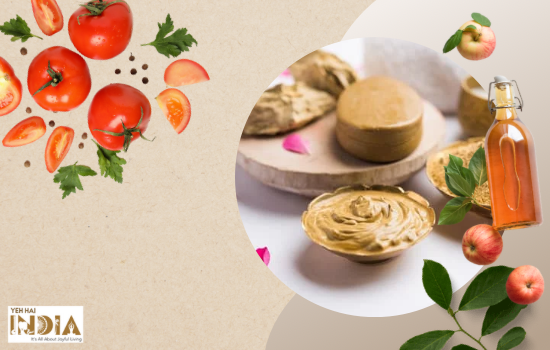 Multani mitti is an ancient home remedy that is used to add glow to the skin and keep skin issues away.
It is typically used as the basic ingredient in homemade masks. It is a great exfoliator and absorbs oil.
Therefore, it also helps in keeping the face clean and stops large pores from collecting excessive dirt.
How To Use?
There are a lot of recipes that use multani mitti. The most simple recipe uses A teaspoon of Multani mitti with a teaspoon of rose water.
Apply this mixture all over your face evenly and let it dry before washing it off with cold water. Multani mitti masks will leave your face feeling fresh and renewed.
5. Tomato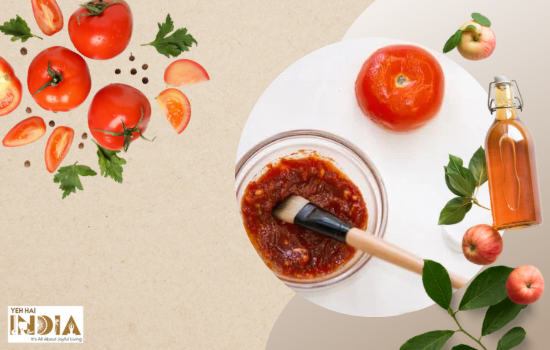 Tomato is a rich source of vitamin C and has astringent properties which keep the skin firm, remove accumulated oil, and in turn reduces the size of enlarged pores giving you a smooth and glowing appearance.
Tomato is rich in antioxidants and lycopene which helps to reduce inflammation and skin aging by promoting the regeneration of new skin cells.
How To Use It?
Mix 3 teaspoons of tomato with a few drops of lemon juice to make the perfect face mask. Apply evenly and keep it on for 20 to 30 minutes before washing with cold water.
6. Baking Soda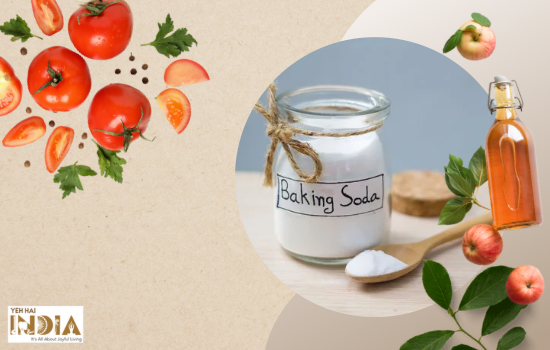 Baking soda is an excellent exfoliant and helps to reduce inflammation, balance the pH level of the skin, and also acts as an antibacterial which helps to reduce the occurrence of pimples and acne.
Its properties are quite similar to white sugar.
How To Use It?
Add about 3 tsp of baking soda to 1 teaspoon of warm water and apply all over your face by massaging in a circular motion with your fingertips.
Leave this mixture on your face for 5 minutes and wash with cold water. Follow this routine three times a week to get the best results.
7. Egg Whites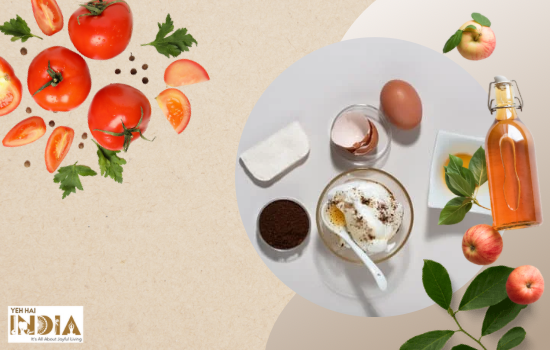 Egg whites are not only great for your body but also help to make your skin tight and firm and reduce the size of large pores improving skin texture.
Make a peel-off mask using egg whites to get rid of extra oil and provide your skin with the best nutrition.
How To Use It?
Separate the egg white and whisk it properly. Apply it on your face evenly.
Then cover your face with paper and let it dry before peeling off the paper. Do this twice weekly for better results.
Summary:
Large skin pores are caused by excess oil and dirt which is a result of a lack of regular scrubbing and proper care of your skin. Huge pores make your skin susceptible to acne and pimples as these pores serve as the breeding ground for bacteria.
Many products are available in the market that claim to help reduce pore size but the best ones are found in the kitchen. Natural ingredients when used regularly give the best results.
Regular exfoliation with sugar or baking soda can be very efficient in deep cleaning the skin surface while apple cider vinegar can be used as an efficient natural toner that balances the pH of the skin.
Multani mitti face mask, on the other side, is an ancient and highly effective home remedy that leaves your face glowing and radiant.
Get flawless looking skin with tried and tested home remedies proven to give you a poreless complexion.
Also Read – Kakadu Plum: What Makes It A Miracle Skingredient?