Pashmina, a soft and flowy woollen textile, is one of the most exquisite and expensive winter fabrics you can find around the globe.
For centuries, weaving of Pashmina fabric and shawls has remained a core economic activity in the Kashmir Valley. Apart from its warm texture, it provides a great source of income for all kinds of people including literates, illiterates, farmers, etc.
Often confused with cashmere, Pashmina is specifically made from a different breed of mountain goat called Capra Hircus. Hence, it can be defined as a variety of Cashmere, woven finely to produce a different texture as compared to cashmere.
Due to the extremely cool temperatures and high altitudes in Kashmir, the wool produced by the goats is of the finest quality and is used to create the softest type textiles in the world.
You will find an endless number of qualities, when it comes to Pashmina, however, the goats living in the dry climate in the mountains produce a unique kind of richness and softness in their wool.
After sourcing the wool, the fibres are sorted and cleaned by hand and brought from the Himalayas to the valley for making of shawls and other types of clothings and artefacts.
What is Pashmina?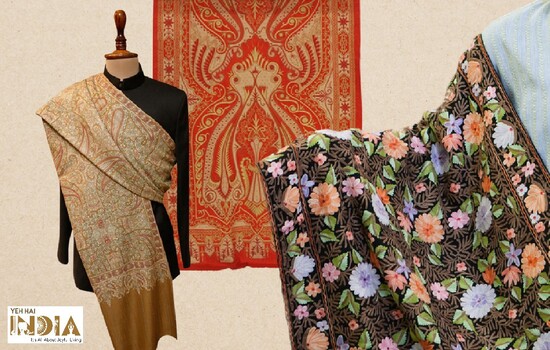 Pashmina is a very fine and exquisite craft that is admired all over the world. According to Persian language, Pashmina means "wool", and in Kashmir it means "soft gold" referring to the raw wool that is unspun, sheared from domestic Changthangi goats.
These goats are exotic and are found only at 15000 ft above sea level, like in Ladakh- Jammu and Kashmir, making this art even more precious and treasured all around the globe.
Charmed by its grace and traditional enticement kings, royals and people are the greatest admirers of this beautiful textile. Moreover, the fibre in Pashmina is renowned for its thermal properties and that is why it is hailed as one of the best woollen fabrics.
Recommended Story – Ayurvastra: Clothing That Heals And Sustains Good Health
History of Pashmina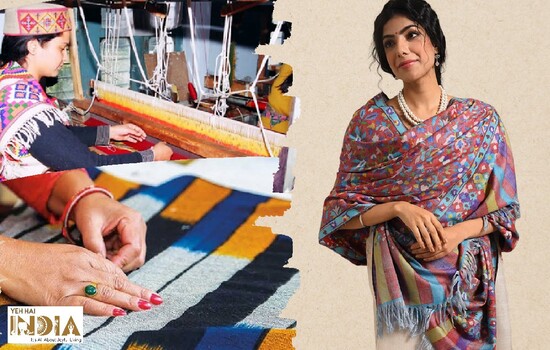 Ages ago, Pashmina was a sign of royalty and was known as a Fibre meant for Kings. The ruler of Kashmir in essence, Zain-ul-Abdin introduced tapestry shawl weaving from Turkistan during the 15th century.
In the 19th century, craftsmen made Pashmina shawls for Emperor Akbar to gift his chosen wives. Later, the fame of this fabric reached France after Napoleon presented an exotic shawl to Empress Josephine.
How To Identify A Real Pashmina?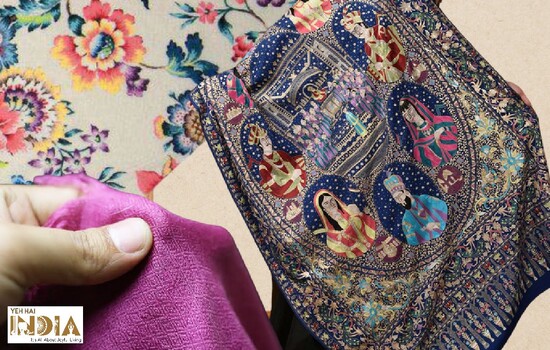 Given a great possibility of coming across a fake Pashmina in the market these days,it is important to know how to identify a real Pashmina fabric. There are a number of tests that we can conduct to know whether it's real Pashmina.
1. The Burn Test
Burning a thread taken from the edges of a Pashmina shawl can tell you about its authenticity. A real Pashmina thread, smells of burnt hair when put in a fire flame.
2. Matte texture
A real Pashmina has a subtle shine on it, but if you find a lot of such fabrics that look too shiny, don't buy them and and look for the one that has a mattified appearance.
3. Uneven weave
If the weave is not symmetrical or does not have a regular patter, then for sure, it is not Pashmina.
4. Rubbing the Shawl
You can also test the authenticity of Pashmina fabric by pinching it to rub in between your thumb and index finger. If you find any sparks created due to rubbing, then it is a synthetic fabric and not made from real goat hair.
5. The Pilling Test
Pilling is another determiner of fake Pashmina. A real Pashmina does not pill even after several uses and washes.
6. Comfort Level
A real Pashmina feels naturally comfortable on skin and stays
Why Is Pashmina So Expensive?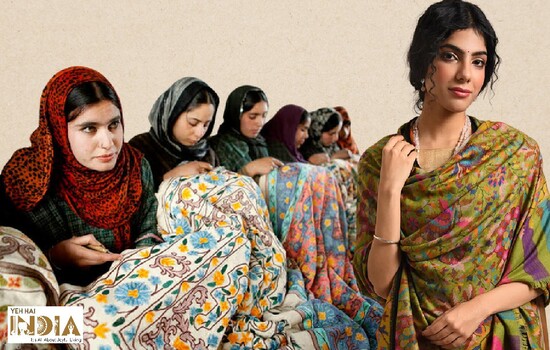 The price of original pashmina shawl depends on a number of factors. These factors are listed below:
1. Ply
The density of the fibre used to construct a shawl is referred to as ply. A single-ply Pashmina is made with a single strand of basic thread.
Fibre that is double twisted is referred to as double-ply or two-ply. Two-ply is more expensive because it provides more strength to the scarf.
A single-ply scarf is more delicate, transparent, and affordable than a two-ply scarf.
2. Yarn Count
Yarn count is a number that indicates how many metres of yarn may be spun per gram.
The thinner, smoother, and more valuable the scarf is, the higher the yarn count.
This sort of Pashmina would be more expensive because the finer the fibre, the more meticulously it is made.
3. Thickness of the Fibre
Pashmina loses its essence and so becomes less expensive if the fibre is thick. The more expensive the shawl becomes, the finer the fibre used.
Furthermore, it is thought that the finer the fibre, the warmer the shawl.
4. Weaving patterns
The price of a shawl is determined by how it is weaved. The most expensive weave is diamond weave, which is followed by twill weave and basket weave.
Care And Maintenance: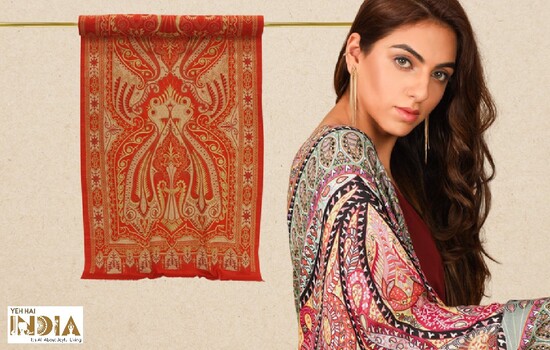 Pashmina should be dry cleaned with organic solvents whenever possible. It not only removes soil and stains from the cloth, but it also protects the garment's form, colour, and appearance.
If that isn't possible, hand-wash your Pashmina in a separate container/bucket/sink with cold water. You can use a light detergent like baby shampoo, but make sure it completely dissolves in the water before soaking your clothing in it.
Later, gently wash Pashmina item, paying special attention to the hand-woven trusses. Hang a Pashmina scarf to dry in the shade, away from high winds, and allow it to dry gently.
Heavier clothing can be rolled in a towel to absorb excess water before drying.
What makes Pashmina so precious?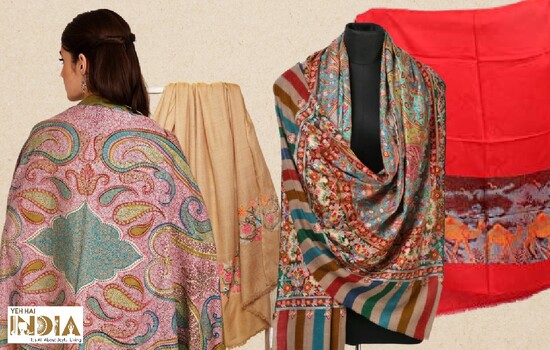 Unlike other wools, Pashmina is a natural insulator that is cool in the summers and warm in the winters which makes it a fashion statement that is not only sustainable but also can be worn on all seasons.
It takes approximately three goats to make one shawl. Moreover, 98 artisans and a whole day is spent to make 9 shawls.
Pashmina is non-absorbent and if worn, allows the sweat to evaporate quickly, leaving the shawl sweat-free and odor-free. The fabric is soft, weightless and very delicate. This makes Cashmere one of the finest luxuries.
It is also skin friendly and doesn't cause itchiness or any sort of irritation like in other woollen shawls or scarves and if properly cared for, pashmina shawls can last a lifetime.
It is believed that the Kashmiri brides were given their mother's shawls during their marriage. These shawls were known to be more than 30 years old, yet looked as agood as new ones.
In the past, many countries have attempted to imitate this art but failed. These shawls are made by weavers who have been weaving for years and have inherited their talent from their forefathers.
Floral borders, chinar leaves, and paisley are some of the examples of patterns used to make the designs, which are largely based on their memories of lakes,sunrises, and sunsets. Sozni, papier-mache, kalamkaari and aari are the most common types of needlework seen on Pashmina.
Don't let the price of a pure, handwoven Pashmina discourage you from buying this wonderful textile to look and feel your best.
Also Read – Hemp Clothing: Health Benefits of Clothes Crafted From Hemp Fibre!