Hemp fabric acts as a shield against harmful agents that put our bodies under the risk of infections and diseases.
Sustainable livelihood has pervaded across all spheres of life. From Ayurveda to daily clothing, organic, natural and eco-friendly products have entered the new vouge and are being incorporated into the lives of millions across the world.
This idea of sustainable living is now not just limited to medicine and preventive health products but has also transformed the clothing, fashion and textile sector!
Known for its natural, inherently organic and pest-resistant nature, 'Hemp-Fabric' is definitely something one should never fail to know about!
Widely popular for its source – the Cannabis sativa plant, the fabric combines immense qualities that are beneficial for not only individuals who wear it but is also perfectly eco-friendly.
Beyond having reputation for extraordinary tensile strength and heavy durability, the fabric is breathable, light-weight, protects you from UV rays and aids skin's ability to renew itself for maintaining optimum skin health.
Here are some health benefits that you may incur from clothes made of Hemp fibres.
Health Benefits Of Hemp Fabric:
1. Hemp is Anti-Bacterial and Pest Resistant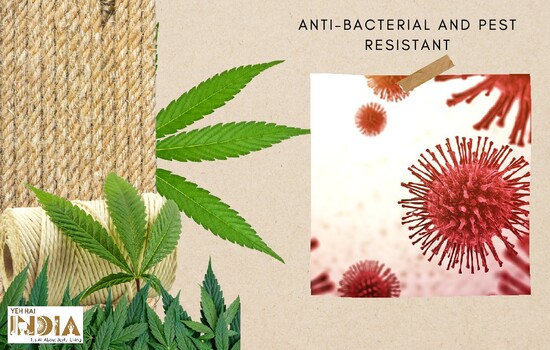 The Cannabis Sativa plant from which the fabric is sourced is naturally made pest-resistant and does not require any pesticides in its cultivation. This particularly unique feature helps ensure the fabric is free chemicals that are usually incorporated in the processing of other fabrics like denim.
Annabinoids, alkanoids and other bioactive natural compounds in hemp or phenolic compounds of lignin contribute to the anti-bacterial character of hemp fabric. These properties of clothing are particularly important for protecting sensitive areas of the body.
Hence, hemp fabric helps you generate lesser sweat and lesser odor and reduces your chances of skin infections while ensuring to keep you fresher for longer! 
Recommended Story – Hemp Fabric: Sustainable, Renewable and Eco-friendly For Your Lifestyle 
2. Hemp contains anti-oxidants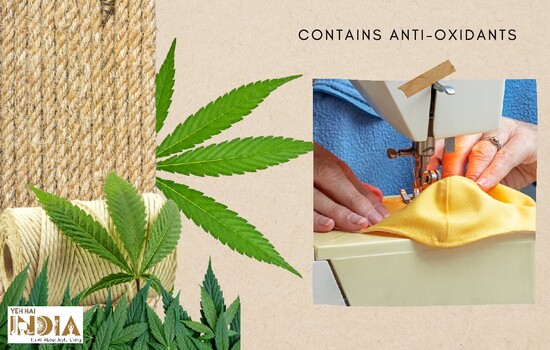 Hemp seeds and other parts of the plant is known to contain high amounts of anti-oxidants. Generally found in food substances and other medicinal supplements, anti-oxidants are man-made or natural substances that prevent cell damage.
The fabric contains mild oil that is though unnoticeable is super-beneficial for your skin. This also means that the fabric is extremely suggestive to those with sensitive skin or those who have rashes, acne or any other skin infections.
Hemp fabric helps you retain moisture and prevents skin conditions like eczema and psoriasis while simultaneously being pollution resistant.
3. Hemp grows without any chemicals and pesticides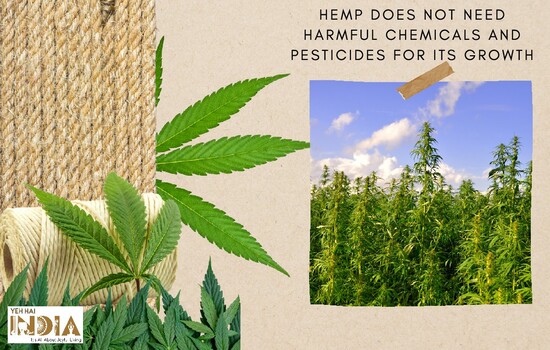 Another advantage of hemp clothing is that the plant grows like a weed. As a result, hemp is considered to be an organic fabric as it requires no fertilisers to grow, which keeps the soil cleaner to let the plant grow in an all organic atmosphere.
Hemp grows freely in such a way that there is no possibility of any kind of weed to take root in between or impact it's growth in any way.
Clothing made of hemp is completely pesticide-free, chemical-free, and fertilizer-free. The fibres are not only more hypoallergenic and gentler on the skin, but also help protect our soil, waterways, and groundwater from harmful pollutants.
4. Hemp protects against UV rays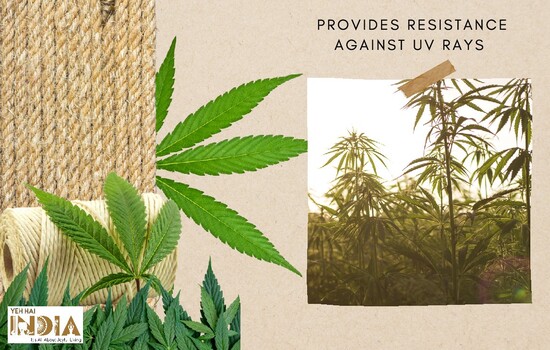 Hemp is one of the rarest natural and organic fabrics that claim to possess natural Sun Protection Factor (SPF) a UPF.
Ín short, the fabric serves as a natural sunscreen and protects your skin from any unwanted tan and other symptoms that follow upon direct exposure to Ultra violet rays.
Ultraviolet radiation or rays is a form of non-ionising radiation that is emitted by the sun and while it is beneficial to some extent mainly due to our bodies ability to manufacture vitamin D, overexposure to these rays can cause health risks like pre-mature aging of skin, immune system suppression or even melanoma.
According to SGS testing, the UPF property is known to be highly effective according to some sources in protecting skin for the UVA and UVB rays. This means that you can expect 50% more protection compared to regular natural and organic cotton garments.
5. Hemp Fabric combines Eco-design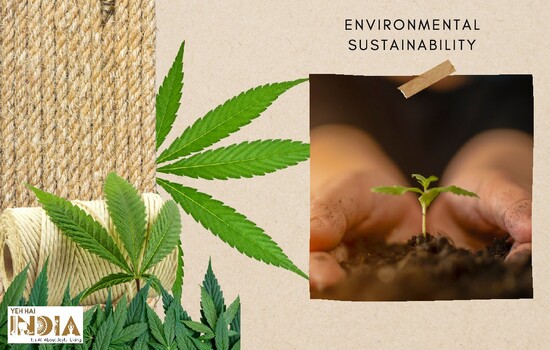 Environmentally sustainable design or eco-design is one of the core principles of sustainable fashion technology that incorporates methods and philosophy of product making without harming the environment.
In simple terms, the resources and materials used in developing the product do not include any elements that may harm the environment or any individual who incorporate or subscribe such product in their lifestyle.
Materials and the process of hemp making aligns and complies with this philosophy and this means:
Hemp fabric is ecological, recyclable, reusable, non-toxic and recoverable
It requires little energy, water or any other resource consumption in its making
Dimensions, shapes, colours of the clothing correspond to aesthetic function
Colour variants of hemp are not harmful to its users or environment
6. Hemp regulates body temperature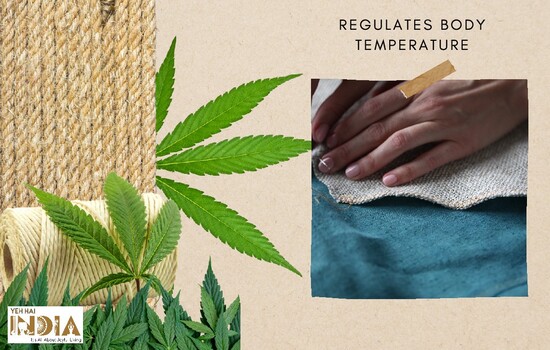 Hemp is a natural fabric with light weight properties that keeps you cool and warm regardless of the climate. The fabric is available in various forms that can serve the properties of both cotton and wool.
This particularly unique property of the fabric allows passage of air and perspiration from the skin to the atmosphere which regulates body temperature based on atmospheric conditions.
This ensures to keep sweat pores healthy, prevents accumulation of pollutants on skin and curbs the possibility of microbial attacks via skin pores.
Additionally, Hemp also contains thermal insulation properties that trap body heat which can be a great option for staying warm in winters.
Each strand of the hemp fiber is structured like tiny catacombs which means that the fabric is highly absorbent that sucks body heat to act as an insulator.  
Recommended Story – 10 Best Hemp startups in India
7. Hemp Fabric is soft and durable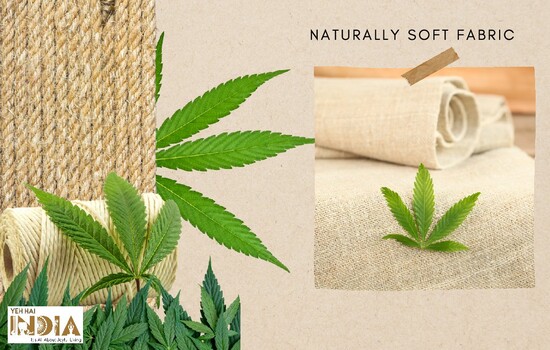 Most of us tend to carefully wash our soft clothes that give us comfort. Nevertheless, you can barely worry about hemp. Hemp fabrics are naturally very soft and with more washes, the fabric tends to become softer!
The fabric is not only strong and durable but also the knitting properties create sufficient space that ensure soft nature of the clothing. Hence, the more you wash hemp fabric the softer it tends to become.
Soft fabrics are breathable and maintains moisture on the skin. Hemp is extremely comfortable even in your gym or outdoor sports and maintains requisite diffusion of solidity and liquidity between the skin and clothing.
8. Hemp is mold and mildew resistant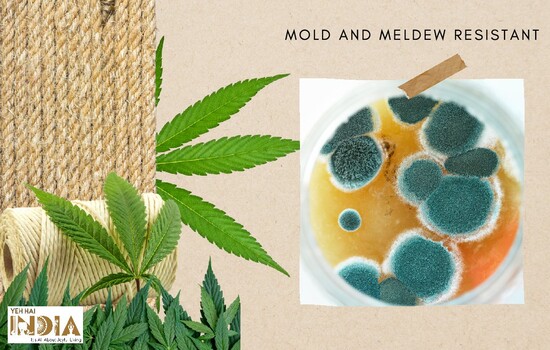 Another advantage of hemp clothing is its resistance to mold and mildew. This is especially useful in climates where hanging clothes to dry always leaves them smelling like eau de mildew. Mold and mildew in your clothes can be hazardous to your health, in addition to creating an unpleasant odour.
Mold is a type of fungi that lives and feeds off organic matter in moist conditions. Damp clothes left in your washer and stagnant water can cause infections if the mold is allowed to grow and the water is not changed frequently. Nevertheless, this might not be the case in Hemp!
Because hemp is resistant to mildew and mold, it was used to make the majority of rope, sails, and rigging on ships throughout the 19th century. In fact, the word canvas is thought to have originated from cannabis!
Make Hemp fabric a part of your daily wardrobe and allow your skin to benefit from its innumerable health effects.
Also Read – Ayurvastra: Clothing That Heals And Sustains Good Health