If you wish to escape the stresses that come with modern day living, Vipassana meditation centre is an ideal place to relax and unwind.
Vipassana Meditation is an ancient technique employed to clear the mind of depressing thoughts and negativities. This technique is one of the oldest practices in India dating back to over 2500 years.
The term Vipassana is loosely translated as 'insight', as the practice seeks insight into the true nature of reality.
Vipassana originated in the same time period when Buddhism was witnessing a rise in its popularity through widespread teachings of Gautama Buddha. Since then, the technique has been passed down through the generations solely between the teacher and their students.
As one of the most regulated techniques, this requires strict discipline and can be learned only from trained gurus at a 10-day long retreat. The gurus make special efforts to preserve the technique and prevent it from being commercialised.
Vipassana meditation retreats organised by these trained masters usually do not charge any fees and rely mostly on donations made by generous donors.
Vipassana meditation is a technique that trains you to be aware of reality and perceived reality.
It helps you keep your mind and body grounded and free of negativity. Attending a Vipassana technique improves your self-awareness and teaches you a clear perspective of the world.
Your mind can be at peace with this practice while simultaneously improving the quality of your life by leaps and bounds once you realise the power of control over your own mind.
The Vipassana movement came was introduced in the 20th century by Ledi Sayadaw and U. Vimala. The technique was popularised by S. N. Goenka, Mahasi Sayadaw and V. R. Dhiravamsa.
In the modern world, most of us are leading stressful lives with very little time left to calm our minds which greatly affects our well being.
This urgency to find solitude and peace has made practices like Vipassana and other meditation techniques desirable, especially in India since many of these originated here centuries ago.
India has a number of centres that provide 10-day Vipassana meditation training courses spread over all major cities like Delhi, Mumbai, Bangalore, Hyderabad, etc. In this article, we have curated a list of Vipassana centres located in India that have earned reputation for their impressive services.
All the centres in our list follow the same course structure related to Vipassana meditation. The only differences are in the accommodation, food and other amenities offered there.
In each of these centres, the training starts as early as 4.30 am and the routine is mandatory to be followed by everyone participating in the course.
Recommended Story – Top 10 Wellness Retreats and Spas in India:Relax & Rejuvenate
Some of these centres also offer their services to foreign guests with facilities that fit their needs. The ten day long retreats are conducted twice every month all through the year.
Here are some Vipassana Centres in India that offer a perfect break from your gruelling routines:
10 Vipassana Meditation Centres In India You Must Visit:
1. Dhamma Giri, Igatpuri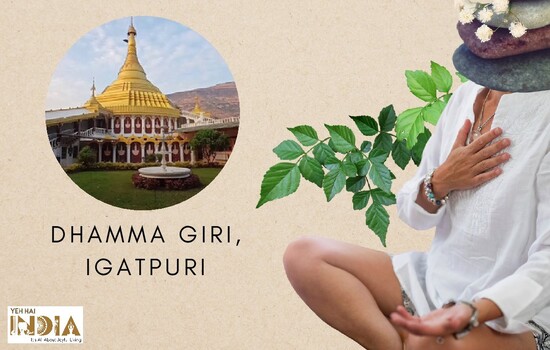 Dhamma Giri centre located in the Igatpuri town of Maharashtra is the largest Vipassana centre in the world. Established in the early 1970s, this centre has been playing a major role in spreading the technique of Vipassana to people from different countries.
Due to its immense popularity, the courses are fully-booked months before. Like the other centres, at Dhamma Giri, you get 10-day long courses twice every month throughout the year.
Contact Details:
Trust – Sayagyi U Ba Khin Memorial Trust
Reg. Address – Green House 2nd Floor Green Street Fort Mumbai-400023
General Enquiry: info.giri@vridhamma.org
+91-2553-244076, 244086, 244144, 244440, 243504, 8380017307
Whatsapp: +91 8956297219, +91 8956297220
(between 9:30 am – 5:30 pm IST, Monday – Saturday)
Course Application Enquiry: 022-50505051
Website: https://giri.vridhamma.org/ 
2. Dhamma Pattana, Mumbai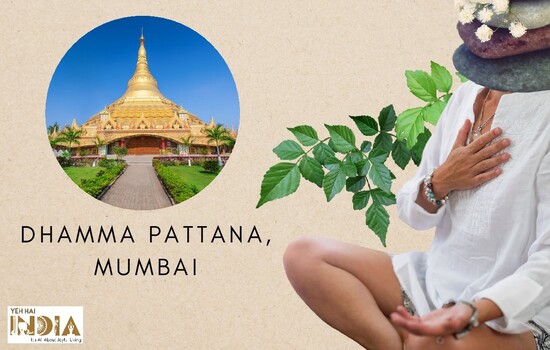 The centre is located on a hill that comes with intoxicating views of the Gorai beach and its town. Dhamma Pattana also caters to business executives from across the country and is equipped with all facilities along with accommodation for an immersive experience
The Executive courses are structured to include students from similar professions and help them handle their work pressure better.
Contact Details:
Address: Dhamma Pattana Vipassana Centre
Inside Global Vipassana Pagoda Campus
Next to Esselworld, Gorai Village,
Borivali (West), Mumbai 400091
Registration Office:
Mobile: +91 82918 94650
Tel: +91 (22) 50427518
(Mon-Sat, 10:00 AM – 5:00 PM only)
Email: info@pattana.dhamma.org
Website: pattana.dhammaDotorg
3. Dhamma Sikhara, Dharamasala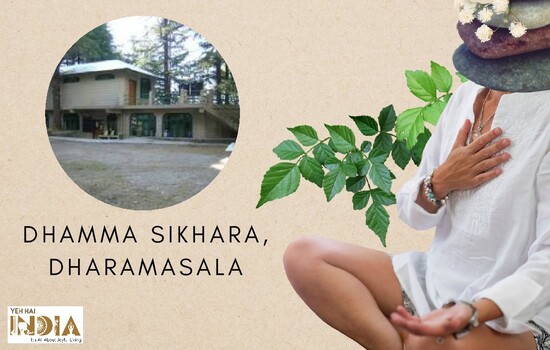 Dhamma Sikhara is one of the most serene Vipassana meditation centres situated in the beautiful city of Dharmasala located in the Himalayan foothills.
The name Dhamma Sikhara means the 'Peak of Dhamma',rightly named as it stands above McLeod Ganj on a huge spread of cedar and deodar forests.
This centre enrolls only 90 students per course and conducts two 10-day courses every month between April and November.
Contact Details:
Address: Himachal Vipassana Centre -Dhamma Sikhara
McLeodganj; Dharamsala 176 219
Dist. Kangra; Himachal Pradesh
India
Email: info@sikhara.dhamma.org
Mobile: +91 92185 14051 (Registration over the phone between 4 pm and 5 pm)
 Website: www.sikhara.dhamma.org
4. Dhamma Thali, Jaipur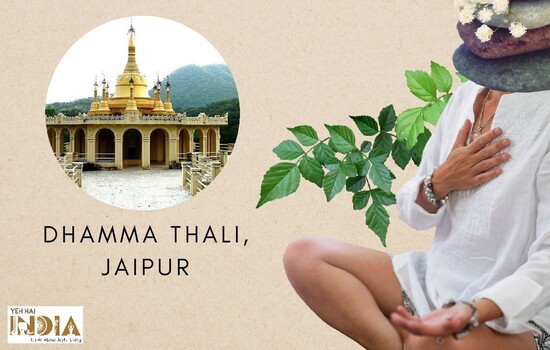 Dhamma Thali in Jaipur offers meditation courses in various languages for both beginners and advanced students willing to get the benefits of Vipassana meditation.
This centre is the second-largest in India after the Igatpuri, and also one of the oldest Vipassana centres in India.
Built in front of the Aravalli Hills in the late 1970s,this retreat has plenty of space to host around 200 students at a time.
Contact Details:
Phone: +91-141-2177446, +91-9610401401, +91-9930117187
Address: Dhamma Thali
via Sisodiya Rani Baug, Ghat ke Balaji
just ½ a k.m. before Galtaji Temple
Jaipur – 302027
Rajasthan, India
Website: www.thali.dhamma.org
5. Dhamma Bodhi, Bodh Gaya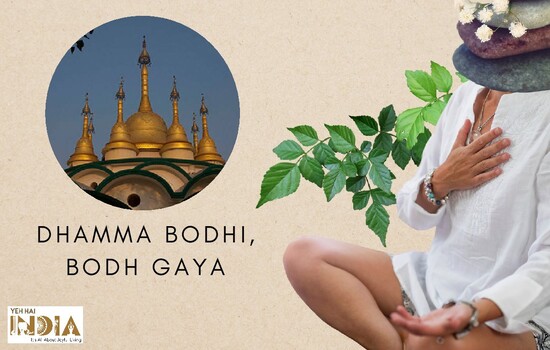 If Buddha can find enlightenment in Bodh Gaya, what can be a more perfect place for Vipassana meditation!
Situated near Magadh University, this centre houses up to 80 students during the 10-day Vipassana course conducted all through the year.
Dhamma Bodhi has several cottages spread over a large area surrounded by green fields for accommodating its students.
Contact Details:
Address: Dhamma Bodhi
Bodhgaya International Vipassana Meditation Center
Gaya-Dobhi Road, Near Magadh University,
Bodhgaya, Bihar, India.
Pin: 824 234
Phone: +91 99559 11556 (Between 10 AM – 1 PM & 2 PM – 5 PM IST)
E-mail:
info@bodhi.dhamma.org
dhammabodhicentre@gmail.com
Website: www.bodhi.dhamma.org
6. Dhamma Dhaja, Hoshiarpur, Punjab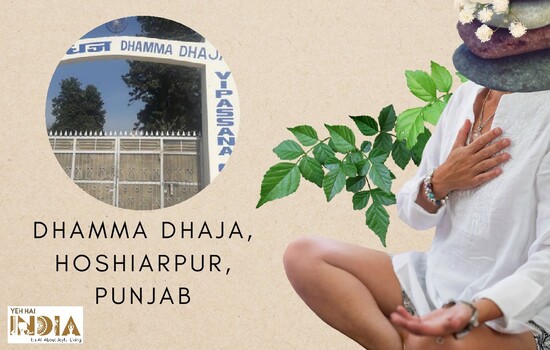 The Dhamma Dhaja Vipassana centre sitting in the foothills of Shivalik Mountains often takes students from Dhamma Sikhara centre to teach them with skills to find balance in their lives..
In this centre, the advanced level practitioners and previous students get advanced level courses to fine tune their skills as an instructor.
Contact Details:
Address: Hoshiarpur Vipassana Centre
Dhamma Dhaja
Punjab Vipassana Trust
Anandgadh village; Post Melawali;
Dist. Hoshiarpur 146110;
Punjab, India.
Phone: [91] (01882)272 333, 240 202, +91 94651-43488
E-Mail: info@dhaja.dhamma.org
Website: www.dhaja.dhamma.org
7. Dhamma Setu, Chennai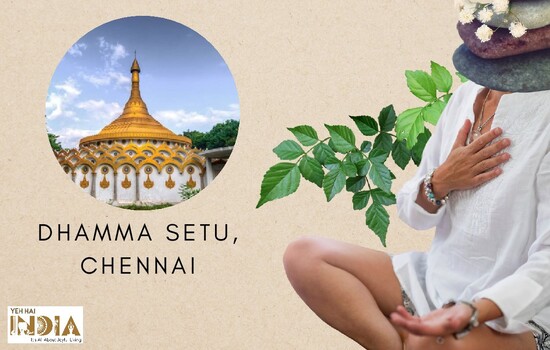 Dhamma Setu centre situated outside Chennai in Tamil Nadu was established in the year 2005. This is one of the biggest centres with accommodations for around 400 students.
Dharma Setu offers both full-time courses for adults and specially tailored courses for kids. They have a three-tier pagoda and Dhamma halls for meditation and also one centre that offers courses of longer duration.
The students who are experienced in the Vipassana technique can enrol for the 20 or 30-day courses here to learn advanced level meditation skills.
Contact Details:
Address: Vipassana Meditation Centre,
'Dhamma Setu'
533 Pazhanthandalam Road,
Thirumudivakkam (Via Thiruneermalai),
Chennai – 600 044.
India.
Phone: 7550034777
Website: www.setu.dhamma.org
8. Dhamma Sota, Haryana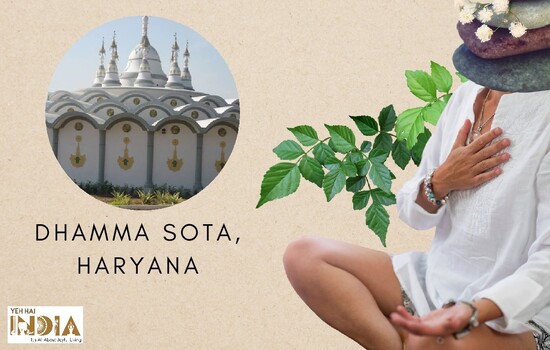 Dhamma Sota is in Rahaka, a village in Haryana, built on the lands of Aravalli Hills. Once you arrive in this serene Vipassana destination, you can rid your mind of all the worries and slip into the daily meditation routines all without any obstructions you find in cities.
Established in 2000, the Sota centre can host around 128 members in total for its bi-monthly 10-day course. The courses are offered in 2 languages to everyone.
Contact Details:
Phone: +91 (11) 26452772, 46585455
Address: Vipassana Sadhana Sansthan
Room No. 1015, 10th Floor,
Hemkunt Tower (Modi Tower)
98, Nehru Place,
New Delhi – 110 019,
India.
Website: www.dhamma.org/en/schedules/schsota
9. Dhamma Pushkar, Ajmer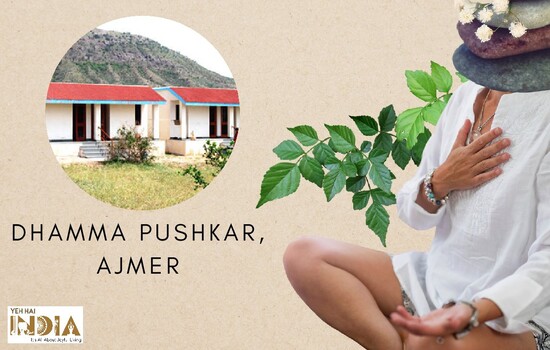 Dhamma Pushkar in Ajmer is run by the Vipassana Kendra Pushkar Trust with views of the gorgeous Aravalli Hills and serene Pushkar Lake.
This centre may not be one of the biggest Vipassana centres but it conducts some of the best Vipassana courses in the country. This place is particularly great for visitors flowing in Rajasthan during the annual Pushkar fair organised in the month of November.
Its meditation hall can hold up to 120 meditators together and also in-house residences for about 60 members.
Contact Details:
Phone: +91-145-2780570, +91 94133 07570
Address: Dhamma Pushkar,
Vipassana Meditation Centre,
Village Rewat (Kadel) – 305031,
Distt. Ajmer (Rajasthan),
India.
Website: www.pushkar.dhamma.org
10. Dhamma Karunika, Haryana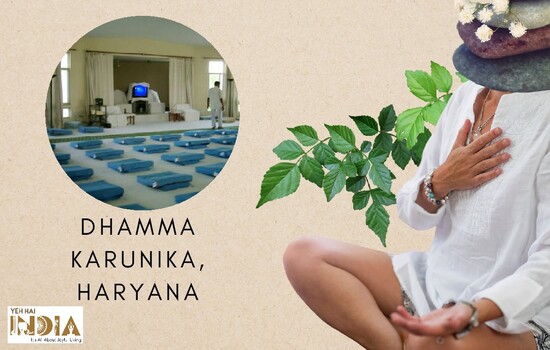 Dhamma Karunika located in the village of Neval in Kunjpura in Haryana covers over 7 acres of land. The village atmosphere allows the visitors the best opportunity to connect with their inner selves and achieve a balanced perspectives towards life.
It offers 10-day courses twice a month beginning on the 2nd and 4th Wednesday every month along with 3-day and 1-day courses organised periodically.
Contact Details:
It also offers housing for about 88 students during the course period.
Address: Karnal Vipassana Centre – Dhamma Karunika
Near Sainik School,
Kunjpura,
Karnal-132 001,
Haryana,
India.
Phone: +91 (0184) 225-7543
Website: https://karunika.dhamma.org/  
Take a break from the maddening city life and find refuge in Vipassana meditation to bring positivity into your life.
Also Read – 10 Best Spas And Wellness Retreats In Delhi