Malabar cuisine boasts of an interesting menu that consists of a variety of coastal vegetarian and non-vegetarian dishes.
The cuisine of Kerala is as unique as the people and the landforms they live in. The Malabar Coast, flanked by the Western Ghats and the Arabian Sea, is popular for its flavourful cuisine that includes a wide variety of vegetarian and non-vegetarian dishes.
Like other south Indian states, the Malabar cuisine best represents the land, people and culture of Kerala. It is distinctive in its aroma, taste and spices involved in the preparation of these dishes.
Malabar seafood is world famous and their curries are rich and creamy and usually made with coconut milk or paste as a base. Malabar delicacies make you taste the coastal air and transport you straight to the coasts of Kerala.
The modern Malabar cuisine also has influences from the Portuguese, Mappila, Nasrani and other cuisines.
There are many festivals where one can sample the depth of the cuisine and be a witness to the ancient food preparation techniques that are fast replacing modern techniques. One such festival is Onam Sadhya, a vegetarian feast that includes around 20 different dishes of curries, vegetables, rice and desserts.
The feast is served on occasions of Vishu, Onam and other celebrations also. Wherever you go in Kerala, you'll find coconut in almost every dish. This is mainly because Kerala grows coconuts in abundance along with rice, fruits and vegetables like tapioca, raw bananas, etc.
Kerala also has a booming fishing industry along its coast, thus making seafood an essential part of their cuisine. Apart from seafood, Malabar cuisine also includes chicken, mutton and beef in their dishes. Some beef and chicken dishes from this cuisine are renowned by food connoisseurs across the globe.
Malabar cuisine has some tasty and filling breakfast dishes too like idli, dosa, appam, idiyappam, puttu and pathiri made out of rice. It is needless to say that Kerala, the Land of Spices, makes the best use of their spices liberally in its curries.
These richly flavourful curries are made with spices such as black pepper, cardamom, clove, ginger, and cinnamon and served with rice, rotis or parottas, another popular dish in Kerala made out of flour, rolled in layers and cooked on tawa similar to chapatis.
For travellers and tourists visiting Kerala, we have curated some of the traditional Malabar recipes that should not be missed.
10 Delicacies from Malabar Cuisine Worth Trying:
1. Malabar Fish Curry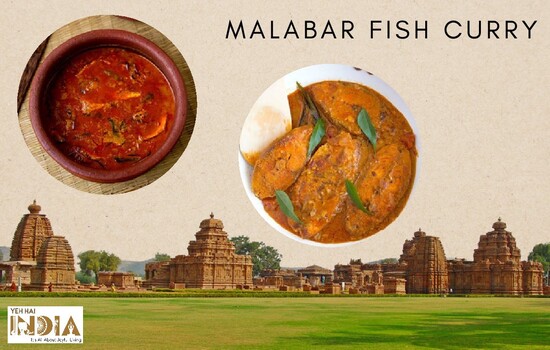 It is a coconut-based fish curry prepared with chillies, coriander, mustard, curry leaves and onions. The gravy is smooth and creamy because of the paste made of coconut and spices.
The use of spices in the curry adds a wonderful spike to the fish when served with hot, steamed rice.
Recommended Story – 10 Famous Dishes From Lucknow You Must Try
2. Malabar Parotta with Kerala Beef Curry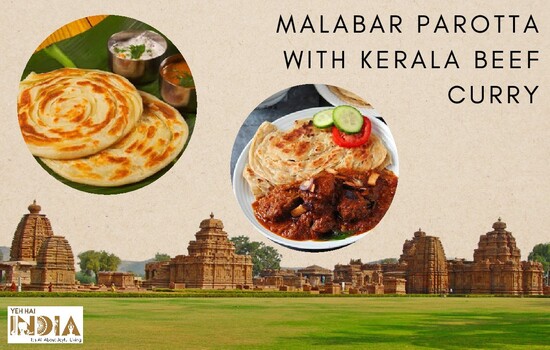 Parotta is a layered flat bread made out of plain flour kneaded with water, oil or ghee. The kneaded dough is divided into round balls which are rolled out flat into thin rotis .
These round discs are then pleated together and turned into spirals which are rolled out again to make the final parotta. These parottas are cooked on a tawa.
The parottas are soft, and fluffy and are served with Kerala beef curry. The curry is cooked in coconut oil with beef pieces cooked with onions, tomatoes, garlic, ginger and spices like bay leaves, cinnamon, black peppercorns, star anise and cardamom. The curry is on the higher end of the scale of spiciness.
3. Puttu and Kadala Curry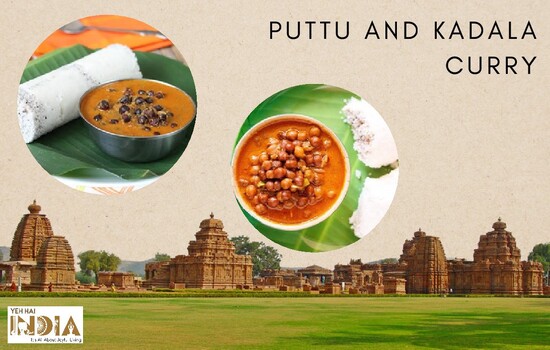 Puttu is a breakfast staple in all the households of the state that is made out of ground rice that is steamed along with grated coconut. It is eaten with ghee, sugar and ripe bananas for those who prefer it sweet or with a chickpea curry.
The chickpea curry or Kadala curry, as it is known locally, is a mildly spiced curry made with black chickpeas, shallots, tomatoes, red chilli powder and cooked in coconut milk.
4. Appam with Stew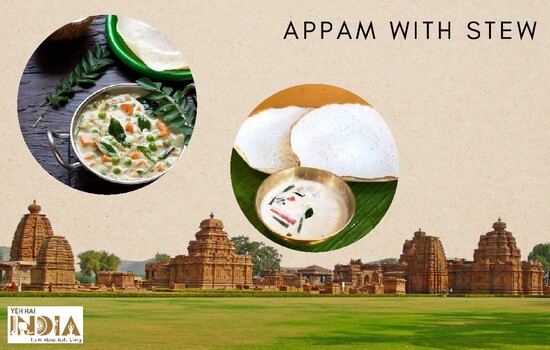 Appam is a famous South Indian dish made from a fermented batter of rice and coconut milk. The batter is poured onto a hot bowl-shaped pan and cooked in steam without flipping it.
Once it is done, the upside is soft while the bottom part is slightly crispy at the edges. Appam is served with sweetened coconut milk or a spicy vegetable/ chicken/ lamb stew.
For a vegetable stew, potatoes, carrots, beans, and mango pieces (if preferred) are cooked in coconut milk, with shallots, chillies, cinnamon, cloves, ginger and other aromatic spices.
In the case of a non-vegetarian stew, lamb or chicken is usually preferred and cooked to tenderness. The stew, vegetarian or non-vegetarian has a slight sweetness to it and is only mildly hot compared to the other traditional Kerala curries.
5. Karimeen Polichathu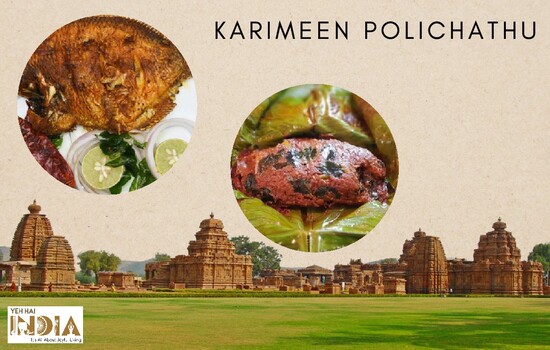 Karimeen or pearl spot fish is a speckled fish found in Kerala's backwaters. This traditional Syrian Christian delicacy has now become a signature Malabar dish due to its popularity even among people from out of the state.
Karimeen Polichathu is a steamed fish dish that is made by marinating the fish in a mixture of red chillies, lemon juice and other preferred spices.
The marinated fish is then wrapped in plantain leaves. These wraps are then placed on a plate in a closed vessel filled with hot water in the bottom and baked in steam. The aroma from the leaves infuses into the fish and gives it a unique flavour. The dish is served hot, as it is, packed in leaves.
6. Erissery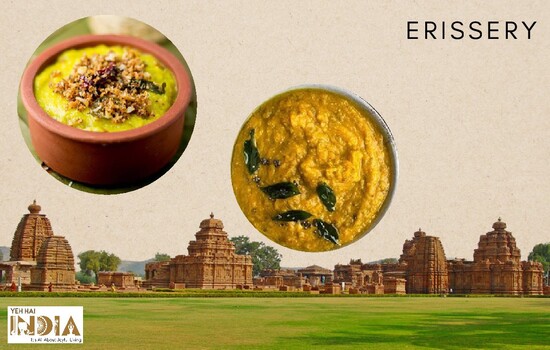 Erissery is a popular curry served as a part of the full-course Sadhya meal on Onam.
It is prepared with raw plantains or yams along with red pumpkins which are boiled in water mixed with dried lentils, grated coconut, cumin, garlic, turmeric, chillies and black peppercorns.
Erissery tastes slightly sweet due to the addition of red pumpkins and coconut and is served with a bed of rice.
7. Thalassery Biryani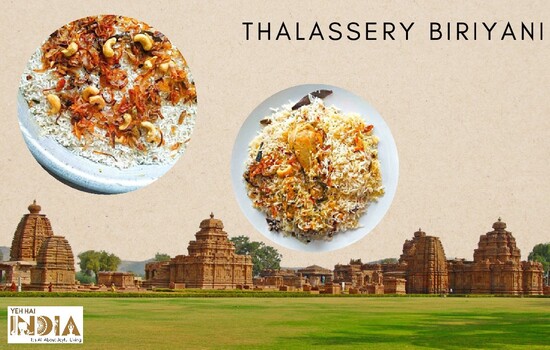 Biryani is a traditional dish prepared commonly in the Muslim community. It is also a very widely enjoyed rice dish in all the Southern states of India. Thalassery biryani is a special recipe that differs from other methods of preparation usually followed in other regions.
The first distinctive feature of a Thalassery biriyani is the type of rice used – kaima, thin and small-grained rice that has a unique fragrance. The biriyani masala is extremely aromatic and loaded with all kinds of spices, along with onions, meat or vegetables as preferred.
This masala and the steamed rice are arranged in layers in a pot which is then closed with a lid before sealing it with a roll of dough. The biryani is allowed to remain warm with hot coal pieces placed on top of the lid.
8. Pazham Pori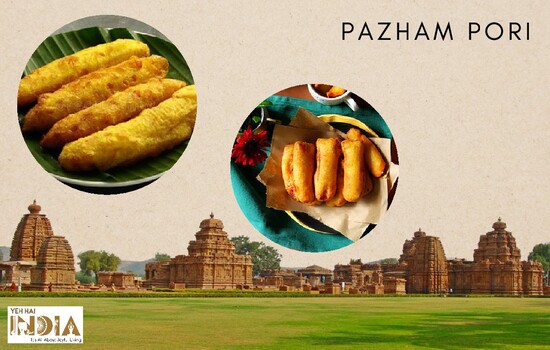 Pazham Pori is an evening snack served along with tea. These are basically fritters made out of ripe bananas.
The bananas are coated in besan flour batter and deep-fried in hot oil. The sweetness from the bananas inside provides a contrasting taste from the taste of the fried batter that is very mildly hot.
You can find Pazham pori or Ethakka appam in all regions of the state.
9. Ghee Rice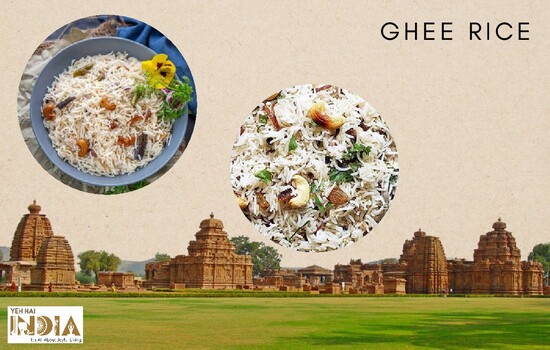 Ghee rice is another rice dish that is commonly prepared along the Malabar Coast. The rice is cooked in a paste of chillies, ginger, garlic, bay leaves, cloves, cardamom, curry leaves and onions.
It may sometimes include a dash of coconut milk also to enhance the flavour. Once cooked, the rice is topped with caramelised onions or fried onions along with dry fruits.
Ghee rice is usually served with traditional Malabar Chicken curry or Prawn curry. The Malabari Prawn curry is unique as it includes coconut, tamarind and jaggery along with other spices in its recipe.
Whereas, the Malabari Chicken curry is a hot dish with chicken pieces cooked in coconut oil along with onions, red chillies, green chillies, coriander, ginger, garlic and a lot of other aromatic spices.
10. Kappa Puzhukku with Mulakku Chammanthi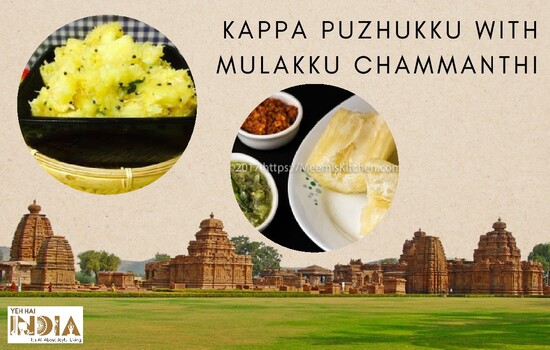 Kappa or Tapioca Puzhukku is a classic Malabar dish made out of mashed tapioca. This is a very humble dish but a surprisingly delicious one. Boiled and mashed tapioca is combined with a mixture of mustard, chillies, onions, coconut, red or green chillies, curry leaves and turmeric that are sautéed in coconut oil.
Once all these are mixed together into one semi-smooth, semi-lumpy mixture, the dish is served with a Fish Curry or a chilli chutney, also called Mulakku Chammanthi.
Mulakku Chammanthi is nothing but a red chilli paste made from red chillies, shallots, turmeric powder, red chilli powder and tamarind. It is a very spicy chutney that goes amazingly well with the Kappa Puzhukku. This combo is served in most tea shops as an early evening meal or a morning meal.
Let the flavours of this delectable coastal cuisine take you on a journey into the culinary history of Kerala.
Also Read – 10 Dishes of Andhra Pradesh You Must Try