Indian brides look no less than a princess on their wedding day, thanks to the traditional India wedding jewellery and royal India attire.
However, the South Indian wedding ensemble stands out with its kanjivaram saree, gold embroidered blouse, unique south Indian wedding jewellery, and hair adorned with flowers.
Are you a would-be modern South Indian bride who wants to keep it traditional with a hint of modernity retained in your persona? To create a distinctive bridal avatar, you can style yourself with trendy yet classical bridal jewelries.
If you're a soon-to-be bride wishing to add a dash of mystery in your wedding look, check out these Jewelries from South India to be inspired in creating a brand new look for your wedding day.
11 Famous South Indian Jewelleries For Brides:
1. Diamond Jewellery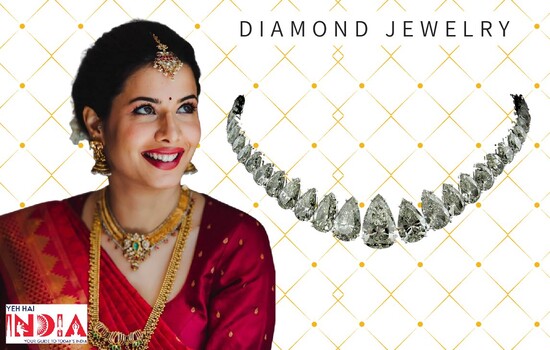 "Diamonds are forever", therefore wearing Indian diamond jewellery would be a perfect gesture to make on your wedding day when you make the promise of staying together forever.
One amazing aspect (among many) of diamond jewellery is that it complements all kinds of bridal attires. And diamonds look incredible in all types of jewellery designs, including Indian bridal necklaces, engagement rings, or earrings.
Recommended Story – Bridal Bangles of 2021: Let Your Bangles Do The Talking!
2. Antique Gold Jewellery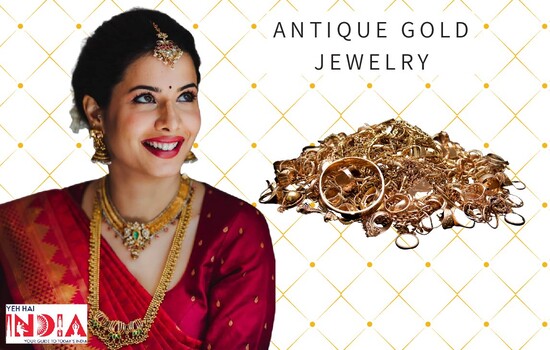 A south Indian wedding is incomplete without antique gold jewellery. Gold is considered auspicious and a sign of prosperity.
Nakshi and Kundan are the most prominent forms of South Indian wedding jewellery. Many popular design options for jewelries like gund malas, vankis, waist belts, haathphool, and maang tikkas are available in antique gold material.
3. Nakshi Temple Jewellery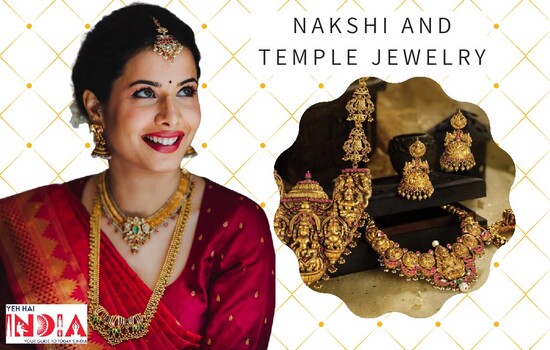 Here comes the luxurious South Indian temple wedding jewellery. It originated in an era when temple weddings were prevalent in South India.
Therefore this jewellery gives a classic undertone to your overall wedding look. Temple jewellery in Nakshi art prominently consists of gemstone studded Lakshmi & Ganesh pendants, jhumkas, nakshi beads, armbands, etc.
4. Polki Diamond Jewellery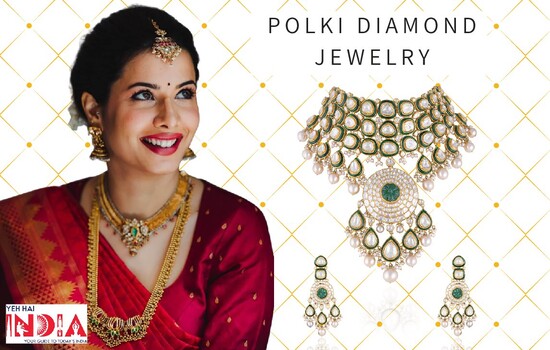 You will find royalty to be a common factor in all Indian bridal jewelleries. Polki diamond jewellery is no exception. It is made of natural unfinished diamonds.
Mughals introduced polki diamond jewellery to the world, and it gradually made its way into traditional South Indian wedding jewellery. It is famous for its splendid bridal necklaces and chokers.
5. Mango Mala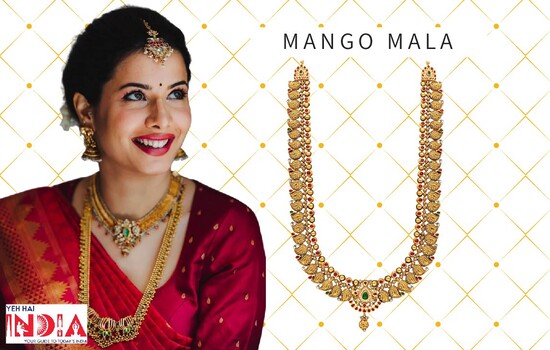 Mango mala is exclusively worn at weddings and big celebrations in South India. Its specialty is that you get them in both lightweight and heavily embellished forms.
Therefore you can pair them either with a kanjeevaram saree or a regular traditional dress. The pendants of these malas are shaped like a mango and studded with rubies and pearls.
6. Pacchi Jewellery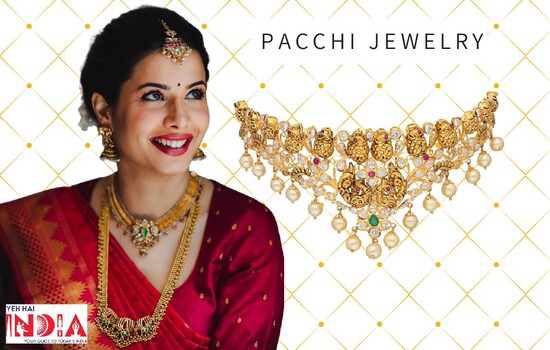 Pacchi jewellery is handcrafted with glass stones, pearls, and coloured Pacchi leaves. A lot of detailing goes into creating Pacchi jewellery, which originated from Jaipur.
It gives a unique three-dimensional look. That's why it is one of the must have jewelries for modern South Indian brides.
Recommended Story – Places To Buy Jewellery In India: Online Stores and Offline Markets
7. Kasulaperu Jewellery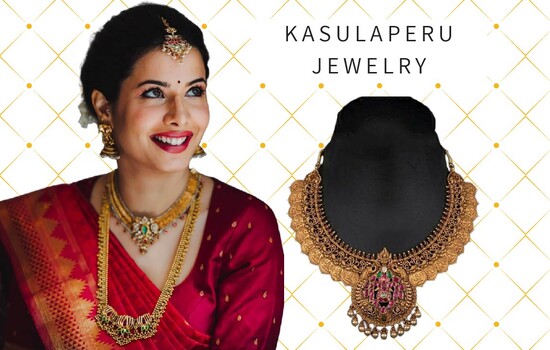 This timeless South Indian wedding jewellery is made from coins designed with embossed art. You can get it in either dull or shiny finishes.
It depends on your taste and choice of wedding attire. Kasulaperu jewellery is also known as kashu haaram, and it originated from Kerala. Designer kasumalas are widely known as the signature piece of kasulaperu jewellery.
8. Guttapusalu Haaram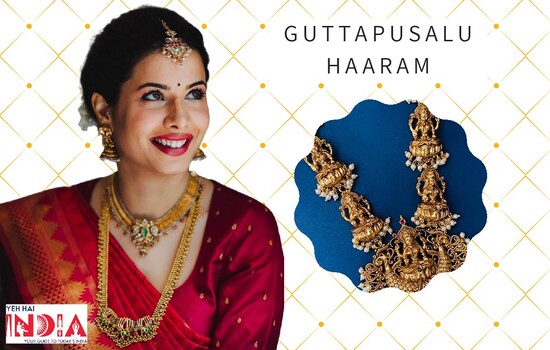 Guttapusalu haaram is a necklace with an antique gold chain adorned with tiny pearls, rubies, kundan, and emeralds. It looks graceful and unique.
Therefore it is the most preferred Indian bridal necklace. You can also get a reversible necklace with an astonishing design on either side.
9. Vanki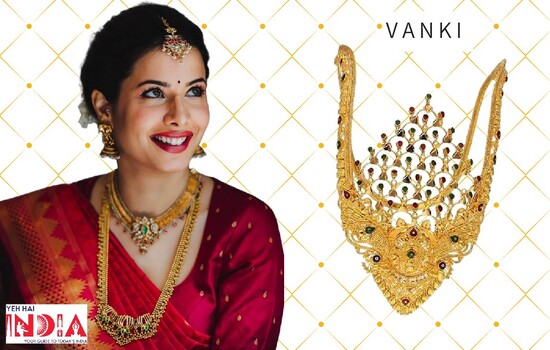 Vanki is an armlet with a V-shaped twist. It is usually made with rubies, gold, and diamonds. Images of peacocks, serpents, elephants, or goddesses are mainly found on this splendid piece of jewellery.
Emeralds are also used to beautify the top half of Vanki. Every South Indian bride wears Vanki at weddings, social and religious functions with pride.
10. Vaddanam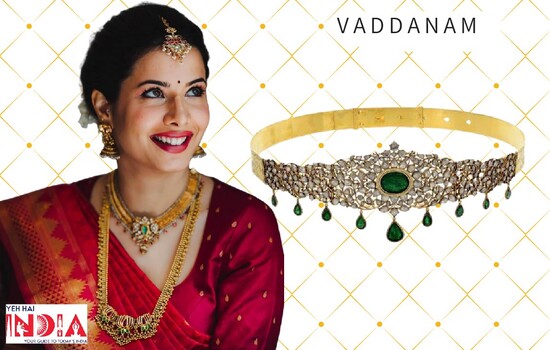 Vaddanam or Kamarband highlights the beauty of the waist in a saree or lehenga. Conventional Vaddanams can be seen distinctively with goddess Lakshmi's impression etched in the middle of the band.
With the modernization of South Indian wedding jewellery, you will find a variety of designs and different metals crafted into contemporary kamarbands, another name of vaddanam.
11. Kadas
South Indian bridal jewellery can't be complete without the bride wearing green and red bangles with Kadas, also known as a bale, valayal, and gajju.
Large Kadas are made of gold and carved with diamonds, emeralds, and other precious stones. Brides wear these on the D day. Thinner Kadas with a simple design are suitable for pre-wedding occasions.
Conclusion: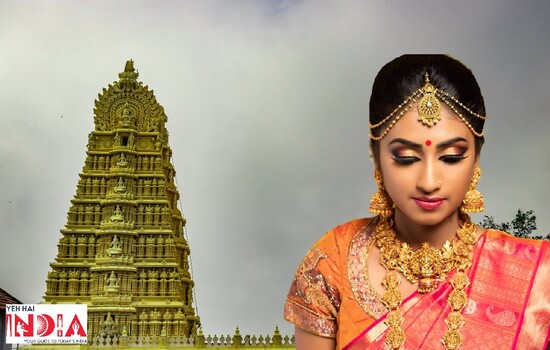 These jewelleries from South India are sure to leave a mark on this special occasion in a bride's life. In fact, some jewelries like Jhumkas, mathapatti, nose rings, anklets, and more can make you look like a goddess.
And you get the opportunity to flaunt them not only on your wedding day but also during pre-wedding and post-wedding festivities.
Remember to flash your bright smile with these sparkles and enjoy every bit of this special occasion of your life as an Indian bride!
Also Read – Best Bridal Makeup Artists in India