For starters you would assume – why are we talking about BANGLES? It's just an ornament, right?
But its only during wedding season when we realise how essential bangles are while wearing Indian ethnic wear!
Bangles often signify the marital status of women. A bridal look is incomplete without bangles, both for cosmetic and religious reasons.
The bridal bangle is a part of the 16 components called "solah shringar" which constitutes the various beautifying items that form the complete look of the bride.
These days it is common for brides to try out styles from different regions or experiment with contemporary designs and colors. You can choose anything from Marathi to Punjabi style bangle sets or mix and match in your way. For example, you may wish to pair up some Punjabi danglers with pearl kada and silver bangles! There's no dearth of options when you're ready to be creative! Here, we have enlisted some of the most beautiful bridal bangles sets that you should give a try:
1.Customized Bangles With Names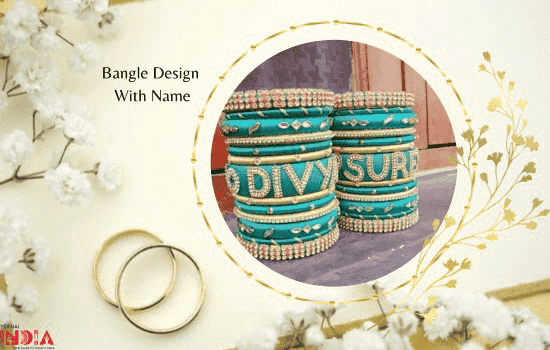 Custom-made jewellery is the trend in 2021 and one of the popular things among these trends is the use of your name to personalize the jewellery. The wedding world is witnessing many bangles with names on them.
Many people prefer to have the names of themselves and their part engraved on the chura and some people like to have the special collaborative couple name on it. These bangles are often paired up with matching coloured bangles and some thick kadas with elaborate details on them.
Recommended Story – Where To Buy Indian Bangles Online
2. Traditional Golden/Red Bangles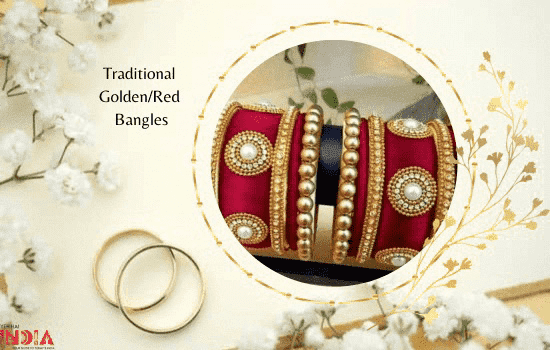 Gold is thought to be auspicious in weddings and golden work is part of many lehengas which brings out the ethnic beauty of these traditional wedding outfits. Gold bangles are perfect if you want to stay away from experimenting.
The golden bangles look especially gorgeous with lehengas having golden work on them and with elegant coloured outfits like classic red, dark pink, dark violet, green, navy blue, etc. If you are wearing a traditional red lehenga with golden work in it then you may also wear the golden bangles with red ones.
After all, what's better than the combination of classic and auspicious gold and red at an Indian wedding?
3. Crystal Bangles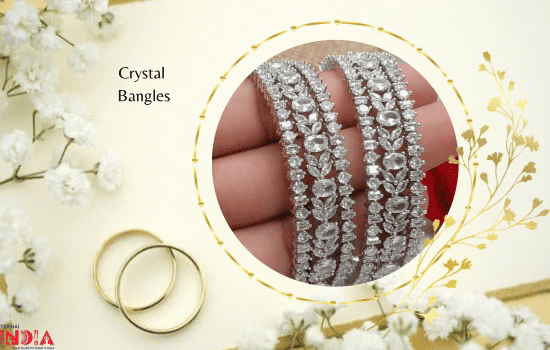 A classic – and something with which you just cant go wrong! You don't have to worry about colour combinations with this one- as these go with all colour. You could even pair them with other distinctly designed colourful crystal bangles to create an interesting contemporary set that is sure to make a statement.
4. White Bengali Bangles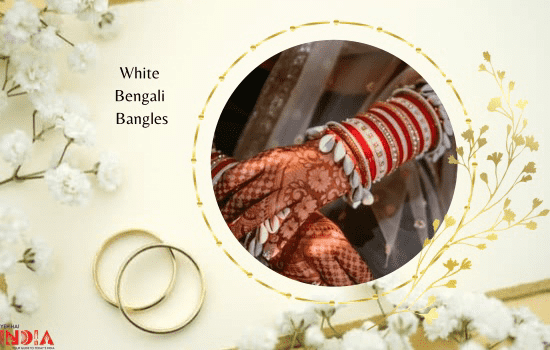 White bangles are an eminent part of a married Bengali women's attire. Nowadays these traditional bangles are designed in many other ways such as – being studded with stones, pearls, or diamonds and sometimes also come in a variety of beautiful goldwork that can form a part of your bridal bangle set.
You have to choose the type of white bangles depending on the colour and look of your lehenga. If you are rocking a traditional red and golden lehenga, then you may go for white bangles with gold work. However, if you want to be experimental go for a more contemporary design of artificial stones work on these bangles.
5. Kundan Bridal Bangle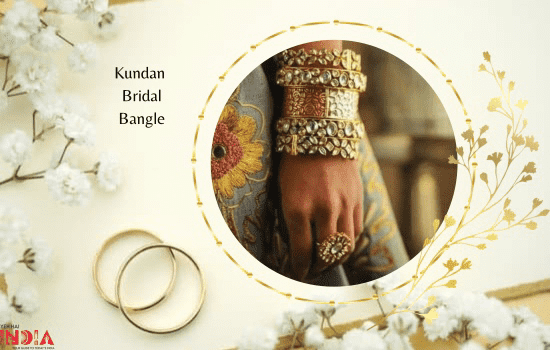 Chunkier than normal bangles- these are for those who want to ditch the I'm-wearing-a -gazillion-bangles look! Kundan sets are very common in modern wedding attires and you can always get beautiful jewelry pieces matching with your lehenga if you opt for Kundan bridal bangles. It might cost a little higher but the statement factor and glamour of it makes it worth your money. 
Recommended Story – Types of Indian Bangles
6. Punjabi Bangles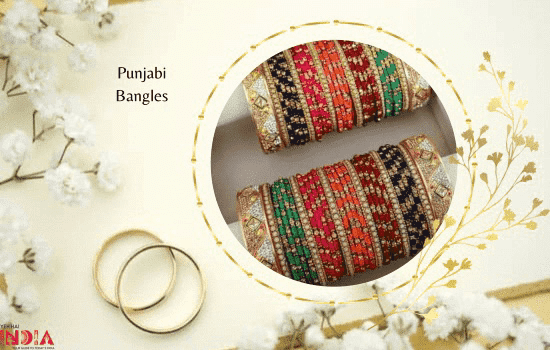 A traditional Punjabi bangle set consists of white and red bridal bangles arranged in a specific order in which the white colour bangle is thicker than the red coloured bangles. The Punjabi bangle sets also have danglers which are beautifully designed extensions that hang from the hands of the bride.
There's an interesting ritual around the danglers- According to tradition, the bride places these danglers over the head of another female as a wish for her to be married next. This traditional piece of jewellery has become common as a wedding accessory in other states as well. These danglers can be an elegant component of your wedding ensemble. You can choose the colour of your bangles according to the colour of the lehenga.
7. Marathi Green and Golden Bangles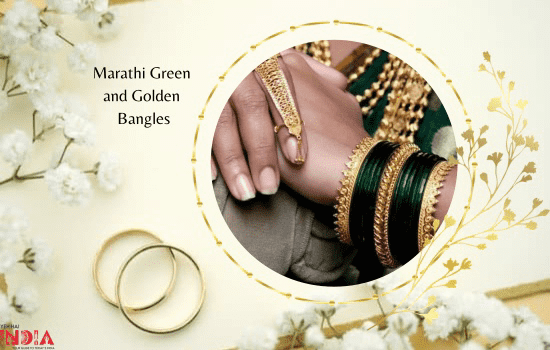 The traditional Marathi bangle set includes elaborate golden bangles paired with vibrant dark green bangles.
The look is enhanced if you've put on medendi (henna) and is thus a must-have in your bridal bangle shopping list. The simplicity of the bangle design with the vibrant combination of colours makes it a perfect bridal bangle choice for occasions like engagement and mehndi.
8. Marwadi Bangles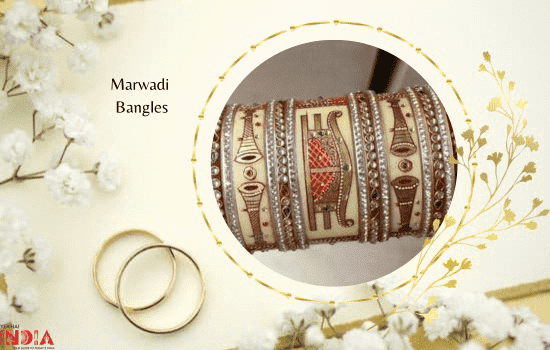 Famously worn by Rajasthani folks- the Marwadi bangles consist of a beautiful set of shimmery bangles along with a beautiful set of kadas It looks ethereal with any bridal lehenga. You could even try out some exquisite styles like bridal bangles which have glittering golden beads.
9. Statement Kadas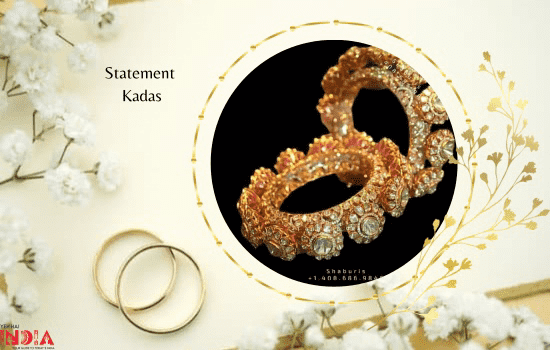 Kadas are often included in the bangle set but you can go for extravagant kadas for a unique and glamorous look. It has to match your bangle set and have detailed motifs, stone, or golden work to make a statement. Arrange the bangles with the kadas in the center of the set and you are sure to grab all the attention.
However, you can also choose to wear the Kadas as is – a more minimalistic look perhaps?
10. Pearl Bangles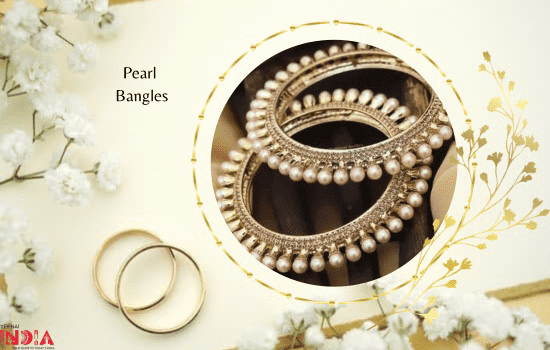 Since Anushka Sharma's wedding back in 2017, the pastel bridal look has gone mainstream and brides have become more open to experiments. Nowadays, many brides are experimenting with lighter colours for a wedding look.
Pearl jewellery goes really well with these light coloured outfits. You can mix pearl bangles with traditional kadas and match them with other pearl jewellery like necklaces, finger rings, earrings and maang tikka to create a unique and ethereal look for your upcoming wedding.
11. Silver Bangles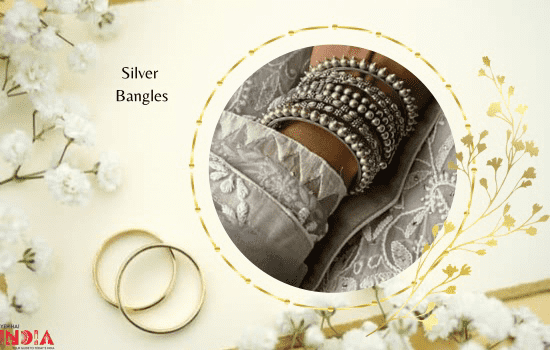 While gold is considered to be auspicious and important in Indian weddings, many brides are adding a spin to the customs by opting for different colours and metals. If you are experimenting with the colour of your lehenga then you might as well match it up with an experimental yet quarters piece of silver bridal Bangalore.
The silver bridal bangles can be paired up with beautiful lighter colour dresses or traditional red colour lehenga with silver work on them. The silver bangles set might include some gorgeous thin bangles along with some more elaborate thicker bangles and some statement Kadas with intricate details on it that add a touch of extravaganza, a must for wedding vibes.
Conclusion:
These were just some of the most exciting bridal bangle sets to choose from. An easy way to experiment without much risk is to use the tried and tested looks inspired by celebrities and fashion magazines.
The modern bangles include silver bangles, pearl bangles, and other mix and match sets of bangles from different parts of India. The mixing and matching of traditional bangles can really bring out the authentic beauty of your bridal outfit and show the authentic magnificence of our rich Indian culture. 
Also Read – Places To Buy Jewellery In India: Online Stores and Offline Markets