Chronic knee pain routinely affects older folks, leading to impaired mobility and limited day-to-day functioning, preventing them from living life to the fullest!
With this condition, it becomes increasingly difficult for the older population to exercise or perform daily chores.
In most cases, knee pain is a consequence of sedentary lifestyle wherein the knees do not get sufficient exercise to maintain flexibility in the joints. It can also arise due to injuries and joint disorders such as arthritis and osteoarthritis.

To get complete relief, one must follow the prescribed measures, lifestyle changes and medication, which might take a few years to show results.
Considering the lengthy and laborious treatment for joint disorders, most people look for alternatives to get instant relief from this dreadful condition to stay active and mobile.
Ayurveda has the answer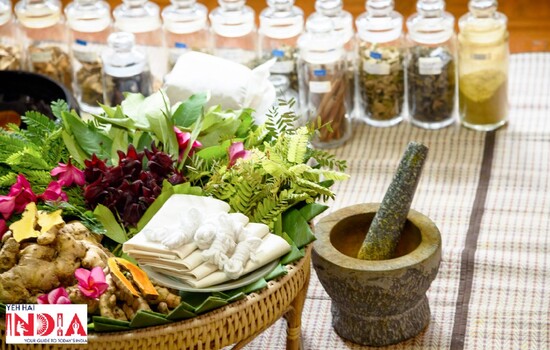 Ayurveda offers a perfect solution to put an end to chronic knee pain with its clever oil formulations that help ease sore muscles and ward-off inflammation. Ayurvedic oil massage for joint pain and other health conditions is an age-old procedure that helps regulate the three doshas – vata, pitta and kapha, to bring relief from the symptoms.
Recommended Story – Here's why you need to adopt an Ayurvedic lifestyle!
Causes of knee pain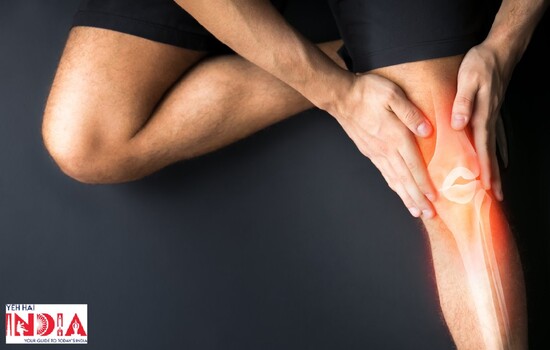 From advancing age, unhealthy lifestyle to mineral deficiencies and diseases, there are many reasons that seem to bring about pain in and around knees. It's important to know what exactly is the reason for knee pain in your case.
Here are some causes and risk factors that are most likely contributing to your knee pain:
Injuries
Torn ligaments or cartilage
Arthritis
Osteo-arthritis
Rheumatoid Arthritis
Obesity
Weak muscles
Certain sports and occupations
If your knee pain is due to an underlying health condition, skipping the treatment and seeking relief in massage oils is not going to stand you in good stead.
Buy Ayurvedic Knee Pain Oil "Nirujam"
When to consult a doctor?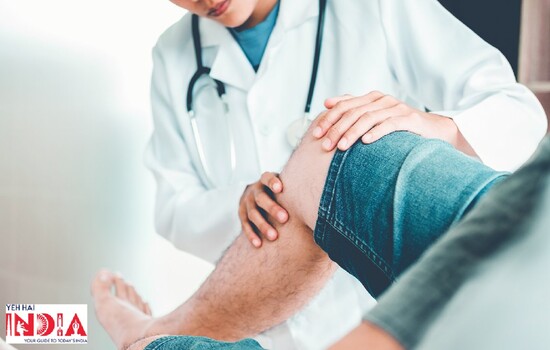 It is important to see a doctor at the right time to curtail the possibility of damaging the tender structures around your knees. If you experience any of these symptoms, don't wait and see a doctor immediately to get treated in time:
Unbearable pain and swelling around knees
Inability to stand or straighten the knees
Fever
Dislocation
Extreme discomfort during leg movements
Visible signs of ruptured vessels
Who can benefit from Ayurvedic Pain relief oils?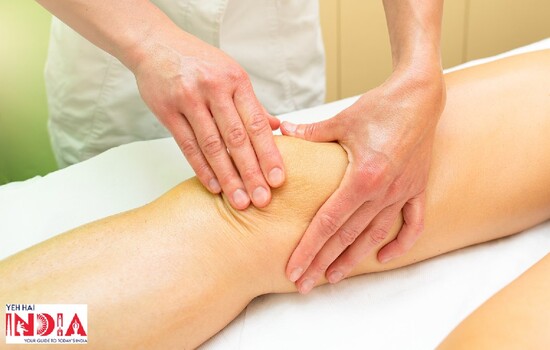 If you are a person with no sign of injury, fractures, dislocation or severe inflammation on your knees, Ayurvedic oil massage can prove to be beneficial for you.
These oils are a blend of herbs and oils namely menthol, peppermint oil, sesame oil, clove oil, wintergreen and camphor that are known to offer pain-relief by bringing heating and cooling sensation on the knees.
The most admirable reason that warrants people to seek relief in Ayurvedic oils to treat knee or joint pain is their non-invasive and non-toxic nature that offer on-the-spot respite from pain.
With Ayurvedic formulations, you do not have to rely on medications to get relief from pain. Extended or repeated use of painkillers is known to damage vital body organs.
Benefits of Ayurvedic Oils for knee pain: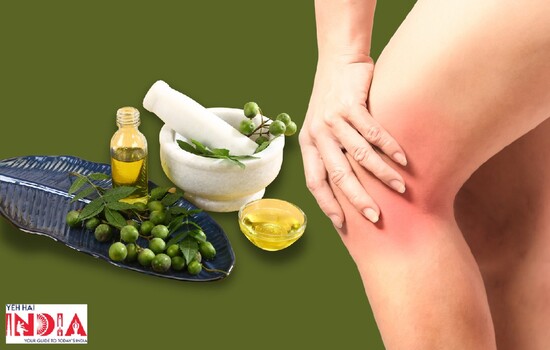 Instant pain relief
Treat inflammation
Improve blood circulation
Heal damaged tissues
Strengthen muscles
Promote joint flexibility
Alleviate stiffness
A word of caution:
Overuse of pain-relieving oils can have dangerous side effects both in adults and children.
Being volatile in nature, these oils might irritate the stomach lining and respiratory tract and lead to respiratory infections, nausea and indigestion in children.
It's important to practice hygiene while using these oils. Remember to keep yourself and the oil away from the reach of children.
Pregnant and nursing mothers should avoid using these oils and choose milder versions to keep themselves and the baby safe from the side effects pain relieving formulas might bring.
Recommended Story – Applying Ghee on Navel: 5 Benefits To Derive From This Health Ritual
Here are some Ayurvedic pain-relief oils that can help you overcome knee pain:
Best Ayurvedic Pain-relief Oils To Buy In India
1. Dr. Ortho Ayurvedic Pain-relief Oil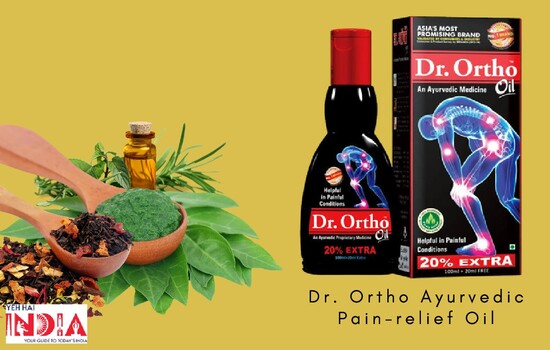 This Ayurvedic oil is a blend of natural oils that provide quick relief from muscle and joint pain arising due to minor injuries or weak bones and joints.
Loaded with the goodness of gandhapura oil, sesame oil, flaxseed oil, nirgundi oil, mint oil and camphor oil, Dr. Ortho Ayurvedic oil grants numerous benefits for pain and soreness around the knees.
Price : 295 INR
2. Morpheme Remedies Arthcare Pain-relief Oil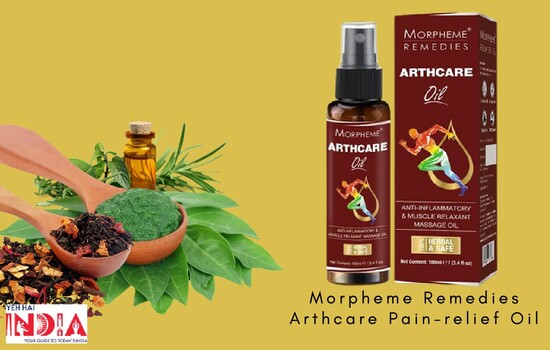 This oil contains a potent mixture of special herbs – nirgundi, ajwain, gandhaprasarini, ashwagandha, garlic, peppermint, blackpepper, erand ( castor bean) and camphor.
When massaged onto the knees, it calms irritation, pain and reduces swelling to bring relief from achy knees.
Price: 499 INR
3. Blue Nectar Ayurvedic Pain-relief Oil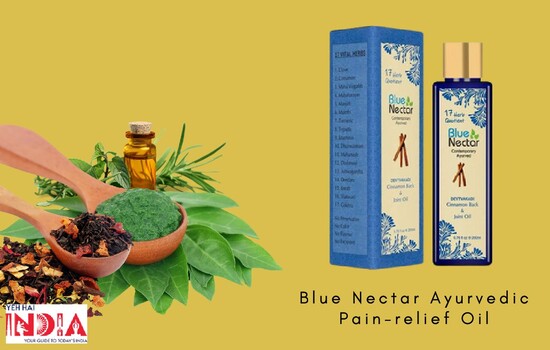 This oil combines 17 herbs namely – cinnamon, clove, bay leaf, ashwagandha, mulethi, turmeric, jatamansi, dashmool, manjishtha and a few other herbs to treat knee pain and tissue inflammation surrounding knee joints.
To derive best benefits, wet the affected area with lukewarm water for enhanced absorption of the oil. It helps ease stiffness in muscles around the knees and offers lasting relief from pain.
Price: 945 INR
4. Dabur Rheumatil Oil For Joint Pain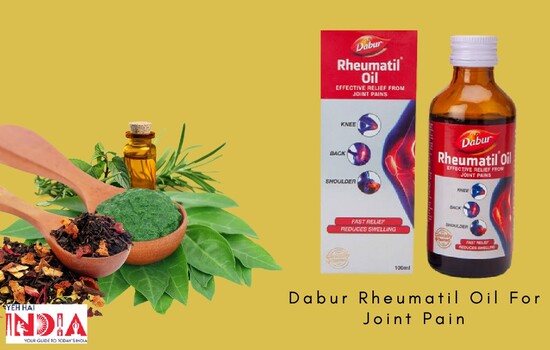 Dabur's Rheumatil oil is the most convenient product available in the market to treat knee pain and soreness that accompanies joint pain.
It's a simple yet effective remedy enriched with the goodness of capsiacin, gandhapura, nirgundi, guggulu, mahanarayan oil, rasna and prasarini that work to ward off stiffness and pain with their anti-inflammatory and analgesic properties.
Price: 100 INR
5. Greenkure Ayurvedic Pain-relief Oil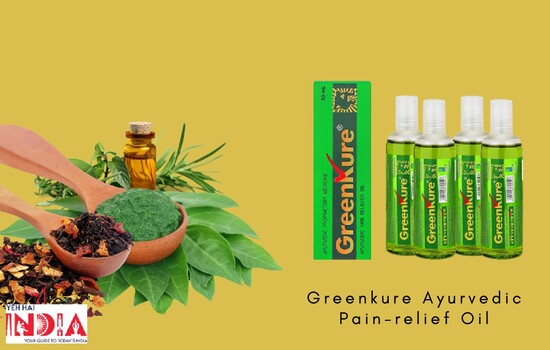 This powerful blend of natural ingredients – pudine ke phool, nilgiri oil, wintergreen oil, clove oil, camphor and nirgundi oil works to provide respite from knee pain and discomfort during movement of joints.
This ayurvedic remedy hastens the recovery process by promoting blood circulation and rids the joints of inflammation and muscle soreness arising due to injury or conditions like osteoporosis and arthritis.
Price: 295 INR ( Two 50 ml bottles)
6. Zandu Ortho Veda Pain-relief Oil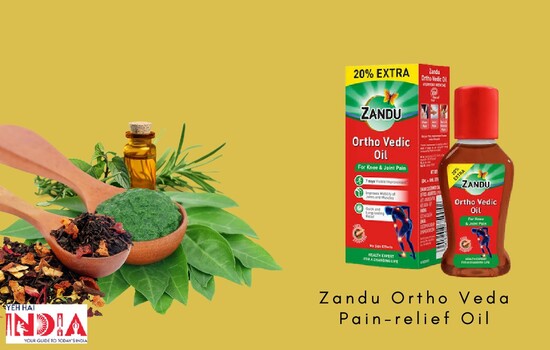 This infusion of five powerful oils – mahanarayana oil, mahamasha oil, vishgarbha oil, sesame oil and gandhapura oil grants a host of benefits to those suffering from joint disorders.
For knees, it provides quick relief from pain and discomfort arising due to shrinking cartilage supporting the knee joints with its stimulating action.
Price: 295 INR (One 100 ml bottle)
Buy Ayurvedic Knee Pain Oil "Nirujam"
7. Jiva Ayurvedic Pain-relief Oil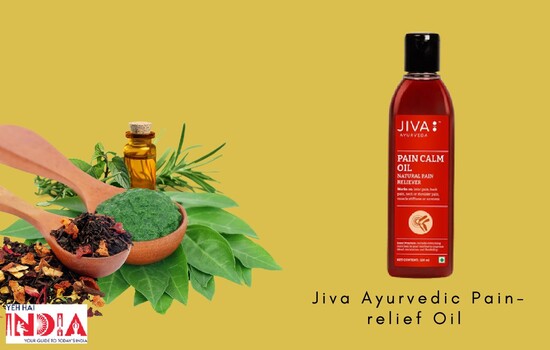 This herbal infusion improves muscle agility and bone strength to relieve pain in knees. A powerful mix of five oils – mahanarayana, maha vishgarbha, turpentine, prasarini and gandhapura oil, Jiva Ayurvedic oil ends stiffness and pain on regular application.
This oil is best used warm to improve its permeability for bone pain. It helps alleviate swelling and pain arising on moving the knees.
Price: 199 INR
8. Dr. Vaidya's Nirgundi Pain-relief Oil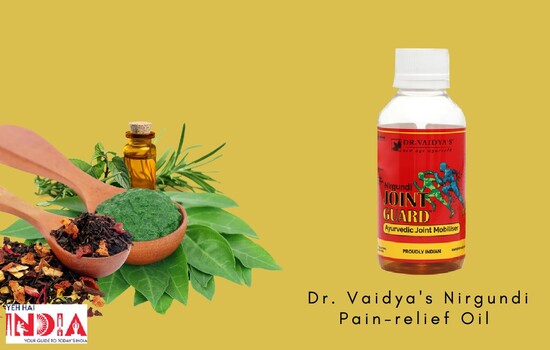 This oil is an advanced version of Nirgundi joint guard oil, with added benefits of shallaki, ashwagandha, shatavari along with Nirgundi oil.
These herbs promise to end knee pain, soreness and discomfort in joints with consistent application.
Price: 250 INR

Ayurvedic pain relief oils offer hoards of benefits for older people with their chosen ingredients meant to offer lasting relief from pain, discomfort and swelling.
With a few precautions, you can safely use these oils that make you forget about pain and help you stay active for long periods of time!
Also Read – Skin Benefits of Tea Tree Oil and Best Products Available