Neem is known to be the best cure for acne…. but there is so much more to this herb. It has numerous benefits other than curing acne. The plant has been celebrated for many centuries and the benefits date back to at least 4500 years.
It is also known to provide affinity for the reproductive system, the GI tract, the urinary tract, respiratory system, and circulatory system. Let's hop into details about how it improves our skin, hair, and health.
Skin Benefits
Reduce Early Signs of Aging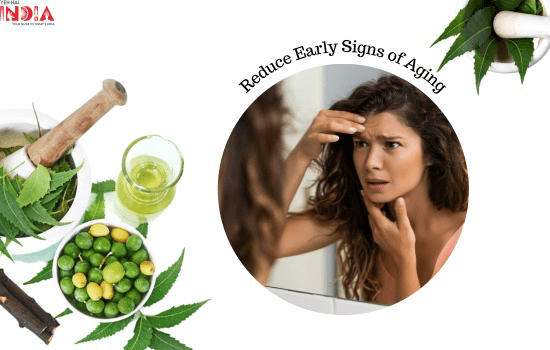 Neem tends to show properties for delaying the signs of aging due to its regenerative features of cellular growth. Since old age is featured with less promotion of collagen that is responsible for young and glowing skin, Neem promotes the production and delivers young and healthy skin for longer than usual. 
Recommended Story – Best Amla Products to Try for Those Shiny Locks
Treats Acne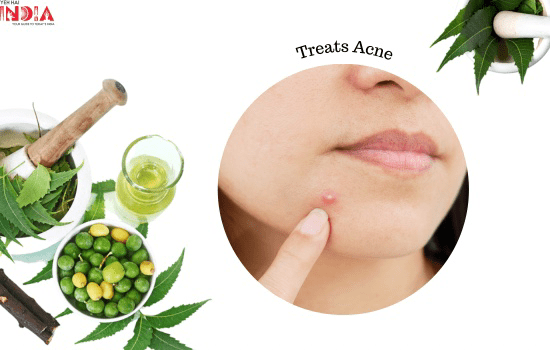 As it has been advertised for so long, Neem has antibacterial properties that treat acne and result in healthy and glowing skin free of acne and dark spots. Several products are advertised such as neem face packs or powder or face wash etc that help clear scars and pigmentation.
Helps in removing whiteheads and blackheads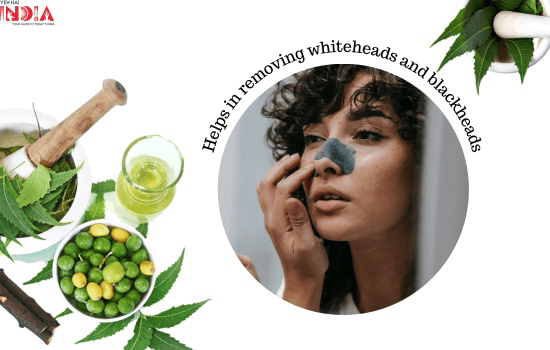 Neem certainly plays a crucial role in removing blackheads and whiteheads due to its properties of shrinking large pores and works as an exfoliating agent in order to abolish impurities. The face pack or face wash works well in removing blackheads and whiteheads.
Promotes Collagen Production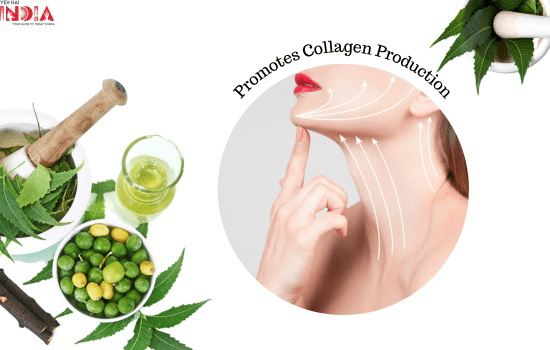 The property of promoting collagen production helps in reducing signs of aging and delays the early signs. Neem is filled with Vitamin C that is responsible for collagen fabrication in the body and hence prevents wrinkle appearance.
Prevents Skin infections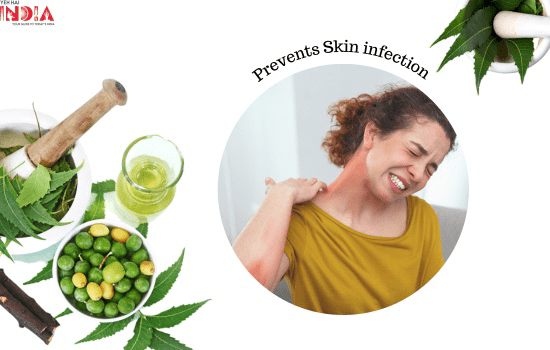 Neem has proven to prevent skin infections such as Eczema and psoriasis. Eczema that is characterized by itchiness, dryness, and readiness, neem is considered to have prevented such symptoms to arrive.
Lightens Scars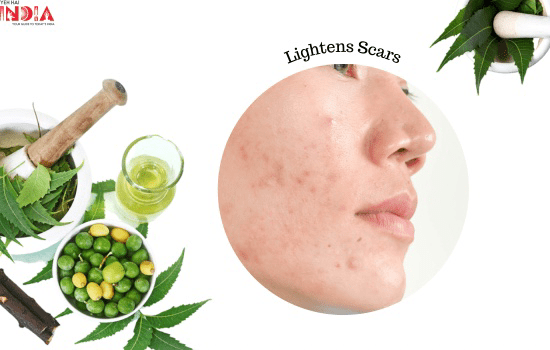 The ingredients present in Neem such as Nimbidin, Omega fatty acids, and Vitamin E contribute well to treat acne scars and others, although being a slow process it reaps great results for scars especially perpetuated by Acne.
Hair Benefits
Conditions your scalp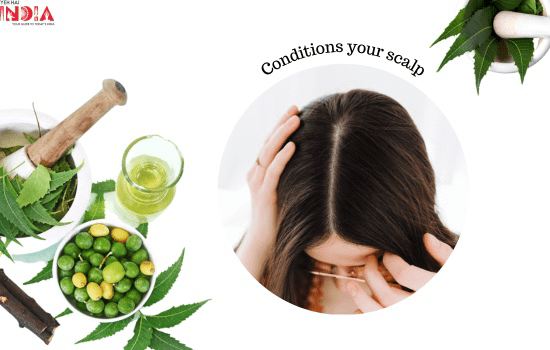 The Anecdotal properties associated with neem tend to offer numerous benefits to the scalp. With no side effects characterized by Neem, it promotes a healthy scalp that prevents the dirt to sit on it and provides proper nutrition to the scalp.
Promotes healthy hair growth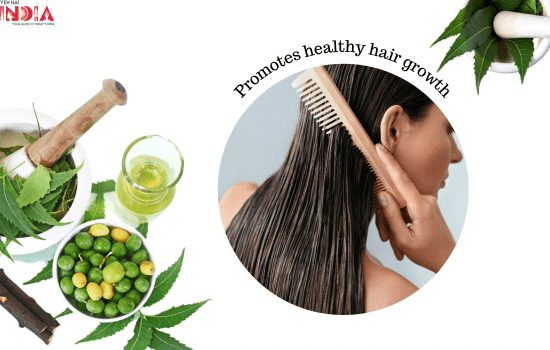 With Vitamin E present and fatty acid content, neem contributes in a lot of ways to promote healthy hair growth and also prevent thinning and balding. It strengthens the hair follicles and results in better thick and shiny hair.
Minimizes gray hair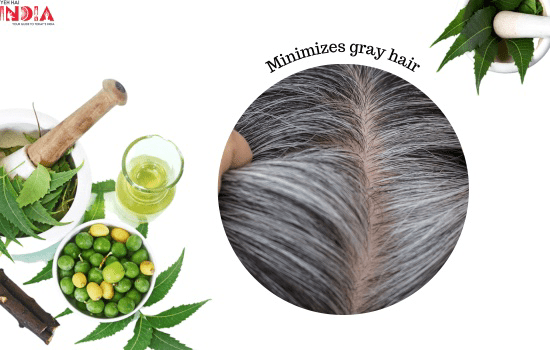 Neem traits premature graying and set the hormonal balances in shape for delaying the graying of your hair. The antioxidants play a vital role in delaying gray hair and reducing the falling of hair.
Reduces dandruff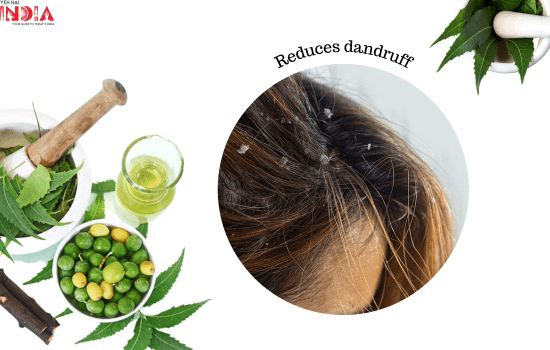 The Nimbidin ingredient is majorly responsible for removing dandruff from hair and preventing it from arriving again. The ingredient also controls inflammation thereby preventing psoriasis. The Neem paste can help immensely in the treatment of dandruff.
Treats Head lice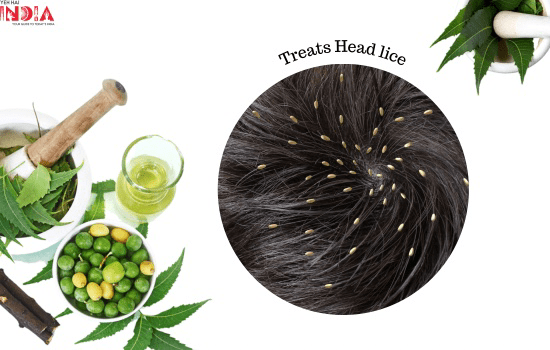 Lice are known to have formed when the hair is not properly taken care of hence the regular application of neem in your hair will promote cleanliness of your scalp and the presence of azadirachtin kills lice which in turn keeps lice and other dirt away from the scalp.
Recommended Story – Up your skincare game with these organic products!
Health Benefits
Reduces plaque formation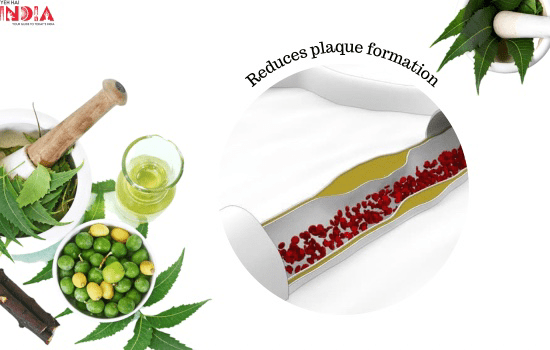 It is considered that regularly brushing your teeth with neem-containing toothpaste can eventually reduce the deposition of plaque in your dental area and prevents caries along with enhancing overall oral health. Regular use tends to decline gingival problems and treat halitosis.
Treats stomach ulcers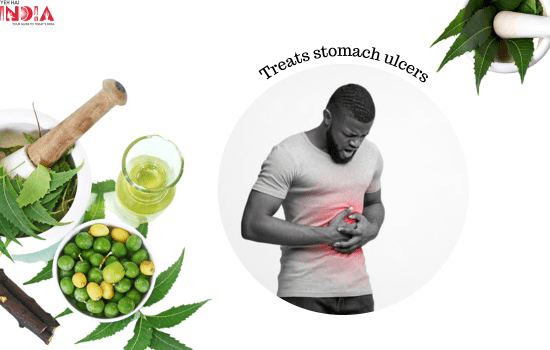 Neem is considered a useful therapy for ulcers and gastric discomfort. The neem leaf extracts have proved wonders for anti ulcerative effects. Neem seed extracts prevent peptic ulcers and provide a significant reduction in acid output and gastric fluid activity as well.
Keeps diabetes on track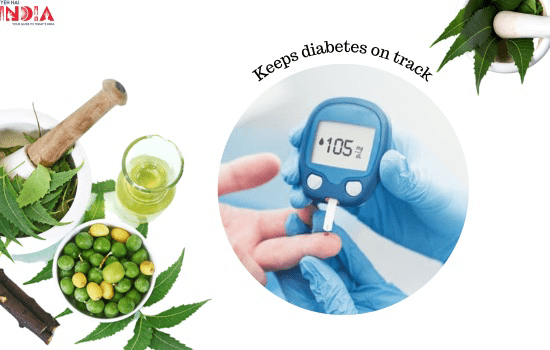 Neem, being a tonic and revitalizer, works exceptionally well in the treatment of diabetes. Studies have proven that neem leaves consumption led to the reduced requirement of insulin by patients by 30-50% without altering blood glucose levels.
Neem Infused products
Himalaya Herbals Purifying Neem Face Wash or Scrub
Himalayan Neem Face Wash is widely used by the people of India and tends to lessen the appearance of acne in just a few washes. It has been proven successful many times hence a good shit for little acne.
Fabindia Neem Tulsi Face pack
Fabinida, being a well-renowned company for its natural ingredients packed products working substantially well for the people. The Neem Tulsi Face pack is a great way for a refreshing morning and prevents acne, dark spots resulting in glowing skin.
Morpheme Remedies Pure Coldpressed Organic Neem Oil
The neem oil in many forms has been considered a magic oil treating all kinds of issues relating to skin and hair. The antibacterial and anecdotal properties prevent skin infections, psoriasis, and hair balding and thining.
Kapavi Rajasthani Neem Juice
The Kapavi Rajasthani Neem juice is filled with natural extracts that treat stomach issues including ulcers and discomfort. The vitamin C and E present in the juice layout an all-in-one healthy drink for hair, skin, and health. If consumed regularly shows great results for all ages with no side effects
Herbal Hilla 100% organic neem powder
This ayurvedic neem powder provides anti-bacterial and anti-fungal properties that flush away the harmful toxins and detoxify your body that eventually shredding away the impurities from the blood and purifying it. It is advised that 3-5g can be consumed on a daily basis preferably at the night before bed.
In Conclusion
Neem has been beneficial for years and still continues to beat man-made products. Let's begin to appreciate it for all that it offers and reap the benefits of Neem on our Skin, Hair and Health!

Also Read – 10 Affordable Skincare Brands for a chemical-free skin care routine!