This article will elaborate on assorted fabric Indian tie & dye techniques that deserve all the patronage, appreciation, and love that they can get.
BHANDHANI
IKAT
LEHERIYA
Our diversely vast country showcases a variety of crafts and Indian tie and dye printed textiles are one of them. Celebrated all over the world and applauded within the nation, the tie and dye techniques of India are praise-worthy.
Tie dye is a broad term, used to describe several different techniques that involve tying tissues and immersing them in tinctures.
Various regions boast great textures, styles, and techniques of tie and dye, each has a different method along with a unique output. Each has a distinct style that is easily recognizable when worn.
According to the design and the motif, each pattern has its special significance. The variety of different colors coupled with intricate designs is a rich source of culture that has been handed down and delicately preserved in the country. The art of tie and dye has been liberally used by the dyers across the globe to render beautiful colors to the simple-looking fabrics.
Recommended Story – Salwar Kameez- Trends, Styles, and Designs
1. BANDHANI
HISTORY
An Indian tie and dye technique that dates back to the Indus Valley Civilization, developed by the Khatri community of Gujarat in India, the printing technique finds mentioned in historical texts of 7th-century ad literature- Harshacharita written by Banabhatta.
The biography quotes the wedding of King Harsha's sister, Rajyashri, and describes the tie-dyeing of the bride's odhani. Its earliest presence can be found in 5th-century murals pictures and Ajanta cave paintings that portray women wearing bodices with resist-dyed designs. Check out this bandhani saree available at Rs. 269 only!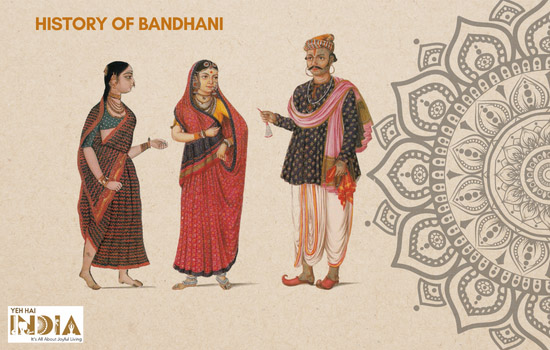 POPULARITY
One of the characteristic Indian tie and dye techniques that have found international appeal, Bandhani is native to Gujarat and Rajasthan. The most popular Bandhni-making centers are in Gujarat, Rajasthan, Sindh, Punjab, and in Tamil Nadu where it's known as Sungudi. A popular bandhani textile produced in Gujarat is called Ghar Chola or gharcholu, a traditional odhani for Hindu brides, which is nowadays available as a sari worn on auspicious occasions.
The word 'chunari' is a commonly used term that refers to patterns created by fine tie-dyed dots. Since the resist dyeing is done on head cloths, chunari is also the name of the garment worn by women in Rajasthan. Bandhani print is often found on the men's turbans from Rajasthan. Take a look at this gorgeous bandhani kurta with pant and dupatta set.
TECHNIQUE
The name is derived from the word 'Bandhan' which means to tie, wherein several portions of fabric are plucked by fingernails followed by tying around a pebble/grain and then dipping in dye (lighter colors first and dark colours later), forming small knots. After the dye is completely dried, the nodes are unwound to reveal beautiful designs and geometric patterns formed from dotted lines.
DESIGN – COLOUR, MOTIFS, AND FABRIC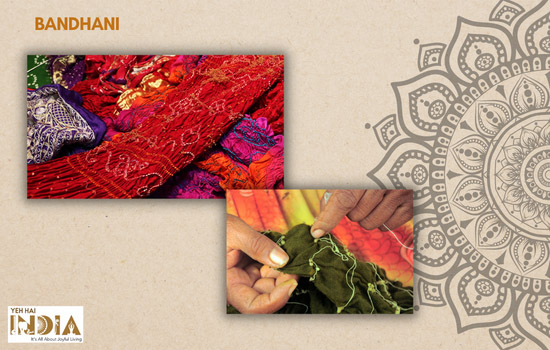 Mostly the background colours chosen for Indian tie and dye are bright and cheerful such as green, red, pink, purple, yellow, and blue are used in various shades and hues. However, the print can be adapted to any colour.
Regarded for its fine resist dots and intricate designs, this technique of tie and dye features patterns like dots, stripes, waves or squares, and diamonds. Other motifs created by outlining with tiny dots are animal and human figures, flowers, plants, and trees.
Traditionally the Indian tie and dye are done on silk, cotton, and wool. But various materials like cotton silk, chiffon, georgette, and various other fabrics are also experimented with, inventing a beautiful riot of colours on cloth.
The product range varies from odhani, sarees, and shawls to stitched garments like kurtas and skirts.
2. IKAT
HISTORY
The term 'ikat' is derived from the Malay-Indonesian word 'mangikat' which means to bind or knot
The ikat fabric's earliest mention in history is in the Ajanta cave paintings (6th-century ad) – designs and patterns closely resembling Ikat are seen on the dresses of the females portrayed in the murals of Ajanta.
There is a mention of double ikat in the couplets of rani ranakdevi, Gujarati literature from the 11th-century ad as well as in the records of European travelers from the 16th-century ad. During the 16th and 17th centuries, Patolas (category of ikat) were regarded as precious silks by Southeast Asia and Europe and thus became an important trade item at that time. In the early 20th century, Telia double ikat rumals (category of ikkat) were exported to the Middle East, Africa, and Burma.
TECHNIQUE
This Indian tie and dye style is a yarn resist technique wherein the yarns are tie-dyed, and on weaving, a pattern is created on the surface of the fabric. Individual yarns or bundles of yarns are tied with a tight wrapping in the chosen design and then dipped in dye to bring out a unique pattern.
Ikat technique of tie and dye can be classified into three categories according to the technique used: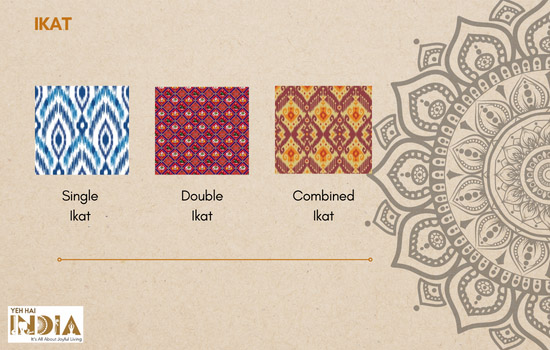 Single ikat: There are two kinds of single ikat namely warp ikat and weft ikat. as the name suggests, in warp ikat, the warp yarns are tie-dyed and woven with plain solid coloured weft yarns, and similarly and in weft ikat, the weft yarns are tie-dyed and woven with plain warp yarns.
• Double ikat: In double ikat, both warp and weft yarns are tie-dyed according to a pre-determined pattern and then woven to create clear designs on fabric.
• Combined ikat: In combined ikat, both warp and weft yarns are tie-dyed but they are present in selected areas of textile, to create interesting patterns.
SPECIALTY
An ikat textile can be identified from the typical hazy patterning on the fabric due to the resist dyeing of the yarns prior to weaving. The blurred print is the most essential characteristic of this textile as it requires immense skill on the part of the craftsman to line the threads in place but the subtle blurriness in itself is a pattern. The less blurry it is, the more time, effort, and skill has gone into it and the more expensive it is.
POPULARITY
This technique of tie and dye is popularly woven in Gujarat and Andhra Pradesh, the other main production centers of ikat in India are Odisha and Telangana. The ikat of each region known by different names can be identified from the motifs and the patterns achieved by weaving the tie-dyed yarns. By the way ikat's popularity is increasing among the younger people too. Check out these cute Ikat Face Masks!
The ikat textiles of India can be classified into three categories on the basis of region as follows:
Patola of Gujarat
Bandhas of Odisha
Ikat textiles of Andhra Pradesh: Telia rumal and Pochampalli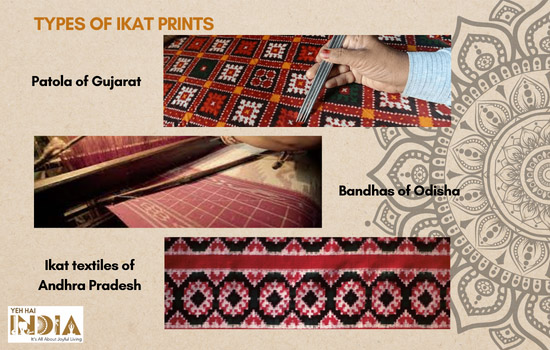 1.Patola of Gujarat
The double ikat weaving tradition of Gujarat is called 'Patola'. The beautiful Indian tie and dye textile is produced by the weavers of the Salvi community using expensive silk yarns. In India, Patola saris are considered to be auspicious and are thus worn on very special occasions like weddings and festivals. The expensive Patola saris are the prized possession of every Indian woman, reserved for ceremonial wear. In the past, the textile was also used as temple hangings and offered to the divinity.
Colours, Design and Fabric
Crafted on silk fabric, Patola textiles use intense colours like bright red, golden yellow, green, dark blue, reddish-brown, etc. The distinctive Patola motifs are flowers, jewels, elephants, birds, and dancing women for the Hindu and Jain communities. The Muslim community restricts themselves to abstract designs.
The Patola designs are named Kunjar Popat Bhat (elephant – Parrot), Nari Kunjar Popat Bhat (lady – elephant – Parrot), Navratan Bhat (Jewel Mosaic), Phool Wali Bhat (Floral), Chabri Bhat (Basket of Flowers), etc.
2. Bandhas of Odisha
The ikat textiles called 'bandhas' are produced in Odisha. Mostly, bandhas are single ikats or combined ikats, woven by specific weaver groups like Mehars and Patras. The ikat saris of Odisha are the popular attire of the local women and are also preferred by the modern women of India. Besides the cotton and silk ikat saris, the other products woven by the weavers are yardage, stoles, scarves, and dupattas.
Colours, Design and Fabric
The bandhas of Odisha are characterized by curved forms with hazy outlines. The distinct hazy lines are created since only one set of yarns in the fabric is tie-dyed. Mainly weft ikat is done in Odisha. Some popular motifs are shankha or conch shell, swastika, creepers, flowers like lotus, intertwined snake, fish, tortoise, and elephant. Cotton and silk ikats are manufactured by the bandha weavers of Odisha who are known for the usage of striking colour combinations and delicate intricate patterns.
3. Ikat textiles of Andhra Pradesh
There are two types of ikat textiles produced in Andhra Pradesh, namely Telia rumal and Pochampalli ikats. Telia Rumal is the age-old ikat technique of Andhra Pradesh, whereas Pochampalli ikats were introduced later by the telia rumal weavers.
a) Telia Rumal
The traditional Indian tie and dye textile of ikat also known as Telia rumal is produced in Chirala, a coastal village in Andhra Pradesh. It is a square rumal or handkerchief measuring around one-meter square. Since oil (tel) is an important ingredient used in the production of the rumal, the textile is known as telia rumal. Traditionally the telia rumal was produced by the weavers belonging to the Padmasali community. Within the country, the telia rumal became part of the fishermen's clothing, worn as a turban or as a lower garment called lungi.
Colours, Design and Fabric
Traditionally, the commonly used colours for the telia rumal were terracotta red and black, using natural dyes. The layout of a typical telia rumal is comprised of a geometrical grid-like patterning with borders all around, thereby creating small squares at the four corners. From simple geometric designs like crosses, dots and diamond shapes to simple curvilinear forms like flowers, birds, animals, stars, and moon are used in order to cater to the needs of the consumers. Some contemporary pieces of telia rumal have used motifs like a clock, gramophone, and airplane.
b) Pochampalli ikats
In the early 20th century, the telia rumal weavers introduced the ikat technique to the Devang and Padmasali weavers of Pochampalli, a village near Hyderabad. The Pochampalli weavers applied the technique of ikat weaving to saris, dupattas, and yardage. They also cater to the domestic market, producing a wide range of saris, stoles, dupattas, and yardage for apparel and home furnishings. The weavers also imitate patola patterns and develop saris preferred by many due to cheaper costs in comparison to a double ikat patola sari.
Colours, Design and Fabric
The Pochampalli ikats can be found in a range of colours including magenta, brown, parrot green, bright golden yellow, orange, off-white, black, etc.
Initially, the ikat designs were copied from the Patolas of Gujarat, but later on, the weavers developed geometric motifs of their own, mainly inspired by the telia rumal. The weavers are also influenced by the Japanese and Indonesian ikats. The Ikat weavers of Andhra Pradesh use mainly combined the ikat technique of tie and dye to produce very modern and graphic designs mainly for exports.
3. LEHERIYA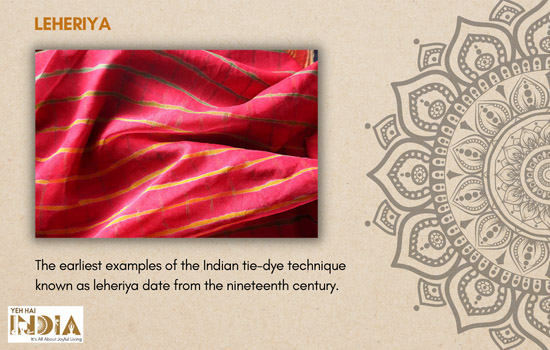 HISTORY
This Indian tie and dye technique is named after the pattern it forms, that is, waves, which is called Leheriya in Rajasthan, and this pattern is especially popular for clothing during the monsoon season. It is a simple dyeing technique popular worldwide and produces striped textiles in a huge variety of bright colours.
The earliest examples of the Indian tie-dye technique known as leheriya date from the nineteenth century. In earlier times, five different colours were used, and natural dyes were the chosen in form of colours. The colourful textile that is considered auspicious is also offered to goddesses on special occasions.
TECHNIQUE
In leheriya a special variety of tie and die tricks is used to create diagonal stripes on various materials that enhance the effect of the print. The fabric is rolled diagonally into a tight coil, tied with thread at regular intervals, and then dyed in a manner that the colour is applied only in a particular pattern on the textile.
The fabric may be rolled again and re-tied to resist the existing colour and add another colour in the leheriya pattern. The fabric when opened fully the result is diagonally striped fabric – white and varied light coloured lines on a darker background. Check out this Leheriya saree under Rs. 500!
DESIGN – COLOUR, MOTIFS, AND FABRIC
This technique of tie and dye results in diagonal or zigzag lines created by wrap-resist technique. Known for its lively aura Leheriya fabric is available in multi-colours ranging from bright hues to pastel serene shades. Fine cotton or silk lehariya fabrics are used as head cloth or safa by men, worn on special occasions like festivals and weddings. Leheriya designs can be made more complex and multicolored with multiple dye baths.
Piliya/Pilado(Version of Leheriya) is the traditional odhani in a red and yellow colour scheme is an important part of the costume for young mothers. These textiles were dyed with turmeric to impart properties of anti inflammation. Hence it had social significance as they were gifted to the mothers of new born boys. A typical piliya is largely yellow in colour with red appearing on borders, a big central circular motif, and four smaller circles around it.
Mothra (Version of Leheriya) is a traditional leheriya textile that has a fine checkered pattern created by crisscrossing diagonal lines. Mothara involves an additional step in the process. The lahariya is again rolled into a coil—this time at a 90-degree angle to the original—tied and dyed again. Now when the fabric is unrolled, it displays the subtle plaid or checked design, which is the defining characteristic of mothara.
Also Read – A-Z List of Traditional Sarees from states of India