Hemp's proven abilities to cleanse, renew and calm facial skin makes it a perfect ingredient for face washes meant to treat acne and premature ageing.
There is no better feeling than coming home after a long day of work and washing your face in cool, clean water.
The physical sensation of ridding yourself of dirt, debris and other impurities is incomparable and also beneficial to the skin as it keeps it healthy and fresh.
But while washing your face every day is important, it is equally important to choose the right face wash to aid you in your cleansing journey.
The wrong face wash can be abrasive and harsh on your skin and do more harm than good in the long run.
It is important to choose the right kind of cleanser for your skin type that is free of artifice and synthetic ingredients.
One incredibly good option is Hemp Works' Ananta Hemp, Tea Tree & Neem Face Wash which is a cleansing face wash meant for oily and acne-prone skin.
Key Ingredients: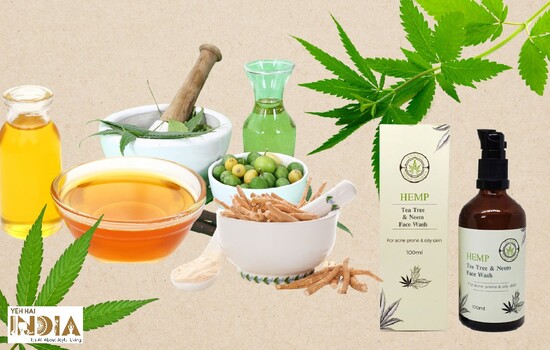 Neem Oil
Hemp Seed Oil
Tea Tree Oil
Ashwagandha Extract
Glycerine
Product Claims: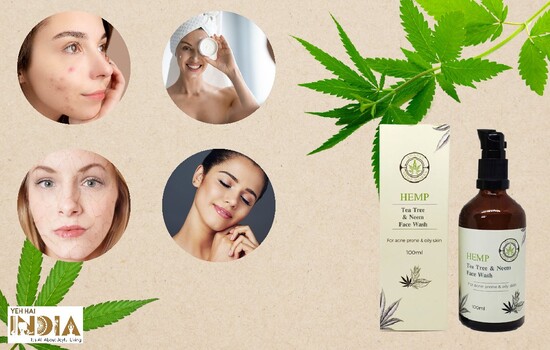 Treatment of acne
Reduction of acne scars
Repairs the skin
Softens and refreshes skin
Prevents breakouts
Price:
₹1,099 for 100 ml.
Our Review of Ananta Hemp Works' Hemp, Tea Tree Oil & Neem Face Wash:
Feel and Aroma: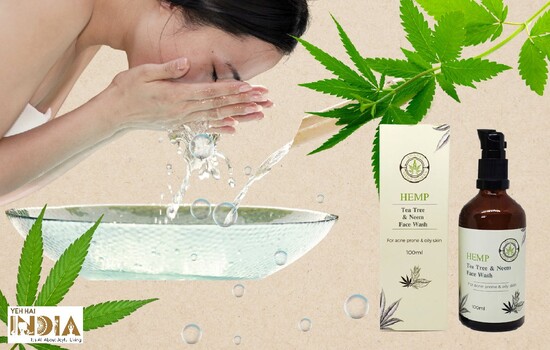 Hemp Works' Ananta Hemp, Tea Tree & Neem Face Wash has an extremely smooth texture that is gentle on your skin. It is cooling, moisturizing, clarifying and leaves your skin feeling soft and supple.
It also has a pleasant aroma that makes it an attractive choice when it comes to skincare.
Recommended Story – Product Review: Advait Living's Ayurvedic A2 Cow Ghee
Our study of the ingredients and their impact: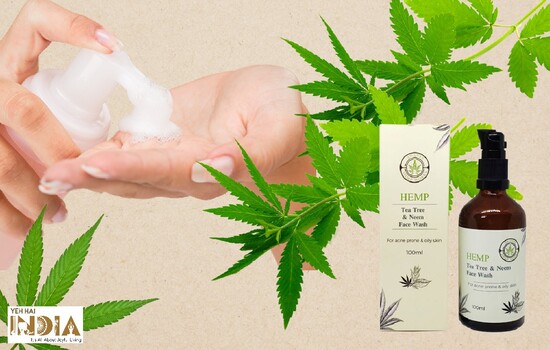 Hemp Works' Ananta Hemp, Tea Tree & Neem Face Wash is infused with an incredibly familiar ingredient neem oil. Neem oil is a popular remedy in India for nearly any kind of ailment.
It is used in skincare because it is packed with vitamin E and antioxidants. This helps reduce acne and acne scars and also helps repair the environmental damage done to the skin.
Hemp seed oil is the key ingredient in all products designed by Ananta Hemp Works and they are experts on its various benefits and uses.
In this particular product, it is added because it contains Omega-3 and 6 which help keep the skin soft and supple while also fighting signs of premature ageing.
Hemp seed oil is also popularly used in skincare because it moisturizes the skin without clogging the pores.
Tea Tree Oil is anti-bacterial and anti-fungal and helps keep the skin clean and healthy and therefore, helps prevent breakouts. It is also anti-inflammatory and soothes painful and irritated skin, thereby, helping to reduce swelling and redness.
It is also very helpful in treating eczema and has anti bacterial properties that help heal wounds faster.
Ashwagandha extract has anti inflammatory and antimicrobial properties that soothe the skin and help treat and dispel acne. The reduction of inflammation helps treat pigmentation caused due to acne.
Glycerine is a classic ingredient in skin care. It acts as a humectant thereby allowing skin to retain greater moisture, increase hydration and refresh the skin from within. It also has emollient qualities which allow it to instantly soften dry skin.
Aloe Vera Extract is another ingredient that you may find extremely familiar. Aloe vera extract is infused with cooling properties that make it one of the most effective and natural remedies for treating irritated skin.
It also acts as a protective barrier for the skin against the environment and keeps it cool and moisturized.
Skin Type and Age: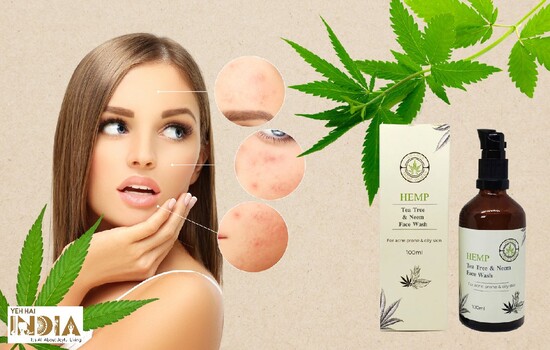 Hemp Works' Ananta Hemp, Tea Tree & Neem Face Wash can be utilised by anyone with acne-prone and oily skin. It is perfect for any gender and can be used to cleanse the face and neck with ease.
Packaging: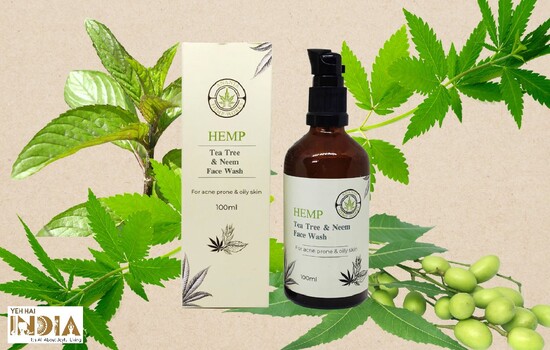 Hemp Works' Ananta Hemp, Tea Tree & Neem Face Wash comes in a travel-friendly sleek bottle with a pump that allows you to use just as much of the product as you really require.
It is easy to use, store and is completely mess-free with a pump nozzle that shuts tightly and does not spill.
Recommended Story – Product Review: The CannaEase Cramp Reliever Roll-On Stick
Price:
The price of Hemp Works' Ananta Hemp, Tea Tree & Neem Face Wash is ₹1,099 for 100 ml.
We feel that considering all of its benefits, its all-natural ingredients and the sheer benefit to skin that comes from regular use of it, the price is quite reasonable.
Where to Buy?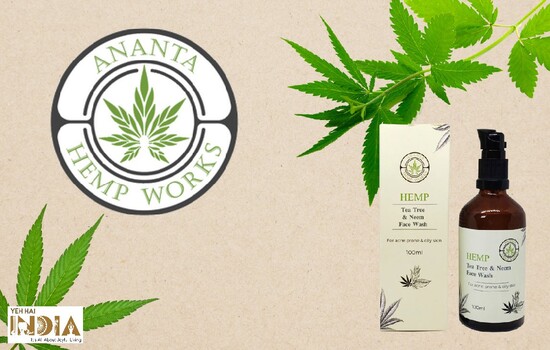 Hemp Works' Ananta Hemp, Tea Tree & Neem Face Wash can be bought at Ananta Hemp Works' website.
Pros:
Cleanses and purifies skin
Pleasing fragrance
No synthetic ingredients
Refreshes Skin
Prevents and soothes breakouts
Cons:
Needs constant repurchasing as it is only available in 100 ml bottles
How To Use: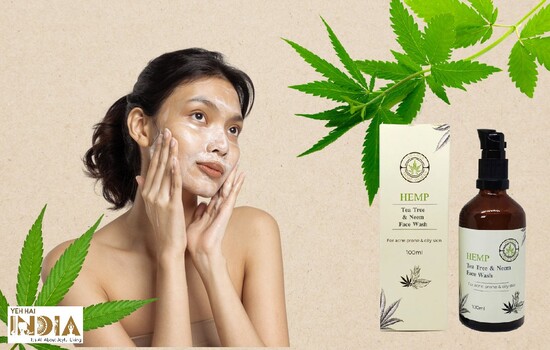 Hemp Works' Ananta Hemp, Tea Tree & Neem Face Wash is quite simple to use. First, you need to wash your face gently with clean water.
Then pump out the requisite amount of the face wash into your hand and rub your hands together to create a lather.
Gently rub this lather into your face and wash it again with clean water to rinse it off your face.
It is a quick and easy solution to skin care woes and regular use of it can show a marked improvement in the way your skin looks and feels.
Final Verdict: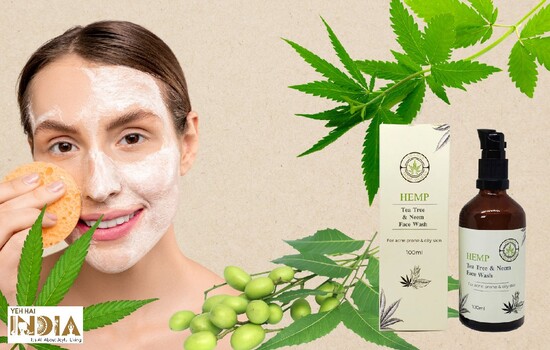 A soothing and calming face wash that adjusts to your particular skin concerns is one of the most important parts of your skincare routine.
Though, it is important to soothe, nourish, and pamper your skin with special formulations to keep it youthful and glowing, you must start by cleansing your face with the right face wash.
From the very few products that contain 100% pure Hemp seed oil, this face wash is formulated with hemp seed oil sourced from Ayush and GMP certified manufactures to make available the large number of benefits provided by medicinal cannabis.
And since the purpose is to cleanse, it is important to choose an all-natural face wash that will be kind to your skin and cleanse it deeply without the use of harsh chemicals.
Ananta Hemp Works' Hemp, Tea Tree & Neem Face Wash is the perfect choice with its all-natural ingredients that soothe, cleanse and heal all at once.
Oily and acne prone skin is no longer a cause for concern with Hemp Works' Ananta Hemp, Tea Tree & Neem Face Wash!
Also Read – Product Review: Inatur Luxury Handmade Soap Collection Review