Summer is the best season to pamper your skin with the natural goodness of bathing soaps that melt-on-your-skin and leave it nourished, velvety and squeaky clean.
Amid the scorching summer heat, a trip to the shower room is your best refuge to beat the effects of summer sun on skin. Adding a soothing and deeply moisturizing organic bathing soap to your shower ritual would not only relax your skin but work to put away issues like sunburn, moisture loss and skin irritation brought on due to soaring temperatures.
From a hoard of bathing products, picking a soap enriched with natural and organic components demands your attention and time for examining the ingredients to test their efficacy on your skin.
Here is a bathing solution that has everything in it to be the best skin product that addresses skin dryness and sun damage, leaving your skin feather soft.
Inatur has a brilliant range of bathing soaps that revive, nurture and protect your delicate skin from the ill effects of moisture evaporation, and exposure to harmful substances in the environment.
In this review, we're sharing our experience with a selection of three handmade bathing soap giftbox collection from Inatur – Inatur Sandal Vanilla Soap, Inatur Rose Geranium Soap and Inatur Jasmine Butter Soap.
Inatur Luxury Handmade Soap Key Ingredients: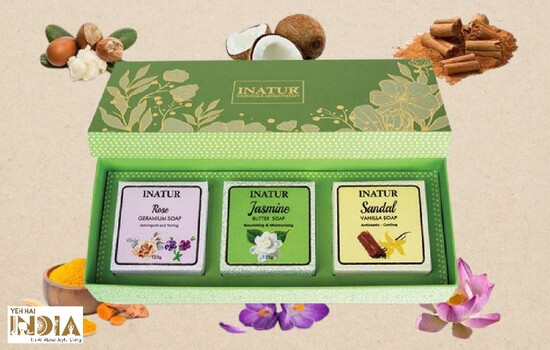 Sandal & Vanilla:
Sandal Oil Vanilla Oil Turmeric Extract Coconut Oil
Jasmine & Butter:
Jasmine Oil Shea Butter Almond Oil Aloe Vera Extract Coconut Oil
Rose & Geranium:
Rose Oil Geranium Oil Honey Extract Almond Oil Coconut Oil
Net Weight:
125 gms per pack
Price:
₹765.25
Claims: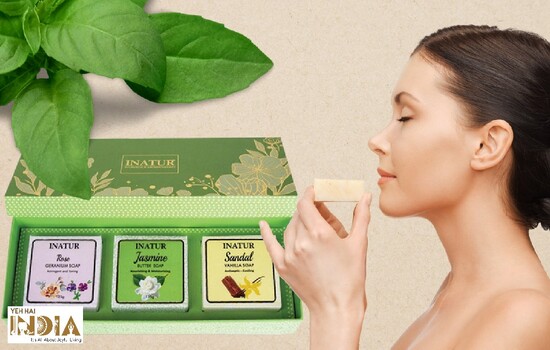 Inatur Sandal Vanilla Soap claims to treat blemishes, acne and pimples and has a cooling effect on skin.
Inatur Rose Geranium Soap is great for ageing skin due to its astringent and skin toning properties.
Inatur Jasmine Butter Soap purports to humidify and moisturize dry, lifeless skin with its combination of Jasmine and Almond oils along with Aloe vera extract and Shea Butter. 
Recommended Story – Tegut Tea Tree Essential Oil: Product Review
Our Review of Inatur Bathing Soap Collection:
1. Inatur Sandal & Vanilla Soap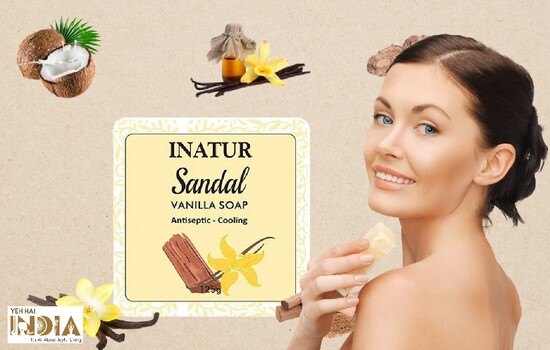 Touch & Feel:
This pack of Sandal Vanilla soap has a refreshing feel that invites you to try it on your face. When you open the pack, you find a heavenly goodness of Sandalwood, Vanilla oil and Turmeric extract in this cream coloured translucent block of soap that invigorates and uplifts your senses with its pleasing and mildly intoxicating aroma.
When you hold this soap, it feels like a block of solidified lotion of cream which testifies the purity of ingredients of this handmade soap.
Since, it's fortified with natural essential oils, the bar tends to stick to your skin when you hold it. Hence, it's best to hold it delicately to avoid any wastage of the product.
On first application, this soap cleansed away the grime effectively without leaving any kind of tightness on the face. In fact, after a week long application, this soap seemed to balance skin's ph levels and minimised the frequency of acne flare ups.
Turmeric extract in this soap makes skin bright and healthy and also blurred acne marks to some extent, while the cooling Sandalwood and Vanilla oils calm and refresh tired looking skin.
Raw sugar helps humidify dehydrated skin and makes it ready to absorb the goodness of natural oils.
Packaging:
The pack has ' Anti-Septic and Cooling' written on it which means it's best to be used in summers to keep away bacteria and heat. You can read the full ingredient list on the soap along with the benefits it claims to offer.
Suitable For:
All skin types
How To Use:
Wet the soap and work up a rich lather on your palms and apply it on the desired areas in circular motions for upto 15 seconds. Rinse.
Pros & Cons:
Pros:
Pure essential oils
Invigorating scent
Cools and refreshes skin
Ideal for Summers
Treats acne and blemishes
Brightens skin
Wards off bacteria
Cons:
Melts instantly
Needs delicate handling
Does not last long
2. Inatur Jasmine Butter Soap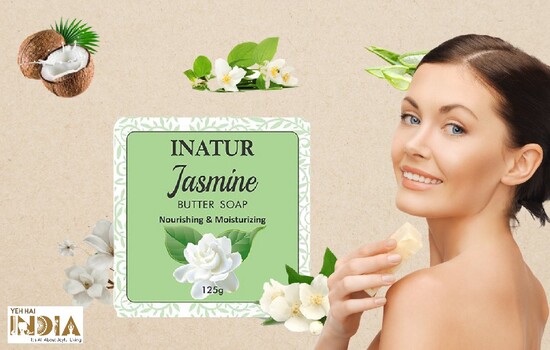 Touch & Feel:
This lemon hued clear Jasmine soap came as a beautiful surprise for dry skin. Enriched with Shea Butter and Aloe vera extract, this handmade soap nurtures, hydrates and protects skin from moisture loss and effects of ageing.
You get to know it's wondrous effects on dry skin, the very first time you use it on your face. This soap works to cleanse as well as hydrate skin that's lacking moisture and nourishment.
Jasmine Oil softens and brightens skin and leaves it lightly fragranced, while Shea Butter adds an extra layer of moisturization and seals in the nutrients.
Aloe Vera Extract help revive the health of drying skin cells to make your skin look fresh and plumped up.
Coconut oil works to maintain a barrier against oxidative stress and microbes settling on skin's surface.
Bathing with this soap for over a week revives and adds extra nourishment to skin that's in need of immediate hydration. After each shower, it leaves a feather soft feeling on your skin and makes it plumped up and wrinkle free.
It's ideal for winter skin care and can also be used in summers to treat flaky dry skin. 
Recommended Story – Product Review: Milk & Honey Co.'s Hair & Nuts Hair Superfood
Packaging:
This soap is encased in a refreshing green packaging with 'Moisturizing and Nourishing' written at the front.
Suitable For:
Dry Skin
How To Use:
Wet your palms and create a rich lather to use on your face and the rest of the body. Rinse.
Pros & Cons:
Pros
Intensely Hydrating
Pleasing hue
Invigorating scent
Nourishes Dry Skin
Prevents inflammation
Delays Ageing
Cons
Melts easily
Might worsen acne
Leaves a sticky feel on skin
3. Inatur Rose & Geranium Soap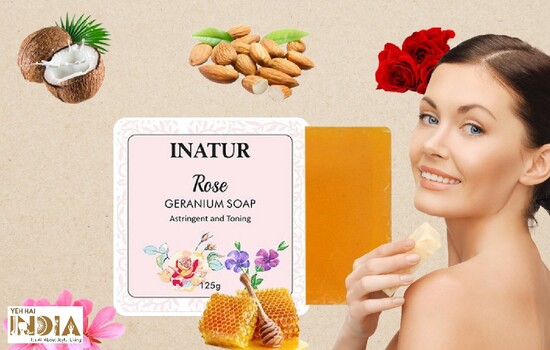 Touch & Feel:
This intoxicating floral surprise fused into a luminous orange hued bar is your perfect partner in summers to get rid of skin sagging and drying that takes place due to sun damage and pollution.
On first use, this soap feels like cotton to your skin and improves pH levels to restore moisture to dry skin. It leaves a pleasing aroma of high quality roses on your skin which is difficult to find in skin products claiming to contain rose oil.
It melts away dirt and grime from skin pores and leads to tighter and firmer skin free from any kinds of issues like blackheads, whiteheads or acne.
Bathing with this soap for over a week begins to rescue your skin from issues like ageing, uneven texture and sagging of skin.
Rose oil and Geranium oil are known to invigorate dull skin and restore vitality due to their ability to stimulate the blood vessels. These two ingredients help regenerate new cells to better the rate of collagen production and lead to tighter and younger looking skin.
Honey acts on neglected areas to revamp the appearance of ageing skin. It checks inflammation and lightens marks and blemishes for a more even complexion.
Packaging:
This bar of oils extracted from flowers comes packaged in a subtle baby pink case with 'Astringent & Toning' written at the front to depict the purpose of this soap.
Suitable For:
All skin types
How To Use:
Wet the soap with warm water and rub it on your palms to make a rich foam. Apply this foam on your face or rest of the body to cleanse the skin. Rinse with warm water.
Pros & Cons:
Pros
Visibly improves skin tone
Deep cleanses skin
Shrinks pores
Brightens dull skin
Promotes collagen formation
Prevents sun damage
Cons
Overpowering scent
Might exacerbate acne
Where To Buy:
Buy Inatur Luxurious Soap Collection Here or visit Amazon to grab this product at discounted rates.
Final Verdict!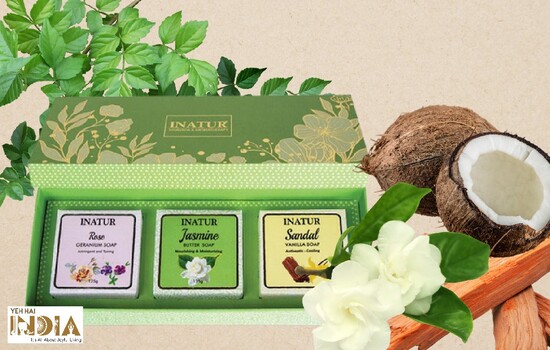 This giftbox collection of organic soaps is an irresistible combination that can save you from the tormenting effects of summer sun on your skin and body.
Inatur Sandal and Vanilla soap is a perfect partner for skin prone to acne, blackheads or pimples, while Inatur Jasmine and Butter soap works to humidify your skin from within and locks in moisture.
The Rose Geranium bathing bar is good for dry and ageing skin, the only downside being its overwhelming fragrance that tends to hit you on repeated use over your skin.
In totality, this collection of organic soaps crafted from natural essential oils lets you benefit from a diverse combination of aromas.
If you're bored of using shower gels and other body soaps, Inatur's collection of handmade soaps is the best bathing accompaniment to fill your life with unmatched freshness and fragrance.
A perfect gifting product, this soap collection has everything in it to encourage people into adopting eco-friendly and sustainable skincare practices.
The price should not deter you from getting the enormous benefits of these pure and vegan soaps.
Gift these soaps to your loved ones or use them yourself to get relief from the sweltering summer season and let your skin and body bask in their heavenly fragrances.
Also Read – CIEL Skincare Review : Is It Worth Trying?