Hair superfoods are beginning to attract attention from people across all ages and genders to attain bouncy and lustrous hair.
Thick, luscious hair is an Indian trademark and without fail, it adds elegance and charm to every look. But the upkeep of such hair can be equally difficult Indian hair texture is unique in itself, not the fine, straight hair common to Caucasians and not the tightly curled strands common in Africans. Indian hair tends to fall somewhere in between.
Today, it is harder than ever to care for Indian hair. Busy lifestyles, the abandonment of traditional haircare practices in favour of harsh modern treatments, and pollution have all contributed to deterioration of our hair.
This is where Milk & Honey Co. steps in with Hair & Nuts, an easy-to-use product that improves the health of your hair without being time-consuming like hair creams or hair masks.
Hair & Nuts is a package of edible sachets of various seeds, nuts and other constituents that contribute to healthy hair.
These sachets are nutrient-rich and regular consumption of them will increase the overall health of an individual alongside their hair health benefits, bringing back bounce, shine and thickness to hair.
Key Ingredients: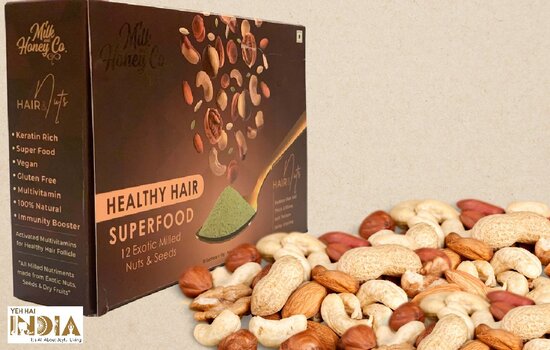 Chia Seeds
Flax Seeds
Macadamia Nuts
Pecan Nuts
Muskmelon Seeds
Fennel Seeds
Watermelon Seeds
California Almonds
Walnuts
Cashew
Kashmiri Mamra
Saffron Mishri
Price:
₹2,000 /- for a box of 15 sachets
Product Claims:
Hair fall reduction
Increase in thickness and shine
Softening of hair texture
Delaying of greying
Also Read – CIEL Skincare Review : Is It Worth Trying?
Our Review of Milk & Honey Co.'s Hair & Nuts Hair Superfood
Feel and Taste: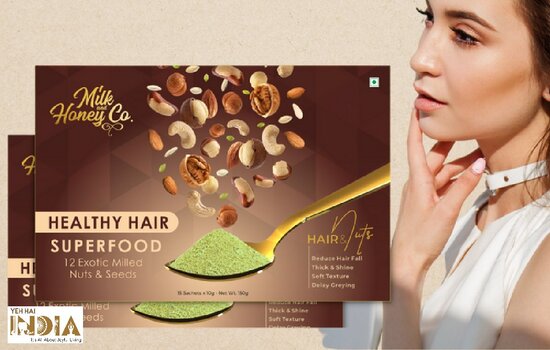 The sachets are filled to the brim with a green mixture made out of exotic nuts, seeds and other natural products meant to improve the health of your hair.
A single sachet is only 10 gms so it is easily consumed in one sitting although your throat may feel a little dry. While you're not supposed to add anything to the mixture, feel free to drink a glass of water afterwards!
Our study of the ingredients and their impact: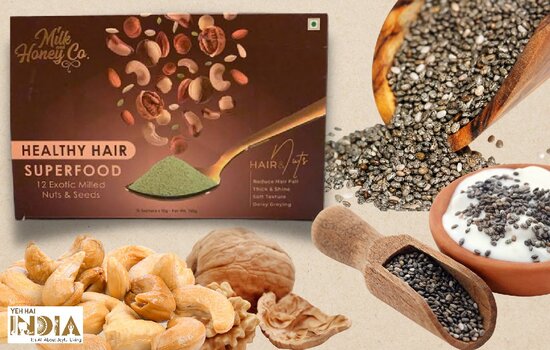 The vitamins and minerals in Chia seeds help strengthen the roots of your hair which in turn prevents hair breakage and hair loss. Essential amino acids and copper present in Chia seeds help boost scalp health.
Chia seeds are abundant in zinc which gives hair a natural shine and protects it from environmental stressors like harmful rays of the sun and pollution.
Flax seeds help to bind moisture to your hair shafts, minimizing breakage, frizziness and dryness. They also tranquillize the sebaceous glands so they produce the right quantity of oil for your hair.
Various other minerals and nutrients within flax seeds help reduce hair fall, increase hair growth and reduce scalp inflammation.
Macadamia nuts regulate oil production, hydrate the scalp, prevent oxidative stress and aid in restoring strength and shine to damaged hair. The greatest source of hair fall is anaemia, Pecan nuts are rich in iron which helps fight anaemia and grow long, healthy hair.
Muskmelon and watermelon seeds are natural conditioners and rejuvenate and hydrate hair. Fennel seeds fight oxidative stress and prevent hair fall. Almonds help increase the tensile strength and texture of hair.
Walnuts strengthen the scalp, repair damage and prevent dandruff. Saffron protects the hair against radiation, chlorine and other irritants while also promoting healthy hair growth.
Hair Type and Gender: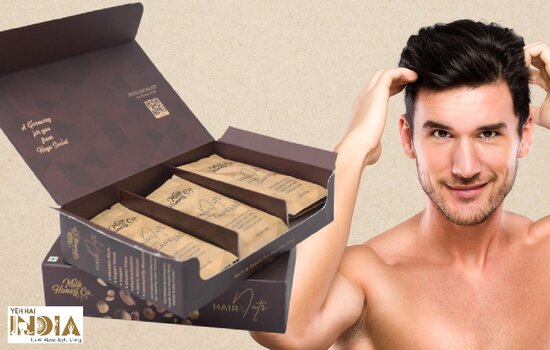 This product can be consumed by both men and women whatever their hair type, texture and age.
However, people with nut or seed allergies must be careful when buying this product and read the ingredient list to ensure there are no ingredients that might cause an allergic reaction on repeated use.
Recommended Story – Tegut Tea Tree Essential Oil: Product Review
Packaging: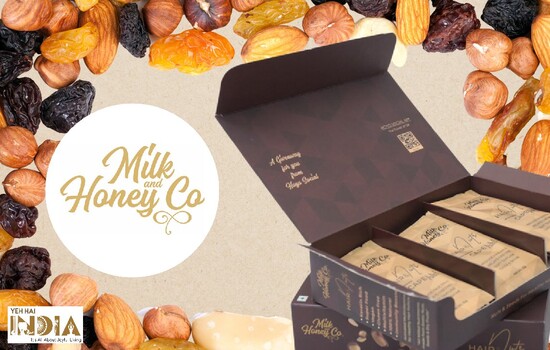 Milk & Honey Co. Hair & Nut comes sleekly packaged in a box containing 15 sachets for convenient use. An entire sachet needs to be consumed at a time, relieving you of the need to find containers to put leftovers in.
Overall, it's a very mess-free and easy to use product and this is reflected in the packaging of the product as well.
Price:
The price for 15 sachets of Hair & Nut or 150 gms of this product is ₹2,000. We feel that this is quite reasonably priced.
Recommended consumption of this product is once or twice a day and so, this box is meant to last one to two weeks depending on your usage.
The nutrients in the mix have a positive effect on your overall health alongside your hair and better yet, each ingredient is organic without the addition of preservatives or artificial colour or flavour.
An increase in hair health can be seen almost immediately after the use of Hair & Nut Superfood.
Where to Buy?
Milk & Honey Co. Hair & Nut can be purchased Here
Pros:
Quick-acting
Promotes scalp health and hair growth
Prevents follicle inflammation
Grows healthier hair
Restores thickness, length and shine to hair
Balances oil production
Reduces hair fall
Delays and prevents further greying
Completely mess-free
All-natural ingredients
Hygienic preparation
Cons:
Dry, powdery texture
Requires constant repurchasing for long-term use
Can cause allergies
How to use: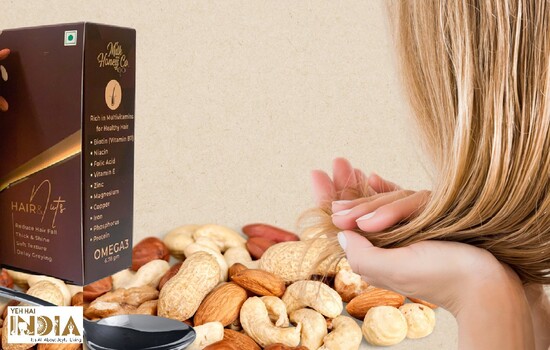 Hair & Nut is ideally meant to be consumed an hour after a meal. You can eat up to two sachets per day. The use of this product is fairly simple.
All you have to do is tear open the sachet and consume all of the contents within. Do not mix the contents with anything, consume them directly.
Final verdict: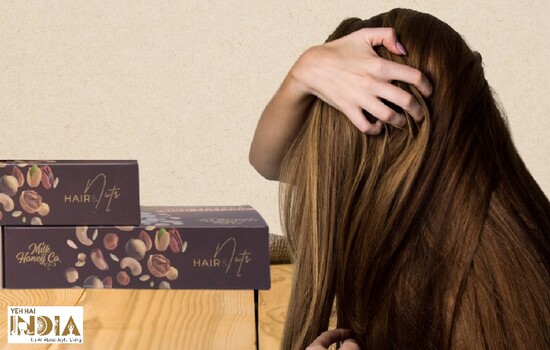 Hair & Nuts is a very convenient product that has a genuine and positive impact on hair health and scalp health. It contains an excellent mixture of natural nuts and seeds that tastes delicious and can be consumed directly without any further preparation
It contains no chemicals and artificial agents and is a great alternative to taking vitamin pills for improvement in hair health.
Drastic reduction in hair loss and hair damage and general improvement in the condition of hair can be seen within two weeks of usage.
Hair & Nuts can heal even the driest, most frizzy and lifeless hair and restore it to its former shine all while being delicious and easy to include within your daily diet. It delays greying, heals your scalp, improves circulation and soothes itchy scalp and hair follicles.
Let this delicious mixture work its magic on your scalp and your hair and reap the benefits for years to come!
Also Read – Lenphor Cosmetics Make Up Range: Product Review