The love for cruelty free and non-toxic products has massively influenced the cosmetic industry, resulting in manufacturers to produce a new make-up line employing cleverly selected ingredients known to offer high coverage without compromising skin health.
After years of using makeup loaded with toxic chemicals, there's a change in consumer behaviour that is making them put their attention on natural substitutes to minimize the damage on skin caused by synthetic cosmetics.
To help consumers make skin friendly choices, Lenphor Cosmetics, a Pune based make up brand has done a great job in providing cruelty free, vegan options in its make-up range.
Lenphor is the brand of Pune-based DWJA Cosmetics Pvt. Ltd., a leading CNF business that has been offering a premium range of cruelty-free, phthalate-free and vegan beauty products since 2017. Their products are available across India through various e-Commerce websites.
A lot of the branded products from abroad do not tend to perfectly match the diverse Indian skin tones. Lately, some major companies started including different shades to suit Indian skin tones better.
Lenphor strives to make premium quality products within affordable price range for the Indian market that are dermatologically tested, paraben-free, cruelty-free, and vegan.
The way Indians groom themselves has changed drastically over the last decade. Men and women collectively are conscious about the way they present themselves to others.
To look attractive and pleasing has gone from being called 'self-absorbed' to being 'expected' from everyone as a basic etiquette.
None of us girls leave home without one emergency eyeliner, lipstick or lip gloss at least in our handbags. The most basic necessities for a natural looking make-up will always include these three products: eyeliner, lipstick or lip gloss and a compact.
Let us see what Lenphor offers in terms of coverage and skin nurturing potential in these 3 products – Lenphor Matt Showoff Crayon Lipstick in Mad Mud Shade, Lenphor Flawless Compact Powder and Lenphor Timeless Eyeliner in Babe's Black.
Recommended Story – Best Ayurvedic Makeup Products: Indian Brands
Lenphor's Make Up Essentials – Review
1. Lenphor Matte Show-off Lip Crayon | INR 799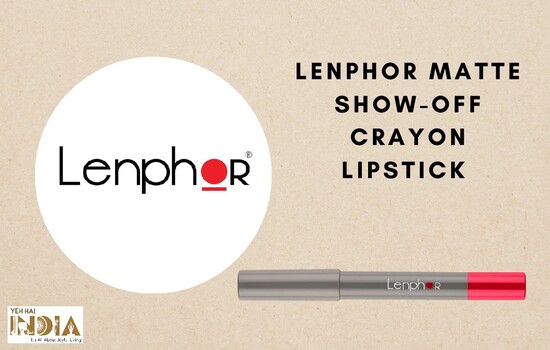 To have the perfect pout means you present yourself in the best way possible. Be it a party or a regular day at the office, having perfectly defined lips perks you up immediately on the outside and on the inside.
Finding the right shade and the right product that makes your lips look great is no trivial task.
Key Ingredients:
Triglyceride
Rice Starch
Microcrystalline
Wax Mica
Titanium Dioxide
Aloe Barbadensis Leaf Extract
Fragrance
Tocopheryl Acetate
Safflower Seed Oil
Synthetic Wax.
Our Review:
Touch and Feel:
It feels smooth on application with a velvety finish. It is long lasting and non-transferable. It is shine free yet retains moisture and stays on up to 12 hours. The texture after applying, the Matte Show-off crayon lipstick feels like a rose petal on your lips with long lasting hydration.
The coverage achieved is medium to full on single application and the colour is deep enough to define your lips.
The pigments do not wear off that easily, so you can apply a little Vaseline on top if you want to keep your lips moisturised as well.
The lipstick has a hard outer finish that softens as you apply it and looks very neat and classy. The tip is easily retractable and the range offers 14 different shades of pinks, reds and browns to glam up your look.
Mad Mud was the shade reviewed here and this colour was so slightly pigmented that you could barely see the colour on your lips. Maybe other darker shades in their line would score better on pigmentation. Also, the weight of the crayon lipstick is kept to 2.8 gms.
Overall, the Lenphor Matte Show-off Crayon Lipstick has our seal of approval on quality. We'll have to withhold our opinions on other colours though since we have not tried them on personally.
Packaging:
Lenphor's Show-off Lip Crayon comes wrapped in a very stylish packaging. It does not come off looking like a soft crayon pencil even though it is one.
How To Apply: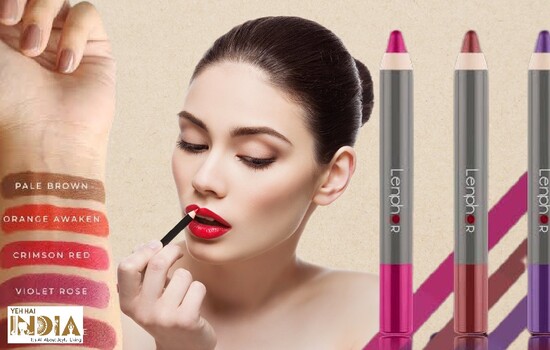 Swipe the crayon on the lip edges to line the lips for a defined pout. Fill in with the crayon with lighter strokes and let the colour blend in or use Lenphor Velvestick Matte Lipstick for added volume.
Skin Type:
Suitable for all skin types
Pros & Cons:
Smudge Free
Long lasting
Full Coverage
Water Resistant
Works best with Lenphor Velvestick Lipstick
Might be drying for dry lips
Firm hold
Cruelty Free
100% vegan
2. Lenphor Timeless Eyeliner | INR 549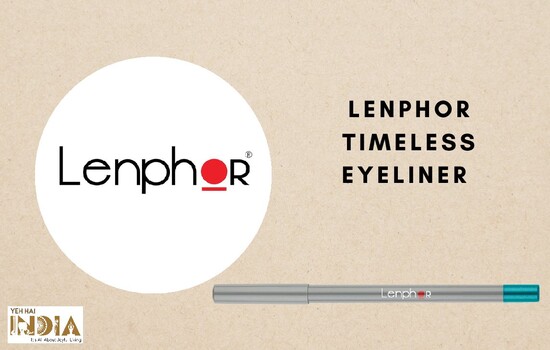 Your eyes are the first thing anyone notices on your face. None of us wants to look tired and dragging after a long or sleepless night. Jetlag, stressful days, and anything else that makes your eyes look tired can be beaten down with a neat, dark stroke of liner over the lids.
Next in our hands is the Timeless Eyeliner in Babe's Black 02.
Key Ingredients:
Mica
Iron Oxides
Dimethicone
Stearyl Dimethicone,
Synthetic Wax
Silica
Trimethylsiloxysilicate/Dimethiconol Crosspolymer
Caprylic/Capric Triglyceride,
Our Review:
Touch and Feel:
The eyeliner is easy to apply, smooth and creamy in texture and does not smudge easily. In fact, unless you are trying to remove it, it does not wear off at all. The pigmentation is dark, and stays on for quite a long time.
All it needs is a single stroke to give your eyes a sharp and lasting outline. It is waterproof as well and feels light on the eyes. The matte and pearl finish of the eyeliner adds bonus points to the product. The eyeliner weighs 1.2 gm and comes manufactured from Germany.
Lenphor also offers 5 other shades for that extra pop of colour on your eyes- So Green 01, Berry Blue 03, Silver Snow 04, Gold By Nature 05 and Gorgeous Grey 06.
Like Lenphor's other products, the Timeless Eyeliner is cruelty-free too. It definitely gets a positive score from us.
Packaging:
This smooth textured water resistant eyeliner comes packaged in a classy pencil case to offer the right level of grip needed for dextrous, smudge-free and flowy application that adheres well to your eyelids and eyelashes and stays on minus any spills.
How To Apply: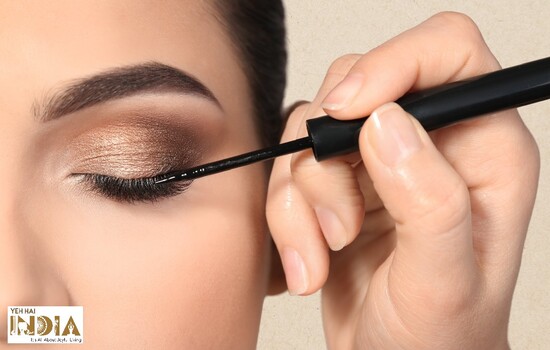 Use short strokes over the edges of the lids that overlap the prior stroke evenly. Extend to the corner of your eyes and furthermore, if you feel like adding some drama and definition to your eyes, make a winged liner or thicken the line at the corners to do it up or keep it to a single stroke or double up to have a simple, classy look.
Skin Type:
Suitable for all skin types. Safe for sensitive skin/eyes.
Pros & Cons:
Water resistant
Safe for sensitive eyes
Lasting color
Non-drying
Smudge-proof
Tough to apply compared to liquid liners
Cruelty free
100% vegan
Recommended Story – Avocado Infused Beauty Products
3. Lenphor Flawless Compact | INR 699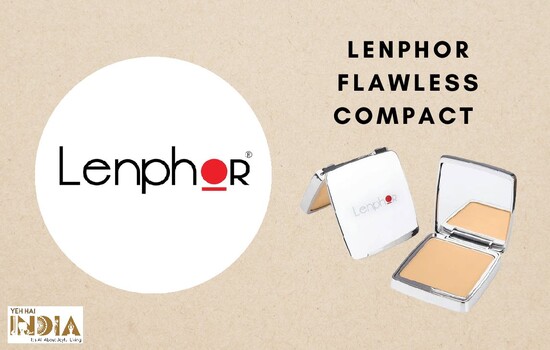 Compact foundation is an extremely important make up essential that helps complete your look. Your choice of compact can make or break your make-up game.
Too much and you end up with a cakey face and too little can make your make up vanish in just a few hours. With the right amount of compact application, you will look perfect with the right level of shine that enhances your natural glow.
The trick in mastering the compact lies in 2 things: picking the right shade to match your skintone and the way you apply.
Lenphor's Flawless Compact, is 100% vegan, phthalate-free and comes in 4 different shades- Ivory 01, Natural 02, Beige 03, and Honey 04.
The product is completely paraben and paraffin-free and has SPF 25++. It also contains Vitamin E that is a powerful anti-oxidant that protects skin from damage due to UV rays and free radicals.
Also, with Vitamin E, the compact is smooth and easy to apply on face.
Key ingredients:
Talc
Zea Mays Starch
Mica
Vitamin E
Dimethicone,
Nylon 12, Barium Sulfate
Cyclopentasiloxane
Octyldodecyl Stearoyl Stearate
Aluminum Starch Octenylsuccinate
Polyglyceryl-4 Isostearate
AlumIna
Our Review:
Touch and Feel:
It is a weightless formula with a velvety finish and does not cake up after setting. Even without any foundation or base, the clompact brightens your face leaving a dewy look and feel on your skin. It controls shine, keeping you fresh and glowing all through the day.
If you are using with a foundation, make sure you pat the compact onto the skin and spread it for a more even coverage. This Flawless compact really gives you a flawless finish after application.
The shades available perfectly suit Indian skin tones and brilliantly hide imperfections, lines, wrinkles, blemishes and scars to give your face a touch of radiance that manages to blend well with the rest of your skin.
Packaging
The product weighs 13 gm and comes in a packaging that is absolutely lovely. It has a mirror and applicator that comes with the compact. The applicator is not very good as such but otherwise the compact could be an excellent addition to your vanity kit.
How To Apply: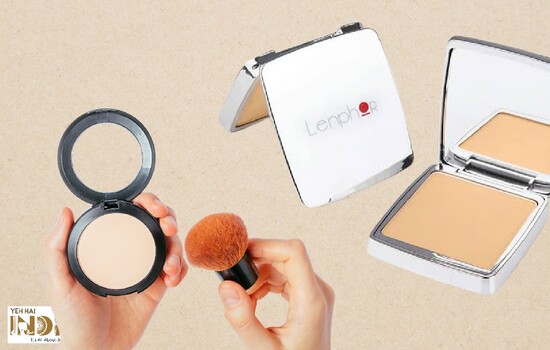 Prep your face with a light moisturiser, concealor (optional) and foundation (optional). Gently rub the applicator sponge over Lenphor Pressed Powder/ Compact and work it on your face starting from the inner corners of your nose, cheeks, forehead, nose, upper lips and chin using consistent strokes.
Remember to blend in the powder to match your skin tone and dust off any residues for a perfect finish.
Skin Type:
Works for all Skin types and suits Indian skin tones.
Pros & Cons:
Light texture
Buildable coverage
Non-cakey
Non- drying
Hides blemishes, spots, scars
Applicator fails to offer full coverage
Suits Indian skintones
100% vegan
Cruelty free
Final Decree!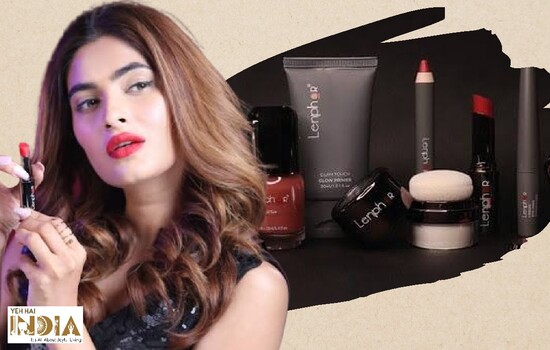 A truly remarkable collection of 100% Vegan and cruelty free Make-up essentials, Lenphor's Matte Show Off Lip Crayon, Timeless Pencil Eyeliner and Flawless compact definitely deserve a space in your make-up collection.
Lenphor Cosmetics manufactures products that are 100% vegan, completely cruelty-free and do not harm your skin. On that note, Lenphor's line of cosmetics gets a thumbs-up from us.
The Matte Show-Off Crayon Lipstick is a good choice if you don't mind the no-shine effect after application. What's even better is that it stays on for hours without drying your lips.
The Timeless Eyeliner, has our complete approval as a trusted product for daily make up look. The shades available give you plenty of freedom to don several dramatic looks on your face without any worries.
As for the Flawless Compact, you can get profound results if you replace the applicator for more precise application that lets your skin breathe and emit luminosity, naturally.
Buy the compact in a shade that suits your skin tone.
Lenphor's make up range is here to let you breeze through your day looking and feeling as fresh as a daisy!
Also Read – Anveya Curls' Care Kit : Product Review