An ultimate cure for all skin and hair maladies, Tea Tree oil reserves a special place in the beauty cabinets of men, women and teenagers.
Tea tree oil is a natural disinfectant with astounding benefits for skin, hair and overall health. Extracted in its natural state from the leaves of Melaleuca Alternifolis plant, this oil often features in skin products formulated to treat acne, thanks to its anti-inflammatory and anti-bacterial properties. It calms irritation, restores skin's normal ph levels and fights infections to keep your skin and scalp protected from microbial invasions.
It's an incredible beauty and health saviour that lets you benefit from its pure and raw nature to alleviate all sorts of skin and hair problems.
Here, in this review, we're sharing our experience with Tegut Tea Tree Essential Oil for its skin, hair and health nurturing qualities. 
Key Ingredients: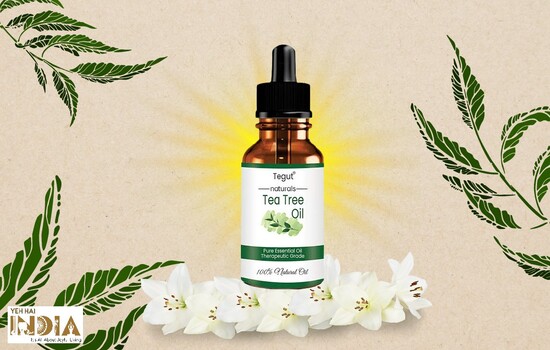 100 % Pure and Natural Tea Tree Oil (Melaleuca Alternifolis)
Price:
₹185 for 2 Bottles
Claims:
Improves Scalp health
Wards off acne and scars
Stimulates hair growth
Treats skin infections
Heals cuts and wounds
Kills lice
Recommended Application:
Mix two to three drops with 12 drops of carrier oil before use.
CAUTION :
Essential oils are highly concentrated and volatile in nature. Exposure to highly concentrated oils might cause allergic reactions. Never inhale the oil in its pure form and keep them away from the reach of children.
Recommended Story – Best Ayurvedic Hair Oils For Voluminous Hair
Our Review on Tegut Tea Tree Essential Oil:
First Thoughts: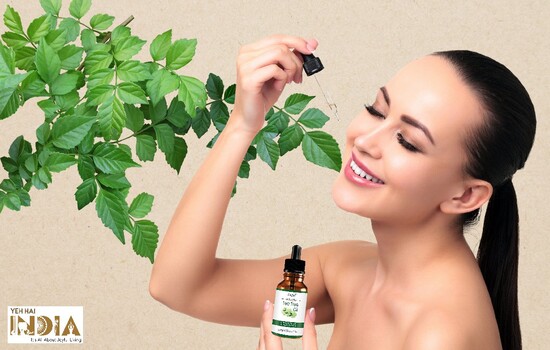 This T-Tree essential oil has a decent texture and fragrance that speak of its quality and purity. Though, the fragrance is a bit different than most other variants in the market, its invigorating and leaves you feeling fresh and relaxed.
A week long application of this oil mixed with argan oil on combination skin seemed to improve overall skin texture and calmed the breakouts that surprisingly erupt on the T-zone from time to time.
On the second week, the scars of previous acne started to fade and the skin felt dewy and velvety. This oil spreads easily and seeps into your skin to deeply moisturize and cleanse it from within.
It's anti-bacterial and anti-fungal nature lets your skin recover from acne inflammations and skin dryness that accompanies acne.
For hair, I found the oil to be a wonderful scalp cleanser when mixed with cold pressed olive oil. It seeps into your scalp immediately to offer long lasting hydration.
With continuous application of Tegut T- Tree oil for over a month, hair starts to gain volume and lustre. Its aroma lingers on to create a relaxing, pleasing atmosphere and heals nervousness.
Issues like dandruff, itchy scalp and brittle hair also get managed with consistent use of T-Tree essential oil.
It makes for a wonderful surface disinfectant for home cleaning. Just mix a few drops of it in home cleaning solutions and fill your home with its pleasing scent.
It wards off insects and keeps your home germ free.
Packaging: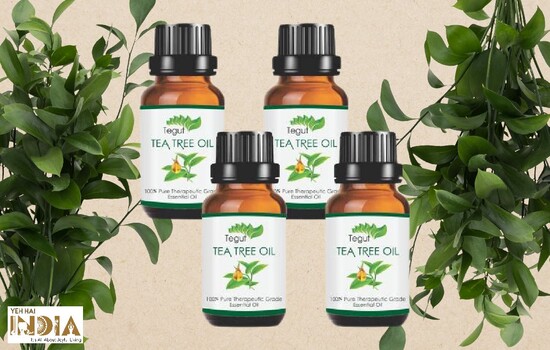 Tegut T-Tree Essential Oil comes in a 10 ml container with a dropper lid that lets you use the oil in correct quantities minus any wastage or spills.
The dropper allows you to mix the oil easily with carrier oils and in right proportions.
The container clearly mentions Melaleuca Alternifolis written on it which reveals the pure nature of this oil. From the unending range of T-Tree oils in stores, it's rare to find the one obtained from real Melaleuca Alternifolis plant.
Skin Type and Gender: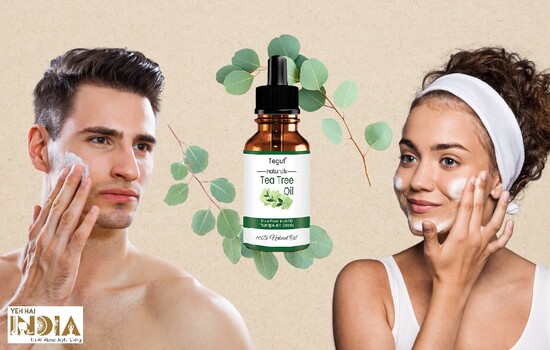 Suitable for all skin types. Can be used by both men and women.
Where To Buy:
Click on this link:
Tegut Tea Tree Essential oil: Pack of Two
to buy Tegut T-Tree Essential Oil or find on Amazon, Flipkart or Snapdeal.
How To Use: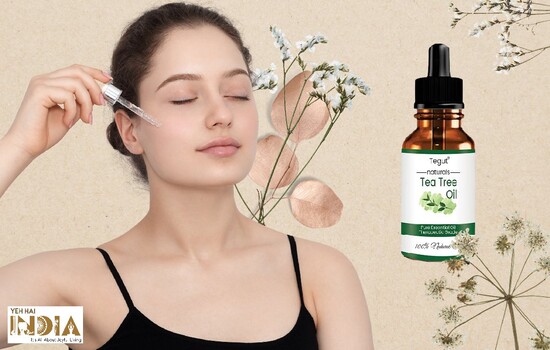 Face:
Mix two to three drops of T-Tree oil with a teaspoon of honey. Apply this mixture on acne prone areas for some days.
For dry skin mix a drop of T- tree oil with olive oil and dab this mixture all over your face.
Recommended Article – Best Ayurvedic Oils For Body Massage
Hair:
Mix two drops of T- tree essential oil in your regular hair oil and massage your scalp. Leave on for ten minutes and rinse off with a mild shampoo.
Fungal Infections:
Soak a cotton ball in a mixture of T-Tree essential oil and coconut oil and place over the nails or any other region afflicted with fungal infection or growth.
Alternatively, for toenail fungus, doing a foot soak in warm water with five to six drops of essential oil mixed in it offers relief from this condition.
Wounds and Cuts:
Mix a drop of the essential oil in any anti-septic or anti- bacterial ointment and apply on the wounded parts.
Home cleaning:
Mix two drops of the oil and a pinch of baking soda in three cups of warm water to make your own surface disinfectant.
Final Verdict!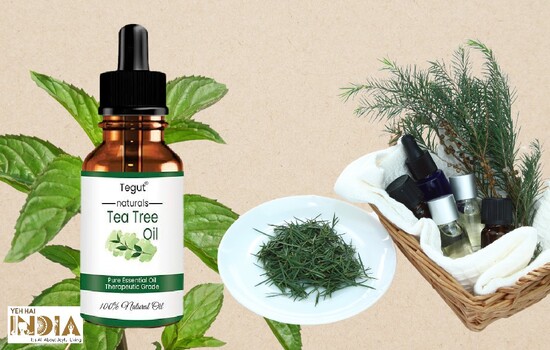 Tegut T- Tree essential oil is a clever investment to stay protected from germs, bacteria and viruses. A winning trait that instantly puts you in the habit of using T-Tree oil is it's cool and soothing nature that calms itchiness and irritation.
With all these qualities, it makes for a perfect antidote to skin woes that invade skin in summer season.
It easily blends with carrier oils for better permeability. Using a drop of it mixed in your day cream or lotion checks build up of sebum in skin pores to prevent acne-flare ups.
It's derived from Melaleuca Alternifolis plant employing a special procedure known as steam distillation that keeps the real nature of the plant intact. This renders it a potent source of terpinene, a component that is responsible for T-Tree oils efficacy in treating acne inflammation.
For fungal Infections, this oil is a miracle remedy that works to kill fungal growth on skin and nails with consistent application.
This oil is a must have ingredient for all your beauty and health needs. It also takes care of your home hygiene and leaves a pleasing aroma in your living space.
In a crisis like COVID – 19, having a handy cure to keep germs and viruses at bay is the best thing one can do to stay disease free. Tegut T-Tree oil is, without a doubt, one of the best disinfecting ingredients to always have in your homes for maintaining optimum levels of hygiene in your surroundings.
Trust our experience, go ahead and buy Tegut T-Tree essential oil straight away without any second thoughts!
Also Read – 8 Best Face Oils For Dry Skin