Gifts!
Birthday gifts, wedding gifts, anniversary gifts, Diwali gifts, Rakhi gifts, Bhai Dooj gifts, valentine's Day gift, Mother's Day gifts, gifts gifts gifts gifts….. with over 100+ occasions, India is a country where gifting has become a tradition.
In our country we don't even visit forests ams family 'khali haat'!
Gift is not just a commodity wrapped in paper but deep emotions tied with bond and connections.
Not many know that the Gifting was first introduced by Frobel. He prepared a personalised gift for his children. Well, gifts mean a lot more if they are sprinkled with love and personal touch.
Here is a list of 5 top personalised gifting sites which will help you get the perfect gift!
1. IGP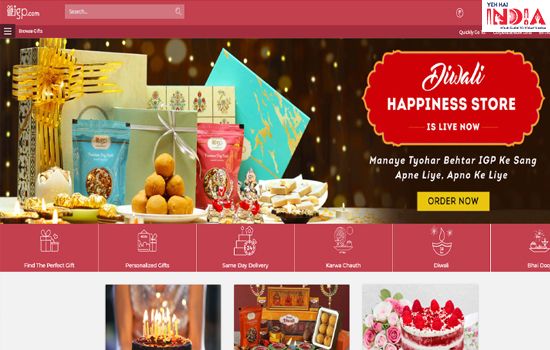 This blush red and white coloured site highlights different kinds of gifts. It has 8+ categories in personality gifts. From home decor to stationary, they have a vast range of personalised gifts to offer.
They also have a unique section called digital cards where you can send personalised digital cards to your loved ones who you can't meet. From personalised photo popping boxes, cubes, pens to personalise wrapping paper, photo frames, this site is full of exciting gifts. With a moderate price range, IGP can be a pocket friendly gifting site too! The price ranges from Rs 200 to Rs 5000.
Recommended Story – Best Online Shopping Websites in India
You can also get help from IGP if you are confused about what should be gifted. They have a separate section of FAQs to help you understand what personalised gifts are and how to choose the best one!
With easy return policy, refunds options and exchanges, IGP is a perfect solution to your gifting problems.
However, their delivery duration is 7 to 10 days. If you want your customised gift to be delivered within two days, you might be asked to pay extra. Standard delivery fees are between rs50 to rs99 depending upon the type of gift and the duration of delivery.
2. GIFTCART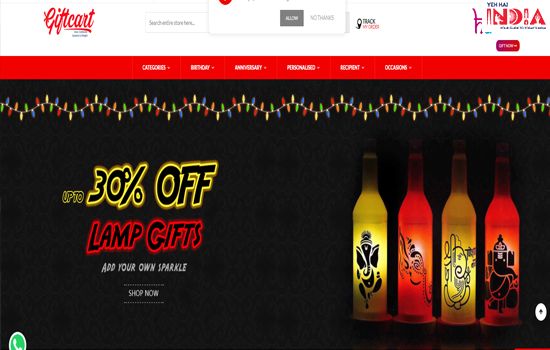 Understood by the name, Giftcart is a super flexible site with a wide range of gifting items. Not only do they have personalised gifts but also general ones. From individual orders to bulk orders, Giftcart does it all!
With Personalised gifts for family and friends ranging from Rs 150 to Rs 5500, Giftcart aims to make their customer's choice easy.
They also have an entire section which is always on sale! From perspective pens to cushion covers, the sale section itself has many options. They have also divided sections according to gender so that the customer's experience is smooth and memorable.
Contacting them for any doubt is even easier than thought, as soon as you open their site, you will see a Whatsapp icon on the bottom left, on clicking in that, you will be able to chat with them within a few seconds. Their standard delivery time is 5-7 days with a standard fee of rs 99.
3. FNP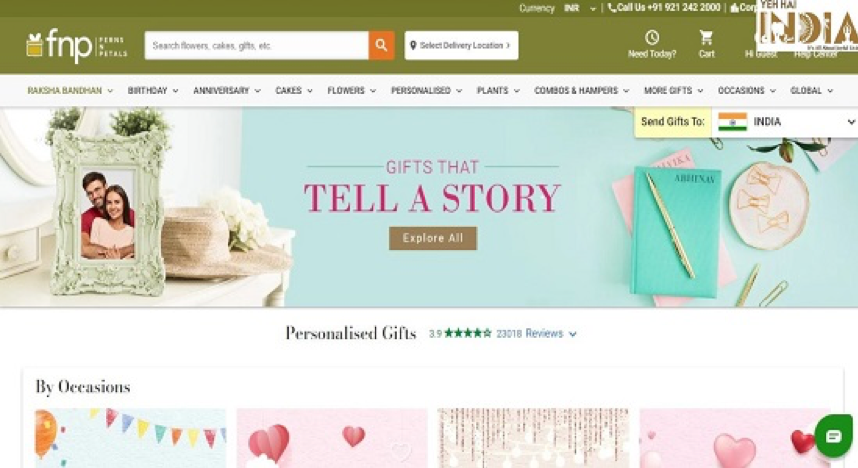 This brand kick-started its journey with flowers, but due to growing demands, it expanded its business to accommodate other gifting options- cakes, plants, hampers, accessories and personalisation.
As a gifting giant, they believe in offering an innovative, ever-evolving and premium range of products that have helped them surpass others who have been a part of this industry for years.
With a broad selection of gift ideas, be it in floral, cake or electronic sections, they never fail to offer premium quality. The personalized gifts online category is one you cannot miss! The massive collection of cushions, mugs, photo frames, glassware, gadgets, accessories and other home decor items will make you want to buy them all. Additionally, with their wide and inclusive price brackets starting from ₹249 and going up to ₹20,000, they cater to all kinds of buying capacities.
That's not everything! FNP has stunned its customers with its popular reliable delivery services- same day, and 2-hours. So, if you ever find yourself in a state of panic, you can complete your last-minute gift shopping with FNP.
4. WINNI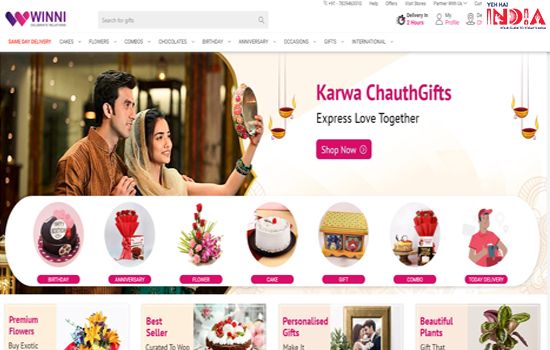 This bright coloured site is divided into 9 gifting categories. They have personalised beer mugs, alphabet lamps and even chocolates!
Winni also has divided their gifting items according to relations. There are different sections for gifts for mothers, sisters, friends and others. They also have combo offers for couples.
With the advertising headline "send gifts under 299", they have a flexible price range.
Winni also has personalised advanced technological gifts like 'birthday Bluetooth speakers' or 'crystal cube' which looks very elegant and fun!
With stands delivery of 3-10 days, Winni is a pocket friendly gifting site.
5. PRINTLAND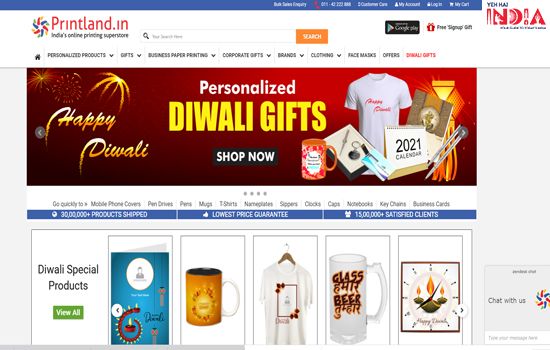 This simply designed blue and white website offers unique personalised gifts. From personalised pen drives to mobile covers, they believe in making the little things unique. 
They claim to provide the 'lowest price' which seems to be true as their price range starts from rs 3 and goes upto to rs 3000. They also give a 5% discount to new customers.
One of the unique facts of this site is that they are partners with other brands like Borosil, Nataraj, Parker and many more. This is mainly to provide their customers the best quality product.
Printland like the names says beloved that prints can be made on anything and everything! It is definitely one of the most fun sites for personalised gifting!
Well, these were a few top google rated websites that can be checked out for some amazing, pocket friendly personalised gifts.
Gifts are a true gesture of love and affection, the age of Indian tradition can be modernised but can never stop!
Keep spreading love wrapped with warmth and taped with a personal touch!
Also Read – Top Sites to find Internship Jobs in India