Natural handmade soaps are perfect alternative to commercial soaps that come loaded with chemicals known to have toxic effects on our health, if used for a long period of time.
Handmade soaps are made with natural agents such as essential oils, herbs, and other ingredients to ensure the you get a great bunch of benefits in a single product without any presence of preservatives and fragrances.
These soaps are not only great for your skin but are also considered environment friendly as they do not contain any animal fats and preservatives, or any artificial colours and fragrances.
That's why they are considered much safer than commercial soaps.
How Are Handmade Soaps Better?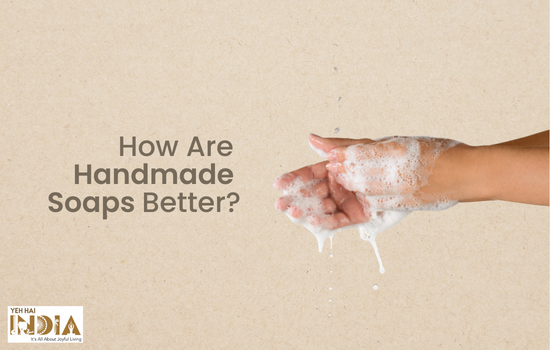 Unlike commercial soaps, natural handmade soaps are free from harsh chemicals and often contain valuable skin-healthy ingredients including Shea butter, avocado oil, olive oil, almond oil and coconut oil.
They are also full of natural glycerin, which draws moisture to the skin and keeps the cells hydrated and nourished.
Handmade soaps also tend to be of higher quality, as they are made with natural, organic ingredients. They also produce a richer, more luxuriant lather that stays on the skin for longer than other varieties of soaps.
The ingredients used in handmade soaps are usually cruelty-free, while many commercial soaps are not. Also, commercial soaps often contain fragrances, dyes and other synthetic ingredients, which handmade soaps are devoid of.
Overall, natural handmade soaps are a much better choice than commercial soaps when it comes to addressing skin issues. They are known to be gentle on skin yet keep it thoroughly cleansed and moisturized at the same time.
So, if you're looking for a more natural and skin-friendly option, then natural handmade soaps are the way to go.
Recommended Story – 7 Best Natural and Organic Soap Bars in India
Rewarding yet tedious Process of Manufacturing Handmade Soaps
The process of making handmade soaps is a time-consuming one, but worth the effort due to the quality you get in return.
Many people find that handmade soaps provide a much more pleasant and moisturizing experience than commercial soaps, because of the quality of ingredients used in their manufacturing which are always fresh and organic.
To make it easier for you, we have a carefully selected list of India's 5 best organic and handmade soaps.
Best Organic Handmade Soap Brands In India:
1. Bon Organics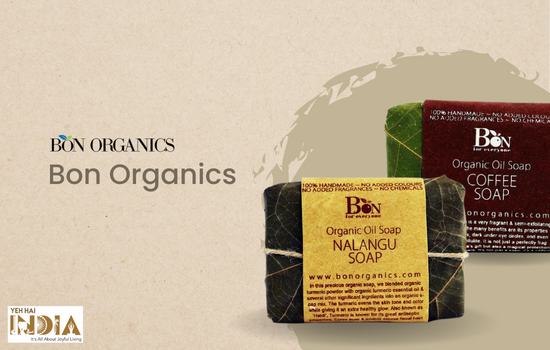 Bon Organics is a brand based in India, committed to responsible sourcing and production of high-quality, handmade soaps that are sure to provide a truly unique natural skin care experience.
Its products are 100% natural, vegan, and chemical-free, making them beneficial for people with sensitive skin and allergies. Also, all the soaps are made without SLS, parabens, and artificial fragrances, making them safe for use.
The soaps are handmade in small batches using traditional recipes, ensuring quality and freshness. All their soaps are made from organic, plant-based ingredients that are sustainably sourced from India.
They have a broad range of soaps and with each soap bar, you get a unique luxury feel. The soaps are made from herbal ingredients such as fruits, roots, and flowers which are packed full of natural goodness.
The added essential oils create effects similar to aromatherapy, while some soaps also come with luxurious exfoliants to help buff away dead skin, leaving skin feeling super soft and smooth.
3. Vilvah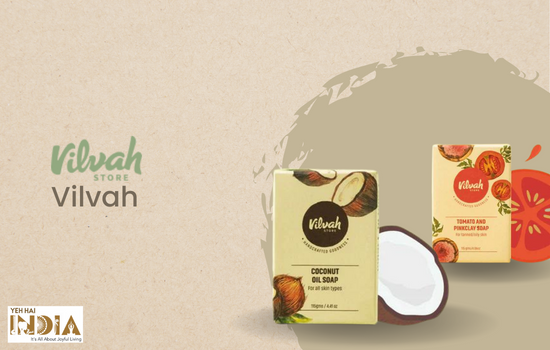 Vilvah is an Indian natural skincare brand based in Coimbatore that offers a collection of handmade soaps and body care products. All of their products are cruelty-free, vegan, and made with natural, nourishing ingredients.
Vilvah's range of soaps includes Coconut Oil Soap, Charcoal Goatmilk Soap, Classic Rose Goatmilk Soap, Carrot & Kaolin Clay Soap, Coolwater Men Soap, etc. They are free from parabens, phthalates, and other artificial fragrances and colours.
Vilvah is committed to making a difference in society and the environment. All of the soaps are created with renewable resources and the packaging is made from recycled materials.
4. Fiducia Botanicals Artisan Cold Processed Soap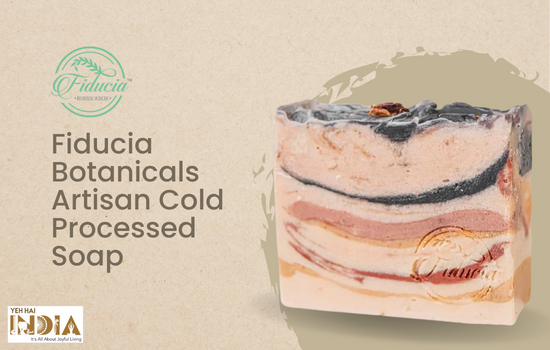 Fiducia Botanicals Artisan Cold Processed Soap is made using a cold process technique that preserves the natural ingredients, like essential oils and butter that make it so special.
This soap is made from organic extra virgin olive oil, locally sourced illipe butter and kokum butter, organic virgin coconut oil, organic castor oil, unrefined Karanja oil, palm oil and sweet almond oil.
The soap exfoliates and detoxifies the skin with ingredients such as Red clay, French green clay, Brazilian yellow clay, liquorice and charcoal and helps brighten and reduce tan.
It is also vegan and cruelty-free, making it a great choice for those who are looking for an ethical and sustainable product.
Fiducia Botanicals Artisan Cold Processed Soap is a great choice for those looking for an all-natural, luxurious soap that is safe and kind to your skin.
5. Juicy Chemistry Organic Gourmet Soaps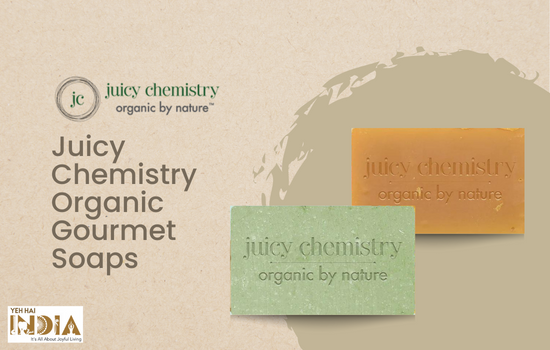 Juicy Chemistry is an Indian brand that offers a luxurious, natural soap experience. Its Organic Gourmet Soaps are handmade and crafted to meet the highest levels of quality and satisfaction.
They are made with organic, plant-based oils, butter, and clays to nourish your skin, enriching it with vitamins and minerals.
The scents and beautiful colours brighten up the bathroom, making it an uplifting experience. They are incredibly gentle, lathering up nicely and wash away impurities with no stickiness left on your skin.
Their line of gourmet soaps is available in a variety of flavours including Tea Tree, Neem and Rosemary Soap, Sugarcane and Grapefruit Soap, Papaya, Apricot and Mandarin Soap, etc.
The ingredients are natural, vegan and cruelty-free, making them an ethical choice without sacrificing quality.
6. Yellow Tent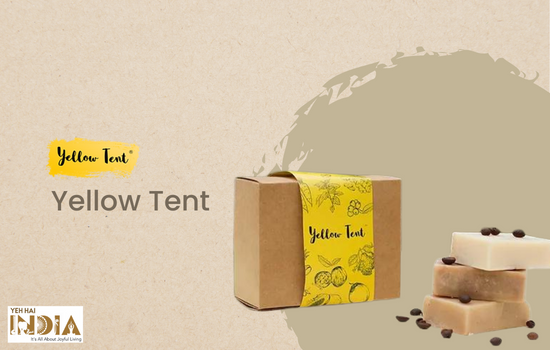 Yellow Tent is founded and run by Deepthi Tanikella manufactures bath and body products that are 100% natural, organic, vegan and completely sulphate and paraben-free.
Their line of vegan soaps includes a Nettle & Nutmeg soap, Ancient Ubtan soap, Carrot & Chia soap, Mocha Oats soap and Papaya & Wild Turmeric soap.
The price of these vegan soaps cost about Rs 200 apiece.
Yellow Tent also has a novel line of whipped cream soaps that are packed in cute little tubs. They have Mamidi-Mango Whipped Cream soap and Neela – made from a fatty substance extracted from nuts of the African shea tree, Vitellaria paradoxa and Shea butter.
Try these unique handmade soaps for yourself for a luxurious bathing experience.
Also Read – Product Review: Inatur Luxury Handmade Soap Collection Review