Natural and delicately scented shower gels are the ultimate saviour for skin that has to constantly suffer the effects of pollution and poor hydration.
Shower gels have become increasingly popular in recent years due to their convenience, affordability, and variety of fragrances and textures. They offer a quick and easy way to cleanse and moisturise the skin without having to use bar soap.
Many shower gels also contain beneficial ingredients like vitamins, minerals, and essential oils which can help nourish and protect the skin. Also, shower gels come in a variety of pleasant scents, which can make showering a more enjoyable experience.
Shower gels typically contain more moisturizing ingredients than bar soaps and are often more fragrant than traditional soaps.
Shower gels are typically more expensive than bar soaps, but can be equally and sometimes more effective at cleansing and hydrating the skin. Ultimately, it comes down to personal preference when deciding which one to use.
We have curated a list of 100% natural shower gels that are organic and do not include any harmful or chemical ingredients in them.
10 Best Natural Body Washes For Day Long Freshness:
1. Forest Essentials Silkening Shower Wash with Mashobra Honey & Vanilla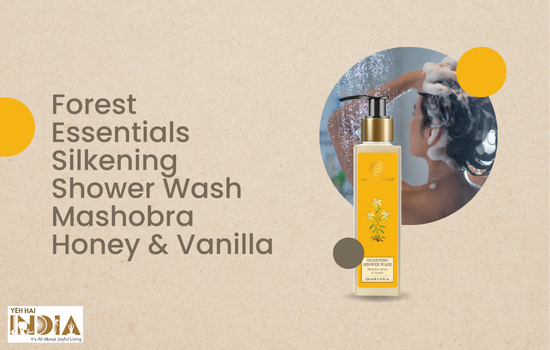 Forest Essentials Silkening Shower Wash Mashobra Honey and Vanilla is an exquisite blend of pure honey, milk extracts and vanilla bean extracts. The Royal Nectar of Jamdani Mashobra is enriched with honey which helps to nourish and moisturise.
This luxurious shower wash leaves skin feeling revitalised and nourished with its hydrating, natural and mineral-rich ingredients. The sweet scent of warm vanilla and honey creates an indulgent shower experience.
It has a delicate foaming lather that gently cleanses and soothes the skin, making it feel soft and luxurious. It's calming properties help to soothe and uplift the senses for an invigorating morning.
It is formulated to be suitable for all skin types and its pH-balanced nature makes it a perfect choice for everyday use.
Price: Rs 1295 (200 ml)
2. Khadi Natural Sandalwood & Honey Body Wash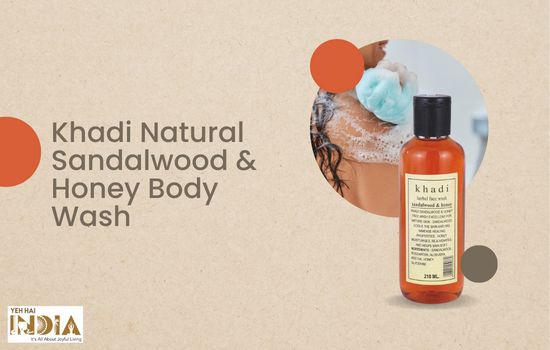 Khadí Natural Sandalwood & Honey Body Wash is a luxurious and refreshing body wash that uses natural ingredients to cleanse and nourish your skin.
Honey in this wash is sourced from Rajasthan and helps to moisturise and keep skin hydrated. Sandalwood helps to exfoliate and fight acne, while rosemary and lavender essential oils help nourish, protect and calm the skin.
The natural ingredients are combined with a hint of citrus to provide a luxurious and relaxing aroma to help calm the senses. This shower gel also has antioxidant and anti-ageing properties to keep skin looking younger and healthier.
It is sulfate and paraben-free, so it is gentle on the skin and safe for use by all skin types.
Price: Rs 210 (210 ml)
3. SoulTree Indian Rose & Cooling Vetiver Shower Gel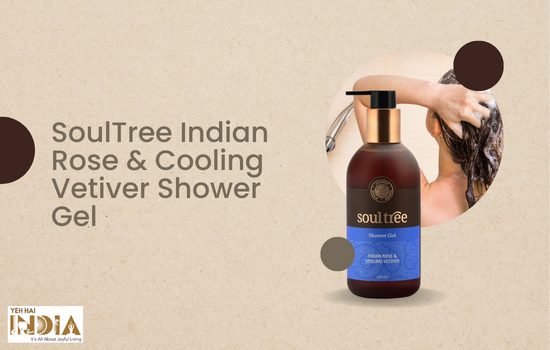 SoulTree is a certified natural product that is free from parabens, synthetics, silicones and phthalates and is thus safe for all skin types. It is also vegan, cruelty-free and ethically sourced.
SoulTree Indian Rose & Cooling Vetiver Shower Gel is a unique, luxurious and natural product which captures the essence of the Indian terrain.
It is infused with natural ingredients such as rose and vetiver giving it a subtle yet intense scent which makes it incredibly refreshing. The gel is formulated so that it lathers up quickly and leaves your skin feeling fresh and moisturised.
The unique combination of the rose and vetiver makes it ideal for anyone looking for an indulgent, natural shower experience.
The added agave and xanthan gum create a creamy and soothing effect on the skin that leaves it feeling soft and supple.
Price: Rs 1075 (250 ml)
4. Vilvah Moisturising Bodywash (Goatmilk & Vanilla)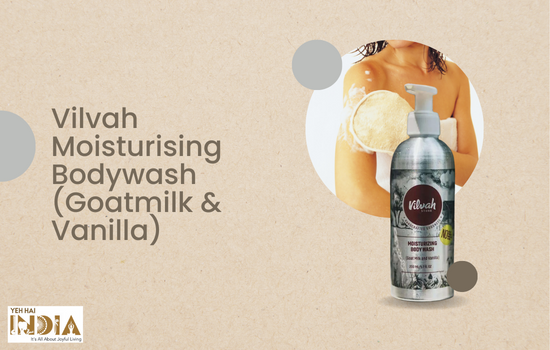 Vilvah's gentle Moisturising Goatmilk & Vanilla Bodywash is made with quality natural ingredients that leave your skin feeling clean, hydrated and smooth.
Goat milk helps to nourish the skin thanks to its potent mix of vitamins, minerals and proteins, while the Vanilla extract adds a beautiful fragrance.
This body wash is designed to deeply cleanse and restore your skin's natural balance, leaving it feeling hydrated, refreshed and free of impurities.
Its creamy texture also helps to condition and soothe the skin, making it an ideal choice for those with dry, irritated or sensitive skin.
The moisturising formula of this body wash leaves your skin feeling nourished and comfortable for hours after usage. It is available in 50ml and 200ml bottles.
Price: Rs 150 (50ml), 550 (200ml)
5. Arata Cleansing Body Wash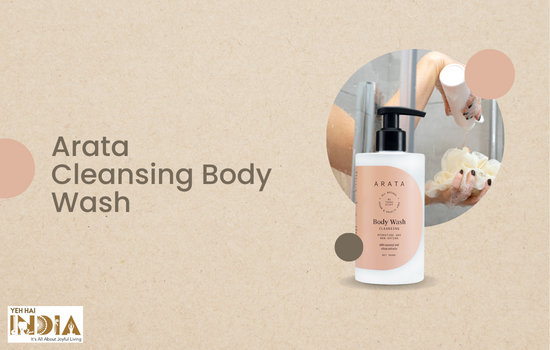 Arata Cleansing Body Wash is an Ayurvedic formula that includes coconut oil extracts, citric flowers and fruit extracts and essential oils.
This body wash is enriched with natural oils and botanicals such as rosemary, lavender and citric fruit oil, which helps to nourish and moisturize your skin.
The deep cleansing action of this body wash is gentle on your skin and helps to keep it healthy and hydrated.
The nourishing and antioxidant properties of the ingredients make it perfect for sensitive skin, and it can be used daily, as a part of your skincare regimen.
This product is free of harsh chemicals, synthetic fragrances and dyes, making it safe to use regularly.
Price: Rs 699 (300ml)
6. Biotique Apricot Refreshing Body Wash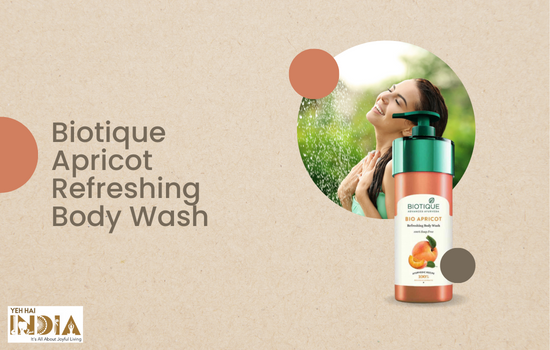 Biotique Apricot Refreshing Body Wash is a vegan-friendly, highly popular, and recommended natural body wash formulated to cleanse and refresh the skin.
It is made from a blend of natural ingredients like apricot, honey, and aloe vera. Apricot is packed with vitamins and minerals that nourish the skin, while honey and aloe vera help keep the skin hydrated and smooth.
This body wash has a mild and refreshing fragrance that is pleasant and not overwhelming. The lightweight lather is gentle on the skin and does an effective job of removing dirt, sweat, and oil.
It leaves the skin feeling soft and supple and the feeling stays around for a considerable amount of time. What's more, it is free of sulfates, parabens and other harsh chemicals.
Price: Rs 220 (200ml)
7. Moms Co. Natural Body Wash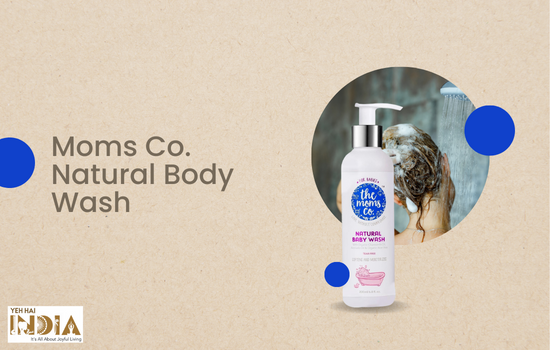 The Moms Co. Natural Body Wash is an all-natural, vegan body wash that is perfect for mothers, babies and even those with sensitive skin.
It is enriched with natural ingredients such as Organic Moroccan Argan Oil, Natural Vitamin E, Organic Aloe Vera and Sweet Almond Oil.
The body washes effectively cleanses and hydrates the skin, maintaining its natural pH balance. It does not contain any sulfates or parabens, making it a very gentle formulation.
It is also free of synthetic fragrances, making it a great option for those who prefer to avoid products with artificial fragrances. This body wash is enriched with natural essential oils, making it a great choice for those whose skin is prone to getting irritated.
Price: Rs 348 (200ml)
8. Bella Vitta Organic Chakra Cleanse Body Wash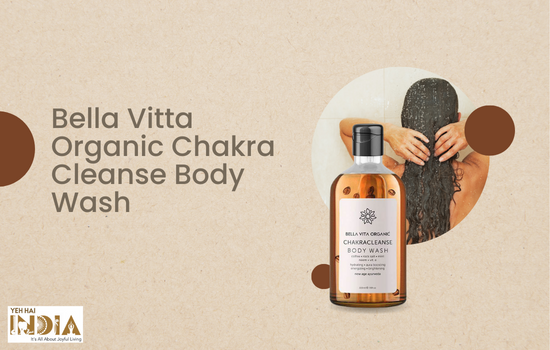 Bella Vitta Organic Chakra Cleanse Body Wash is an amazing, natural essential oil-infused body wash. It is formulated with an Ayurveda-based blend of coffee, neem, mint and rock salt to provide a truly peaceful and calming cleansing experience.
The rock salt acts as a detoxifying and de-tanning agent while the mint and neem extracts give you a refreshed cleansing experience.
Not only does it leave your skin feeling soft, smooth and refreshed, but it helps to restore and balance your energy levels for an overall feeling of well-being. It has a pleasant yet subtle aroma that works with the body's natural chemistry to remove toxins from the skin and reduce stress levels.
Price: Rs 299 (300ml)
9. Just Herbs Wild Indian Rose (Shatpatri) Body Wash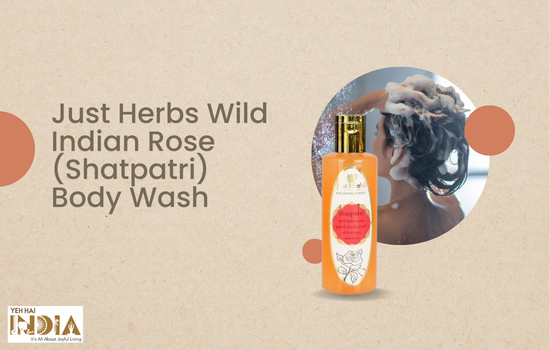 Utilizing wild Indian rose grown in northern India, this body wash has enriching vitamins and minerals that are beneficial for the skin.
Its nourishing formula adjusts to the skin's needs, moisturising and soothing as it cleanses, leaving skin feeling purified, balanced and refreshed. Its delicate scent of sweet soft rose petals is like a refreshing morning kiss that invigorates and uplifts your day.
Just Herbs products are cruelty-free, sulphate & paraben-free, purely vegan and contain 100% herbal actives and no harmful toxins.
Price: Rs 625 (300ml)
10. Biotique Morning Nectar Nourish & Hydrate Body Wash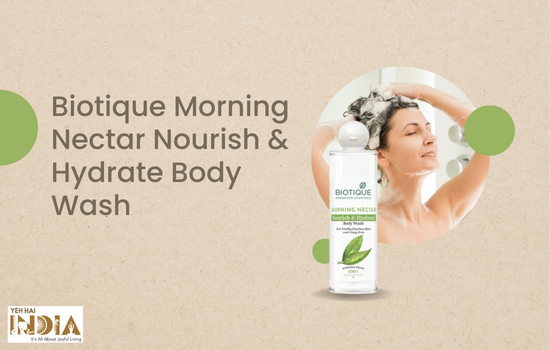 Biotique body washes are a luxurious way to keep your skin ultra-clean and nourished. They are made from natural, organic ingredients, free from preservatives and parabens, and are incredibly gentle on the skin.
It's Morning Nectar Nourish and Hydrate body wash is designed to give you a flawless complexion with regular use. A blend of skin brightening herbs and natural agents it helps lighten the appearance of blemishes, spots, pigmentation marks to give you a radiant and more evened out complexion.
It provides long-lasting hydration so skin stays healthy and glowing, without feeling uncomfortable or dry.
Price: Rs. 220 (200ml)
Treat yourself with these delightfully scented natural shower gels for an invigorating and refreshing experience that stays on throughout the day.