Women have faced a lot due to being open about raising their voices regarding female hygiene.
It is considered to be a sensitive topic or matter that needs to be just understood rather than being talked about.
Common taboos conclude that women are impure, dirty, or sinful while they're menstruating.
They are even discouraged from washing themselves during their periods to eliminate the possibility that they might contaminate everything around them.
India's revolutionary feminine hygiene and period care brand, Sanfe strives to make the world a better place for women.
The brand creates a safe haven for females by adorning deep-rooted values.
They create comfortable, rash-free, organic, and environment-friendly safe products carried in Eco-friendly packaging.
The brand was birthed by two IIT Delhi graduates Archit Agarwal and Harry Sehrawat.
They want to create solutions for an array of struggles women undergo in the personal care department.
According to them, instead of any gender bias, addressing these issues out in the open will help women to actually have important conversations openly.
Recommended Story – Atmantan Naturals: Your 'Health Wingman'
Journey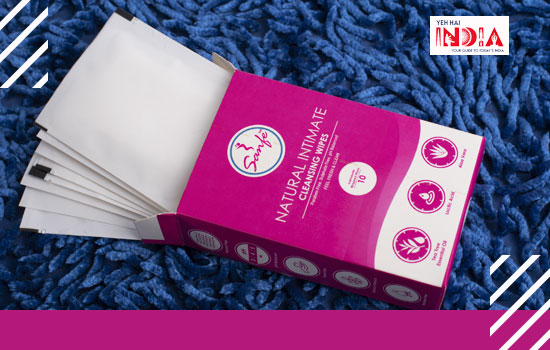 The story of Sanfe dates back to the day, when Archit encountered a friend struggling with abdominal cramps on the day of an important exam.
As she was uncomfortable in expressing her concerns and queries to her mother, this tale embedded in the founders the urge to delve deeper.
They delved deeper into knowing what a woman goes through from the age 13-50.
Their friend's story resonated within them leading them to study the stigmas associated with women's hygiene and the troubles they go through.
Bridging the gap in the market, they learnt that there was an immaculate market space for a spectrum of intimate hygiene products for women.
They designated roles to one another, utilizing their individual expertise.
Harry Sehrawat took over product development and Archit Agarwal finessed customer needs and expectations leading to the birth of Sanfe based in Delhi.
Focus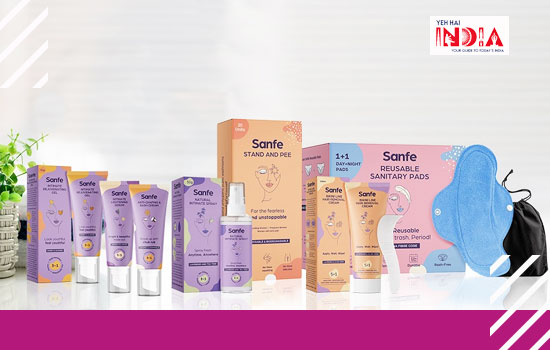 Sanfe wants to raise awareness on the importance of female hygiene and how avoiding it can lead to serious repercussions.
They firmly believe in addressing women's concerns as it is the need of the hour.
Sanfe brings to light the products that solve the concerns which women are apprehensive to talk about.
It even allows them to choose the right intimate skincare and hygiene for themselves.
The brand focuses on all things that are related to feminine care and hygiene.
Sanfe has it all, from intimate skincare to intimate hygiene care to solutions for toilet and period hygiene along with self-grooming products as well.
Sanfe's Newly Launched 'Underarm Care' Category
Women's wellness grows leaps and bounds, Sanfe brings an essential yet underlooked category missing from a woman's personal care range 'Underarm Care.'
As summer requires a skincare routine for the face, the brand is launching an all-natural product based regime for the underarms to incorporate into our lives.
A designated routine for underarm care, the regime includes the following products enriched with nutrients from the sea:
Underarm No Mess Razor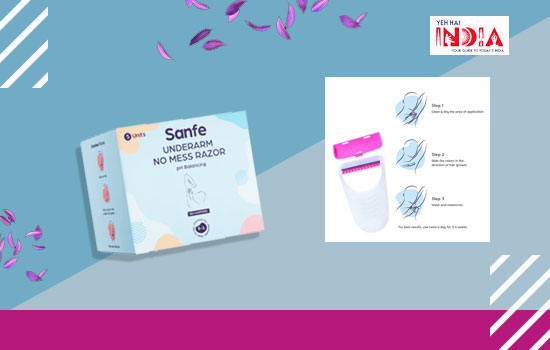 Sanfe's razor adorns daffodils and features a cutting edge shape making it the perfect product for shaving.
It's easy to use, portable, and mild on the skin.
Nipping hair growth and hard hair problems in the bud, this product leaves you with silky smooth skin.
Recommended Story –6 Women Led Startups of India- Breaking barriers
Underarm Instant Clean Wax Strips
Underarm Instant Clean Wax Strips are the perfect alternative to parlor waxing.
These easy-to-carry and use wax strips are formulated with coconut oil and sea daffodils which hydrate and moisturize the skin.
These key ingredients also enhance cell renewal and regeneration, improving the skin's texture.
Underarm De-Pigmentation Serum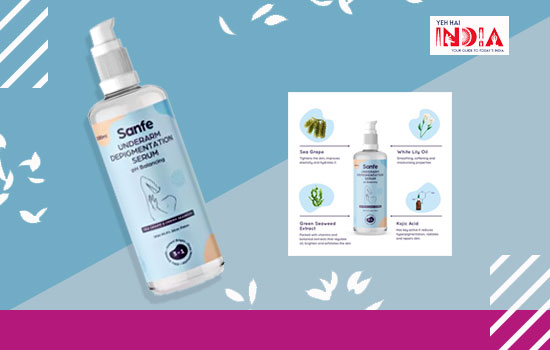 Underarm De-Pigmentation Serum is formulated with Sea Grapes, Seaweed, Cucumbers, White lilies, and Kojic acid.
It helps to brighten the armpits, curbs pigmentation and dryness, eliminate acne, moisturize and maintain the natural pH balance of the skin.
Cooling and anti-inflammatory, the formula is extremely absorbent and non-greasy, paraben-free, and easy to apply.
Eliminating toxins from the skin, the serum leaves the skin smooth and nourished.
Underarm Detox Exfoliator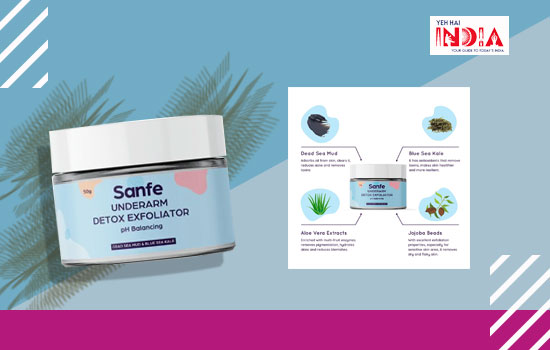 This scrub and mask have properties of Dead Sea mud, blue sea kale, sea buckthorn oil, green seaweed, and calendula oil.
The product works towards brightening the skin by regenerating and renewing cells and removing dead cells and impurities.
It helps in maintaining the elasticity of the skin, curbing pigmentation and dryness, and eliminating acne.
It hydrates and maintains the natural pH balance of the skin.
Its anti-inflammatory and antibacterial properties leave the underarms smooth and hydrated.
Underarm Anti-Perspirant Deo Cream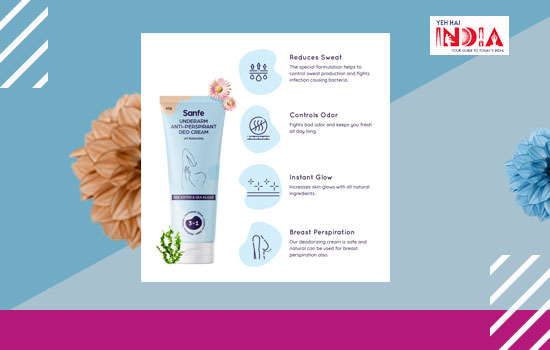 Underarm Anti-Perspirant Deo Cream is enriched with sea aster, green seaweed, jojoba oil, rosemary oil.
The product hydrates and moisturizes the armpit area, maintains its natural pH balance, treats pigmentation, controls sebum production, and ultimately brightens the area.
The cream has a non-greasy texture as well as mild consistency, making application easy and comfortable.
Sanfe's Underarm Care range is available at e-commerce platforms like Nykaa, Flipkart, and Amazon.

Future Plans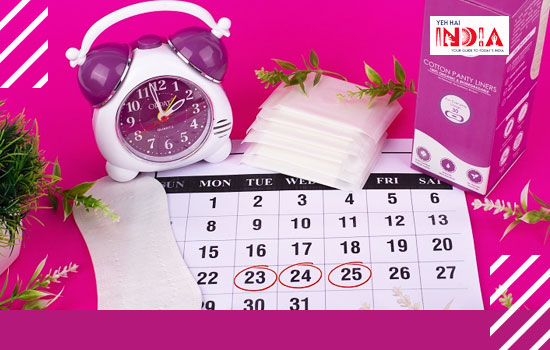 Self-use personal care products are the new norm as parlors are less preferred in the current scenario.
The products carried by the brand are par excellence, and deliver quick and easy results to any problems one may have.
Safe and easy to use, it is loved by 4 million Indian women.
The brand is cruelty-free, dermatology tested, 100% natural, gynecologist approved, chemical-free, and curated for all skin types.
The products can be used by women above the age of 18.
The brand plans to add more products specific to certain categories and help resolve common intimate issues faced by women on a daily basis.
Shattering taboos about women's personal hygiene products, Sanfe seeks to revolutionize the female personal care industry one product at a time!
Also Read – Advait Living- A women led startup in sustainable agriculture