The story of India's e-commerce start-up, Jaypore has thrived to take India's most beautiful products into the global market. Jaypore discovers best designs from India's craftsmen, artisans and deliver them at an exceptional value to its online customers all over the world.
Jaypore emphasizes on products with unique and high-quality craftsmanship, local designs that makes any Indian feel home anywhere in the world. The company sells a range of products including accessories, jewellery, vintage items, gifts and apparel.
Recommended Story – Gaatha Handicrafts – Every craft has a Story
The Inception of a Dream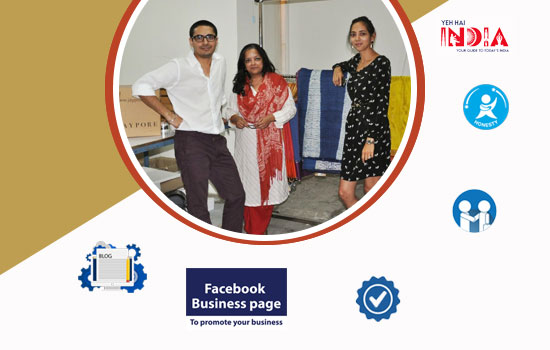 First conceived in the winters of 2011 by its founders Mr. Puneet Chawla and Ms. Shilpa Sharma, aiming to take Indian products to the world through an e-commerce portal, the company opened its office at Shahpur Jat, Delhi.
While the company's response in the beginnings were satisfactory, the founders were convinced of their idea. Puneet was working in the e-commerce business, selling Indian designed wear to NRI customers in the US. During the course of his business endeavors, he realized that unlike many e-commerce businesses in India, companies that sold Indian designer products abroad were far more efficient in acquiring online customers because of the closely knit Indian communities abroad.
The founder pointed out that the demand for Indian products was at peaks especially those that reflected the rich Indian roots, customs, culture and tradition.
Converting their Dreams into Reality
Start-up life was certainly hard for the team. Each of the members of the core team had different jobs of varied backgrounds and operated from different cities. Turning their dream into a reality had several challenges from money, marketing and branding to identifying the target customers and ensuring quality deliverance.
The team constantly made efforts to look ways of getting job done without spending anything. As initial support came from family and friends who helped them share their Facebook page, the company grow through effective reviews from customers.
From then, the company gained a margin on every product it acquired from the vendors and then sold to the customers. Now, through its blog "Story Tellers of the Wonder", the company brought several stories on board reflecting India's ethnicity to the International customers.
Values, Principles and Deliverance
From the days of Shahpur Jat, the company stood for three things. Quality, Honesty and as Mr. Puneet quotes, "Love Thy Customer". Whether the product is sourced from a vendor or designed by themselves, the quality of any product was not compromised. Further, during its initial days, many of the products were sold and shipped to US.
Trust is a key factor when it comes to buying from an international online website. Many customers were insecure of their credit card details and the quality of the products. The founder himself had to assure at multiple stages of shipping through phone calls to alleviate these gaps. Hence, Honesty in deliverance has been a priority to the company.
Additionally, they believe that they love their customers and the company does not view its customers as mere patrons who take the company forward. Customers of Jaypore live and adhere to the very same values and principles as the company does. Customers choose traditional handmade and hand-crafted products over cheap machine made one's, helping to carry out the legacy of great Indian customs. This makes the customers, extended family
Revenue, Sales and Acquisition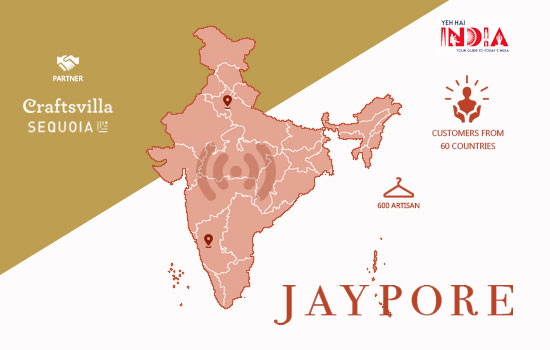 The company has offline stores both in NCR Delhi and Bangalore and has created online customers from over 60 countries and empowered more than 600 artisan entities in India. Its competitors include Lightspeed Venture Partners backed by Craftsvilla and Sequoia Capital.
In early 2016, Jaypore has raised 5million US $ in its funding backed by social-impact investment firm, Aavishkaar. With its traditional and contemporary art, the company has raised 50 crore INR from Avishkaar and Harish Chawla in the March of 2018. Noting this major advancement, Aditya Birla Fashion acquired Jaypore in filing with stock exchange with a value of 110 crore INR (15.8 m $), subject to the closing adjustments in 2019.
Aditya Birla's Managing Director, Ashish Dikshit pointed out that "Jaypore is a brand with strong equity and with a differentiated offering of products based on Indian crafts," and would give the company a strong presence in ethnic product segment.
Recommended Story – Top 10 Online Handicrafts Stores In India
Empowerment and Social Campaigns
In the recent 2020, Jaypore, now a house of Aditya Birla Fashion Retail Ltd., has initiated the "Artisan Direct" campaign to ensure that the artisan community reaches global customers through digital markets. The campaign also aimed to provide relief to the community who were hit by the COVID-19 pandemic.
The company has collaborated with several NGO's and Non-Profits, Start-ups and governments to advance this initiative. For enhanced and wider outreach, the company partnered with Creative Dignity, a zero-margin voluntary firm and featured over 250 artisans on their online websites giving an opportunity to the artisans to sell their products online across the world. The campaign was promoted by the FICCI (Federation of Indian Chambers of Commerce Industry) at the national level.
E-comm, a boon or a bane?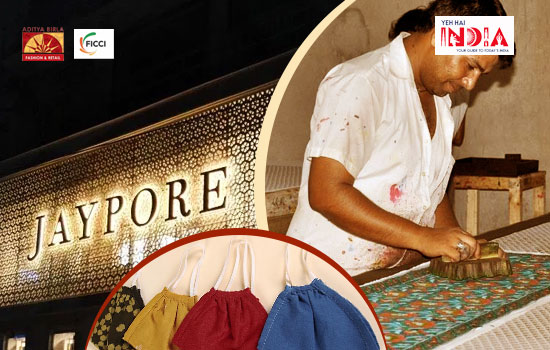 E-commerce has facilitated an easy trend of buying and selling online. Taking custom made products into the global market sphere is now a huge opportunity for several start-ups. On the other hand, changing customer choices have led to availability of diverse products in the online market. Customers have a range of buying options available from different sellers, of different styles, brand and origins.
Despite the limitations, India is the fastest growing e-commerce market in the world. The legacy of India's ethnic products has now been brought to a great momentum through the new trend of digital markets. Jaypore has set to be one of the India's best story tellers of amazing products and people behind them, taking India's great culture of art, tradition and ethnicity into the International sphere and empowering the legacy of Indian artisans.
Where to shop for Jaypore?
You can find Jaypore products on their official website: https://www.jaypore.com/
Or on other e-comm platforms such as Myntra –https://www.myntra.com/jaypore
If you're shipping international you can check out https://www.shoppre.com/jaypore-international-shipping-from-india
Do you bit, here's your chance!
Also Read – Are you an Indian traditional block prints lover? Here's all you need to know