From Rajasthan's popular Dabu print to Gujarat's Ajrakh, this article will give a tour of the much-loved block printing art form.
BLOCK PRINTING
India's block-prints will never fail to surprise you and they hold a place of pride. The block printing is basically a stamping technique in which the designs are carved into blocks of wood. The artisans then wet these blocks in the tincture and stamp the entire length of the fabric.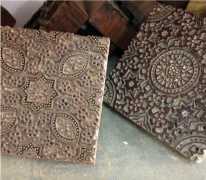 Block printing is one of the oldest stamping methods in history and one of the best known in India, where it is widely used nowadays.In addition, each region of India has developed different variations of block printing.
Whether it is Rajasthan's popular Dabu print, which uses the mud printing technique, or Gujarat's Ajrakh, featuring geometric motifs, each block print is symbolic of the country's vast heritage and rich culture—India is, after all, one of the largest manufacturers and exporters of block printed fabrics.
1. AJARAKH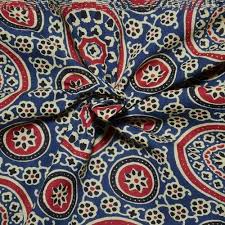 The village of Dhamadka in Kutch is noted for their reversible prints, known as Ajarakh handloom textiles. Ajarakh is produced in Sindhi; Kutch, Gujarat; and Barmer, Rajasthan in India.
These textiles featured geometric and floral patterns.
The name is derived from 'azrak' the Arabic word for 'blue' , as indigo blue happens to be one of the predominant colours in Ajrak printing and it is one of the oldest printed fabric known to man.
Background of Ajarakh
They originated in the very ancient Mohenjo-Daro civilisation, and the legacy has carried on ever since.
Recommended Story – Tie & Dye Techniques in India- Bandhani, Ikat & Lehariya
Woodblock printing gives rise to very geometric shapes and patterns. Vegetable dyes and other natural dyes are used for the process, and this garment is a symbol of the area's culture and heritage.
Design of Ajarakh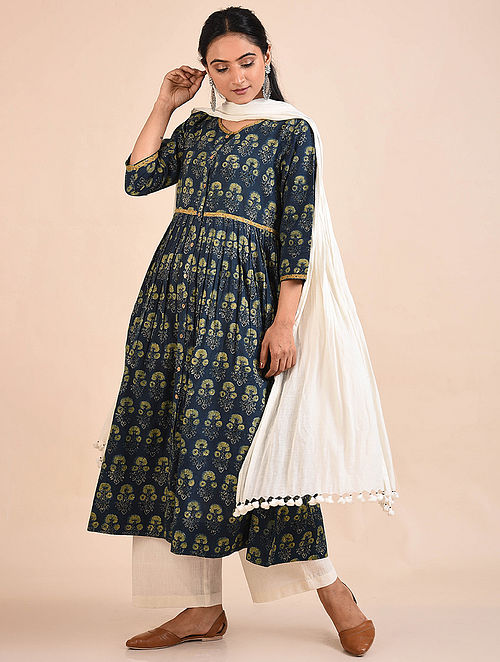 This print uses motifs in intense colors like Black, yellow, crimson red, green and indigo blue (Blue and red are the most prominent and distinguishing colors of this print) and will also have motifs worked in white (unprinted) and black, usually as outline – the white and black defining the design.
Ajarakh cloth is block printed by stamps on one or both sides.
Wooden blocks engraved in geometric shapes and patterns are dipped in natural dyes and used in this process.Usually multiple colors are seen in the same fabric, with many different types of motifs, including border prints.
Technique & Usage
Ajrak has become a symbol of the Sindhi culture and traditions.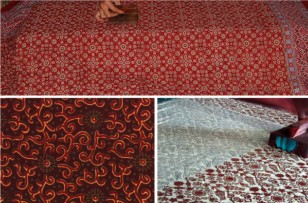 Ajrakh is printed using a very complex method involving both resist and mordant techniques, and has a long process involving as many as 20-30 different steps of printing and washing the fabric over and over again with various natural dyes– A very labor intensive printing process indeed.
The entire process can take up to two weeks resulting in the creation of the beautiful eye-catching pattern of the arak.
This cloth was mainly used for turbans, lungis, shoulder cloths, womens skirts, stoles etc. Ajrakh cloth kurtas are in vogue but you'll also find bed sheets, pillow covers and table clothes in this fabric.
Ajarakh cloth is also used as marriage wear by Muslim males.
2. BAGH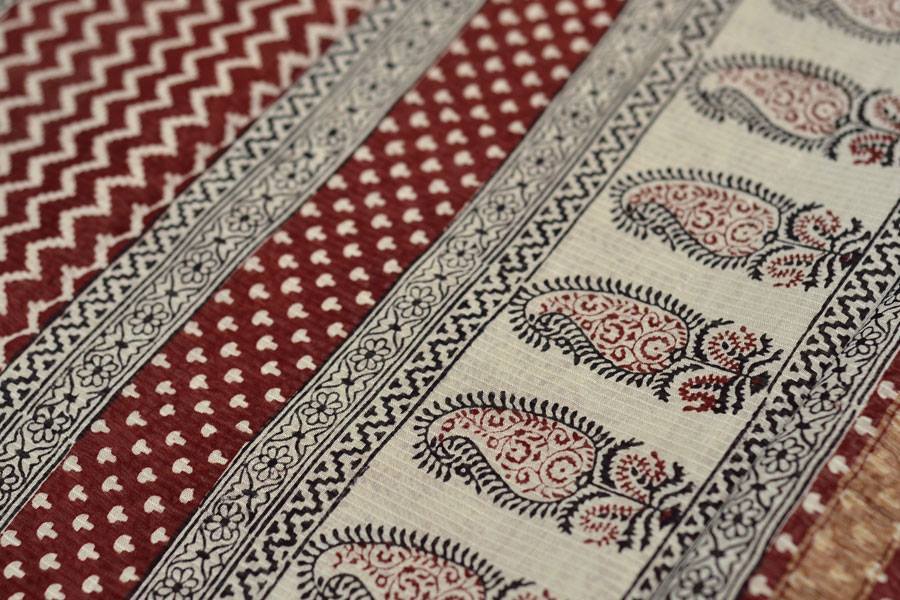 Bagh is a unique style of block printing on handloom fabrics, the name coming from its origin in the current form in Bagh village of Madhya Pradesh, India.
Practiced on natural colours of Red and black, it is usually made on a white background.Also, the chemical properties of the Bagh River are used to get unique shades.
Recommended Story – Salwar Kameez- Trends, Styles and Designs
Background of Bagh
The Khatri population who migrated from Sindh were the first to introduce this art of printing.
The Bagh art of dyeing and printing takes its inspiration from popular monuments such as the Taj Mahal and from nature. Geometric designs in vibrant colours are often seen in the main motif.
Design of Bagh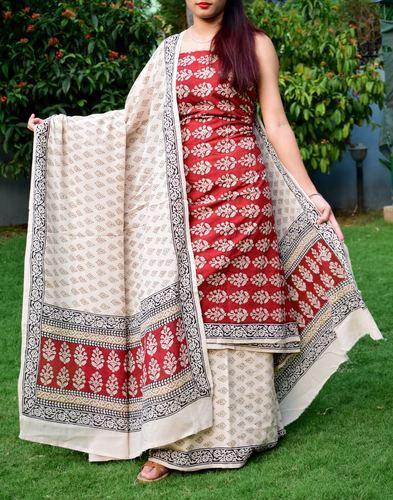 To popularise this in the modern times, the artisan are also using various other fabrics apart from cotton like silks, crepes, chiffon to bamboo chicks, this process can be carried out on a variety of fabrics.
Red, blue, or black cotton grounds are often patterned with a lighter shade of the same colour. Red colour is made from alum and black colour is made from rusted iron (iron oxide). The dye is mixed with a vegetable gum to form a paste used in this printing.
Bagh prints mainly consist of Flowers and floral patterns. Geometrical Patterns are also popular.
Technique & Usage
The process includes the use of geometric designs and bright colours, and the chemical properties of the river are used to the maximum benefit to obtain the most unique shades.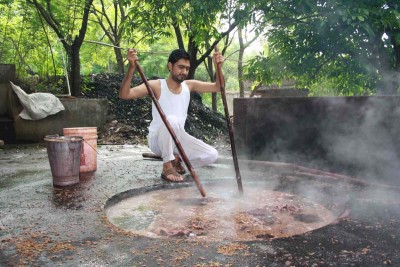 The fabric after removal of starch is made to undergo what is known as the "Bhatti process" which includes boiling, drying and subsequently printing.
Since cotton was the main cloth being used, these fabrics are very light and comfortable.This kind of block printing has seen widespread popularity and received the support of the state as well as the central governments.
3. DABU
Dabu is a resist technique used to create light coloured designs on a dark background.
Dabu printing is done with the hand-block printing technique that uses the dabu paste (Mud Kali mitti -black clay) as the resist medium; made from clay, saw dust and guar gum.
Background of Dabu
Dabu or daboo originates in Rajasthan and has survived the test of time with some difficulty and is a time-consuming printing technique involving many phases and a great amount of labour.
Supposedly, Dabu printing originated in China and eventually, Rajasthan became the most popular centre of it.
Design of Dabu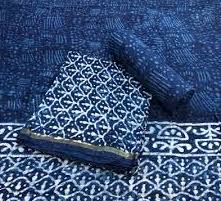 Plants, flowers and different motifs are core components of this kind of block printing, and the technique is practised in various villages in Rajasthan.
Technique
A very complicated process, it involves phases of washing, hand printing, use of mud resist and drying.
To concise when the fabric is dyed, the places where the clay is applied and dried remains uncoloured. The designs are similar to the "batik" style of printing, but the techniques used for the two are vastly different.
4. BATIK
Batik is an ancient art which uses wax and dyes to create a visual magic on fabrics.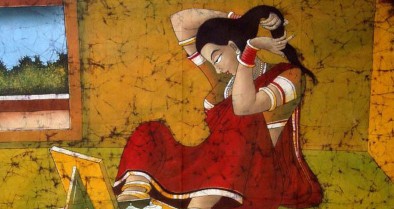 It is believed that the term is a derivation from the word `Ambatik' which when translated literally stands for a piece of cloth with small dots or writing with wax or drawing in broken lines. It is a wax resist dyeing technique.
Beautifully intricate as well as shaded designs can be printed on the fabric using this technique. Batik is produced in parts of Gujarat, Rajasthan, West Bengal, Andhra Pradesh and Madhya Pradesh.
Background of Batik
With its birth attributed to being somewhere in the Middle East, Egypt and parts of Asia, Batik is a form of tie and dye method, albeit, using wax to create the alluring patterns. A wax-resist dyeing technique, this process is applied to the whole length of the cloth. Either a spouted tool or a copper stamp called cap is used for this.This kind of prints revolve around selective soaking of cloth in a colour and preferentially printing it using wax.
Design of Batik
Popularly identified by little dots, this craft holds a special place in the hearts of Indian artisans as well, who for ages have been designing and giving this craft a taste of their own. Because of the enormous scope of designing patterns, this craft provides an artistic freedom to the craftsmen.It is dominated by floral patterns in earthy colours, with occasional use of bright shades.
Technique
A Batik creation involves 3 basic steps – waxing, dying, and scraping ( removing). Overall the process is one where firstly the wax is used for creating designs on certain pre-defined areas on the fabric. Secondly, the fabric is dyed and then the wax is removed by scraping or by boiling the cloth so that the wax peels off. The result is a beautiful piece of cloth with some very unconventional designs.
5. KALAMKARI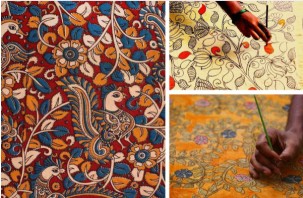 Kalamkari is an ancient style of hand printing which originated in the state of Andhra Pradesh; that is done on cotton or silk fabric with a tamarind pen used with natural colours extracted from fruits and plants to dye the cloth.
Kalamkari is a mix of hand paintings coupled with Hand Block Printing.
The word is derived from a Persian word where 'Kalam' means pen and 'kari' means craftsmanship.
The motifs of Kalamkari are mostly flower, peacock, paisley along with divine epics of Ramayana, Mahabharata used as primary themes, and this art form depicts India in all its past glory.
Background of Kalamkari
In earlier days, singers, poets and scholars used to paint accounts of stories from Hindu mythology which ultimately led to the generation of kalamkari prints.
Referred to as 'Chintz' by the english and 'Pintadoes' by the Portuguese, Kalamkari was patronized by both Mughals and later by the europeans in India. It has been practised by families and generations over the ages.
The art developed in and flourished in the Machilipatnam region with the main centre being Pedana (Andhra Pradesh). Pedana has now received a GIR Tag from the Government of India that officially limits the production of Machilipatnam Kalamkari to Pedana.
Design of Kalamkari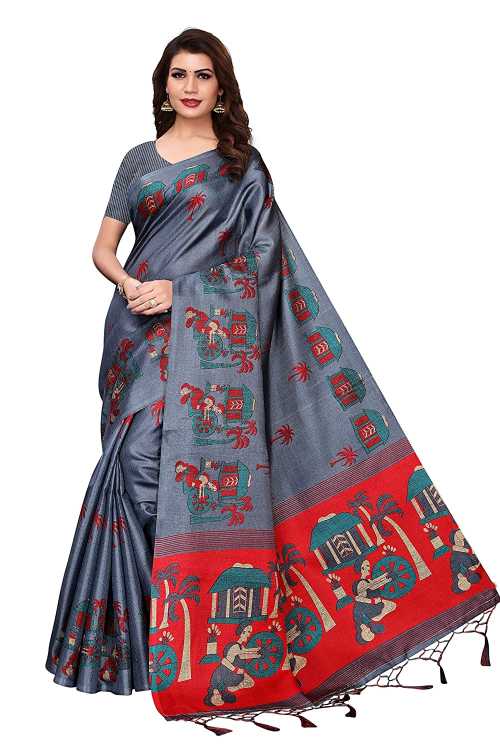 These days this art is done to create Kalamkari Sarees.
This art primarily uses Earthy colors like Indigo, mustard, rust, black and green. Natural dyes are used to paint, these colours are extracted from natural sources with no use of chemicals and artificial material.
Contemporary Scenario: apart from cotton, base material like raw silks, chiffon and georgettes etc are also being used now. Motifs have also been contemporised with addition of new natural forms and stylised figures. New colour schemes of pastels, neutrals like brown, beige, maroon etc have been added to the traditional colour story.
Technique & Usage
The process involves 23 tedious steps.
From the natural process of bleaching the fabric, softening, sun drying, preparing natural dyes, hand painting to the process es of air drying and washing, the entire procedure requires precision and an eye for detailing.
After stiffening and drying the cloth, it is printed is different phases according to the colour scheme. Wax is used while dyeing the areas blue and the remaining areas are hand painted. A bamboo stick with a bundle of fine hair is used as a brush while painting.
The fabrics printed at Masulipatnam are used as furnishings such as bedspreads, curtains, table cloths etc apart from apparel like kurtas, saris and dupattas.
6. SANGANER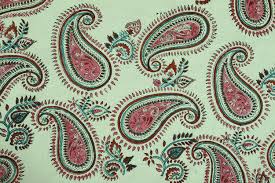 Sanganer on the outskirts of Jaipur is a large centre for printing on fabrics.
The Sanganeri hand block-printing industry is blessed with natural factors that support it, like water, sunshine, atmospheric humidity and the local herbs and flowers used in the printing process.
Today, Sanganer is filled with block makers and printers. Sanganeri Hand Block Prints are famous for their off white or pure white backgrounds. The designs are very intricate with fine lines with detailing.
Background of Sanganer
This craft developed over the ages and saw contributions when people from neighbouring states like Gujarat migrated due to wars. It was at its peak during the British rule when the East India Company was exporting this in huge quantities to European Markets.
Design of Sanganer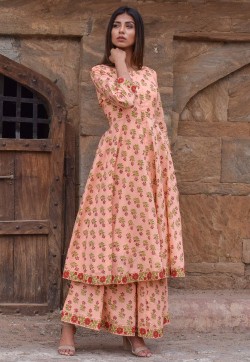 Beautiful floral designs with buds, flowers, leaves, petals, almonds mangoes and even jhumkas sometimes are part of the detailed designs on the blocks.
The colours are usually red and black with occasionally violet. The floral and leaf motifs of roses, lilies, marigold , sunflowers and lotus are complimented by geometric motifs. The outlines of the motifs are clearly and delicately printed first and then the colour is filled in. The patterns of floral motifs, are known by the names of the plants.
Both vegetable based and chemical dyes may be used for Sanganer Hand Block Printing.
Technique & Usage
A hand printing technique which involves laying out of the material on tables and then printing using blocks with intricate designs. The fabric is marked before, so that alignment of symmetry of design is maintained. Sanganeri print bed sheets are pretty famous. This technique of printing is commonly seen on apparels and other objects of home décor. The block printing is done mainly for products such as saris, dupattas, salwar kameez and also sets, bedcover, curtains, scarves, and yardage for apparel and home.
7. BAGRU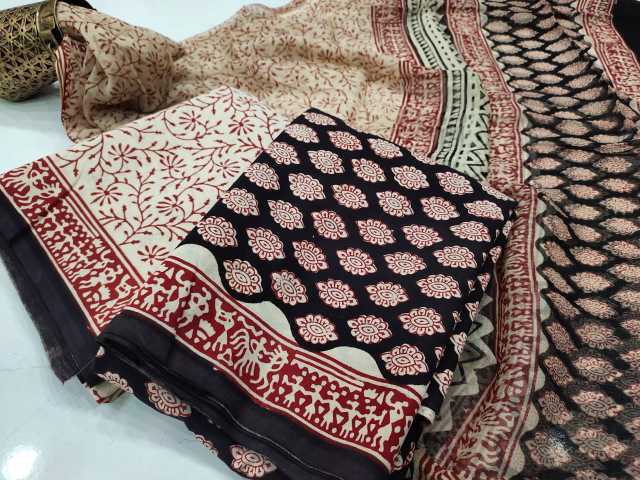 Bagru is one of the most well know hand block printing styles from Rajasthan, this printing technique is laborious but produces exquisite results.
Its traditional processes of hand block printing on textiles with rich natural colours have been known for many centuries. Bagru Hand Block Printing now has a GIR tag associated with it.
The process of Bagru printing is a long and cumbersome one that requires the "Chhipa" or the Printer to be exceptionally skilful as well as patient. "Chhipa" is the local word that refers to the printer as well as the community that is engaged in this craft.
Background of Bagru
Over 100 years old, this technique has been developed by families and handed down traditionally in Rajasthan. Bagru block printing has been alive for centuries creating some of the best Indian prints. A tediously long process that involves creating wash resistant prints, the craft boasts of master craftsmen who have been dedicated to it for a long time. Exacting, but ultimately beautiful, the Bagru block printing technique is all natural, right from the dye to the wooden blocks and is celebrated all over the world for their simplicity and effortless elegance.
Design of Bagru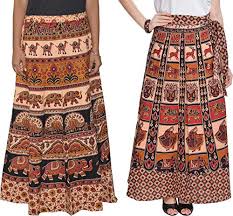 Patterns in rich colours like indigo blue, alizarine red, iron black and bright yellow colours are produced on coarse base fabric which is generally cream or yellowish in colour by indigenous processes of dyeing and printing. In building up patterns geometrical forms were adopted along with floral animal and bird forms.
Bagru designs consist of various types of designs that include Birds, Fruits, Leaves, Animals and geometrical shapes. Another popular design in Bagru is that of intertwined lines or "Jaal".
Natural motifs are interspersed with geometrical motifs in this fascinating Indian printing.The styles and motifs have been adapted to some extent to the changing markets.
Technique & Usage
Washing, hard dyeing, drying and other parts form the core of the printing process. Blocks are placed from left to right and slammed hard on the fabric. The fabric is dried afterwards. They are then washed and boiled and finally rinsed to get the final product.
The brightly coloured block printed fabrics from Bagru are used for apparel as well as home furnishings such as quilts, bedspreads, cushions and curtains.
8. GOLD & SILVER DUST
A traditional form of printing, 'Chandi Ki Chhapai' or 'Silver Printing' is a delicate way of embellishing clothes or fabrics. Also called 'Varak Gold or Silver Leaf Printing', this kind of printing uses varaks made by flattening gold or silver into a thin paper-like consistency. These thin sheets of silver are also used to garnish Indian sweets.
Background of Gold & Silver Dust
Rajasthan specialises in this kind of block printing.
What is notable about this technique is the use of already printed, dyed, and finished textiles as it only involves work on the surface without much permeability. In ancient times, it was hand printed onto flags, royal tents and other insignias of power to reflect the status and prestige of the possessor.
It is a popular embellishment in holy shrines and temples today.
Design of Gold & Silver Dust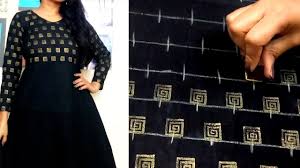 Dust of precious metals like gold and silver is used in this age-old technique to give textiles a feel of exquisite zardosi and the sparkle of gold. Small dots, flowers, petals and dashes comprise most designs.Over the ages, the technique has adopted the use of more affordable metals like mica and chamki.
Technique & Usage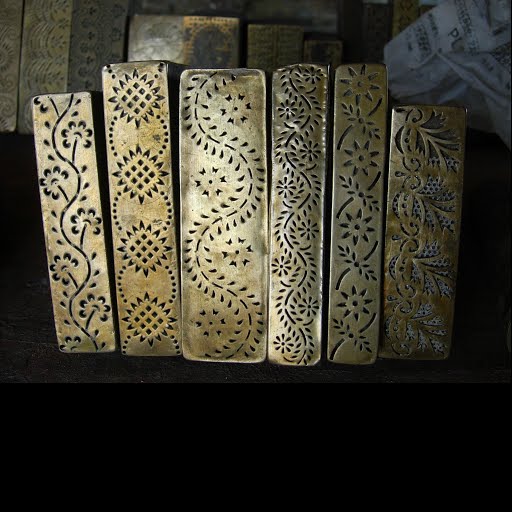 A roghan gum paste with castor oil is used. Two different blocks are used, and through perforations, the gum paste is squeezed in a pattern on the textile. Then the metal dust is sprinkled on top of this to add the necessary amount of shine and glitter.
The technique of varak block printing is extremely rare today and there are only few printers who do this in Jaipur (Rajasthan). Today, silver and gold leaf printing can be seen on rich Chanderi sarees and dupattas, done by some of the finest craftsmen in the country.
Also Read – Kalamkari – a perishing avant-garde art of India