Enlarged pores, a common problem faced by those living in hot and humid regions, is a major issue that puts your skin under the risk of suffering from acne and premature ageing.
Are you worried about your open skin pores developing into ugly pimples or acne? Having a poreless skin is the ultimate dream of women who want to look young and keep their skin free from problems like acne, spots and wrinkles.
The health of our skin relies on the health of skin pores. As we age, the skin's ability to produce collagen reduces and affects skin elasticity. It also affects the pore size as when our skin loses its shape and form due to sagging, it hampers the appearance of pores also, leading to enlarged pores.
Babies seem to have pore less, soft skin due to the fact their skin's collagen structure is dense and strong.
The importance of health of skin pores in beauty becomes evident on examining the beauty rituals advised by dermatologists like cleansing, moisturizing and toning, all of which put stress on keeping the pores clean, moisturized and nourished.
Pores are hair follicles with sweat and oil glands located underneath. Whenever there is an imbalance in sebum release, it affects the pH levels on skin's surface which accounts for its decreasing health and makes your skin either dry or too oily leading to development blackheads, pimples and acne.
The dirt and other residues collected in skin pores run the risk of increasing pore size, if the skin is not cleansed properly. And once, this condition develops, it gets difficult to reduce pre size with daily use skin potions like cleansers and face masks.
To solve the problem at once, we now have an array of pore minimizing products that promise to give you a poreless complexion. Finding the best and most reliable pore reducing formula is a tough task.
In this article, we bring a collection of natural, pure and 100% organic pore minimizers to shrink enlarged pores and achieve flawless skin without any risks that come with pore minimizers made from synthetic ingredients.
10 Organic And Natural Pore Minimizers To Buy India:
1. Kama Ayurveda Pure Rosewater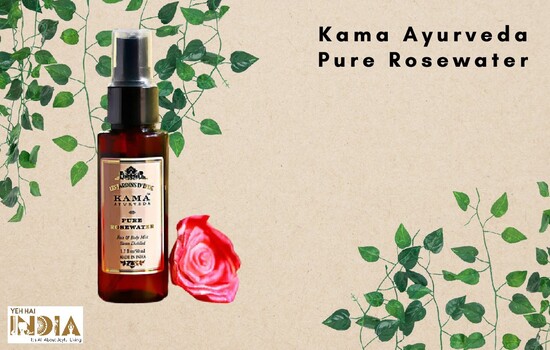 This notable natural rose water from Kama Ayurveda is one of the best pore minimizers in India. It is crafted from world's best roses – Roses of Kannauj, a place in North India.
Rich in white soil, roses of Kannauj are well-known for their aroma.
It hydrates and refines your pores and skin perfectly. This natural rosewater not only facilitates tightening of open, enlarged pores, but also infuses moisture to dull and moisture less skin.
It's alcohol free, fragrance free and has a refreshing aroma and can be used as an aftershave. It also helps to restore and balance skin's pH levels.
Price: Rs. 395 on Amazon. 
Recommended Story – Best Organic Beauty Brand in India
2. Plum Green Tea Toner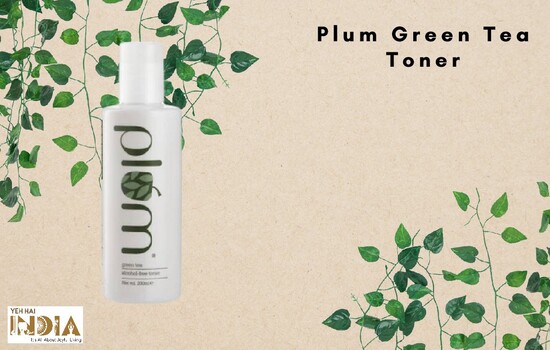 This product has crowned itself as a trusted face toner that is gentle on sensitive skin and contains no alcohol. It is a non-drying toner that comes with the magic powers of glycolic acid and green tea extracts.
Green tea in this product works to improve collagen structure to treat sagging skin and achieve a poreless look.
This product effectively works to exfoliate, cleanse and repair damaged skin with its active Glycolic acid content. It helps your skin get rid of extra oil and declogs pores for visibly improved skin texture.
With a soothing aroma, it leaves the pores and skin feeling refreshed and hydrated.
Price: Rs.339 on Amazon.
3. Just Herbs Pomegranate Mandarin Pore Refining Tonique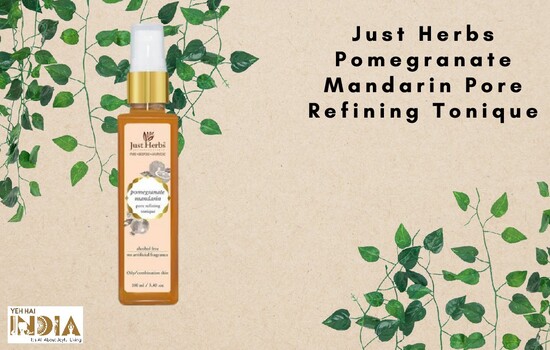 Just Herbs Pomegranate Mandarin Pore Refining Tonique is a herbal pore-refining, alcohol-free toner for oily skin with acne or large pores. It is a robust product formulated with ayurvedic components such as orange blossom water, pomegranate extract, steam distilled tulsi water, mandarin orange oil, and aloe vera.
Steam distilled waters of mandarin are historically utilized in Ayurveda for quite many skin advantages. Pomegranate extract enables loosening of debris in pores and minimises pore size.
Orange peel extract assists in reducing inflammation and bacteria build up in acne-susceptible pores. It`s a must-have product, to be included in your skin care routine to make your pores and skin healthy.
This pore minimizing skin tonic enables cleansing of pores and nourishes them to impart a healthy glow to your skin.
It`s now no longer best mild however additionally notably powerful in selling pores and skin hydration even as lowering inflammation and inflammation, retaining your pores and skin soft, supple, and smooth.
Price: Rs. 381 on Amazon.
4. Aztec Secret Indian Healing Clay Pure Healing Clay Facial Deep Pore Cleansing Bentonite Mask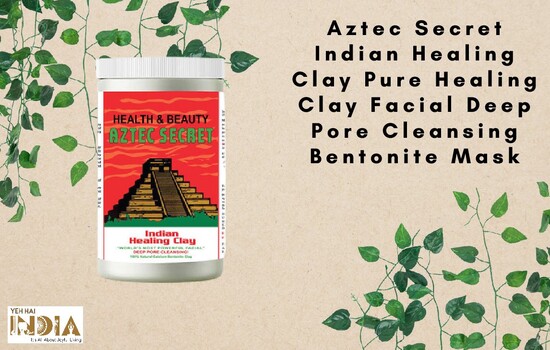 This mask is touted as the most effective pore cleansing and tightening product to get rid of ugly looking loose pores.
It is made from 100% herbal bentonite clay that soaks up excess sebum from skin pores and works to pull out debris comprising of dirt, sebum and impurities from skin pores.
This clay is infused with special powers to act on acne and inflammation to calm skin irritation. It cools, hydrates and makes skin ready to absorb the nutrients in creams and lotions.
Price: Rs. 1,100.
5. The Tribe Concept's Face Brightening Daily Cleanser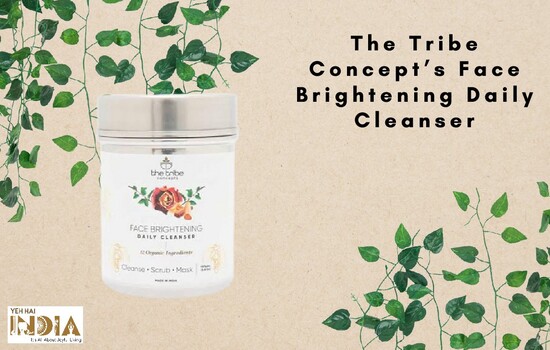 This "Face Brightening Daily Cleanser" is made with 12 natural tribal woodland sourced elements which carry great benefits for skin cleansing and detoxification of pores.
It facilitates in skin brightening, spot reduction, tan elimination, blackhead elimination and imparts a youthful, vivacious look on the face and skin.
All you have to do is take 1 teaspoon of "Face Brightening Daily Cleanser in a bowl/hand and blend it with the specified quantity of water and follow it throughout your face and neck.
Massage lightly together along with your fingertips in a round movement for 30-60 seconds. Wash your face with plain water and welcome a glowing, flawless skin.
This product also reduces open pores, whiteheads, and blackheads.
Price: Rs.549.
6. Riyo Herbs Pore Minimizing Aqua Gel
Riyo Herbs Pore Minimizing Aqua Gel is formulated with effective important substances which includes Raspberry seed oil, Honey, Tea tree oil, and Green tea extract to hydrate your pores and skin and limit the chances of attracting pollution and other residues inside the pores.
It pulls out all dirt & dirt from in the open pores & promotes molecular regeneration. The gel absorbs well & offers a healthful glow.
Raspberry oil brightens the tone and texture of skin to add shine and light to your face while green tea offers a dose of anti-oxidants to let your skin recover from effects of free radicals and sun damage.
Price: Rs.629. 
Recommended Story – CIEL Skincare Review : Is It Worth Trying?
7. Bella Vita Organic Pore Minimizing Combo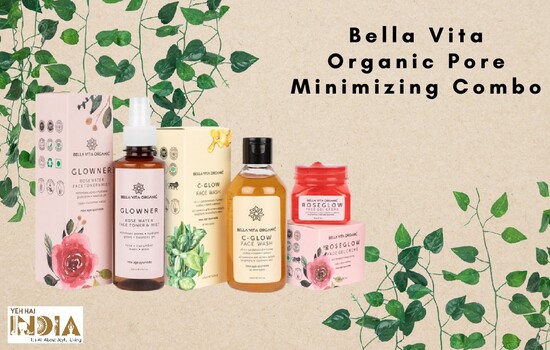 Bella Vita Organic Pore Minimizing Combo has a C-Glow Face Wash and a Glowner rose water face toner. It's a perfect combination for minimizing pores and giving a hydrating glow.
Glowner Rose Water Skin Toner & Mist is a natural Ayurvedic Toner that helps moisturize and shine your face. In addition, as a toner, it minimizes open pores, fine lines and wrinkles and promotes skin collagen production.
As a liquid, Glowner can penetrate deep into your skin and illuminate it naturally. Like other toners, it should be used after deep cleansing of the face to allow the liquid to penetrate the skin and leave the pores open for better results faster.
Vitamin C Face Wash is deeply cleanses the face and gives it a natural glow. Using natural ingredients, C Glow is the best vitamin C facial cleanser available in the natural facial cleanser category. This vitamin is suitable for both men and women.
C Glow Face Wash solves major facial problems like uneven skin texture, pore clogging, damaged cells, scars and fine lines. Vitamin C is also known to reduces stress on the skin caused by pollution, UV rays and smoking, promote collagen production and makes skin look brighter and more youthful.
Known for its radiant properties, sandalwood reduces the chances of sun damage and pigmentation caused by sun exposure.
Price: Rs.349 on Amazon
8. Indulgeo Essentials Pore Minimizer Spearmint and Basil Toning Mist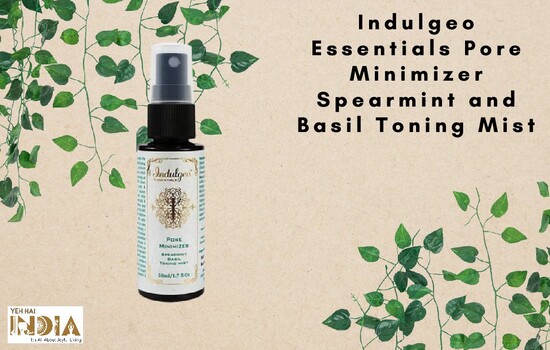 Indulgeo Essentials Spearmint Basil Toning Mist is fortified with the optimal combination of witch hazel, spearmint and basil for excellent results. The convergent and cooling properties of spearmint heal acne, soothe inflammation, and brighten dark spots and age spots.
It moisturizes the skin, reduces greasiness, heals acne, and removes dead cells. Using natural salicylic acid and vitamin A, spearmint rejuvenates and refreshes the skin, making it brighter, softer, and smoother.
This is indeed the best Organic pore minimising products in India for instant hydration for all skin types. Basil Toning Mist also bears powerful anti-aging properties that help slow down the aging process and prevent wrinkles, age spots and fine lines on the skin.
Price: Rs. 290 on Amazon.
9. Biotique Bio Cucumber Pore Tightening Toner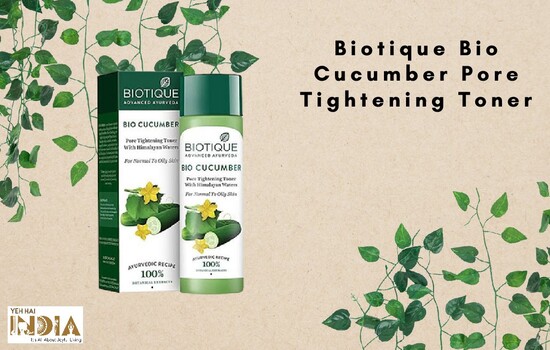 This refreshing, pore-tightening toner is blended with cucumber, coriander, barberry, peppermint oil and freshwater from the Himalayan hills. It is designed to give your skin a perfect pH balance and keep it in its purest condition.
Also, it helps to reduce the risk of skin aging and other harmful effects of the sun like premature ageing, blemishes, sagging and sun burn.
It cools, soothes and moisturizes dry, lifeless skin with a dose of skin purifying and nourishing ingredients.
Price: Rs. 100 on Amazon
10. Jovees Herbal Cucumber Skin Toner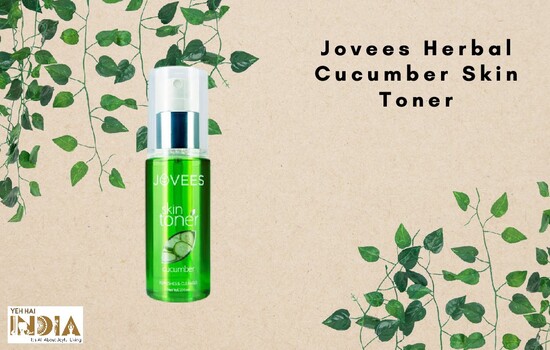 This toner tightens pores and reduces the risk of acne and other conditions caused due to excessive oil release on skin surface.
It also serves an aesthetic purpose by reducing the appearance of pores around the nose and cheeks. Cucumber extract soothes and regenerates the skin, freeing it from irritation.
This toner also contains aloe vera, which acts as a sunscreen that moisturizes the skin and protects it from the harmful rays of the sun.
On any humid day, this cooling and refreshing toner is the perfect product to beat summer heat and calm irritated skin caused due to hot temperatures.
Price: Rs.190 on Amazon
From all the wonderful products listed above, you can buy one that suits your skin and feels good to you. Always remember that pores can't just disappear magically. One can only make them appear less prominent by using a clever combination of natural and organic ingredients.
Buy these toners and enjoy the refreshing feel they leave on your skin.
Also Read – 10 Best Natural Sources Of Glycolic Acid