Blackheads and whiteheads are common skin issues affecting those with oily skin and if not treated in time, they often develop into acne.
Those tiny white or melanin filled bumps on your skin are nothing but clogged pores that ruin the appearance and health of your skin. Also referred to as Blackheads and whiteheads, they are stubborn and need specialized attention to help them unclog and exfoliate to renew the skin.
Even if you squeeze them, these troubling comedones refuse to leave and somehow reappear. Are you tired of getting rid of them by using different products and still suffer from their terrible effects on your beauty.
Here's a complete guide to help you understand these two skin conditions and take necessary measures to keep them at bay.
Blackheads vs Whiteheads
Blackheads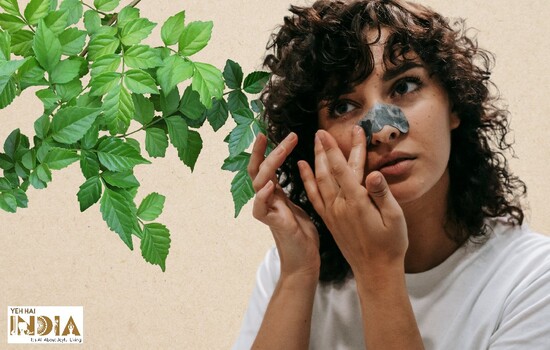 Blackheads look like tiny black coloured growths in skin pores, also known as open comedones. This condition is considered a symptom of acne and needs immediate attention to prevent acne breakouts.
When you have acne, these large pores are clogged with a substance known as sebum. A chemical reaction with the sebum collected in skin pores occurs and causes darkening of this deposit on your skin .
This discoloration happens due to oxidization of melanin when it comes in contact with air which turns the clogged pores black in color. This form of acne is often found on your forehead, nose and upper arms.
Recommended Story – 10 Best Body Scrubs: Why We Need Them And The Best Natural Ones To Buy In India
Whiteheads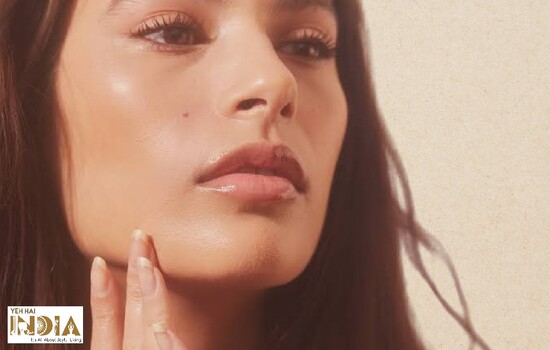 Whiteheads are a common problem faced by people with oily skin. They are termed as closed comedones as unlike blackheads they tend to remain closed and are likely to develop when the skin pores get clogged with bacteria and dead skin tissues.
Whiteheads generally cover the clogged skin pores and do not allow the skin to breathe or be exposed to air. This prevents the melanin in sebum deposited in skin pores from turning dark as is the case with blackheads.
The inability of impurities clogging the skin pores to get oxidised in whiteheads account for their neutral colour. This type of acne mostly affects your shoulders, arms, back, and face.
The only way to get rid of them is to exfoliate them on a regular basis. The market isn't short of masks and scrubs formulated to unclog, exfoliate and cleanse impurities collected in skin pores, but knowing which ones actually work to keep them away forever needs an exhaustive research.
So, here's a curated list of scrubs to get rid of blackheads and whiteheads and prevent them from turning into acne.
Best Organic Scrubs For Blackheads and Whiteheads
1. Organic Harvest Exfoliating Face Scrub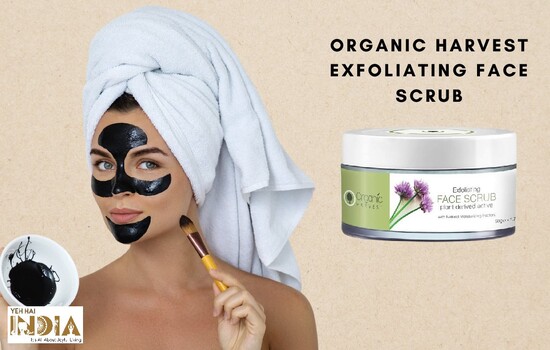 Organic Harvest Exfoliating Face Scrub is a gentle and effective skin scrub, thanks to its natural plant-based moisturizing factor that helps rejuvenate dry, and dull skin. This facial scrub masters skin rejuvenation by deeply cleansing the pores and gently exfoliating the surface of the skin.
Made with a pH-balanced formula, it contains abundant amounts of olive oil derivatives and naturally certified botanical ingredients including nmf (Natural Moisturizing Factor).
The irregularly shaped granules are soft enough not to damage the skin, yet strong enough to remove unwanted dull surface cells, acne, and old skin gently but generously. Its skin-friendly properties ensure a perfect satin finish on the skin every time it is washed.
Price: Rs.389
2. Bella Vita Organic NoseGlow Scrub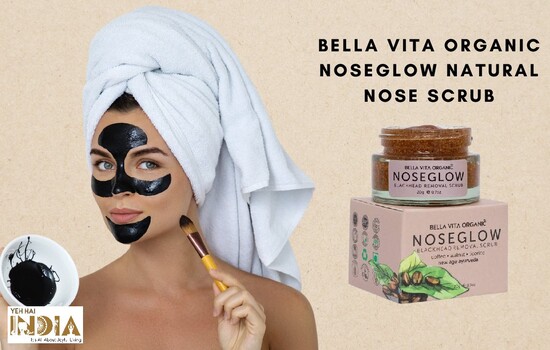 NoseGlow from Bella Vita Organic is a natural nose scrub focused on removing blackheads and acne from the face. It thoroughly cleanses your T-zone and restores normal sebum levels to prevent pore clogging.
It prepares the texture of the skin around the nose and leads to smooth, soft and clean skin. This product is particularly good for acne prone skin. It focuses primarily on the area around the nose to loosen the hardened impurities in skin pores and exfoliate them.
It is widely used by both men and women; this blackhead scrub is effective for both men and women and consists of small walnut grains instead of large sugar particles. Coffee extract in this product cleanses pores and reduces swelling and inflammation around the nose.
Licorice is known to contain UV-blocking enzymes which help in preventing sun damage and keeps your scrubbed skin protected from darkening. Aloe vera softens the skin and prevents inflammation.
Price: Rs.225
Recommended Story – Product Review: Bella Vita Organic's Exfoliate Face and Body Scrub
3. Juicy Chemistry Hazelnut And Chocolate Scrub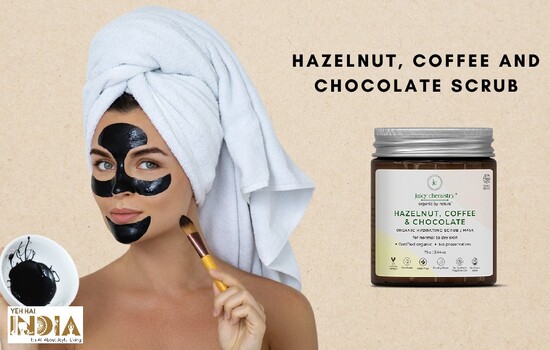 This organic face and body scrub is made with mild exfoliator and emollients to gently remove dead skin cells collected in skin pores and balances the texture of the skin, makes it soft, supple, and plump.
It maintains the original moisture of the skin, gently removes dead skin cells, and adjusts the sebum levels in the skin. Also, it nourish the skin and calms irritation. It's also cruelty-free and vegan.
Price: Rs.700
4. I Touch Herbal Organic Blackhead Scrub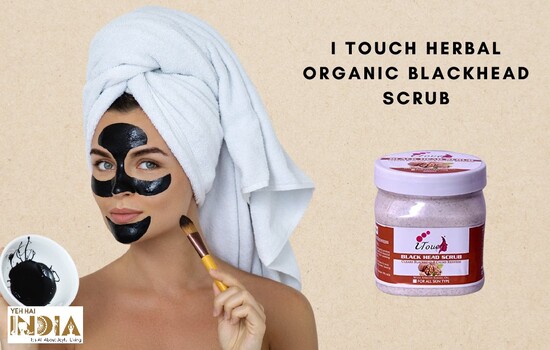 I Touch herbal organic blackhead scrub is specially designed to remove acne from your skin. It makes your skin soft and removes skin imperfections.
It is made from walnut grit and apricot kernel oil which calm the skin and remove the dead skin tissues to let your skin breathe and unplug the residues deposited in pores.
This scrub moisturizes the skin, prevents acne, suppresses over-release of sebum, removes blemishes, smoothens and brightens the skin.
Price: Rs. 140
5. Good Vibes Activated Charcoal Deep Cleansing Face Scrub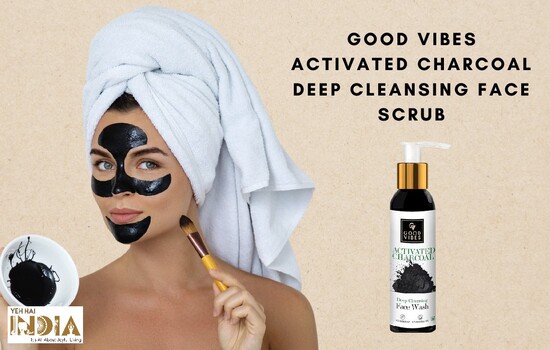 Good Vibes Charcoal Scrub attracts bacteria, toxins, chemicals, dirt, and other fine particles to the surface of the skin. Expect only clear skin each time you apply this scrub. It also helps fight acne, and acne scars.
Traditionally known as the "ultimate cleanser," charcoal helps reduce the production of sebum on the face. Thanks to activated carbon, you can detoxify your skin and make it free from damaging effects of pollution and impurities.
Charcoal is traditionally known as the "ultimate skin cleanser". The deep cleansing mechanism of activated carbon pores removes impurities such as dirt and toxins. Every time you peel it off, it looks clean, fresh, and shiny. Activated carbon controls the production of sebum and acts as an anti-acne agent. It also helps remove dead skin cells and reduce the appearance of skin pores.
Price: Rs.179
You can also give a shot to some of the DIY ingredients available in your home to remove blackheads and whiteheads. Chickpea flour, also known as gram flour, is one of the best exfoliating agents in nature that gently cleanses the skin to prevent pore clogging and darkening of pores.
Curd, on the other hand, contains lactic acid, which is a mild exfoliating agent that helps improve skin tone. Also, Green tea has many health benefits, but when applied topically to the skin, it can solve many skin problems.
It has calming and soothing properties while balancing the production of sebum, preventing excessive oily release.
Let these scrubs work to freshen and tighten your skin and see your skin turn more radiant and youthful.
Also Read – 10 Best Aloe Vera Products To Use For Your Skin