Getting rid of unwanted hair naturally might sound unachievable but it's the easiest and pain-free procedure compared to waxing and epilating.
Natural hair removal powders are powder blends made out of natural ingredients that help to remove unwanted hair when applied to the skin. These powders generally contain ingredients sourced from nature such as root powders, herbs, minerals, clays, and essential oils.
They work to naturally remove hair without the need for harsh chemicals or razors. This natural approach can remove not just the hair, but any underlying dirt or sweat that has gotten trapped in the follicles, resulting in a smoother, softer complexion.
Natural Hair removal powders contain natural ingredients and are a popular "chemical-free" hair removal option as no harsh chemicals are used in them.
Waxing which is preferred by women who favour smoother skin and removal of hair by its roots may find it difficult to compete with the rapidly growing popularity of the natural alternatives.
However, natural procedures are considered to be beneficial for skin health and also minimize the risk that comes from staying in contact with toxic chemicals found in depilatory creams and lotions.
If ypu care for your health and skin, it's better to adopt natural hair removal methods that promise to naturally reduce the density of hair with repeated use.
Here we bring to you some of the best natural hair removal powders that have been receiving great reviews since their launch. Let's have a look at them!
Best Natural Hair Removal Powders For Flawless Skin:
1. Nat Habit Urad Jojoba Exfoliating Mura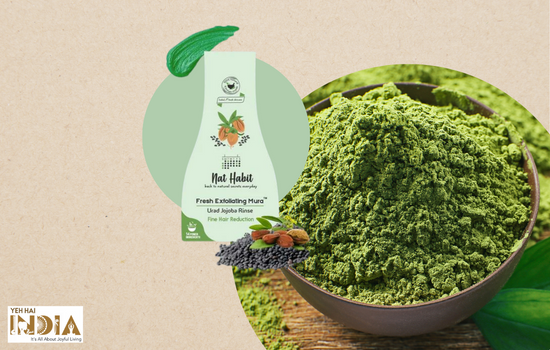 This exfoliating powder is a blend of Urad Dal, which is an Indian pulse, and Jojoba, which is a natural wax. The powder is mixed with water to create a paste and then used to gently scrub away dead skin cells, restoring a supple and smooth complexion.
The combination of these powerful ingredients helps to reduce spots and uneven complexion, and protect the skin from external aggressions like pollution and UV exposure.
It also boosts cell regeneration, freeing your skin of impurities, allowing it to breathe and renew itself.
Price: Rs 94.00 per pack
Recommended Story – Ayurvedic Ubtans: The Best Ones You Can Buy For Glowing Skin
2. Deyga Hair Removal Powder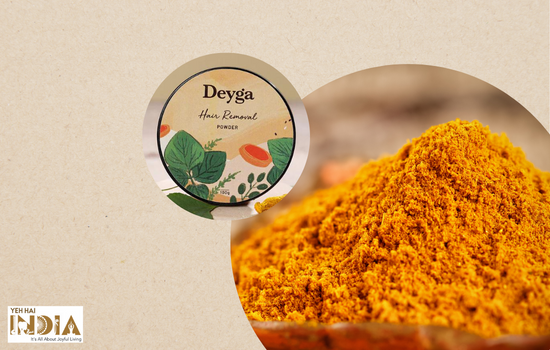 Deyga Hair Removal Powder is a cruelty-free, natural hair remover that is designed to break down the natural bond between the hair shaft and the skin without damaging the skin.
It claims to be quick and effective to use for the full removal of hair and provides smoother and softer results over time. It contains a combination of herbal ingredients such as Amla Powder, Turmeric Extract, and Fenugreek Extract to nourish and soothe the skin.
Using Deyga Hair Removal Powder can help in reducing skin irritation, reducing hair styling and haircare routine, and promoting hair repair.
Price: Rs 590 (100g)
3. Vilvah Hair Removal Powder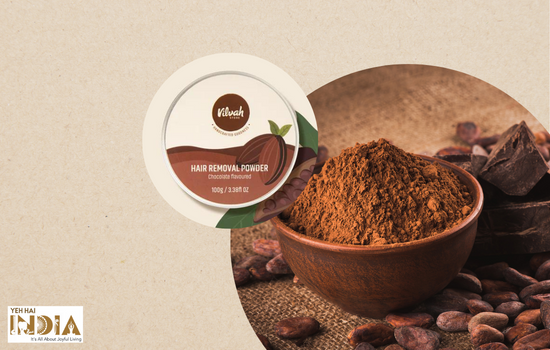 This hair removal powder is an all-natural and ayurvedic product made in India. It is designed to remove unwanted facial and body hair without the use of harsh chemicals, waxing, or shaving.
The powder is a combination of lentil flour, amla, chana flour, turmeric, and natural essential oils and is free from paraben, phthalates and sulphates. It is easy to use and results in gentle and effective hair removal.
Price: Rs 545 (100g)
4. Natural Goodies Papaya And Oats Hair Removal Powder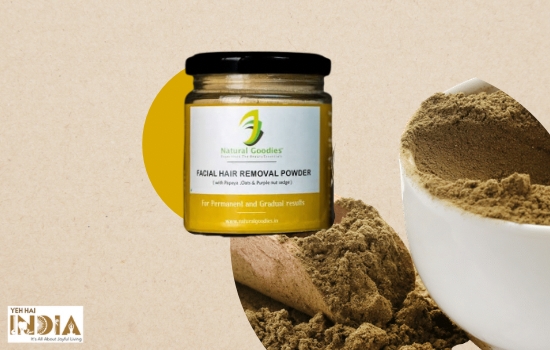 This hair removal powder is a natural product that contains a formula of natural herbal extracts that work to weaken the follicles, resulting in slower, finer and less visible hair growth.
The powder is suitable for all skin types, even sensitive and delicate skin, and does not cause any skin irritations. It is easy to use at home and is affordable compared to other hair removal treatments.
It is formulated with natural herbal extracts such as Papaya extract and Oats, known for their anti-inflammatory, antioxidant and anti-androgenic benefits.
It works to hydrate the skin and keep it moisturized. Regular usage of the product can help lessen the appearance of unwanted hair and make skin smoother and softer.
Price: Rs 499 (100g)
5. The Wellness Shop Hair Removal Powder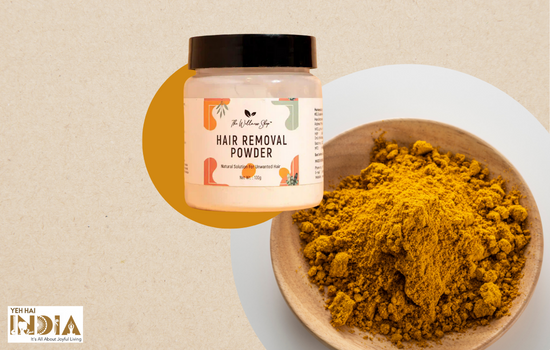 The Wellness Shop Hair Removal Powder is a pure and gentle herbal powder that is designed to gently remove excess body hair from the face, arms and legs.
It is formulated from natural herbs and plant extracts, and it does not contain any harsh chemicals.
It has exfoliating properties that help remove the hair from the skin, leaving behind soft, smooth & fairer skin. It removes all unwanted hair without any pain. It is made from 100% natural ingredients and causes no irritation or skin rash
Price: Rs 999 (100g)
Recommended Story – Get Glowing And Luminous Skin With These 10 Ayurvedic Face Oils
6. Roots & Herbs Neem And Fennel Depilatory Powder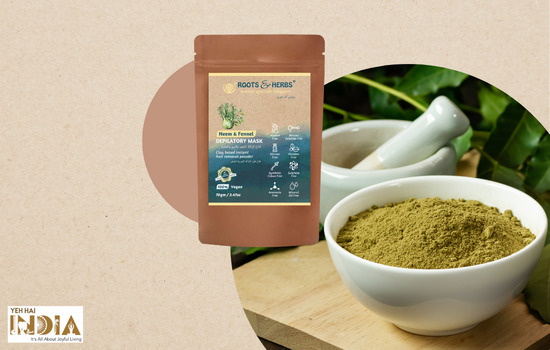 This clay, herb and salt-based scrub is made for flawless-looking skin.
Its active ingredients, Neem (Margosa) and Camphor, have powerful antiseptic, skin healing and cooling properties. Aloe Vera Powder and Rice Starch present in this product help remove sun tan to provide smooth skin.
It also helps clear in-grown hair and with regular use for a few months, will reduce hair regrowth, producing finer and lesser hair.
Price: Rs 690 (70g)
7. Roots & Herbs Chickpea And Turmeric Hair Removal Powder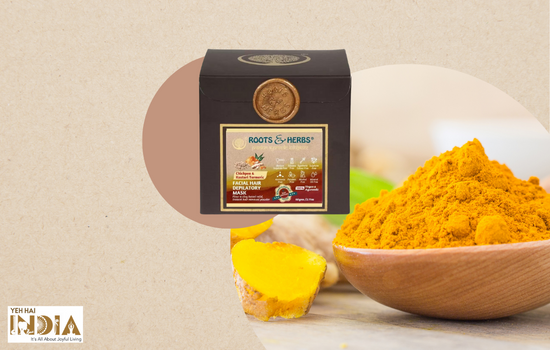 This Clay Ubtan is an innovative new beauty mask that uses a blend of traditional Indian beauty herbs and roots to naturally and effectively remove facial hair without any pain or irritation.
The mask uses a combination of chickpea and Kasturi turmeric to create a powerful blend that helps to eliminate facial hair while conditioning and nourishing your skin. The mask is easy to use, just apply it to the affected area and let it sit for 15 to 20 minutes.
It can be simply rinsed with water. This mask helps to gently exfoliate and reduce facial hair while controlling oil and providing antioxidants to the skin. Additionally, it helps to leave skin silky smooth and free of any redness or irritation.
Price: Rs 1190
8. Ghar Soaps Organic Hair Removal Wax Powder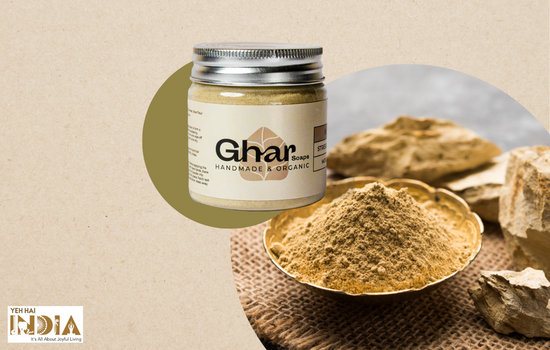 This wax powder is a unique and innovative product that is created for those looking for an easy, safe and natural way to remove unwanted hair.
This product is made from completely natural ingredients like jojoba, shea butter and almond oil, which helps nourish and soften the skin while removing any unwanted hair.
It is applied with a dime-sized amount of powder and can provide users with long-lasting results that are safe and reliable.
This all-natural hair removal wax powder is perfect for those who want a fast and convenient answer to their unwanted body hair. It is easy and painless to use, and it also is gentle enough for even the most sensitive skin types.
Price: Rs 1499 (100g)
Switch to these natural powder blends for hair removal and forget about setting time aside for parlour visits.
Also Read – Ayurvedic Skincare: Tips To Maintain Healthy And Youthful Skin