Rajasthan is a nexus of culture and art. From Kalbeliya dance to Meenakari painting, Rajasthan is a center for indigenous art to develop and flourish. Textiles are no exception. Rajasthani textiles are a mix of vibrancy and regency found in every corner of the state. These textiles bring along a rich history and heritage.
Once upon a time, people traveled to far places for Indian textiles. The soft silks and muslin manufactured in India almost drove Rome to ruin, with Plini the senior lamenting that approximately one hundred million sesterces were being drained to the Asian subcontinent annually.
It is our responsibility to promote such indigenous art forms so that they may continue to thrive and bring pride to India the world over. Rajasthan's famous fabrics are listed below:
Bandhani Fabric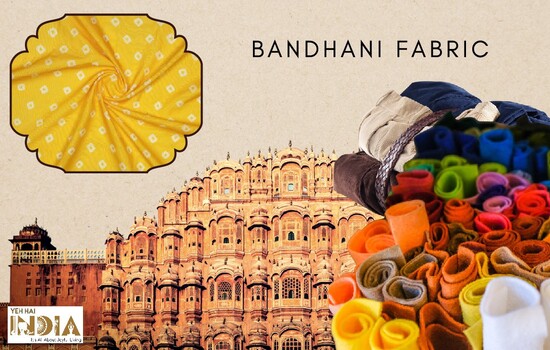 Bandhani work is carried out by the Khatri community in Kutch and Saurashtra. The word Bandhini is derived from the Sanskrit word Bandh, which means to bind or to tie. Bandhini fabric is created through a process of tie-dying and is plucked with fingernails to be tied into knots during the dyeing process. The knots are left in even after the dyeing process, which is where the fabric gets its name.
The colours red, green, yellow, blue, and black are primarily used in Bandhini fabric. As the fabric is created through a tie-dye process, many different patterns can be created. Only natural dyes are used to give this fabric its vivid hues. A Bandhini fabric, particularly the colour, carries a lot of symbolism. Red is associated with a Hindu bride, whereas yellow is associated with maternity.
Bandhini fabric is famous for the precision of its work. There is evidence of this particular textile dating back to 4000 BCE. Examples of it can be seen even in 6th-century paintings in the Ajanta caves. It is one of the oldest known techniques in the world for making coloured patterns on clothing. The final products can be called various names depending on the pattern the knots were tied in. Kombi, Chandrakhani, Ghar Chola, and Shikhari are the renowned ones. 
Recommended Story – Top Startups Promoting Fabric Crafts of India
Leheriya Fabric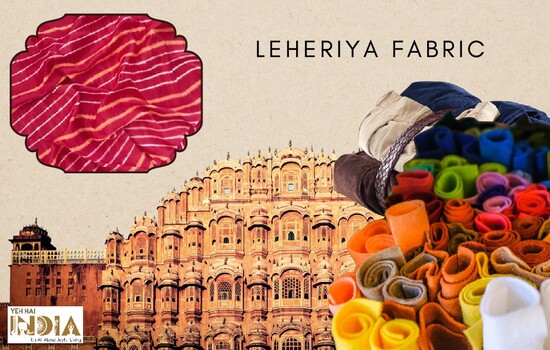 The word Leheriya is derived from the word leher, which means wave. Their designs are meant to reflect the way the wind blows over the desert sands in Rajasthan. This method of dyeing cloth dates back to the 17th century. The colour indigo is used predominantly in Leheriya fabric.
The patterns in Leheriya fabric are always clear and sober. Many of the designs are inspired by nature. On a Leheriya designed fabric, the pattern is often of two diagonals crossing each other to create rectangles and squares. Leheriya designs were so complex that they took a whole month of dyeing.
It is a pattern that is predominantly used in saris, chunris, and turbans made of thin cotton or silk. In the 19th and 20th centuries, the Leheriya style of fabric was so popular that one in five men wore it as a turban.
It was often patronised by Rajasthani royalty as well. Each royal house had a favourite pattern or colour of Leheriya. The print is still predominantly done in Nathwada, Jodhpur, Udaipur, and Jaipur.
Bagru Fabric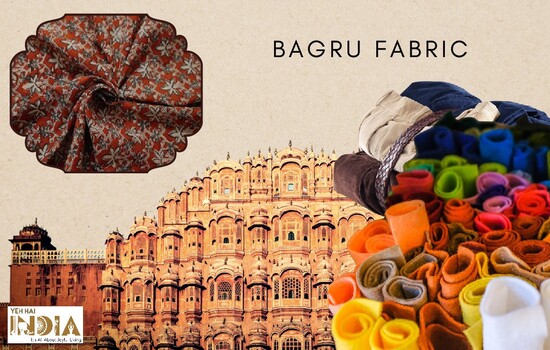 Bagru textiles focus more on floral designs and prints made with natural vegetable dyes. Rajasthan's Chippa community produces this type of fabric exclusively. Their name comes from the Gujarati word 'to print'. It actually originated in Gujarat but spread to Rajasthan in the 17th century when the weavers fled the social upheaval in Gujarat at the time. The weavers work mostly with off-white or beige fabrics.
These prints were immensely popular during the 16th and 17th centuries. The British East India Company often commissioned the Chippa community for prints, which they then sold in Europe.
The colour of the Bagru fabric held great significance. The prints may be similar, but the underlying colour signifies caste and profession. The prints are made by using carved wooden blocks. The motifs are often those found in nature: birds, flowers, and fruits.
One of the most famous variants of Bagru fabric is Seyali Bagru, which employs yellow ochre and black hues to catch the eye. Up until the last century, Bagru prints were used majorly for ghagras and odhnis, with different colours signifying different castes and communities. Bagru town's name has been immortalised and kept alive through these weavers.
Kota Doria Fabric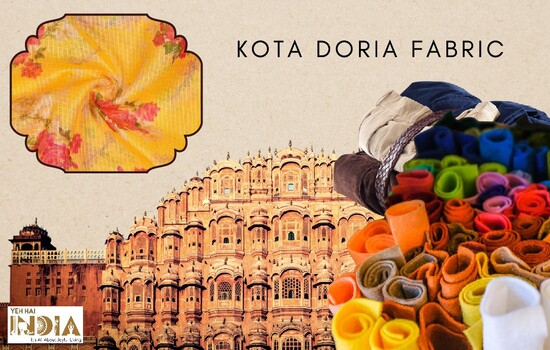 Kota Doria fabric is known for its checkered square fabrics made with pure cotton and silk. The cotton is meant to give the cloth strength, whereas the silk gives it its customary shine. The checked pattern is known as Khat. The industry is based in Kota, as the name implies.
The weaving technique originated in Mysore, and the craftsmen were called Masurias. Rao Kishore Singh, a Mughal general who served under Shahjahan, was the one to bring the fabric and several weavers to Kota. This union gave rise to the Kota Masuria fabric.
Today, Kaithoon in Kota is the most famous center for Kota Doria fabric. Kota Doria fabric is still handwoven on traditional looms. A paste made out of onion juice and rice is applied to the fabric to strengthen it.
Sarees were traditionally white or off-white but now come in every colour imaginable. It is worn for religious occasions as it is considered auspicious. The light, airy fabric is often worn in the summer.
Initially, it was only used for turbans, but as its popularity rose, it became a common choice for sarees. It is still one of India's finest open weave fabrics. It has been deemed a geographical Indication of Kota for its uniqueness and deep-rooted history.
Recommended Story – Fabriclore; Fabrics galore!
Barmeri Prints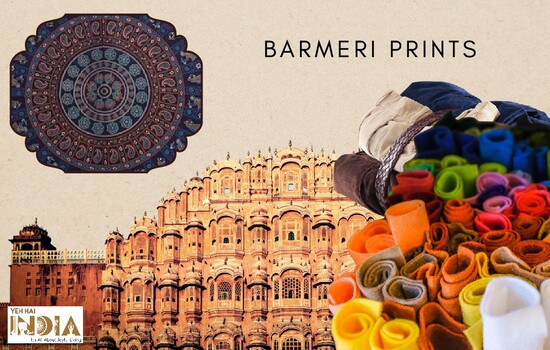 Barmeri prints take inspiration from the Sindh region, as the fabric originated in the Sindh region with the Sindhi Muslims. However, the art form migrated to Rajasthan and grew immensely popular there.
Barmeri prints are known for their unique geometrical designs. Red chillies, trees, and blue-black outlines are all too common in this fabric, and the design is called chirkala booti. The Barmer print can be found on anything from turbans to sarees to lungis.
Unlike traditional light prints, Barmeri prints are often found on darker fabrics. This is because Barmer is located in the Thar desert, where locals often believe that the darker shades are cooler. In this way, they are distinct from the traditional Rajasthani prints. Barmeri prints are often focused on natural imagery like plants, birds, and animals. The dyes are bright and vivid and often make use of colours like red, yellow, and indigo.
Sangneri Fabric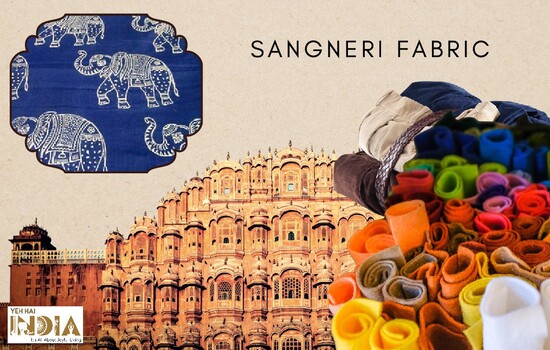 Sangneri in Rajasthan is a hub for the arts of screen printing and block painting, so it should come as no surprise that it has its own unique fabric style. Sangneri fabric was once a major export of the British East Indian Company to Europe. It has been practised for almost 500 years now.
Sangneri fabric involves folk patterns printed on white cotton. Their black outlines help them to stand out and give them a traditional feel. It is most commonly used in bed linens, tablecloths, etc. Block printing and calico printing are the methods used to create patterns.
Floral folk symbols are the most common motifs in the Sangneri fabric. These designs are generally known as buttas. At first, only white or off-white fabrics were used for Sangneri fabrics, but now they're available in all colours.
The intricate detailing and fine lines of Sangneri fabric are what make it so popular. As the name suggests, it is mainly manufactured in the south of Rajasthan in the Sangneri region.
Mothara Print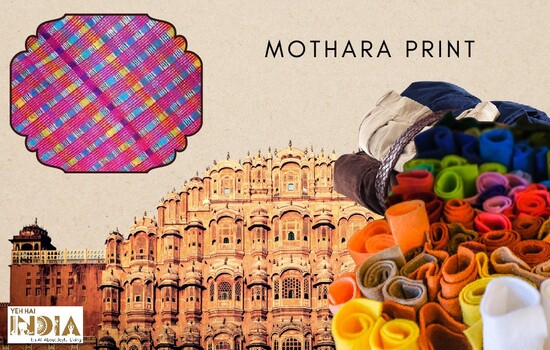 Mothara prints refer to what is essentially a Pratapshahi leheriya print. It just involves the extra step of removing the original resist and redying along the opposite diagonal. This creates a checkered pattern.
It also leaves small undyed spaces between the patterns that look like little lentils. The word Mothara is, hence, derived from the Hindi name for lentils, Moth dal. The small diamond shapes of Mothara are truly iconic and well sought after.
Weaving and block printing are part of our history, and even as the practises and methods change to adapt to our modern society, the traditions and their importance never waver. We hope this guide to Rajasthani fabrics gave you an idea of our incredibly rich history and helped you make your choice regarding your next purchase.
Also Read – Fabric Monde – Your one stop shop for fabrics